Happy Reading,
Shelly, Sam, Martina, Erin, Susan, Kelly, Laura, Emily, Anisaa, and Lori Ann
YOUNG ADULT NOVELS NEW IN STORES NEXT WEEK
* * * *
Eve of Man
by Giovanna Fletcher and Tom Fletcher
Hardcover
Random House Books for Young R
Released 6/18/2019
On the first day, no one really noticed. All those babies wrapped in blue blankets--not a pink one in sight. On the third day, people were scared--a statistic-defying abundance of blue. Not just entire hospitals, not only entire countries, but the entire world. Boys. Only boys.
Until Eve. The only girl born in fifty years. The savior of mankind. Kept protected, towering above a ruined world under a glass dome of safety until she is ready to renew the human race.
But when the time comes to find a suitor, Eve and Bram--a young man whose job is to prepare Eve for this moment--begin to question the plan they've known all along. Eve doesn't only want safety, and she doesn't only want protection. She wants the truth. She wants freedom.
Purchase Eve of Man at Amazon
Purchase Eve of Man at IndieBound
View Eve of Man on Goodreads
* * * *
Last Bus to Everland
by Sophie Cameron
Hardcover
Roaring Brook Press
Released 6/18/2019
Brody Fair feels like nobody gets him: not his overworked parents, not his genius older brother, and definitely not the girls in the projects set on making his life miserable. Then he meets Nico, an art student who takes Brody to Everland, a "knock-off Narnia" that opens at 11:21pm each Thursday for Nico and his band of present-day misfits and miscreants.
Here Brody finds his tribe and a weekly respite from a world where he feels out of place. But when the doors to Everland begin to disappear, Brody is forced to make a decision: He can say goodbye to Everland and to Nico, or stay there and risk never seeing his family again.
Purchase Last Bus to Everland at Amazon
Purchase Last Bus to Everland at IndieBound
View Last Bus to Everland on Goodreads
* * * *
Patron Saints of Nothing
by Randy Ribay
Hardcover
Penguin Publishing G
Released 6/18/2019
Jay Reguero plans to spend the last semester of his senior year playing video games before heading to the University of Michigan in the fall. But when he discovers that his Filipino cousin Jun was murdered as part of President Duterte's war on drugs, and no one in the family wants to talk about what happened, Jay travels to the Philippines to find out the real story.
Hoping to uncover more about Jun and the events that led to his death, Jay is forced to reckon with the many sides of his cousin before he can face the whole horrible truth -- and the part he played in it.
Purchase Patron Saints of Nothing at Amazon
Purchase Patron Saints of Nothing at IndieBound
View Patron Saints of Nothing on Goodreads
* * * *
Risking It All
by SM Koz
Hardcover
Swoon Reads
Released 6/18/2019
Paige knows exactly what she wants―to graduate from Wallingford Academy and become a pilot in the US Air Force. She's inherited her father's no-nonsense attitude and whip-smart intelligence, all of which have made her the perfect Wallingford cadet.
Wallingford Academy is the last place in the world Logan wants to be. But after his girlfriend borrows his car and commits a crime, Logan takes the fall and ends up there with hopes of striking a decent plea bargain. For him, graduation can't come soon enough.
When Paige is asked to mentor Logan, it's the perfect opportunity to prove her leadership skills―but she doesn't account for the feelings that start to develop or the baggage from Logan's past which could threaten both of their futures.
Purchase Risking It All at Amazon
Purchase Risking It All at IndieBound
View Risking It All on Goodreads
* * * *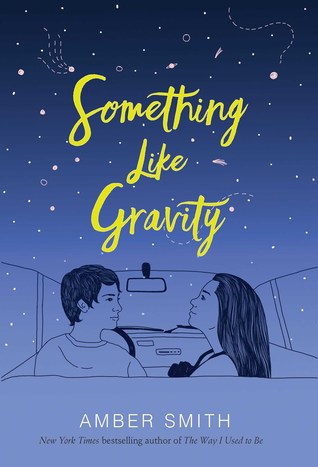 Something Like Gravity
by Amber Smith
Hardcover
Margaret K. McElderry Books
Released 6/18/2019
Chris and Maia aren't off to a great start.
A near-fatal car accident first brings them together, and their next encounters don't fare much better. Chris's good intentions backfire. Maia's temper gets the best of her.
But they're neighbors, at least for the summer, and despite their best efforts, they just can't seem to stay away from each other.
The path forward isn't easy. Chris has come out as transgender, but he's still processing a frightening assault he survived the year before. Maia is grieving the loss of her older sister and trying to find her place in the world without her. Falling in love was the last thing on either of their minds.
But would it be so bad if it happened anyway?
Purchase Something Like Gravity at Amazon
Purchase Something Like Gravity at IndieBound
View Something Like Gravity on Goodreads
* * * *
Soul of the Sword
by Julie Kagawa
Hardcover
HarperCollins
Released 6/18/2019
One thousand years ago, a wish was made and a sword of rage and lightning was forged. Kamigoroshi. The Godslayer. A weapon powerful enough to seal away the formidable demon Hakaimono.
Now he has broken free.
Kitsune shapeshifter Yumeko has one task: to take her piece of the ancient and powerful Scroll of a Thousand Prayers to the Steel Feather temple in order to prevent the summoning of the Harbinger of Change, the great Kami Dragon who will grant one wish to whomever holds the scroll. But she has a new enemy now, more dangerous than any she has yet faced. The demon Hakaimono is free at last, and he has possessed the very person Yumeko trusted to protect her from the evil at her heels, Kage Tatsumi of the Shadow Clan.
Hakaimono has only one goal: to break the curse of the sword and set himself free to rain chaos and destruction over the land forevermore. To do so, he will need the scroll. And Yumeko is the only one standing in his way.
Purchase Soul of the Sword at Amazon
Purchase Soul of the Sword at IndieBound
View Soul of the Sword on Goodreads
* * * *
The Art of Breaking Things
by Laura Sibson
Hardcover
Viking Books for Young Readers
Released 6/18/2019
Weekends are for partying with friends while trying to survive the mindnumbingness that is high school. The countdown to graduation is on, and Skye has her sights set on escaping to art school and not looking back.
But her party-first-ask-questions-later lifestyle starts to crumble when her mom rekindles her romance with the man who betrayed Skye's trust and boundaries when he was supposed to be protecting her. She was too young to understand what was happening at the time, but now she doesn't know whether to run as far away from him as possible or give up her dreams to save her little sister. The only problem is that no one knows what he did to her. How can she reveal the secret she's guarded for so long?
With the help of her best friend and the only boy she's ever trusted, Skye might just find the courage she needs to let her art speak for her when she's out of words. After years of hiding her past, she must become her own best ally.
Purchase The Art of Breaking Things at Amazon
Purchase The Art of Breaking Things at IndieBound
View The Art of Breaking Things on Goodreads