Happy Reading,
Shelly, Sam, Martina, Erin, Susan, Kelly, Laura, Emily, Anisaa, and Lori Ann
YOUNG ADULT NOVELS NEW IN STORES THIS WEEK
* * * *
A Queer History of the United States for Young People
by Michael Bronski
Paperback
Random House
Released 6/11/2019
It is crucial for lesbian, gay, bisexual, transgender, and queer youth to know their history. But this history is not easy to find since it's rarely taught in schools or commemorated in other ways. A Queer History of the United States for Young People corrects this and demonstrates that LGBTQ people have long been vital to shaping our understanding of what America is today.
Through engrossing narratives, letters, drawings, poems, and more, the book encourages young readers, of all identities, to feel pride at the accomplishments of the LGBTQ people who came before them and to use history as a guide to the future.The stories he shares include those of
* Thomas Morton, who celebrated same-sex love in Boston's Puritan community in the 1620s.
* Albert D. J. Cashier, an Irish immigrant and Civil War hero, who was assigned female at birth but lived as a man for over a half century.
* Gladys Bentley, an African American blues singer who challenged cross-dressing laws in 1920s Harlem.
* Bayard Rustin, Martin Luther King Jr.'s close friend, civil rights organizer, and an openly gay man.
* Sylvia Rivera, who along with Marsha P. Johnson, founded the first transgender political group in the United States in 1970.
* Harvey Milk, a community organizer and the first openly gay politician to win an election in California.
* Jamie Nabozny, a teen who brought national attention to the issue of LGBTQ bullying by bringing his case to the Supreme Court in the 1990s.
With over 60 illustrations and photos, a glossary, and a corresponding curriculum, A Queer History of the United States for Young People will be vital for teachers who want to introduce a new perspective to America's story.
Purchase A Queer History of the United States for Young People at Amazon
Purchase A Queer History of the United States for Young People at IndieBound
View A Queer History of the United States for Young People on Goodreads
* * * *
Rise
by Ellen Goodlett
Hardcover
Little, Brown Books for Young
Released 6/11/2019
Sisters Akeylah, Ren, and Zofi are all a step closer to their dying father's throne, a step closer to the crown that will allow one of them to rule over Kolonya. But the sisters' pasts continue to haunt them. Each hides a secret marked with blood and betrayal, and now their blackmailer is holding nothing back. When King Andros discovers the sisters' traitorous pasts, the consequences will shake the entire kingdom to its core.
As Kolonya's greatest threat stalks closer and closer, weaving a web of fear and deceit around Ren, Zofi, and Akeylah, even the people they love are under suspicion. If the sisters are going to survive, they'll have to learn to trust each other above all else and work together, not only to save themselves, but to protect everyone and everything they hold dear.
Purchase Rise at Amazon
Purchase Rise at IndieBound
View Rise on Goodreads
* * * *
Rules We're Meant to Break
by Natalie Williamson
Hardcover
Swoon Reads
Released 6/11/2019
Rule #1: Don't get attached.
Amber lives by strict rules to survive her mother's love life: Always keep your eyes on the horizon and never get close to anyone connected to Mom's boyfriends.
But after they move in with Kevin, the latest of her mom's "soul mates," the rules become increasingly difficult to follow. Kevin's daughter, Cammie, keeps acting like Amber's friend, even though she's definitely not. And Jordan―star basketball player, hottest boy in school, and Cammie's best friend―keeps showing up at the most inconvenient moments.
Amber has reasons for every one of her rules, and following them is the only way to protect her heart when her mom inevitably moves on. But as she spends more time with Kevin, his daughter, and especially Jordan, she starts to wonder if the rules might be worth breaking this time.
Purchase Rules We're Meant to Break at Amazon
Purchase Rules We're Meant to Break at IndieBound
View Rules We're Meant to Break on Goodreads
* * * *
Screen Queens
by Lori Goldstein
Hardcover
Razorbill
Released 6/11/2019
This summer Silicon Valley is a girls' club.
Three thousand applicants. An acceptance rate of two percent. A dream internship for the winning team. ValleyStart is the most prestigious high school tech incubator competition in the country. Lucy Katz, Maddie Li, and Delia Meyer have secured their spots. And they've come to win.
Meet the Screen Queens.
Lucy Katz was born and raised in Palo Alto, so tech, well, it runs in her blood. A social butterfly and CEO in-the-making, Lucy is ready to win and party.
East Coast designer, Maddie Li left her home and small business behind for a summer at ValleyStart. Maddie thinks she's only there to bolster her graphic design portfolio, not to make friends.
Delia Meyer taught herself how to code on a hand-me-down computer in her tiny Midwestern town. Now, it's time for the big leagues--ValleyStart--but super shy Delia isn't sure if she can hack it (pun intended).
When the competition kicks off, Lucy, Maddie, and Delia realize just how challenging the next five weeks will be. As if there wasn't enough pressure already, the girls learn that they would be the only all-female team to win ever. Add in one first love, a two-faced mentor, and an ex-boyfriend turned nemesis and things get...complicated.
Purchase Screen Queens at Amazon
Purchase Screen Queens at IndieBound
View Screen Queens on Goodreads
* * * *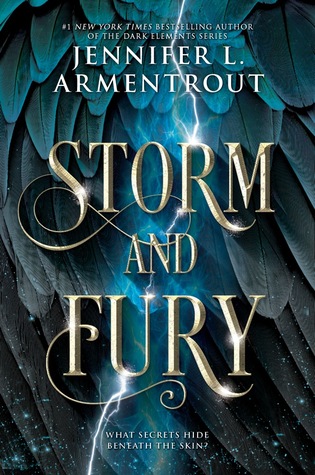 Storm and Fury
by Jennifer L Armentrout
Hardcover
Harper Collins
Released 6/11/2019
Eighteen-year-old Trinity Marrow may be going blind, but she can see and communicate with ghosts and spirits. Her unique gift is part of a secret so dangerous that she's been in hiding for years in an isolated compound fiercely guarded by Wardens—gargoyle shape-shifters who protect humankind from demons. If the demons discover the truth about Trinity, they'll devour her, flesh and bone, to enhance their own powers.
When Wardens from another clan arrive with disturbing reports that something out there is killing both demons and Wardens, Trinity's safe world implodes. Not the least because one of the outsiders is the most annoying and fascinating person she's ever met. Zayne has secrets of his own that will upend her world yet again—but working together becomes imperative once demons breach the compound and Trinity's secret comes to light. To save her family and maybe the world, she'll have to put her trust in Zayne. But all bets are off as a supernatural war is unleashed…
Purchase Storm and Fury at Amazon
Purchase Storm and Fury at IndieBound
View Storm and Fury on Goodreads
* * * *
Stronger Than a Bronze Dragon
by Mary Fan
Hardcover
Page Street Kids
Released 6/11/2019
As a warrior who protects her village from shadow spirits, Anlei has never been beyond the borders of her town. All of that changes the day the viceroy and his fleet of mechanical dragons arrives. It's the protection her village is desperate for, but it will only be given in exchange for Anlei's hand in marriage. Torn between wanting to protect her village and her own freedom, Anlei is forced to make a sacrifice.
The day before her wedding, she encounters Tai, a young thief who is also trying to save his people. Tempted by his quest and the thrill of glory it promises, the two embark on an epic journey to the Courts of Hell to discover where the shadow spirits come from. But the secret of their existence isn't so easily solved.
Amid dark experiments and battles on magic-fueled airships, Anlei must summon the courage to be the hero; to live the life she has always dreamed of.
Purchase Stronger Than a Bronze Dragon at Amazon
Purchase Stronger Than a Bronze Dragon at IndieBound
View Stronger Than a Bronze Dragon on Goodreads
* * * *
Teeth in the Mist
by Dawn Kurtagich
Hardcover
Little, Brown Books for Young
Released 6/11/2019
Before the birth of time, a monk uncovers the Devil's Tongue and dares to speak it. The repercussions will be felt for generations...
Sixteen-year-old photography enthusiast Zoey has been fascinated by the haunted, burnt-out ruins of Medwyn Mill House for as long as she can remember--so she and her best friend, Poulton, run away from home to explore them. But are they really alone in the house? And who will know if something goes wrong?
In 1851, seventeen-year-old Roan arrives at the Mill House as a ward--one of three, all with something to hide from their new guardian. When Roan learns that she is connected to an ancient secret, she must escape the house before she is trapped forever.
1583. Hermione, a new young bride, accompanies her husband to the wilds of North Wales where he plans to build the largest water mill and mansion in the area. But rumors of unholy rituals lead to a tragic occurrence and she will need all her strength to defeat it.
Three women, centuries apart, drawn together by one Unholy Pact. A pact made by a man who, more than a thousand years later, may still be watching...
Purchase Teeth in the Mist at Amazon
Purchase Teeth in the Mist at IndieBound
View Teeth in the Mist on Goodreads
* * * *
Tell Me How You Really Feel
by Aminah Mae Safi
Hardcover
Feiwel & Friends
Released 6/11/2019
The first time Sana Khan asked out a girl–Rachel Recht--it went so badly that she never did it again. Rachel is a film buff and aspiring director, and she's seen Carrie enough times to learn you can never trust cheerleaders (and beautiful people). Rachel was furious that Sana tried to prank her by asking her on a date.
But when it comes time for Rachel to cast her senior project, she realizes that there's no more perfect lead than Sana--the girl she's sneered at in the halls for the past three years. And poor Sana--she says yes. She never did really get over that first crush, even if Rachel can barely stand to be in the same room as her.
Told in alternative viewpoints and set against the backdrop of Los Angeles in the springtime, when the rainy season rolls in and the Santa Ana's can still blow--these two girls are about to learn that in the city of dreams, anything is possible--even love.
Purchase Tell Me How You Really Feel at Amazon
Purchase Tell Me How You Really Feel at IndieBound
View Tell Me How You Really Feel on Goodreads
* * * *
The Exact Opposite of Okay
by Laura Steven
Hardcover
HarperTeen
Released 6/11/2019
Eighteen-year-old Izzy O'Neill knows exactly who she is—a loyal friend, an aspiring comedian, and a person who believes that milk shakes and Reese's peanut butter cups are major food groups. But after she's caught in a compromising position with the son of a politician, it seems like everyone around her is eager to give her a new label: slut.
Izzy is certain that the whole thing will blow over and she can get back to worrying about how she doesn't reciprocate her best friend Danny's feelings for her and wondering how she is ever going to find a way out of their small town. Only it doesn't.
And while she's used to laughing her way out of any situation, as she finds herself first the center of high school gossip and then in the middle of a national scandal, it's hard even for her to find humor in the situation.
Izzy may be determined not to let anyone else define who she is, but that proves easier said than done when it seems like everyone has something to say about her.
Purchase The Exact Opposite of Okay at Amazon
Purchase The Exact Opposite of Okay at IndieBound
View The Exact Opposite of Okay on Goodreads
* * * *
The Grief Keeper
by Alexandra Villasante
Hardcover
G.P. Putnam's Sons Books for
Released 6/11/2019
Seventeen-year-old Marisol has always dreamed of being American, learning what Americans and the US are like from television and Mrs. Rosen, an elderly expat who had employed Marisol's mother as a maid. When she pictured an American life for herself, she dreamed of a life like Aimee and Amber's, the title characters of her favorite American TV show. She never pictured fleeing her home in El Salvador under threat of death and stealing across the US border as "an illegal", but after her brother is murdered and her younger sister, Gabi's, life is also placed in equal jeopardy, she has no choice, especially because she knows everything is her fault. If she had never fallen for the charms of a beautiful girl named Liliana, Pablo might still be alive, her mother wouldn't be in hiding and she and Gabi wouldn't have been caught crossing the border.
But they have been caught and their asylum request will most certainly be denied. With truly no options remaining, Marisol jumps at an unusual opportunity to stay in the United States. She's asked to become a grief keeper, taking the grief of another into her own body to save a life. It's a risky, experimental study, but if it means Marisol can keep her sister safe, she will risk anything. She just never imagined one of the risks would be falling in love, a love that may even be powerful enough to finally help her face her own crushing grief.
Purchase The Grief Keeper at Amazon
Purchase The Grief Keeper at IndieBound
View The Grief Keeper on Goodreads
* * * *
The Language of Fire: Joan of Arc Reimagined
by Stephanie Hemphill
Hardcover
Balzer + Bray
Released 6/11/2019
Jehanne was an illiterate peasant, never quite at home among her siblings and peers. Until one day, she hears a voice call to her, telling her she is destined for important things. She begins to understand that she has been called by God, chosen for a higher purpose—to save France.
Through sheer determination and incredible courage, Jehanne becomes the unlikeliest of heroes. She runs away from home, dresses in men's clothes, and convinces an army that she will lead France to victory.
As a girl in a man's world, at a time when women truly had no power, Jehanne faced constant threats and violence from the men around her. Despite the impossible odds, Jehanne became a fearless warrior who has inspired generations.
Purchase The Language of Fire: Joan of Arc Reimagined at Amazon
Purchase The Language of Fire: Joan of Arc Reimagined at IndieBound
View The Language of Fire: Joan of Arc Reimagined on Goodreads