Happy Reading,
Shelly, Sam, Martina, Erin, Susan, Kelly, Laura, Emily, Anisaa, and Lori Ann
YOUNG ADULT NOVELS NEW IN STORES THIS WEEK
* * * *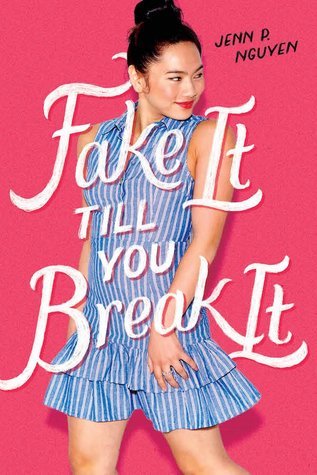 Fake It Till You Break It
by Jenn P. Nguyen
Hardcover
Swoon Reads
Released 5/28/2019
Mia and Jake have known each other their whole lives. They've endured summer vacations, Sunday brunches, even dentist visits together. Their mothers, who are best friends, are convinced that Mia and Jake would be the perfect couple, even though they can't stand to be in the same room together.
After Mia's mom turns away yet another cute boy, Mia and Jake decide they've have had enough. Together, they hatch a plan to get their moms off their backs. Permanently. All they have to do is pretend to date and then stage the worst breakup of all time—and then they'll be free.
The only problem is, maybe Jake and Mia don't hate each other as much as they once thought...
Purchase Fake It Till You Break It at Amazon
Purchase Fake It Till You Break It at IndieBound
View Fake It Till You Break It on Goodreads
* * * *
Switchback
by Danika Stone
Hardcover
Swoon Reads
Released 5/28/2019
Vale loves to hike, but kind of hates her classmates. Ash is okay with his classmates, but kind of hates the outdoors. So, needless to say they are both fairly certain that the overnight nature hike with their PE class is going to be a hellish experience. But when they get separated from the group during a storm, they have worse things to worry about than bullies and blisters.
Lost in the Canadian wilderness with limited supplies, caught in dangerous weather conditions, and surrounded by deadly wildlife, it's going to take every bit of strength, skill, and luck they can muster to survive.
Purchase Switchback at Amazon
Purchase Switchback at IndieBound
View Switchback on Goodreads
* * * *
The Kingdom
by Jess Rothenberg
Hardcover
Henry Holt and Co.
Released 5/28/2019
Ana is one of seven Fantasists, beautiful "princesses" engineered to make dreams come true. When she meets park employee Owen, Ana begins to experience emotions beyond her programming including, for the first time… love.
But the fairytale becomes a nightmare when Ana is accused of murdering Owen, igniting the trial of the century. Through courtroom testimony, interviews, and Ana's memories of Owen, emerges a tale of love, lies, and cruelty―and what it truly means to be human.
Purchase The Kingdom at Amazon
Purchase The Kingdom at IndieBound
View The Kingdom on Goodreads
* * * *
The Voice in My Head
by Dana L. Davis
Hardcover
Harpercollins
Released 5/28/2019
She can feel sorry for herself.
Or she can listen…to the voice in her head.
For Indigo Phillips, life has always been about basking in the shadow of her identical twin, Violet—the perfectly dressed, gentle, popular sister. The only problem the girls had in their lives was the occasional chaos that came with being part of the Phillips family brood. But when Violet becomes terminally ill and plans to die on her own terms via medically assisted death, Indigo spirals into desperation in her efforts to cope. That's when she begins to hear a mysterious voice—a voice claiming to be God. The Voice insists that if she takes Violet to a remote rock formation in the Arizona desert, her sister will live.
Incredibly, Violet agrees to go—if their dysfunctional family tags along for the ride. With all nine members stuffed into a wonky old paratransit bus, including their controlling older sister and distant mother, Indigo must find a way to face insecurities she's spent a lifetime masking and step up to lead the trip. As she deals with outrageous mishaps, strange lodgings and even stranger folks along the way, Indigo will figure out how to come to terms with her sister, her family…and the voice in her head.
Purchase The Voice in My Head at Amazon
Purchase The Voice in My Head at IndieBound
View The Voice in My Head on Goodreads
* * * *
The Wise and the Wicked
by Rebecca Podos
Hardcover
Balzer + Bray
Released 5/28/2019
Ruby Chernyavsky has been told the stories since she was a child: The women in her family, once possessed of great magical abilities to remake lives and stave off death itself, were forced to flee their Russian home for America in order to escape the fearful men who sought to destroy them.
Such has it always been, Ruby's been told, for powerful women.
Today, these stories seem no more real to Ruby than folktales, except for the smallest bit of power left in their blood: when each of them comes of age, she will have a vision of who she will be when she dies—a destiny as inescapable as it is inevitable.
Ruby is no exception, and neither is her mother, although she ran from her fate years ago, abandoning Ruby and her sisters. It's a fool's errand, because they all know the truth: there is no escaping one's Time.
Until Ruby's great-aunt Polina passes away, and, for the first time, a Chernyavsky's death does not match her vision. Suddenly, things Ruby never thought she'd be allowed to hope for—life, love, time—seem possible.
But as she and her cousin Cece begin to dig into the family's history to find out whether they, too, can change their fates, they learn that nothing comes without a cost. Especially not hope.
Purchase The Wise and the Wicked at Amazon
Purchase The Wise and the Wicked at IndieBound
View The Wise and the Wicked on Goodreads
* * * *
These Witches Don't Burn
by Isabel Sterling
Hardcover
Razorbill
Released 5/28/2019
Hannah's a witch, but not the kind you're thinking of. She's the real deal, an Elemental with the power to control fire, earth, water, and air. But even though she lives in Salem, Massachusetts, her magic is a secret she has to keep to herself. If she's ever caught using it in front of a Reg (read: non-witch), she could lose it. For good. So, Hannah spends most of her time avoiding her ex-girlfriend (and fellow Elemental Witch) Veronica, hanging out with her best friend, and working at the Fly by Night Cauldron selling candles and crystals to tourists, goths, and local Wiccans.
But dealing with her ex is the least of Hannah's concerns when a terrifying blood ritual interrupts the end-of-school-year bonfire. Evidence of dark magic begins to appear all over Salem, and Hannah's sure it's the work of a deadly Blood Witch. The issue is, her coven is less than convinced, forcing Hannah to team up with the last person she wants to see: Veronica.
While the pair attempt to smoke out the Blood Witch at a house party, Hannah meets Morgan, a cute new ballerina in town. But trying to date amid a supernatural crisis is easier said than done, and Hannah will have to test the limits of her power if she's going to save her coven and get the girl, especially when the attacks on Salem's witches become deadlier by the day.
Purchase These Witches Don't Burn at Amazon
Purchase These Witches Don't Burn at IndieBound
View These Witches Don't Burn on Goodreads