Happy Reading,
Shelly, Riki, Sam, Martina, Erin, Susan, Kelly, Laura, Emily, Anisaa, and Lori Ann
MORE YOUNG ADULT NOVELS NEW IN STORES NEXT WEEK
* * * *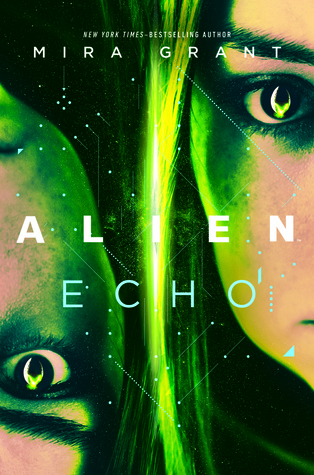 Alien: Echo
by Mira Grant
Hardcover
Imprint
Released 4/9/2019
An original young adult novel of the Alien universe
Olivia and her twin sister Viola have been dragged around the universe for as long as they can remember. Their parents, both xenobiologists, are always in high demand for their research into obscure alien biology.
Just settled on a new colony world, they discover an alien threat unlike anything they've ever seen. And suddenly the sisters' world is ripped apart.
On the run from terrifying aliens, Olivia's knowledge of xenobiology and determination to protect her sister are her only weapons as the colony collapses into chaos. But then a shocking family secret bursts open―one that's as horrifying to Olivia as the aliens surrounding them.
The creatures infiltrate the rich wildlife on this untouched colony world―and quickly start adapting. Olivia's going to have to adapt, too, if she's going to survive...
Purchase Alien: Echo at Amazon
Purchase Alien: Echo at IndieBound
View Alien: Echo on Goodreads
* * * *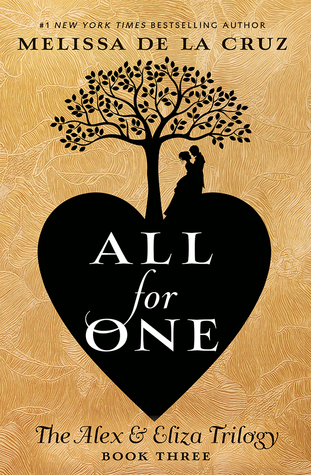 All for One
by Melissa de la Cruz
Hardcover
G.P. Putnam's Sons Books for Y
Released 4/9/2019
1785. New York, New York.
As a young nation begins to take shape, Alexander Hamilton and Elizabeth Schuyler are on top of the world. They're the toast of the town, keeping New York City buzzing with tales of their lavish parties, of Eliza's legendary wit, and of Alex's brilliant legal mind.
But new additions to Alex & Eliza's little family mean change is afoot in the Hamilton household. When they agree to take in an orphaned teenage girl along with Eliza's oldest brother, John Schuyler, Eliza can't help but attempt a match. It's not long before sparks start to fly . . . if only Eliza can keep herself from interfering too much in the course of true love. After all, she and Alex have an arrival of their own to plan for, though Alex's latest case brings a perilous threat that may destroy everything.
Purchase All for One at Amazon
Purchase All for One at IndieBound
View All for One on Goodreads
* * * *
Dreaming Darkly
by Caitlin Kittredge
Hardcover
Katherine Tegen Books
Released 4/9/2019
Ivy Bloodgood's mother is dead, and she should probably be sad about it. But she isn't. Myra Bloodgood was a manipulative personality who never told the truth—about where she came from, who Ivy's father was, or why they were living their lives on the run.
Now that Ivy has been sent to the family estate on Darkhaven, an island off the New England coast, she is forced to reckon with her mother's past. Ivy can tell right away there are long-held family secrets buried within these walls, but when she wakes up from one of her nightmares covered in someone else's blood, Ivy fears that whatever demons her mother battled while she was alive have come to roost in her own mind.
Scared that she can no longer trust what she sees, Ivy seeks the help of a boy who thinks her episodes are connected to the sordid history of Darkhaven—but what they don't know might kill them both.
Purchase Dreaming Darkly at Amazon
Purchase Dreaming Darkly at IndieBound
View Dreaming Darkly on Goodreads
* * * *
Girls on the Verge
by Sharon Biggs Waller
Hardcover
Henry Holt and Co.
Released 4/9/2019
Camille couldn't be having a better summer―she kills it as Ophelia in her community theater's production of Hamlet, catches the eye of the cutest boy in the play, and nabs a spot in a prestigious theater program. But on the very night she learns she got into the program, she also finds out she's pregnant. She definitely can't tell her parents. And her best friend Bea doesn't agree with the decision Camille has made.
Camille is forced to try to solve her problem alone…and the system is very much working against her. At her most vulnerable, Camille reaches out to Annabelle Ponsonby, a girl she only barely knows from the theater. Happily, Annabelle agrees to drive her wherever she needs to go. And in a last minute change of heart, Bea decides to come with.
Over the course of more than a thousand miles, friendships will be tested and dreams will be challenged. But ultimately, the girls will realize that friends are the real heroes in every story.
Purchase Girls on the Verge at Amazon
Purchase Girls on the Verge at IndieBound
View Girls on the Verge on Goodreads
* * * *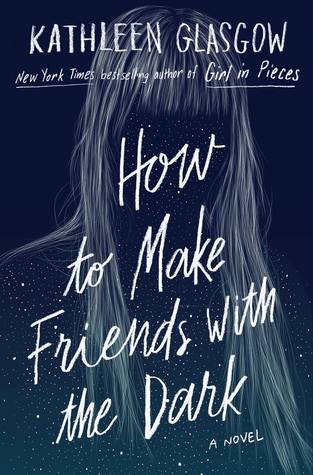 How to Make Friends with the Dark
by Kathleen Glasgow
Hardcover
Delacorte Press
Released 4/9/2019
Here is what happens when your mother dies.
It's the brightest day of summer and it's dark outside. It's dark in your house, dark in your room, and dark in your heart. You feel like the darkness is going to split you apart.
That's how it feels for Tiger. It's always been Tiger and her mother against the world. Then, on a day like any other, Tiger's mother dies. And now it's Tiger, alone.
Here is how you learn to make friends with the dark.
Purchase How to Make Friends with the Dark at Amazon
Purchase How to Make Friends with the Dark at IndieBound
View How to Make Friends with the Dark on Goodreads
* * * *
Love & Other Curses
by Michael Thomas Ford
Hardcover
HarperTeen
Released 4/9/2019
The Weyward family has been haunted by a curse for generations—if a Weyward falls in love before their seventeenth birthday, the person they love dies.
Sam doesn't plan to fall for anyone in the weeks before his birthday. He'll spend his time working at the Eezy-Freeze with his dad; cooking up some midsummer magic with his grandmother, great-grandmother, and great-great-grandmother (the Grands); and experimenting with drag with the help of the queens at the Shangri-La, the local gay club.
But when a new guy comes to town, Sam finds himself in trouble when they strike up a friendship that might be way more than that.
As Sam's birthday approaches and he still hasn't quite fallen in love, the curse seems to get more powerful and less specific about who it targets.
A mysterious girl Sam talks to on the phone late at night and a woman he's only seen in a dream might have the answers he's been looking for—but time is running out to save the people he cares about.
Purchase Love & Other Curses at Amazon
Purchase Love & Other Curses at IndieBound
View Love & Other Curses on Goodreads
* * * *
The Fall of Crazy House
by Gabrielle Charbonnet and James Patterson,
Hardcover
jimmy patterson
Released 4/9/2019
Escape is just the beginning.
Twin sisters Becca and Cassie barely got out of the Crazy House alive. Now they're trained, skilled fighters who fear nothing--not even the all-powerful United regime.
Together, the sisters hold the key to defeating the despotic government and freeing the people of the former United States. But to win this war, will the girls have to become the very thing they hate?
Purchase The Fall of Crazy House at Amazon
Purchase The Fall of Crazy House at IndieBound
View The Fall of Crazy House on Goodreads
* * * *
The Red Scrolls of Magic
by Cassandra Clare
Hardcover
Margaret K. McElderry Books
Released 4/9/2019
All Magnus Bane wanted was a vacation—a lavish trip across Europe with Alec Lightwood, the Shadowhunter who against all odds is finally his boyfriend. But as soon as the pair settles in Paris, an old friend arrives with news about a demon-worshipping cult called the Crimson Hand that is bent on causing chaos around the world. A cult that was apparently founded by Magnus himself. Years ago. As a joke.
Now Magnus and Alec must race across Europe to track down the Crimson Hand and its elusive new leader before the cult can cause any more damage. As if it wasn't bad enough that their romantic getaway has been sidetracked, demons are now dogging their every step, and it is becoming harder to tell friend from foe. As their quest for answers becomes increasingly dire, Magnus and Alec will have to trust each other more than ever—even if it means revealing the secrets they've both been keeping.
Purchase The Red Scrolls of Magic at Amazon
Purchase The Red Scrolls of Magic at IndieBound
View The Red Scrolls of Magic on Goodreads
* * * *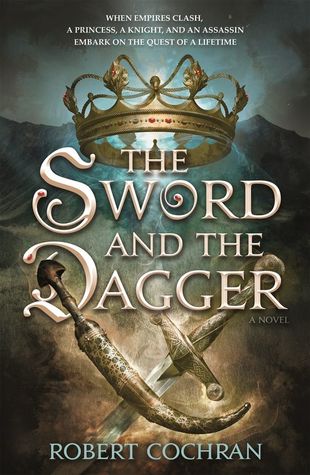 The Sword and the Dagger
by Robert Cochran
Hardcover
Tor Teen
Released 4/9/2019
During the time of the Crusades, an unlikely trio―a Christian princess, her affianced prince, and a Muslim assassin―embarks on a quest to the court of the most fearsome warrior the world has ever known, Genghis Khan.
A rousing tale of adventure and romance about three young people who must grapple with fundamental issues of loyalty, friendship, faith, honor, and courage against the backdrop of conflicts that still resonate today.
Purchase The Sword and the Dagger at Amazon
Purchase The Sword and the Dagger at IndieBound
View The Sword and the Dagger on Goodreads
* * * *
This Book Is Not Yet Rated
by Peter Bognanni
Hardcover
Dial Books
Released 4/9/2019
Movies have always helped Ethan Ashby make sense of the world. So when developers swoop in and say the classic Green Street Cinema is going to be destroyed to make room for luxury condos, Ethan is ready for battle. And so a motley crew of cinema employees comes together to save the place they love:
There's Sweet Lou, the elderly organist with a penchant for not-so-sweet language; Anjo, the too-cool projectionist; Griffin and Lucas who work concessions, if they work at all; and Ethan, their manager (who can barely manage his own life). Still, it's going to take a movie miracle for the Green Street to have a happy ending. And when Raina Allen, Ethan's oldest friend (and possible soul mate?), comes back to town after working in Hollywood--cue lights and music--it seems that miracle may have been delivered. But life and love aren't always like in the movies.
Purchase This Book Is Not Yet Rated at Amazon
Purchase This Book Is Not Yet Rated at IndieBound
View This Book Is Not Yet Rated on Goodreads
* * * *
Through the White Wood
by Jessica Leake
Hardcover
HarperTeen
Released 4/9/2019
When Katya loses control of her power to freeze, her villagers banish her to the palace of the terrifying Prince Sasha in Kiev. Expecting punishment, she is surprised to find instead that Sasha is just like her—with the ability to summon fire. Sasha offers Katya friendship and the chance to embrace her power rather than fear it.
But outside the walls of Kiev, Sasha's enemies are organizing an army of people bent on taking over the entire world.
Together, Katya's and Sasha's powers are a fearsome weapon. But as their enemies draw nearer, will fire and frost be enough to save the world? Or will Katya and Sasha lose everything they hold dear?
Purchase Through the White Wood at Amazon
Purchase Through the White Wood at IndieBound
View Through the White Wood on Goodreads
* * * *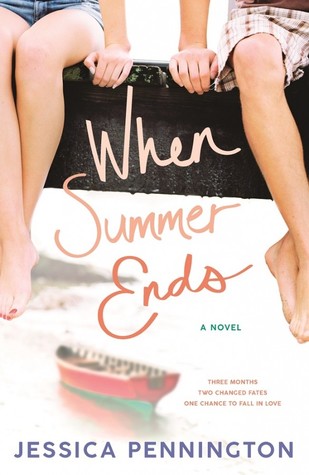 When Summer Ends
by Jessica Pennington
Hardcover
Tor Teen
Released 4/9/2019
Aiden Emerson is an all-star pitcher and the all-around golden boy of Riverton. Or at least he was, before he quit the team the last day of junior year without any explanation. How could he tell people he's losing his vision at seventeen?
Straight-laced Olivia thought she had life all figured out. But when her dream internship falls apart, her estranged mother comes back into her life, and her long-time boyfriend ghosts her right before summer break, she's starting to think fate has a weird sense of humor.
Each struggling to find a new direction, Aiden and Olivia decide to live summer by chance. Every fleeting adventure and stolen kiss is as fragile as a coin flip in this heartfelt journey to love and self-discovery from the author of Love Songs & Other Lies.
Purchase When Summer Ends at Amazon
Purchase When Summer Ends at IndieBound
View When Summer Ends on Goodreads