Happy Reading,
Shelly, Riki, Sam, Martina, Erin, Susan, Kelly, Laura, Emily, Anisaa, and Lori Ann
YA BOOK GIVEAWAYS THIS WEEK
* * * *
Winter War Awakening
by Rosalyn Eves
Hardcover Giveaway

U.S. Only
Knopf Books for Young Readers
Released 3/19/2019
The Binding is broken. Mátyás is alive. And Anna Arden is on the run.
It seems, yet again, that breaking the Binding has shattered the world. And the only hope of mending it is Anna and Mátyás, working together. But it's never that simple, is it? The praetheria, the creatures once held captive by the spell, are now waging war against the Austro-Hungarian empire. And they are holding Noémi hostage–using her life to manipulate Anna and Mátyás, like marionettes on a string.
Gábor has elected to stay behind, to fight in the Hungarian army's resistance, while Anna and Mátyás search for their beloved Noémi–a mission doomed from the start, cloaked in praetherian magic. Magic that relies on illusion and misdirection. Eventually, there's only one way to save her: to split up. And to walk right into the lion's den.
When everyone thinks they're fighting each other for the same thing–freedom–can anyone truly win?
Purchase Winter War Awakening at Amazon
Purchase Winter War Awakening at IndieBound
View Winter War Awakening on Goodreads
YA BOOK GIVEAWAYS LAST WEEK: WINNERS
Tin Heart: A Novel by Shivaun Plozza:
Amanda B.
MORE YOUNG ADULT NOVELS NEW IN STORES NEXT WEEK
* * * *
Eiffel's Tower for Young People
by Jill Jonnes
Hardcover
Triangle Square
Released 3/19/2019
Weaving together the behind-the-scenes history of the Eiffel Tower with an account of the 1889 World's Fair in Paris for which the tower was built, Jonnes creates a vivid, lively pageant of people and cultures meeting--and competing.
The book opens a window into a piece of the past that, in its passions and politics, feels timelessly modern: art, science, business, entertainment, gossip, royalty, and national pride mingle in an unforgettable portrait of a unique moment in history, when Buffalo Bill and Annie Oakley became the toasts of Paris and Gustave Eiffel, builder of the tower, rose to the pinnacle of fame, only to suffer a tragic fall from grace.
Above all, the 1889 World's Fair revolved around two nations, whose potent symbols were the twin poles of the fair. France, with its long history of sophistication and cultivation, and with a new republican government eager for the country to take its place at the forefront of the modern world, presented the Eiffel Tower--the world's tallest structure--as a symbol of national pride and engineering superiority. The United States, with its brash, can-do spirit, full of pride in its frontier and its ingenuity, presented the rollicking Wild West show of Buffalo Bill Cody and the marvelous new phonograph of Thomas Edison.
Eiffel, Cody, Oakley, and Edison are just a few of the characters who populate Jonnes's dramatic history. There are also squabbling artists, a notorious newspaperman, and a generous sprinkling of royalty from around the world. Some of them emerged from the World's Fair of 1889 winners, some losers, but neither they nor any among the vast crowds who attended the fair ever forgot it. The drama, color, and personalities that made the adult book so fascinating and critically acclaimed, are all here in spades as adapted for middle grade and above by Rebecca Stefoff.
Purchase Eiffel's Tower for Young People at Amazon
Purchase Eiffel's Tower for Young People at IndieBound
View Eiffel's Tower for Young People on Goodreads
* * * *
Fear of Missing Out
by Kate McGovern
Hardcover
Farrar, Straus and Giroux
Released 3/19/2019
Everyone has a fear of missing out on something―a party, a basketball game, a hangout after school. But what if it's life that you'll be missing out on?
When Astrid learns that her cancer has returned, she hears about a radical technology called cryopreservation that may allow her to have her body frozen until a future time when―and if―a cure is available. With her boyfriend, Mohit, and her best friend, Chloe, Astrid goes on a road trip in search of that possibility. To see if it's real. To see if it's worth it. For fear of missing out on everything.
Purchase Fear of Missing Out at Amazon
Purchase Fear of Missing Out at IndieBound
View Fear of Missing Out on Goodreads
* * * *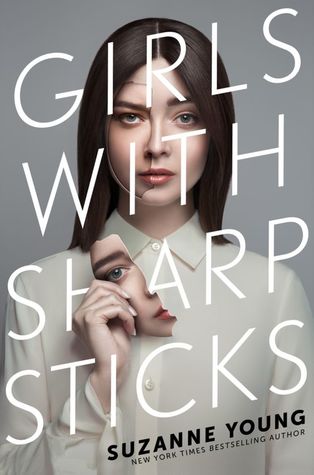 Girls with Sharp Sticks
by Suzanne Young
Hardcover
Simon Pulse
Released 3/19/2019
Some of the prettiest flowers have the sharpest thorns.
The Girls of Innovations Academy are beautiful and well-behaved—it says so on their report cards. Under the watchful gaze of their Guardian, they receive a well-rounded education that promises to make them better. Obedient girls, free from arrogance or defiance. Free from troublesome opinions or individual interests.
But the girls' carefully controlled existence may not be quite as it appears. As Mena and her friends uncover the dark secrets of what's actually happening there—and who they really are—the girls of Innovations Academy will learn to fight back.
Purchase Girls with Sharp Sticks at Amazon
Purchase Girls with Sharp Sticks at IndieBound
View Girls with Sharp Sticks on Goodreads
* * * *
Meet Me in Outer Space
by Melinda Grace
Hardcover
Swoon Reads
Released 3/19/2019
Edie Kits has a learning disability. Well, not a learning disability exactly, but a disability that impacts her learning. It isn't visible, it isn't obvious, and it isn't something she likes to advertise.
And for three semesters of college, her hard work and perseverance have carried her through. Edie thinks she has her disability under control until she meets her match with a French 102 course and a professor unwilling to help her out.
Edie finds herself caught between getting the help she needs and convincing her professor that she isn't looking for an easy out. Luckily for Edie, she has an amazing best friend, Serena, who is willing to stitch together a plan to ensure Edie's success. And then there's Hudson, the badly dressed but undoubtedly adorable TA in her French class who finds himself pulled into her orbit...
Purchase Meet Me in Outer Space at Amazon
Purchase Meet Me in Outer Space at IndieBound
View Meet Me in Outer Space on Goodreads
* * * *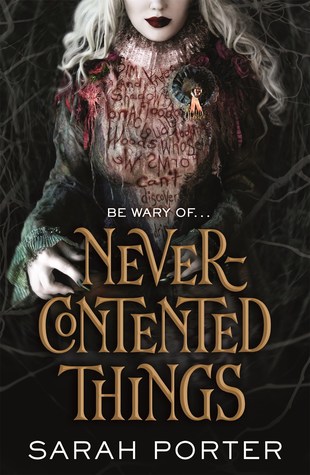 Never-Contented Things: A Novel of Faerie
by Sarah Porter
Hardcover
Tor Teen
Released 3/19/2019
Prince and his fairy courtiers are staggeringly beautiful, unrelentingly cruel, and exhausted by the tedium of the centuries―until they meet foster-siblings Josh and Ksenia. Drawn in by their vivid emotions, undying love for each other, and passion for life, Prince will stop at nothing to possess them.
First seduced and then entrapped by the fairies, Josh and Ksenia learn that the fairies' otherworldly gifts come at a terrible price―and they must risk everything in order to reclaim their freedom.
Purchase Never-Contented Things: A Novel of Faerie at Amazon
Purchase Never-Contented Things: A Novel of Faerie at IndieBound
View Never-Contented Things: A Novel of Faerie on Goodreads
* * * *
Night Music
by Jenn Marie Thorne
Hardcover
Dial Books
Released 3/19/2019
Ruby has always been Ruby Chertok: future classical pianist and daughter of renowned composer Martin Chertok. But after her horrendous audition for the prestigious music school where her father is on faculty, it's clear that music has publicly dumped her. Now Ruby is suddenly just . . . Ruby. And who is that again? All she knows is that she wants away from the world of classical music for good.
Oscar is a wunderkind, a musical genius. Just ask any of the 1.8 million people who've watched him conduct on YouTube--or hey, just ask Oscar. But while he might be the type who'd name himself when asked about his favorite composer and somehow make you love him more for it, Oscar is not the type to jeopardize his chance to study under the great Martin Chertok--not for a crush. He's all too aware of how the ultra-privileged world of classical music might interpret a black guy like him falling for his benefactor's white daughter.
But as the New York City summer heats up, so does the spark between Ruby and Oscar. Soon their connection crackles with the same alive, uncontainable energy as the city itself. Can two people still figuring themselves out figure out how to be together? Or will the world make the choice for them?
Purchase Night Music at Amazon
Purchase Night Music at IndieBound
View Night Music on Goodreads
* * * *
Present, Not Perfect for Teens: A Journal for Slowing Down, Letting Go, and Being Your Awesome Self
by Aimee Chase
Paperback
Castle Point Books
Released 3/19/2019
Being a teenager today can be hectic. With hours of homework, sports, clubs, college applications, jobs, and squeezing in some hang time with friends, the stress on our teens is greater than it has ever been. Throw in the craziness of the teenage brain and some social networking, and teens have little time and even less energy for introspection. Present, Not Perfect for Teens will gently guide teens to slow down and spend some time exploring their innermost feelings and emotions, gaining self-knowledge in the process.
Purchase Present, Not Perfect for Teens: A Journal for Slowing Down, Letting Go, and Being Your Awesome Self at Amazon
Purchase Present, Not Perfect for Teens: A Journal for Slowing Down, Letting Go, and Being Your Awesome Self at IndieBound
View Present, Not Perfect for Teens: A Journal for Slowing Down, Letting Go, and Being Your Awesome Self on Goodreads
* * * *
Return of the Thief
by Megan Whalen Turner
Hardcover
Greenwillow Books
Released 3/19/2019
This beloved and award-winning series began with the acclaimed novel The Thief. It and four more stand-alone volumes bring to life a world of epics, myths, and legends, and feature one of the most charismatic and incorrigible characters of fiction, Eugenides the thief. Now more powerful and cunning than ever before, Eugenides must navigate a perilous future in this sweeping conclusion. Perfect for fans of Leigh Bardugo, Marie Lu, Patrick Rothfuss, and Sarah J. Maas.
Neither accepted nor beloved, Eugenides is the uneasy linchpin of a truce on the Lesser Peninsula, where he has risen to be high king of Attolia, Eddis, and Sounis. As the treacherous Baron Erondites schemes anew and a prophecy appears to foretell the death of the king, the ruthless Mede empire prepares to strike.
The New York Times–bestselling Queen's Thief novels are rich with political machinations, divine intervention, dangerous journeys, battles lost and won, power, passion, and deception. Features a cast list of the characters in the Queen's Thief novels, as well as two maps—a map of the world of the Queen's Thief, and a map exclusive to this edition.
Purchase Return of the Thief at Amazon
Purchase Return of the Thief at IndieBound
View Return of the Thief on Goodreads
* * * *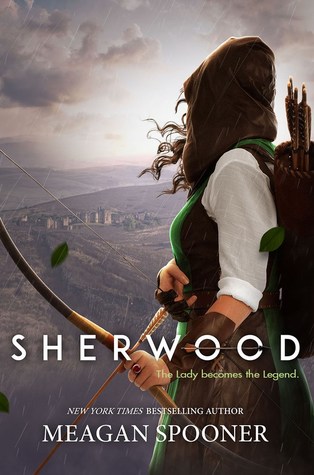 Sherwood
by Meagan Spooner
Hardcover
HarperTeen
Released 3/19/2019
Robin of Locksley is dead.
Maid Marian doesn't know how she'll go on, but the people of Locksley town, persecuted by the Sheriff of Nottingham, need a protector. And the dreadful Guy of Gisborne, the Sheriff's right hand, wishes to step into Robin's shoes as Lord of Locksley and Marian's fiancé.
Who is there to stop them?
Marian never meant to tread in Robin's footsteps—never intended to stand as a beacon of hope to those awaiting his triumphant return. But with a sweep of his green cloak and the flash of her sword, Marian makes the choice to become her own hero: Robin Hood.
Purchase Sherwood at Amazon
Purchase Sherwood at IndieBound
View Sherwood on Goodreads
* * * *
Small Town Hearts
by Lillie Vale
Hardcover
Swoon Reads
Released 3/19/2019
Fresh out of high school, Babe Vogel should be thrilled to have the whole summer at her fingertips. She loves living in her lighthouse home in the sleepy Maine beach town of Oar's Rest and being a barista at the Busy Bean, but she's totally freaking out about how her life will change when her two best friends go to college in the fall. And when a reckless kiss causes all three of them to break up, she may lose them a lot sooner. On top of that, her ex-girlfriend is back in town, bringing with her a slew of memories, both good and bad.
And then there's Levi Keller, the cute artist who's spending all his free time at the coffee shop where she works. Levi's from out of town, and even though Babe knows better than to fall for a tourist who will leave when summer ends, she can't stop herself from wanting to know him. Can Babe keep her distance, or will she break the one rule she's always had - to never fall for a summer boy?
Purchase Small Town Hearts at Amazon
Purchase Small Town Hearts at IndieBound
View Small Town Hearts on Goodreads
* * * *
The Weight of the Stars
by K. Ancrum
Hardcover
Imprint
Released 3/19/2019
Ryann Bird dreams of traveling across the stars. But a career in space isn't an option for a girl who lives in a trailer park on the "wrong" side of town. So Ryann becomes her circumstances and settles for acting out and skipping school to hang out with her delinquent friends.
One day she meets Alexandria: a furious loner who spurns Ryann's offer of friendship. After a horrific accident leaves Alexandria with a broken arm, the girls are brought together despite themselves―and Ryann learns her secret: Alexandria's mother is an astronaut who volunteered for a one-way trip to the edge of the solar system.
Every night without fail, Alexandria waits to catch radio signals from her mother. And now it's up to Ryann to lift her onto the roof day after day until the silence between them grows into friendship, and eventually something more.
Purchase The Weight of the Stars at Amazon
Purchase The Weight of the Stars at IndieBound
View The Weight of the Stars on Goodreads