Happy Reading,
Shelly, Sam, Riki, Jocelyn, Martina, Erin, Susan, Kelly, Laura, Emily, Anisaa, and Lori Ann
YA BOOK GIVEAWAYS LAST WEEK: WINNERS
The Antidote by Shelley Sackier:
Ellie M.
The Deceivers by Kristen Simmons:
Michelle M.
MORE YOUNG ADULT FICTION IN STORES NEXT WEEK WITH AUTHOR INTERVIEWS
* * * *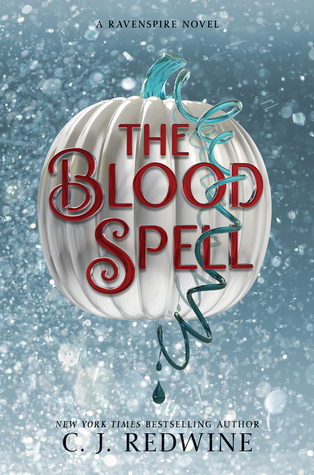 The Blood Spell
by C. J. Redwine
Hardcover
Balzer + Bray
Released 2/12/2019
Blue de la Cour has her life planned: hide the magic in her blood and continue trying to turn metal into gold so she can help her city's homeless. But when her father is murdered and a cruel but powerful woman claims custody of Blue and her property, one wrong move could expose her—and doom her once and for all. The only one who can help? The boy she's loathed since childhood: Prince Kellan.
Kellan Renard, crown prince of Balavata, is walking a thin line between political success and devastating violence. Newly returned from boarding school, he must find a bride among the kingdom's head families and announce his betrothal—but escalating violence among the families makes the search nearly impossible. He's surprised to discover that the one person who makes him feel like he can breathe is Blue, the girl who once ruined all his best adventures.
When mysterious forces lead to disappearances throughout Balavata, Blue and Kellan must work together to find the truth. What they discover will lead them to the darkest reaches of the kingdom, and to the most painful moments of their pasts.
When romance is forbidden and evil is rising, can Blue save those she loves, even if it costs her everything?
Author Question: What is your favorite thing about The Blood Spell?
Hmm ... that's a tough question. I love the swoony enemies-to-lovers romance because that's always one of my favorites, and of course I love the terrifying blood wraith who is making a bid for ultimate power, but I think my favorite has to be Princess Nessa, the hero's younger sister. She's twelve, sparkles with joy and wit, is full of energy and courage, and speaks with sign language. I based her entirely off my six-year-old daughter, who has the same diagnosis Nessa has and who uses the beautiful language of ASL to communicate. I've never seen a character like my daughter in fiction, and I really wanted to give her someone who has as much courage, intelligence, and joy as she does.
Purchase The Blood Spell at Amazon
Purchase The Blood Spell at IndieBound
View The Blood Spell on Goodreads
MORE YOUNG ADULT NOVELS NEW IN STORES NEXT WEEK
* * * *
Awake in the World
by Jason Gurley
Hardcover
Roaring Brook Press
Released 2/12/2019
When all was lost, they found each other.
As the sun sets off the coast of the small California town of Orilla del Cielo, the silhouettes of oil rigs loom. Their shadows mar the serene backdrop, their sharpness a reminder of unfulfilled promises. To Zach, they are also a reminder of loss―his father, an oil worker, drowned years earlier. With his family struggling to make ends meet, Zach feels he's destined for a bleak future.
Until he meets Vanessa. She's an optimistic girl from a wealthy family whose sights are literally set on the stars. Inspired by her idol, Carl Sagan, she plans on studying astronomy at Cornell. But as oil prospectors in search of black gold know, the future is uncertain . . . and fortunes can always be flipped.
Purchase Awake in the World at Amazon
Purchase Awake in the World at IndieBound
View Awake in the World on Goodreads
* * * *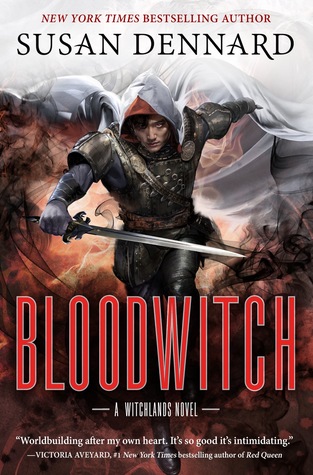 Bloodwitch: A Witchlands Novel
by Susan Dennard
Hardcover
Tor Teen
Released 2/12/2019
Aeduan has teamed up with the Threadwitch Iseult and the magical girl Owl to stop a bloodthirsty horde of raiders preparing to destroy a monastery that holds more than just faith. But to do so, he must confront his own father, and his past.
Purchase Bloodwitch: A Witchlands Novel at Amazon
Purchase Bloodwitch: A Witchlands Novel at IndieBound
View Bloodwitch: A Witchlands Novel on Goodreads
* * * *
Comics Will Break Your Heart: A Novel
by Faith Erin Hicks
Hardcover
Roaring Brook Press
Released 2/12/2019
Miriam's family should be rich. After all, her grandfather was the co-creator of smash-hit comics series The TomorrowMen. But he sold his rights to the series to his co-creator in the 1960s for practically nothing, and now that's what Miriam has: practically nothing. And practically nothing to look forward to either-how can she afford college when her family can barely keep a roof above their heads? As if she didn't have enough to worry about, Miriam's life gets much more complicated when a cute boy shows up in town . . . and turns out to be the grandson of the man who defrauded Miriam's grandfather, and heir to the TomorrowMen fortune.
Purchase Comics Will Break Your Heart: A Novel at Amazon
Purchase Comics Will Break Your Heart: A Novel at IndieBound
View Comics Will Break Your Heart: A Novel on Goodreads
* * * *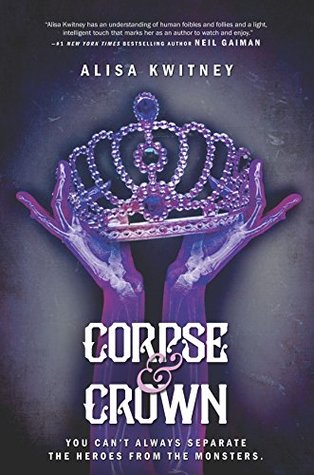 Corpse & Crown
by Alisa Kwitney
Hardcover
Inkyard Press
Released 2/12/2019
Agatha DeLacey's family isn't rich or titled, so studying nursing at Ingold's East End hospital in London is a rare opportunity for her. Despite the school's focus on the innovative Bio-Mechanical program, Aggie cares more about the desperately poor human patients who flood the hospital, even if that means providing unauthorized treatment after-hours…and trusting a charming, endlessly resourceful thief.
But the Artful Dodger is barely a step ahead of his underworld rivals, the menacing Bill Sykes and mercurial Oliver Twist, and Aggie's association with him soon leads her into danger. When a brutal attack leaves her blind, she and the Dodger find themselves at the mercy of an experimental Bio-Mech surgery. Though the procedure restores Aggie's sight, her new eyes come at an unnerving cost, and the changes in Dodger are even more alarming—instead of seeing Aggie as the girl he fancies, he now views her as a potential threat.
As war between England and Germany brews on the horizon and a sinister medical conspiracy threatens to shatter the uneasy peace in Europe, Aggie and the Dodger must find a way to work together so they can protect their friends and expose the truth…even if it means risking their own survival.
Purchase Corpse & Crown at Amazon
Purchase Corpse & Crown at IndieBound
View Corpse & Crown on Goodreads
* * * *
Feminism Is...
by DK, Roxane Gay
Paperback
Penguin Publishing Group
Released 2/12/2019
What is feminism? Combining insightful text with graphic illustrations, this engaging book introduces young adult readers to a subject that should matter to everyone. Feminism Is... tackles the most intriguing and relevant topics, such as intersectionality, the right to an equal education, and the gender pay gap. Find out what equality for women really means, get a short history of feminism, and take a look at the issues that affect women at work, in the home, and around sex and identity. Meet, too, some great women, such as Gloria Steinem, Frida Kahlo, and Malala Yousafzai, "rebel girls" who refused to accept the status quo of their day and blazed a trail for others to follow.
Addressing ongoing feminist concerns and including an original foreword by Roxane Gay, Feminism Is... takes on the issues in informative, thought-provoking ways.
Purchase Feminism Is... at Amazon
Purchase Feminism Is... at IndieBound
View Feminism Is... on Goodreads
* * * *
Spectacle
by Jodie Lynn Zdrok
Hardcover
Tor Teen
Released 2/12/2019
Paris, 1887.
Sixteen-year-old Nathalie Baudin writes the daily morgue column for Le Petit Journal. Her job is to summarize each day's new arrivals, a task she finds both fascinating and routine. That is, until the day she has a vision of the newest body, a young woman, being murdered―from the perspective of the murderer himself.
When the body of another woman is retrieved from the Seine days later, Paris begins to buzz with rumors that this victim may not be the last. Nathalie's search for answers sends her down a long, twisty road involving her mentally ill aunt, a brilliant but deluded scientist, and eventually into the Parisian Catacombs. As the killer continues to haunt the streets of Paris, it becomes clear that Nathalie's strange new ability may make her the only one who can discover the killer's identity--and she'll have to do it before she becomes a target herself.
Purchase Spectacle at Amazon
Purchase Spectacle at IndieBound
View Spectacle on Goodreads
* * * *
The Black Coats
by Colleen Oakes
Hardcover
HarperTeen
Released 2/12/2019
The enigmatic Black Coats have been exacting vengeance on men who have hurt girls and women for years. The killer of Thea's cousin went free, and Thea has just received an invitation to join the Black Coats' balancings—acts of revenge meant to teach a lesson. Justice for Natalie has never felt so close.
But as the balancings escalate in brutality, Thea's clear-cut mission begins to unravel and she must decide just how far she is willing to go for justice.
Because when the line between justice and revenge is paper thin, it's hard not to get cut.
Purchase The Black Coats at Amazon
Purchase The Black Coats at IndieBound
View The Black Coats on Goodreads
* * * *
The Triumphant
by Lesley Livingston
Hardcover
Razorbill
Released 2/12/2019
In the wake of their victorious fight to win back the Ludus Achillea, Fallon and her gladiatrix sisters have become the toast of the Republic. However, as a consequence of his actions during the Ludus uprising, Fallon's love Cai has been stripped of his Decurion rank and cast down to serve as one of Caesar's gladiators.
Amid fighting for Cai's freedom, Fallon soon learns that Caesar's enemies are plotting against him and planning to get revenge on his fearsome gladiatrices. When Caesar is murdered by these conspirators, Fallon and the girls lose any sort of protection they once had. Fallon also realizes that the foreign queen Cleopatra is now in grave danger.
Fallon rallies her war band and Cai's friends to get Cleopatra out of the city, and the group heads to the safety of Cleo's homeland, Alexandria, Egypt. Once there, the gladiatrices are promised a place of honor in the queen's elite guard, but is that what any of them really want?
Purchase The Triumphant at Amazon
Purchase The Triumphant at IndieBound
View The Triumphant on Goodreads
* * * *
The Truth and Lies of Ella Black
by Emily Barr
Hardcover
Philomel Books
Released 2/12/2019
Ella Black has always had dark inclinations. She's successfully hidden her evil alter ego from her family and friends, but Bella is always there, ready to take control and force Ella to do bad things. When Ella's parents drag her out of school one afternoon and fly across the globe to Rio de Janeiro with no believable explanation, Bella longs to break free--and so does Ella. Because for all that her parents claim to be doing what's best for her, Ella knows there is something going on that they're not divulging, and she is determined to find out what.
Once in Rio, Ella learns a shocking truth about her family that gives way to a mission through the streets and beaches of Brazil in search of her authentic self. But the truth has many layers, and as Ella uncovers more and more about her own history, she struggles to come to terms with just where it is that she came from.
Purchase The Truth and Lies of Ella Black at Amazon
Purchase The Truth and Lies of Ella Black at IndieBound
View The Truth and Lies of Ella Black on Goodreads
* * * *
Watch Us Rise
by Renée Watson
Hardcover
Bloomsbury YA
Released 2/12/2019
Jasmine and Chelsea are best friends on a mission--they're sick of the way women are treated even at their progressive NYC high school, so they decide to start a Women's Rights Club. They post their work online--poems, essays, videos of Chelsea performing her poetry, and Jasmine's response to the racial microaggressions she experiences--and soon they go viral. But with such positive support, the club is also targeted by trolls. When things escalate in real life, the principal shuts the club down. Not willing to be silenced, Jasmine and Chelsea will risk everything for their voices--and those of other young women--to be heard.
These two dynamic, creative young women stand up and speak out in a novel that features their compelling art and poetry along with powerful personal journeys that will inspire readers and budding poets, feminists, and activists.
Purchase Watch Us Rise at Amazon
Purchase Watch Us Rise at IndieBound
View Watch Us Rise on Goodreads
* * * *
What Every Girl Should Know: Margaret Sanger's Journey
by J. Albert Mann
Hardcover
Atheneum Books for Young Reade
Released 2/12/2019
This compelling historical novel spans the early and very formative years of feminist and women's health activist Margaret Sanger, founder of Planned Parenthood, as she struggles to find her way amidst the harsh realities of poverty.
Margaret was determined to get out. She didn't want to clean the dirty dishes and soiled diapers that piled up day in and day out in her large family's small home. She didn't want to disappoint her ailing mother, who cared tirelessly for an ever-growing number of children despite her incessant cough. And Margaret certainly didn't want to be labeled a girl of "promise," destined to become either a teacher or a mother—which seemed to be a woman's only options.
As a feisty and opinionated young woman, Margaret Higgins Sanger witnessed and experienced incredible hardships, which led to her groundbreaking work as an advocate for women's rights and the founder of Planned Parenthood. This fiery novel of Margaret's early life paints the portrait of a young woman with the passion and courage to change the world.
Purchase What Every Girl Should Know: Margaret Sanger's Journey at Amazon
Purchase What Every Girl Should Know: Margaret Sanger's Journey at IndieBound
View What Every Girl Should Know: Margaret Sanger's Journey on Goodreads
* * * *
When Light Left Us
by Leah Thomas
Hardcover
Bloomsbury USA Childrens
Released 2/12/2019
When the Vasquez siblings' father left, it seemed nothing could remedy the absence in their lives . . . until a shimmering figure named Luz appeared in the canyon behind their house.
Luz filled the void. He shot hoops with seventeen-year-old Hank's hands. He showed fourteen-year-old Ana cinematic beauty behind her eyelids. He spoke kindly to eight-year-old Milo. But then Luz left, too, and he took something from each of them. As a new school year begins, Hank, Ana, and Milo must carry on as if an alien presence never altered them. But how can they ever feel close to other people again when Luz changed everything about how they see the world and themselves?
Purchase When Light Left Us at Amazon
Purchase When Light Left Us at IndieBound
View When Light Left Us on Goodreads