Caleb, how long did you work on DEATH PREFERS BLONDES?
The answer to this is complicated. I got the first spark of inspiration for this story when I was about nineteen, envisioning a rebel heiress character who drove a convertible and fought with her dad a lot; I didn't know anything about her story, but I knew who she was. Later, I was watching a movie that opened with a woman robbing a jewelry store, dressed in a platinum wig and huge sunglasses and this black Stetson, and omg, the
drama
of it all! Just like that, I saw this band of jewel thief drag queens, all dressed in corresponding outfits with these brightly colored wigs—and somehow, in my head, I connected that image with the rebel heiress. For several years, that's really as far I went with it, but eventually I decided to tell myself the whole story. I sketched it as an outline, and then wrote a version of it that was admittedly pretty terrible, and then trunked it completely. But it was always there, begging for a new life; and when I published my debut, I mentioned it to my editor, and she FLIPPED over the concept of jewel thief drag queens. So I dusted it off, completely revised the outline, and started over. I wrote the first half of the book in the summer of 2017, and the second half at the top of 2018—about six months of writing/revising all together—and now here we are.
What do you hope readers will take away from DEATH PREFERS BLONDES?
I explore a lot of themes in
Death Prefers Blondes
, but the the two I most hope readers take away with them are the importance of found family, and of learning to trust yourself. Found families have always been a huge and significant part of the queer community, and especially in the world of drag, so I really wanted this book to stand as a tribute to the support network of intimate friends. I also really wanted to depict characters who experience guilt and self-doubt and insecurity, but who persevere, and who manage to fix what's wrong in their lives. Coincidentally, there were many, many times in the writing of this book where I was sure I was making a huge mistake; but I eventually decided to trust my judgment, and I absolutely could not be happier with the results.
What do you most wish you had learned sooner in the writing process, something that you could reach back to the beginning of your writing journey and tell yourself?
I definitely wish that the Caleb at the beginning of his writing journey had been capable of more objectivity when it came to his work. Completing my first full-length novel took me probably two years, writing on weekends and between classes in college, and when it was done I was so overwhelmed with what I'd accomplished (and, frankly, so impressed by the finished product) that I wasn't able to see where I'd made mistakes. And I mean, for one thing, the manuscript was about 160,000 words long; it needed some considerable editing. I'm happy to report that I've gotten much better about killing my darlings, these days. I cut about 25,000 words out of the zero draft of
Death Prefers Blondes
before I submitted it to my editor, and it's far sharper and more satisfying as a result.
ABOUT THE BOOK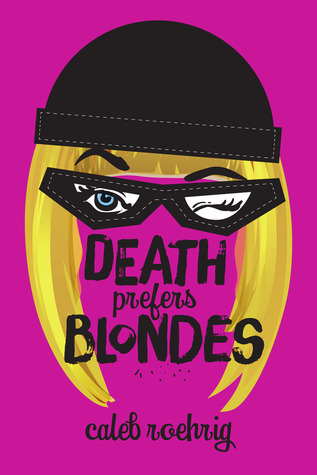 Death Prefers Blondes
by Caleb Roehrig
Hardcover
Feiwel & Friends
Released 1/29/2019
Teenage socialite Margo Manning leads a dangerous double life. By day, she dodges the paparazzi while soaking up California sunshine. By night, however, she dodges security cameras and armed guards, pulling off high-stakes cat burglaries with a team of flamboyant young men. In and out of disguise, she's in all the headlines.
But then Margo's personal life takes a sudden, dark turn, and a job to end all jobs lands her crew in deadly peril. Overnight, everything she's ever counted on is put at risk. Backs against the wall, the resourceful thieves must draw on their special skills to survive. But can one rebel heiress and four kickboxing drag queens withstand the slings and arrows of truly outrageous fortune? Or will a mounting sea of troubles end them―for good?
Purchase Death Prefers Blondes at Amazon
Purchase Death Prefers Blondes at IndieBound
View Death Prefers Blondes on Goodreads
ABOUT THE AUTHOR
Caleb Roehrig is a writer and television producer originally from Ann Arbor, Michigan. Having also lived in Chicago, Los Angeles, and Helsinki, Finland, he has a chronic case of wanderlust, and can recommend the best sights to see on a shoestring budget in over thirty countries. A former actor, Roehrig has experience on both sides of the camera, with a résumé that includes appearances on film and TV—as well as seven years in the stranger-than-fiction salt mines of reality television. In the name of earning a paycheck, he has: hung around a frozen cornfield in his underwear, partied with an actual rock-star, chatted with a scandal-plagued politician, and been menaced by a disgruntled ostrich.
---

Have you had a chance to read DEATH PREFERS BLONDES yet? Are you able to see your mistakes when revising? Are you able to kill your darlings? Share your thoughts about the interview in the comments!

Happy Reading,

Jocelyn, Halli, Martina, Erin, Susan, Shelly, and Kelly