Happy Reading,
Shelly, Sam, Jocelyn, Martina, Erin, Susan, Kelly, Laura, Emily, Anisaa, and Lori Ann
YA BOOK GIVEAWAYS THIS WEEK
* * * *
The Girl with the Broken Heart
by Lurlene McDaniel
Hardcover Giveaway

U.S. Only
Delacorte Press
Released 12/18/2018
Kenzie Caine is enrolled at Vanderbilt University, with the goal of becoming a veterinarian. When she lands a summer job caring for and helping to rehabilitate abused horses at the Bellmeade Estate stables, she is over-the-moon happy. One place she does not want to be is at home with her parents. Since the tragic death of Kenzie's younger sister, her mother has unraveled and her father has lost Kenzie's trust.
At the stables, Kenzie is in her element. But a serious heart condition limits her ability to complete the more physical aspects of the job, so her employers have tasked the charming Austin Boyd with helping her. But Austin has secrets. And as Kenzie and Austin become closer, those secrets threaten to harm their relationship, as well as reveal other startling truths.
Author Question: What is your favorite thing about The Girl with the Broken Heart?
The mystery plot I was able to pull through the story. I wanted to keep readers guessing about Austin, the lead male character.
Purchase The Girl with the Broken Heart at Amazon
Purchase The Girl with the Broken Heart at IndieBound
View The Girl with the Broken Heart on Goodreads
YA BOOK GIVEAWAYS LAST WEEK: WINNERS
This Lie Will Kill You by Chelsea Pitcher:
Rosi H.
MORE YOUNG ADULT NOVELS NEW IN STORES NEXT WEEK
* * * *
29 Dates
by Melissa de la Cruz
Hardcover
Harper Collins
Released 12/18/2018
Ji-su's traditional South Korean parents are concerned by what they see as her lack of attention to her schoolwork and her future. Working with Seoul's premiere matchmaker to find the right boyfriend is one step toward ensuring Ji-su's success, and going on the recommended dates is Ji-su's compromise to please her parents while finding space to figure out her own dreams. But when she flubs a test then skips out on a date to spend time with friends, her fed-up parents shock her by shipping her off to a private school in San Francisco. Where she'll have the opportunity to shine academically—and be set up on more dates!
Navigating her host family, her new city and school, and more dates, Ji-su finds comfort in taking the photographs that populate her ever-growing social media account. Soon attention from two very different boys sends Ji-su into a tailspin of soul-searching. As her passion for photography lights her on fire, does she even want to find The One? And what if her One isn't parent and matchmaker approved?
Purchase 29 Dates at Amazon
Purchase 29 Dates at IndieBound
View 29 Dates on Goodreads
* * * *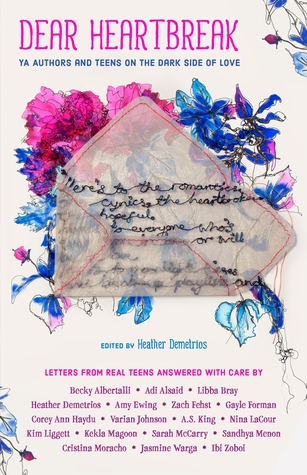 Dear Heartbreak: YA Authors and Teens on the Dark Side of Love
by Heather Demetrios
Hardcover
Henry Holt and Co.
Released 12/18/2018
In this powerful collection, well-known YA authors answer real letters from teens all over the world about the dark side of love: dating violence, break-ups, cheating, betrayals, and loneliness. This book contains a no-holds-barred, raw outpouring of the wisdom these authors have culled from mining their own hearts for the fiction they write. Their responses are autobiographical, unflinching, and filled with love and hope for the anonymous teen writers.
With contributors Becky Albertalli, Adi Alsaid, Libba Bray, Mike Curato, Heather Demetrios, Amy Ewing, Zach Fehst, Gayle Forman, Corey Ann Haydu, Varian Johnson, A.S. King, Nina LaCour, Kim Liggett, Kekla Magoon, Sarah McCarry, Sandhya Menon, Cristina Moracho, Jasmine Warga, and Ibi Zoboi.
Purchase Dear Heartbreak: YA Authors and Teens on the Dark Side of Love at Amazon
Purchase Dear Heartbreak: YA Authors and Teens on the Dark Side of Love at IndieBound
View Dear Heartbreak: YA Authors and Teens on the Dark Side of Love on Goodreads
* * * *
Giant Days: Early Registration
by John Allison
Paperback
Simon and Shuster
Released 12/18/2018
Flashback to freshman year with Esther, Susan and Daisy to see how they first met and became the best of friends, in these bonus Giant Days stories.
Take a trip through the past in these early Giant Days stories, and discover the origin of Daisy, Esther and Susan's friendship as they embark on orientation, getting-to-know-you-exercises, and collisions with a secret society devoted to Black Metal.
Collecting the original, self-published Giant Days comics for the first time, creator John Allison (Bad Machinery, Scary Go Round) takes us back to where it all started in Giant Days: Early Registratio.
Purchase Giant Days: Early Registration at Amazon
Purchase Giant Days: Early Registration at IndieBound
View Giant Days: Early Registration on Goodreads
* * * *
My Almost Flawless Tokyo Dream Life
by Rachel Cohn
Hardcover
Disney-Hyperion
Released 12/18/2018
In the Land of the Rising Sun, where high culture meets high kitsch, and fashion and technology are at the forefront of the First World's future, the foreign-born teen elite attend ICS-the International Collegiate School of Tokyo. Their accents are fluid. Their homes are ridiculously posh. Their sports games often involve a (private) plane trip to another country. They miss school because of jet lag and visa issues. When they get in trouble, they seek diplomatic immunity.
Enter foster-kid-out-of-water Elle Zoellner, who, on her sixteenth birthday, discovers that her long-lost father, Kenji Takahara, is actually a Japanese hotel mogul and wants her to come live with him. Um, yes, please! Elle jets off first class from Washington, DC, to Tokyo, which seems like a dream come true. Until she meets her enigmatic father, her way-too-fab aunt, and her hyper-critical grandmother, who seems to wish Elle didn't exist. In an effort to please her new family, Elle falls in with the Ex-Brats, a troop of uber-cool international kids who spend money like it's air. But when she starts to crush on a boy named Ryuu, who's frozen out by the Brats and despised by her new family, her already tenuous living situation just might implode.
Purchase My Almost Flawless Tokyo Dream Life at Amazon
Purchase My Almost Flawless Tokyo Dream Life at IndieBound
View My Almost Flawless Tokyo Dream Life on Goodreads
* * * *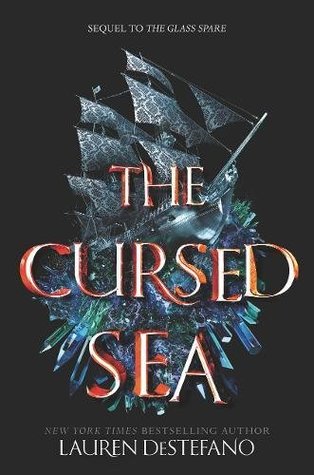 The Cursed Sea
by Lauren DeStefano
Hardcover
Balzer + Bray
Released 12/18/2018
Wil, the exiled princess of northern Arrod, must do what she never thought possible: return home to discover the origins of her own curse.
But home is very different from how she left it—Wil's unpredictable elder brother Baren is now king, leading a war against the Southern Isles. And with time running out, Wil must navigate the dangerous secrets within her family to find the truth.
Nothing goes as planned, and suddenly Wil and her allies are fighting for their lives as the Southern king is out to ensure neither of his children will survive to take the throne. Traveling across cursed seas and treacherous kingdoms, Wil and Loom must make peace with their pasts if they hope to secure the future of their world.
But when their plans lead them right back to evil marveler Pahn, and to Baren—who is more dangerous than ever—can Wil and her friends outsmart their enemies, this time for good?
Purchase The Cursed Sea at Amazon
Purchase The Cursed Sea at IndieBound
View The Cursed Sea on Goodreads
* * * *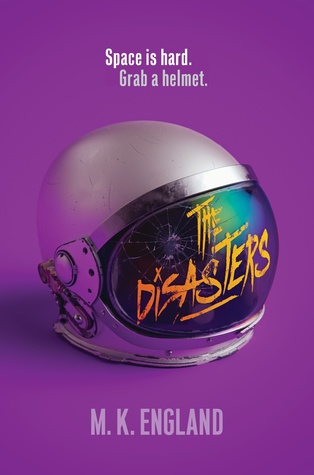 The Disasters
by M. K. England
Hardcover
HarperTeen
Released 12/18/2018
Hotshot pilot Nax Hall has a history of making poor life choices. So it's not exactly a surprise when he's kicked out of the elite Ellis Station Academy in less than twenty-four hours. But Nax's one-way trip back to Earth is cut short when a terrorist group attacks the Academy.
Nax and three other washouts escape—barely—but they're also the sole witnesses to the biggest crime in the history of space colonization. And the perfect scapegoats.
On the run, Nax and his fellow failures plan to pull off a dangerous heist to spread the truth. Because they may not be "Academy material," and they may not even get along, but they're the only ones left to step up and fight.
Purchase The Disasters at Amazon
Purchase The Disasters at IndieBound
View The Disasters on Goodreads