Happy Reading,
Shelly, Sam, Jocelyn, Martina, Erin, Susan, Kelly, Laura, Emily, Anisaa, and Lori Ann
P.S. Due to mix-up on our end, we have added last week's giveaways to this week so there is now a total of seven giveaways up for grabs!! Make sure to enter!
YA BOOK GIVEAWAYS THIS WEEK
* * * *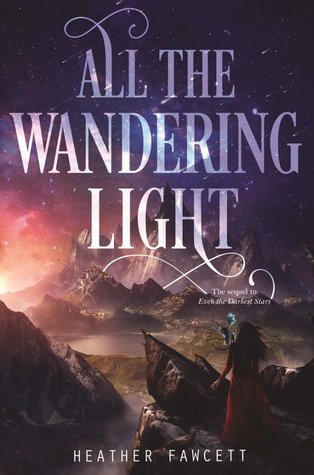 All the Wandering Light
by Heather Fawcett
Signed Hardcover Giveaway
US/CAN only
Balzer + Bray
Released 12/4/2018
After the terrifying events on Mount Raksha, the witches have returned, and River has betrayed Kamzin to regain his dark powers. The witches' next step: march on the Three Cities and take over the Empire—led by River's brother, Esha.
If Kamzin is to save Azmiri and prevent the destruction of the Empire, she must find a star that fell in the Ash Mountains to the north. Fallen stars have immense power, and if Kamzin and Lusha can find the star, they can use its magic to protect their homeland. To get there, Kamzin has allied with Azar-at, the dangerous and deceptive fire demon, who can grant her great power—in exchange for pieces of her soul. But River wants the star too, and as their paths collide in dangerous and unexpected ways, Kamzin must wrestle with both her guilt and her conflicted feelings for the person who betrayed her.
Facing dark magic, a perilous journey, and a standoff against the witches, can Kamzin, Lusha, and Tem find the star and save their Empire?
Author Question: What is your favorite thing about All the Wandering Light?
Can I choose two? The first was getting to write from several different characters' perspectives--I won't reveal which ones, because that would give the story away! The other thing was exploring the relationship between two sisters (which, in many ways, is the heart of the series), which isn't something we see often enough in YA.
Purchase All the Wandering Light at Amazon
Purchase All the Wandering Light at IndieBound
View All the Wandering Light on Goodreads
* * * *
Fire & Heist
by Sarah Beth Durst
Other Giveaway

U.S. Only
Crown Books for Young Readers
Released 12/4/2018
In Sky Hawkins's family, leading your first heist is a major milestone--even more so than learning to talk, walk, or do long division. It's a chance to gain power and acceptance within your family, and within society. But stealing your first treasure can be complicated, especially when you're a wyvern--a human capable of turning into a dragon.
Embarking on a life of crime is never easy, and Sky discovers secrets about her mother, who recently went missing, the real reason her boyfriend broke up with her, and a valuable jewel that could restore her family's wealth and rank in their community.
With a handpicked crew by her side, Sky knows she has everything she needs to complete her first heist, and get her boyfriend and mother back in the process. But then she uncovers a dark truth about were-dragon society--a truth more valuable and dangerous than gold or jewels could ever be.
Author Question: What is your favorite thing about Fire & Heist?
Were-dragons!!!

I remember the exact moment I had the idea for this story: I was in the kitchen, talking with my family about heist movies, and I said, "I want to write Ocean's Eleven with were-dragons!" And I rushed off to my desk to jot the idea down.

Of course, the story grew and evolved from there, as stories do, but that's where it began.

I've always been obsessed with dragons. I spent most of my childhood in the woods behind my house searching for a dragon's egg. (No luck, sadly.) I have always secretly felt that there is no story that cannot be improved by the addition of a dragon.

My new YA book, FIRE AND HEIST, takes place in Aspen, Colorado. Sort of. It's our world but with were-dragons (like werewolves, except less furry and more, you know, dragon-ish). My protagonist is sixteen-year-old Sky Hawkins, a socialite from a family of master thieves... and a were-dragon who must lead her first heist, if she wants to be accepted by her society. But on the night of her first heist, she discovers a dark truth that could reunite her family or tear them apart forever.

I hope that you'll enjoy adventuring with Sky and her friends as much as I did!
Purchase Fire & Heist at Amazon
Purchase Fire & Heist at IndieBound
View Fire & Heist on Goodreads
* * * *
Paper Girl
by Cindy R. Wilson
Paperback Giveaway

U.S. Only
Entangled: Teen
Released 12/4/2018
I haven't left my house in over a year. My doctor says it's social anxiety, but I know the only things that are safe are made of paper. My room is paper. My world is paper. Everything outside is fire. All it would take is one spark for me to burst into flames. So I stay inside. Where nothing can touch me.
Then my mom hires a tutor. Jackson. This boy I had a crush on before the world became too terrifying to live in. Jackson's life is the complete opposite of mine, and I can tell he's got secrets of his own. But he makes me feel things. Makes me want to try again. Makes me want to be brave. I can almost taste the outside world. But so many things could go wrong, and all it takes is one spark for everything I love to disappear…
Author Question: What is your favorite thing about Paper Girl?
I love PAPER GIRL because it's real. Every scene, character trait, and hardship was drawn from real life. I typically tend to write stories with a strong, proactive heroine or plots that lean toward speculative or with unique situations I've never experienced—ones that are completely made up. But PAPER GIRL is a story of my heart, of my life, and it's wonderful how I'm able to reach a completely different set of readers with something we can both relate to.
Purchase Paper Girl at Amazon
Purchase Paper Girl at IndieBound
View Paper Girl on Goodreads
* * * *
Valiant
by Merrie Destefano
Paperback Giveaway

U.S. Only
Entangled: Teen
Released 12/4/2018
The Valiant was supposed to save us. Instead, it triggered the end of the world.
Earth is in shambles. Everyone, even the poorest among us, invested in the Valiant's space mining mission in the hopes we'd be saved from ourselves. But the second the ship leaves Earth's atmosphere, our fate is sealed. The alien invasion begins. They pour into cities around the world through time portals, possessing humans, forcing us to kill one another.
And for whatever reason, my brother is their number one target.
Now the fate of the world lies in the hands of me, a seventeen-year-old girl, but with the help of my best friend, Justin―who's suddenly starting to feel like more―maybe if we save my brother, we can save us all…
Author Question: What is your favorite thing about Valiant?
The thing I loved the most about VALIANT was the idea that one girl had the responsibility of saving the world—but she wasn't a typical hero. She wasn't the strongest girl or the tallest girl or the smartest girl or the prettiest girl. In many ways, she was extremely average. What she had was a quality that many of us lack: Determination. Sara was motivated out of love. She would save the world because that was what she had to do to save her younger brother, Gabe. I also loved the concept that the fate of the world rested upon saving the life of one person. This quote is at the beginning of the book: "Whoever saves a single life, saves an entire universe." From the Mishnah, Sanhedrin 4:5.

So, for me, this concept that the future of the human race could depend on the life of one teenage girl or boy was a magnificent premise. Built within it is the awesome belief that we are all important and more valuable than anyone can fathom. I truly believe that.
Purchase Valiant at Amazon
Purchase Valiant at IndieBound
View Valiant on Goodreads
* * * *
Stronger, Faster, and More Beautiful
by Arwen Elys Dayton
Hardcover Giveaway

U.S. Only
Delacorte Press
Released 12/4/2018
The future is curious.
This novel in six parts is a look at the unlimited possibilities of biotech advances and the ethical quandaries they will provoke. Dayton shows us a near and distant future in which we will eradicate disease, extend our lifespans, and reshape the human body. The results can be heavenly—saving the life of your dying child; and horrific—the ability to modify convicts into robot slaves. Deeply thoughtful, poignant, horrifying, and action-packed, this novel is groundbreaking in both form and substance. Stronger, Faster, and More Beautiful examines how far we will go to remake ourselves into the perfect human specimen, and what it means to be human at all.
STRONGER
Today our bodies define us. We color our hair; tattoo our skin; pierce our ears, brows, noses. We lift weights, run miles, break records. We are flesh and blood and bone.
FASTER
Tomorrow has different rules. The future is no longer about who we are--it's about who we want to be. If you can dream it, you can be it. Science will make us smarter, healthier, flawless in every way. Our future is boundless.
MORE BEAUTIFUL
This is a story that begins tomorrow. It's a story about us. It's a story about who comes after us. And it's a story about perfection. Because perfection has a way of getting ugly.
Purchase Stronger, Faster, and More Beautiful at Amazon
Purchase Stronger, Faster, and More Beautiful at IndieBound
View Stronger, Faster, and More Beautiful on Goodreads
YA BOOK GIVEAWAYS LAST WEEK
* * * *
Amber & Dusk
by Lyra Selene
Hardcover
U.S. Only
Scholastic Press
Released 11/27/2018
Sylvie has always known she deserves more. Out in the permanent twilight of the Dusklands, her guardians called her power to create illusions a curse. But Sylvie knows it gives her a place in Coeur d'Or, the palais of the Amber Empress and her highborn legacies.
So Sylvie sets off toward the Amber City, a glittering jewel under a sun that never sets, to take what is hers.
But her hope for a better life is quickly dimmed. The empress invites her in only as part of a wicked wager among her powerful courtiers. Sylvie must assume a new name, Mirage, and begin to navigate secretive social circles and deadly games of intrigue in order to claim her spot. Soon it becomes apparent that nothing is as it appears and no one, including her cruel yet captivating sponsor, Sunder, will answer her questions. As Mirage strives to assume what should be her rightful place, she'll have to consider whether it is worth the price she must pay.
Author Question: What is your favorite thing about Amber & Dusk?
In many ways I wrote this book to be everything I loved to read. Prose like gilded dreams. An impossible, intoxicating world; ball gowns and courtly politics and sarcastic banter and ulterior motives. An ambitious, complicated heroine who dreams of a place where she can finally belong--a world as glossy as the colors spilling like jewels from her fingertips. It's the book of my heart in so many ways, which makes it hard to choose a favorite thing!

But if I had to pick one, it would have to be my MC Sylvie's magical power--the power of illusion. I spent a lot of time lingering over the descriptions of her power and its manifestation in her world, making sure every last word captured its breathtaking hold on my imagination. In some ways, it felt like her power to create illusions echoed the very act of writing--breathing life into perilous dreams and creating impossible worlds from nothing. I hope you enjoy reading it as much as I enjoyed writing it!
Purchase Amber & Dusk at Amazon
Purchase Amber & Dusk at IndieBound
View Amber & Dusk on Goodreads
* * * *
Love à la Mode
by Stephanie Kate Strohm
Hardcover
U.S. Only
Disney-Hyperion
Released 11/27/2018
Take two American teen chefs, add one heaping cup of Paris, toss in a pinch of romance, and stir. . . .
Rosie Radeke firmly believes that happiness can be found at the bottom of a mixing bowl. But she never expected that she, a random nobody from East Liberty, Ohio, would be accepted to celebrity chef Denis Laurent's school in Paris, the most prestigious cooking program for teens in the entire world. Life in Paris, however, isn't all cream puffs and crepes. Faced with a challenging curriculum and a nightmare professor, Rosie begins to doubt her dishes.
Henry Yi grew up in his dad's restaurant in Chicago, and his lifelong love affair with food landed him a coveted spot in Chef Laurent's school. He quickly connects with Rosie, but academic pressure from home and his jealousy over Rosie's growing friendship with gorgeous bad-boy baker Bodie Tal makes Henry lash out and push his dream girl away.
Desperate to prove themselves, Rosie and Henry cook like never before while sparks fly between them. But as they reach their breaking points, they wonder whether they have what it takes to become real chefs.
Author Question: What is your favorite thing about Love à la Mode?
My favorite thing about LOVE A LA MODE is the food! I absolutely love food: I love eating it, cooking it, learning about it, everything. Leafing through the glossy pages of a brand-new cookbook is one of my favorite things, and you can always catch me watching Food Network, the Cooking Channel, and my two favorite shows, Top Chef and the Great British Bake-Off. Although there's pretty much nothing that I won't eat (except for olives - I really hate olives), all of my favorite foods are dessert. Just like Rosie in LOVE A LA MODE, I love to bake, and to me, the fact that sugar, butter and flour come together to make so many incredible treats is nothing short of miraculous. I've never studied pastry formally - I'm just a passionate home baker - but being able to pour my love of pastry onto the page was my favorite part of the writing process. I hope that all of my readers get very, very hungry reading this book!
Purchase Love à la Mode at Amazon
Purchase Love à la Mode at IndieBound
View Love à la Mode on Goodreads
MORE YOUNG ADULT FICTION IN STORES NEXT WEEK WITH AUTHOR INTERVIEWS
* * * *
Unpresidented: A Biography of Donald Trump
by Martha Brockenbrough
Hardcover
Feiwel & Friends
Released 12/4/2018
Born into a family of privilege and wealth, he was sent to military school at the age of 13. After an unremarkable academic career, he joined the family business in real estate and built his fortune. His personal brand: sex, money and power. From no-holds-barred reality TV star to unlikely candidate, Donald J. Trump rose to the highest political office: President of the United States of America.
Learn fascinating details about his personal history, including:
-Why Trump's grandfather left Germany and immigrated to America
-Why Woodie Guthrie wrote a song criticizing Trump's father
-How Trump's romance with Ivana began―and ended
-When Trump first declared his interest in running for President
Discover the incredible true story of America's 45th President: his questionable political and personal conduct, and his unprecedented rise to power.
Richly informed by original research and illustrated throughout with photographs and documents, Unpresidented is a gripping and important read.
Author Question: What is your favorite thing about Unpresidented: A Biography of Donald Trump?
It's the first-ever critical biography of a sitting president for young readers. Equally important, it tells the truth about who Trump is and what he has done and said throughout his life.
Purchase Unpresidented: A Biography of Donald Trump at Amazon
Purchase Unpresidented: A Biography of Donald Trump at IndieBound
View Unpresidented: A Biography of Donald Trump on Goodreads
MORE YOUNG ADULT NOVELS NEW IN STORES NEXT WEEK
* * * *
Dare to Fall
by Estelle Maskame
Paperback
Sourcebooks Fire
Released 12/4/2018
MacKenzie Rivers knows the kind of impact death can have on those it leaves behind. She's felt that grief firsthand. So when Jaden, her crush and almost-boyfriend, loses his parents in a car accident, MacKenzie steps back. It might not be the right thing to do, but with an alcoholic mother and a father who deals with their family problems by not dealing at all, self-preservation is her only option.
Then the pair meet by chance one night, reunited for the first time in months. Before MacKenzie can throw up her walls again, old feelings resurface and new memories are made. MacKenzie has missed Jaden more than anything. But can she dare to fall for the one person she's so afraid of growing close to?
Purchase Dare to Fall at Amazon
Purchase Dare to Fall at IndieBound
View Dare to Fall on Goodreads
* * * *
On Thin Ice
by Julie Cross
Paperback
Entangled: Teen
Released 12/4/2018
Jake Hammond is the current Prince of Juniper Falls. He's also been labeled the next great player to emerge from the Juniper Falls hockey dynasty. When a hundred-year-old hazing tradition at Juniper Falls pond goes all wrong, Jake is left seriously injured, shouldering the blame for the near death of another student and the knowledge that the quiet new girl saved his life.
Maybe if she'd realized how different this small town was from Austin, Brooke Parker wouldn't have followed her mom here. Not that she had a choice. Same with saving that cocky hockey player from drowning at the pond. Now, she keeps seeing that same guy, wandering the woods between their houses. And they start to regularly meet at midnight in Jake's old tree house.
Jake realizes that Brooke is full of life, ideas, places, and experiences bigger and broader than anything he's ever known. Plus, she's the first person to ever see him as Jake Hammond, a guy who's not sure what to do with his life, rather than the future hockey star.
Maybe it isn't enough anymore to just be the town hockey star? For Brooke, relying only on herself might not be enough, either.
Purchase On Thin Ice at Amazon
Purchase On Thin Ice at IndieBound
View On Thin Ice on Goodreads
* * * *
Queen of Air and Darkness
by Cassandra Clare
Hardcover
Margaret K. McElderry Books
Released 12/4/2018
What if damnation is the price of true love?
Innocent blood has been spilled on the steps of the Council Hall, the sacred stronghold of the Shadowhunters. In the wake of the tragic death of Livia Blackthorn, the Clave teeters on the brink of civil war. One fragment of the Blackthorn family flees to Los Angeles, seeking to discover the source of the disease that is destroying the race of warlocks. Meanwhile, Julian and Emma take desperate measures to put their forbidden love aside and undertake a perilous mission to Faerie to retrieve the Black Volume of the Dead. What they find in the Courts is a secret that may tear the Shadow World asunder and open a dark path into a future they could never have imagined. Caught in a race against time, Emma and Julian must save the world of Shadowhunters before the deadly power of the parabatai curse destroys them and everyone they love.
Purchase Queen of Air and Darkness at Amazon
Purchase Queen of Air and Darkness at IndieBound
View Queen of Air and Darkness on Goodreads
* * * *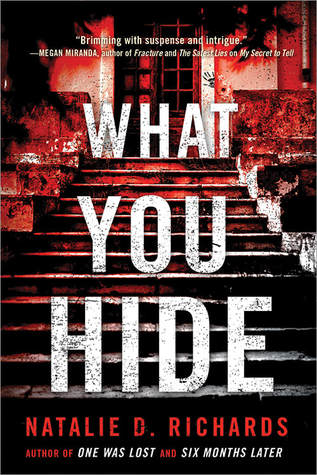 What You Hide
by Natalie Richards
Paperback
Sourcebooks Fire
Released 12/4/2018
Mallory didn't want to leave home, but it wasn't safe to stay. So she sleeps at her best friend's house and spends the rest of her time at the library, doing her online schoolwork and figuring out what comes next. Because she's not going live in fear like her mother.
Spencer volunteers at the library. Sure, it's community service for a stunt he pulled, but he likes the work. And it's the perfect escape from his parents' pressure to excel at school, at ice hockey, at everything. Especially after he meets Mallory.
Then there is a tragic death at the library. Suddenly, what was once a sanctuary turns sinister. Ghostly footprints, strange scratching sounds, scrawled messages on bulletin boards and walls... Mallory and Spencer don't know who or what is responsible, but one thing is for sure:
They are not as alone―or as safe―as they thought.
Purchase What You Hide at Amazon
Purchase What You Hide at IndieBound
View What You Hide on Goodreads