The Reader
trilogy, and we're thrilled to have Traci Chee here to share more about it.
Traci, what scene was really hard for you to write and why, and is that the one of which you are most proud? Or is there another scene you particularly love?
The last two pages. It's hard saying goodbye to a story you've had in your head for a decade, and I think I must have written and rewritten those paragraphs a dozen times at least. The last line, in particular, is something I agonized over, so I hope that when readers get to it, it feels as right and inevitable and fitting to them as it does to me.
How long did you work on THE STORYTELLER?
About 18 months, start-to-finish, but I wrote the first words of THE READER TRILOGY all the way back in 2008, so all-in-all, I've spent 10 years on this story!

What do you hope readers will take away from THE STORYTELLER?
Life is hard. Sometimes it seems like your challenges are insurmountable. Sometimes it feels like you'll never be able to recover from this. But you find a way to keep going, somehow.
What's your writing ritual like? Do you listen to music? Work at home or at a coffee shop or the library, etc?
I work at my desk with a good cup of English breakfast tea.
What advice would you most like to pass along to other writers?
Always keep learning. So read widely, take classes, work with other writers, examine and adjust your own process. There's always going to be something you can do better, something you can improve on, some way to refine your craft--you just have to keep working at it.
ABOUT THE BOOK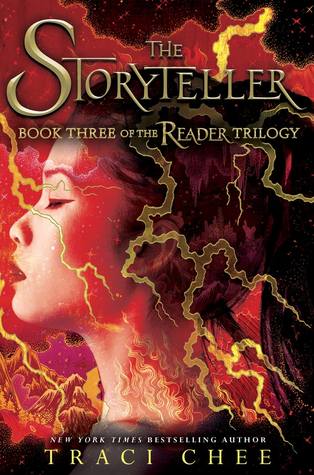 The Storyteller
by Traci Chee
Hardcover
G.P. Putnam's Sons Books for Young Readers
Released 11/13/2018
The thrilling conclusion to the epic adventure that began with New York Times bestselling The Reader, "a series fantasy lovers will want to sink their teeth into." - Booklist, starred review
Sefia is determined to keep Archer out of the Guard's clutches and their plans for war between the Five Kingdoms. The Book, the ancient, infinite codex of the past, present and future, tells of a prophecy that will plunge Kelanna in that bloody war, but it requires a boy--Archer--and Sefia will stop at nothing to ensure his safety. The Guard has already stolen her mother, her father, and her Aunt Nin. Sefia would sooner die than let them take anymore from her--especially the boy she loves.
But escaping the Guard and the Book's prophecy is no easy task. After all,
what is written always comes to pass
. As Sefia and Archer watch Kelanna start to crumble to the Guard's will, they will have to choose between their love and joining a war that just might tear them apart. Full of magic, suspense, and mystery, Traci Chee brings her Sea of Ink and Gold trilogy to a close in this spellbinding final installment
Purchase The Storyteller at Amazon
Purchase The Storyteller at IndieBound
View The Storyteller on Goodreads
ABOUT THE AUTHOR
Traci Chee is the
New York Times
bestselling author of YA fantasy trilogy The Reader (2016),The Speaker (2017), and The Storyteller (2018). An all-around word geek, she loves book arts and art books, poetry and paper crafts, though she also dabbles at egg painting, bonsai gardening, and hosting game nights for family and friends. She studied literature and creative writing at UC Santa Cruz and earned a master of arts degree from San Francisco State University. Traci grew up in a small town with more cows than people, and now feels most at home in the mountains, scaling switchbacks and happening upon hidden highland lakes. She lives in California with her fast-fast dog.
---
Have you had a chance to read THE STORYTELLER yet? Are you reading widely and taking classes? Do you find ways to refine your craft? Share your thoughts about the interview in the comments!
Happy Reading,
Jocelyn, Halli, Martina, Erin, Susan, Shelly, Kelly, Laura, Emily, and Lori Ann