Happy Reading,
Shelly, Halli, Jocelyn, Martina, Erin, Susan, Kelly, Laura, Emily, Anisaa, and Lori Ann
YA BOOK GIVEAWAYS THIS WEEK
* * * *
Amber & Dusk
by Lyra Selene
Hardcover Giveaway

U.S. Only
Scholastic Press
Released 11/27/2018
Sylvie has always known she deserves more. Out in the permanent twilight of the Dusklands, her guardians called her power to create illusions a curse. But Sylvie knows it gives her a place in Coeur d'Or, the palais of the Amber Empress and her highborn legacies.
So Sylvie sets off toward the Amber City, a glittering jewel under a sun that never sets, to take what is hers.
But her hope for a better life is quickly dimmed. The empress invites her in only as part of a wicked wager among her powerful courtiers. Sylvie must assume a new name, Mirage, and begin to navigate secretive social circles and deadly games of intrigue in order to claim her spot. Soon it becomes apparent that nothing is as it appears and no one, including her cruel yet captivating sponsor, Sunder, will answer her questions. As Mirage strives to assume what should be her rightful place, she'll have to consider whether it is worth the price she must pay.
Author Question: What is your favorite thing about Amber & Dusk?
In many ways I wrote this book to be everything I loved to read. Prose like gilded dreams. An impossible, intoxicating world; ball gowns and courtly politics and sarcastic banter and ulterior motives. An ambitious, complicated heroine who dreams of a place where she can finally belong--a world as glossy as the colors spilling like jewels from her fingertips. It's the book of my heart in so many ways, which makes it hard to choose a favorite thing!

But if I had to pick one, it would have to be my MC Sylvie's magical power--the power of illusion. I spent a lot of time lingering over the descriptions of her power and its manifestation in her world, making sure every last word captured its breathtaking hold on my imagination. In some ways, it felt like her power to create illusions echoed the very act of writing--breathing life into perilous dreams and creating impossible worlds from nothing. I hope you enjoy reading it as much as I enjoyed writing it!
Purchase Amber & Dusk at Amazon
Purchase Amber & Dusk at IndieBound
View Amber & Dusk on Goodreads
* * * *
Love à la Mode
by Stephanie Kate Strohm
Hardcover Giveaway

U.S. Only
Disney-Hyperion
Released 11/27/2018
Take two American teen chefs, add one heaping cup of Paris, toss in a pinch of romance, and stir. . . .
Rosie Radeke firmly believes that happiness can be found at the bottom of a mixing bowl. But she never expected that she, a random nobody from East Liberty, Ohio, would be accepted to celebrity chef Denis Laurent's school in Paris, the most prestigious cooking program for teens in the entire world. Life in Paris, however, isn't all cream puffs and crepes. Faced with a challenging curriculum and a nightmare professor, Rosie begins to doubt her dishes.
Henry Yi grew up in his dad's restaurant in Chicago, and his lifelong love affair with food landed him a coveted spot in Chef Laurent's school. He quickly connects with Rosie, but academic pressure from home and his jealousy over Rosie's growing friendship with gorgeous bad-boy baker Bodie Tal makes Henry lash out and push his dream girl away.
Desperate to prove themselves, Rosie and Henry cook like never before while sparks fly between them. But as they reach their breaking points, they wonder whether they have what it takes to become real chefs.
Author Question: What is your favorite thing about Love à la Mode?
My favorite thing about LOVE A LA MODE is the food! I absolutely love food: I love eating it, cooking it, learning about it, everything. Leafing through the glossy pages of a brand-new cookbook is one of my favorite things, and you can always catch me watching Food Network, the Cooking Channel, and my two favorite shows, Top Chef and the Great British Bake-Off. Although there's pretty much nothing that I won't eat (except for olives - I really hate olives), all of my favorite foods are dessert. Just like Rosie in LOVE A LA MODE, I love to bake, and to me, the fact that sugar, butter and flour come together to make so many incredible treats is nothing short of miraculous. I've never studied pastry formally - I'm just a passionate home baker - but being able to pour my love of pastry onto the page was my favorite part of the writing process. I hope that all of my readers get very, very hungry reading this book!
Purchase Love à la Mode at Amazon
Purchase Love à la Mode at IndieBound
View Love à la Mode on Goodreads
MORE YOUNG ADULT NOVELS NEW IN STORES NEXT WEEK
* * * *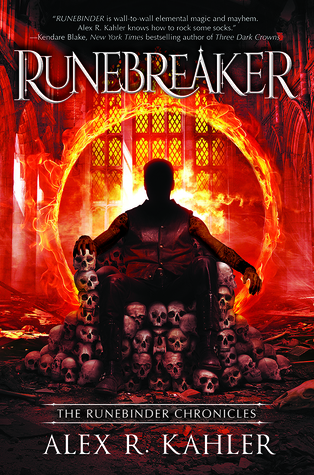 Runebreaker
by Alex R. Kahler
Hardcover
Harlequin Teen; Original edition
Released 11/27/2018
Magic is sin
Aidan desires only one thing: to rule. Arrogant, headstrong and driven by the element of Fire, he will stop at nothing to bring the evil Howls that destroyed Scotland to their knees. But Fire is a treacherous element, and the very magic that brought him to power could burn his world to ash.
Especially with the blood of his fellow Hunters on his hands.
Driven by a bloodlust he can't control and dark whispers that may not be entirely in his head, he and his magic-eschewing friend Kianna will do whatever it takes to liberate their broken world. Even at the risk of confronting the Church. Even at the risk of losing his humanity.
But power isn't the only thing on Aidan's mind. He's falling for the intoxicating Tomas, an Incubus who offers everything Aidan desires. For a price.
And if that price burns the world down, well…Aidan is used to playing with Fire.
Purchase Runebreaker at Amazon
Purchase Runebreaker at IndieBound
View Runebreaker on Goodreads