Happy Reading,
Shelly, Halli, Jocelyn, Martina, Erin, Susan, Kelly, Laura, Emily, Anisaa, and Lori Ann
YA BOOK GIVEAWAYS LAST WEEK: WINNERS
Toxic by Lydia Kang:
Amy D.
MORE YOUNG ADULT FICTION IN STORES NEXT WEEK WITH AUTHOR INTERVIEWS
* * * *
How She Died, How I Lived
by Mary Crockett and Madelyn Rosenberg
Hardcover
Little, Brown Books for Young Readers
Released 11/13/2018
I was one of five. The five girls Kyle texted that day. The girls it could have been. Only Jamie--beautiful, saintly Jamie--was kind enough to respond. And it got her killed.
On the eve of Kyle's sentencing a year after Jamie's death, all the other "chosen ones" are coping in various ways. But our tenacious narrator is full of anger, stuck somewhere between the horrifying past and the unknown future as she tries to piece together why she gets to live, while Jamie is dead.
Now she finds herself drawn to Charlie, Jamie's boyfriend--knowing all the while that their relationship will always be haunted by what-ifs and why-nots. Is hope possible in the face of such violence? Is forgiveness? How do you go on living when you know it could have been you instead?
Author Question: What is your favorite thing about How She Died, How I Lived?
It's hard to choose a single thing. I love so much of this book!

I love that it's a story about healing, self-reliance, and the freedom that comes through forgiveness.

I love that it shows friendship between girls as a positive force in the world.

But I suppose first and foremost I love that HOW SHE DIED, HOW I LIVED speaks plainly about something that is too often ignored in our society. The epidemic of violence against women is a reality it seems we'd rather not examine. Yet, does a week go past that we don't hear about another missing or murdered girl? And for every girl's story we hear, there are thousands we don't.

Girls and women are consistently the targets of violent acts for no reason other than their female bodies. These acts are senseless and profoundly wrong--and I hope that my book starts conversations about the safety of young women in our culture and what we can do to value young women's lives.
Purchase How She Died, How I Lived at Amazon
Purchase How She Died, How I Lived at IndieBound
View How She Died, How I Lived on Goodreads
* * * *
Pulp
by Robin Talley
Hardcover
Harlequin Teen; Original edition
Released 11/13/2018
In 1955, eighteen-year-old Janet Jones keeps the love she shares with her best friend Marie a secret. It's not easy being gay in Washington, DC, in the age of McCarthyism, but when she discovers a series of books about women falling in love with other women, it awakens something in Janet. As she juggles a romance she must keep hidden and a newfound ambition to write and publish her own story, she risks exposing herself—and Marie—to a danger all too real.
Sixty-two years later, Abby Zimet can't stop thinking about her senior project and its subject—classic 1950s lesbian pulp fiction. Between the pages of her favorite book, the stresses of Abby's own life are lost to the fictional hopes, desires and tragedies of the characters she's reading about. She feels especially connected to one author, a woman who wrote under the pseudonym "Marian Love," and becomes determined to track her down and discover her true identity.
Author Question: What is your favorite thing about Pulp?
My favorite thing about writing PULP was the deep dive I got to do in my research. I read so many lesbian pulp stories from the 1950s and 1960s — all these classic novels about romances between women during an era when their relationships were beyond taboo. The books were marketed to men as "scandalous" reads, even though they were quite tame by today's standards, and they're fascinating reads. They gave me exactly the material I needed to write my story, about a closeted teenage girl secretly writing a lesbian pulp novel in 1955 and the out-and-proud teenager in the present day who stumbles across her book six decades later and decides to do whatever it takes to track down the mysterious author, who was never heard from again after writing a single now-beloved novel.
Purchase Pulp at Amazon
Purchase Pulp at IndieBound
View Pulp on Goodreads
* * * *
The Resolutions
by Mia Garcia
Hardcover
Katherine Tegen Books
Released 11/13/2018
From hiking trips to four-person birthday parties to never-ending group texts, Jess, Lee, Ryan, and Nora have always been inseparable. But now with senior year on the horizon, they've been growing apart. And so, as always, Jess makes a plan.
Reinstating their usual tradition of making resolutions together on New Year's Eve, Jess adds a new twist: instead of making their own resolutions, the four friends assign them to one another—dares like kiss someone you know is wrong for you, find your calling outside your mom's Puerto Rican restaurant, finally learn Spanish, and say yes to everything.
But as the year unfolds, Jess, Lee, Ryan, and Nora each test the bonds that hold them together. And amid first loves, heartbreaks, and life-changing decisions, beginning again is never as simple as it seems.
Author Question: What is your favorite thing about The Resolutions?
I love exploring the power of friendships and how they can get you through the toughest moments in your life. And I am particularly grateful to have been able to write about the friendship between four Latinx teens, how they approach their culture, first loves, and life, while always having each other's backs.
Purchase The Resolutions at Amazon
Purchase The Resolutions at IndieBound
View The Resolutions on Goodreads
* * * *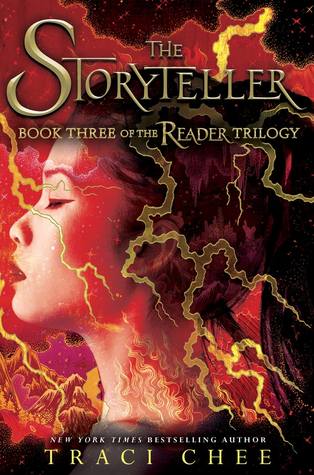 The Storyteller
by Traci Chee
Hardcover
G.P. Putnam's Sons Books for Young Readers
Released 11/13/2018
Sefia is determined to keep Archer out of the Guard's clutches and their plans for war between the Five Kingdoms. The Book, the ancient, infinite codex of the past, present and future, tells of a prophecy that will plunge Kelanna in that bloody war, but it requires a boy--Archer--and Sefia will stop at nothing to ensure his safety. The Guard has already stolen her mother, her father, and her Aunt Nin. Sefia would sooner die than let them take anymore from her--especially the boy she loves.
But escaping the Guard and the Book's prophecy is no easy task. After all, what is written always comes to pass. As Sefia and Archer watch Kelanna start to crumble to the Guard's will, they will have to choose between their love and joining a war that just might tear them apart. Full of magic, suspense, and mystery, Traci Chee brings her Sea of Ink and Gold trilogy to a close in this spellbinding final installment.
Author Question: What is your favorite thing about The Storyteller?
I've always known how THE READER TRILOGY would end. I've always known who would die and who would live and what the final choice would be. Some of the details have changed over the course of the writing process, naturally: the magic works a little differently, someone dies who wasn't supposed to die, someone lives who wasn't supposed to live, and there's a really exciting part at the end where the pages slowly fade to black that Parker Peevyhouse, author of THE ECHO ROOM (http://www.torteen.com/books/echo-room-parker-peevyhouse/), helped me to come up with and that Marikka Tamura, the incredible designer at Putnam/Penguin, helped me to execute. But the important things remain the same: the themes of grief and power and choice, the way the characters' stories all finally come together in one last fiery conflagration, how all these little seeds I planted in THE READER and THE SPEAKER, from the journey to the edge of the world to the esoteric work of Sefia's parents to the hunt for the greatest treasure the world has ever seen, do at last come to fruition. I suppose my favorite thing about THE STORYTELLER is that, after all these years and all these revisions and all this work, it still had to end this way. It still feels right to end this way.
Purchase The Storyteller at Amazon
Purchase The Storyteller at IndieBound
View The Storyteller on Goodreads
* * * *
Wilder
by Andrew Simonet
Hardcover
Farrar, Straus and Giroux
Released 11/13/2018
I met Melissa in the rubber room, a.k.a. in-school suspension. And that's not her real name.
She had secrets, I had enemies.
"People are either useful or dangerous," she said. "One or the other."
"Which one am I?" I said.
"You're both."
Meili was right. (That's her real name.)
You can solve a lot of problems if you don't mind getting hurt.
Jason Wilder is in permanent in-school suspension for fighting. Meili Wen gets there by breaking a girl's finger. Jason and Meili don't just connect; they collide. Two people who would never cross paths―outsiders from radically different backgrounds―they form an exhiliarating, unpredictable bond. When circumstances push, they push back. There's no plan. And there's no stopping.
"I am so crap. How can you stand being with me? Don't answer that or I will crash this thing with both of us on it, swear to god, are you ready?"
Yes. No. Didn't matter.
I reached both arms around Meili's waist as we zoomed down the hill.
Author Question: What is your favorite thing about Wilder?
Jason and Meili's conversations. I love the swerves, the bluff calling, the ruthless smarts. Their bond is rhythmic, two musicians who never played to their full ability till they met. They riff, feint, turn the other's words around. I wasn't inventing their dialogue; I was eavesdropping.

They are two kids who see through everyone else's bull, but not their own. They need each other for that. It's what brings them together and what allows them—maybe—to change.
Purchase Wilder at Amazon
Purchase Wilder at IndieBound
View Wilder on Goodreads
MORE YOUNG ADULT NOVELS NEW IN STORES NEXT WEEK
* * * *
A Rising Moon
by Stephen Leigh
Paperback
DAW
Released 11/13/2018
"Orla! Hurry, girl! You must come with me!"
Orla Paorach's life was overturned for the first time when her mother Voada was beaten senseless, and Orla was taken by Bakir, a minor Mundoan army officer, as his second wife. Now her world is shattered a second time: Bakir has died in battle, and so has her mother, now known as the Mad Draoi of the Cateni.
Orla flees northward to Onglse, the island home of the draoi that is the center of the Cateni rebellion against the Mundoa. She becomes quickly embroiled in battle as well as deceptions from both sides of the conflict, as everyone expects that she's come to take up her mother's mantle. Those who knew her mother offer their help, but can she trust any of them? Can she avoid becoming the Mad Draoi herself, lost in the magic her mother once tried to wield?
Purchase A Rising Moon at Amazon
Purchase A Rising Moon at IndieBound
View A Rising Moon on Goodreads
* * * *
Dark Mind Rising
by Julia Keller
Hardcover
Tor Teen
Released 11/13/2018
New Earth, 2296. Two years after the destruction of a universal surveillance system called the Intercept, New Earth struggles to keep crime under control. The citizens are free, but not protected.
Violet Crowley, the eighteen-year-old daughter of New Earth's founder, has opened Crowley & Associates, a private detective agency, to handle the overflow from the overburdened police force.
Violet's first case―a death written off as a suicide―becomes an obsession. Soon a series of similar deaths leads Violet to believe the Intercept is not only still running―it's in the hands of a killer.
Purchase Dark Mind Rising at Amazon
Purchase Dark Mind Rising at IndieBound
View Dark Mind Rising on Goodreads
* * * *
Four Three Two One
by Courtney C. Stevens
Hardcover
HarperTeen
Released 11/13/2018
Golden "Go" Jennings wasn't supposed to be on Bus 21 the day it blew up in New York City. Neither was her boyfriend, Chandler. But they were. And so was Rudy, a cute stranger Go shared a connection with the night before. And Caroline, a girl whose silence ended up costing nineteen people their lives.
Though it's been a year since the bombing, Go isn't any closer to getting over what happened. With Chan completely closed off to even talking about it, Go makes an impulsive decision: round up the rest of the survivors and head to New York City. There they will board an art installation made of the charred remnants of Bus 21 and hopefully reach some sort of resolution.
But things are never easy when it comes to rehashing the past. Uniting the four stirs up conflicting feelings of anger and forgiveness, and shows them that, although they all survived, they may still need saving.
Purchase Four Three Two One at Amazon
Purchase Four Three Two One at IndieBound
View Four Three Two One on Goodreads
* * * *
Splendor and Spark
by Mary Taranta
Hardcover
Margaret K. McElderry Books
Released 11/13/2018
The fight is just beginning.
Faris has been forced to give up the man she loves for a dangerous but necessary alliance. Her loyalty is bound by a powerful spell to his future bride, the villainous Bryn. And her mother's powerful spell that could be the key to saving Avinea fights with poisoned magic for control of her heart.
None of that matters though because everything Faris has done has been for Cadence, the little sister she's been trying to rescue from the king's slavery. Now they're finally reunited, but Cadence has a gut-wrenching confession: she remembers everything from while she was under the king's enchantment. She wants nothing to do with Faris.
Heartbroken, Faris focuses on tracking Merlock, the king who must be killed to stop The Burn, by manipulating her mother's spell through her dreams. Before long though, Faris realizes these aren't normal dreams, they might just be real, and they may show her a way to kill Merlock herself.
But there are things darker than poison that lie in The Burn, and not even the spell deep in Faris's chest can stop them. Faris will again be faced with impossible choices. Does she risk everything to save Avinea, even if she might lose North and further betray her sister's trust? Or does she succumb to the poison inside that begs her to think this time, finally, of herself?
Purchase Splendor and Spark at Amazon
Purchase Splendor and Spark at IndieBound
View Splendor and Spark on Goodreads
* * * *
The Dragon Ridge Tombs
by Tianxia Bachang
Hardcover
Delacorte Press
Released 11/13/2018
The second book in China's multimillion-copy bestselling series takes readers on a treacherous journey to the depths beneath a mountain range, where ancient tombs are certain to contain riches but also rumored to be guarded by merciless supernatural forces.
Self-proclaimed gold hunter Tianyi, who has excellent feng shui skills, along with his best friend, Kai, and a shady antiques dealer called Gold Tooth, have traveled all the way from Beijing to Gulan in search of treasure in ancient tombs. But what they think will be a simple grab-and-go of loot turns into trouble when they are faced with a perplexing labyrinth of tunnels full of unexpected obstacles, traps, and deadly creatures that thwart their advancement, as well as their escape. As if that weren't enough, the return of their American friend Julie Yang, with whom they faced perils on a previous expedition, leads to a startling discovery--one tied to both China's ancient past and the Yang family's history, and one that could very well be the death of them all.
Purchase The Dragon Ridge Tombs at Amazon
Purchase The Dragon Ridge Tombs at IndieBound
View The Dragon Ridge Tombs on Goodreads
* * * *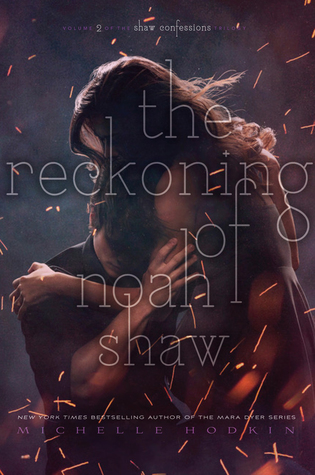 The Reckoning of Noah Shaw
by Michelle Hodkin
Hardcover
Simon & Schuster Books for You
Released 11/13/2018
In this sequel to The Becoming of Noah Shaw, the companion series to the New York Times bestselling Mara Dyer novels, legacies are revealed, lies are unraveled, and old alliances are forged. Noah's reckoning is here.
Noah Shaw wants nothing more than to escape the consequences of his choices.
He can't.
He's sure the memories that haunt him are merely proof of a broken heart.
They aren't.
He thinks he can move forward without first confronting his past.
He's wrong.
Purchase The Reckoning of Noah Shaw at Amazon
Purchase The Reckoning of Noah Shaw at IndieBound
View The Reckoning of Noah Shaw on Goodreads
* * * *
This Splintered Silence
by Kayla Olson
Hardcover
HarperTeen
Released 11/13/2018
Lindley Hamilton has been the leader of the space station Lusca since every first generation crew member on board, including her mother, the commander, was killed by a deadly virus.
Lindley always assumed she'd captain the Lusca one day, but she never thought that day would come so soon. And she never thought it would be like this—struggling to survive every day, learning how to keep the Lusca running, figuring out how to communicate with Earth, making sure they don't run out of food.
When a member of the surviving second generation dies from symptoms that look just like the deadly virus, though, Lindley feels her world shrinking even smaller. And as more people die, Lindley must face the terrifying reality—that either the virus has mutated, or one of their own is a killer.
Purchase This Splintered Silence at Amazon
Purchase This Splintered Silence at IndieBound
View This Splintered Silence on Goodreads
* * * *
Your Own Worst Enemy
by Gordon Jack
Hardcover
HarperTeen
Released 11/13/2018
Stacey Wynn was the clear front-runner for Lincoln High student council president. But then French-Canadian transfer student Julia Romero entered the race…and put the moves on Stacey's best friend/campaign adviser, Brian.
Stacey also didn't count on Tony Guo, resident stoner, whose sole focus is on removing the school's ban of his favorite chocolate milk, becoming the voice of the little guy, thanks to a freshman political "mastermind" with a blue Mohawk.
Three candidates, three platforms, and a whirlwind of social media, gaffes, high school drama, and protests make for a ridiculously hilarious political circus that just may hold some poignant truth somewhere in the mix.
Purchase Your Own Worst Enemy at Amazon
Purchase Your Own Worst Enemy at IndieBound
View Your Own Worst Enemy on Goodreads