Happy Reading,
Shelly, Halli, Jocelyn, Martina, Erin, Susan, Kelly, Laura, Emily, Anisaa, and Lori Ann
YA BOOK GIVEAWAYS THIS WEEK
* * * *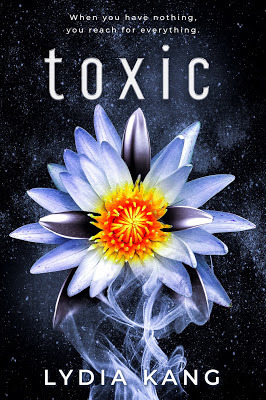 Toxic
by Lydia Kang
Paperback + Swag Bundle

U.S. Only
Entangled: Teen
Released 11/6/2018
Hana isn't supposed to exist. She's grown up hidden by her mother in a secret room of the bioship Cyclo until the day her mother is simply gone―along with the entire crew. Cyclo tells her she was abandoned, but she's certain her mother wouldn't leave her there to die. And Hana isn't ready to die yet. She's never really had a chance to live.
Fenn is supposed to die. He and a crew of hired mercenaries are there to monitor Cyclo as she expires, and the payment for the suicide mission will mean Fenn's sister is able to live. But when he meets Hana, he's not sure how to save them both.
As Cyclo grows sicker by the day, they unearth more secrets about the ship and the crew. But the more time they spend together, the more Hana and Fenn realize that falling for each other is what could ultimately kill them both.
Author Question: What is your favorite thing about Toxic?
One of my favorite things about TOXIC was creating the ship, Cyclo. Cyclo (she/her) is sentient, communicative both verbally and via color flashing on her walls. She also resembles a diatom or jellyfish, and doesn't have a nervous system like mammals. So it was fascinating to try to create how a creature like this functions, lives, emotes, communicated, and feels illness. I loved Cyclo as much as all the other characters in the book.
Purchase Toxic at Amazon
Purchase Toxic at IndieBound
View Toxic on Goodreads
MORE YOUNG ADULT FICTION IN STORES NEXT WEEK WITH AUTHOR INTERVIEWS
Umbertouched
by Livia Blackburne
Hardcover
Disney-Hyperion
Released 11/6/2018
The mission was a failure. Even though Zivah and Dineas discovered a secret that could bring down the empire, their information is useless without proof. Now, with their cover blown and their quest abandoned, their only remaining hope is to get home before Ampara brings the full might of its armies against their peoples.
As Shidadi and Dara alike prepare for war, Zivah and Dineas grapple with the toll of their time in the capital. After fighting alongside the Amparans against his own kin, can Dineas convince the Shidadi—and himself—where his loyalties lie? After betraying her healer's vows in Sehmar City, can Zivah find a way to redeem herself—especially when the Dara ask her to do the unthinkable? And after reluctantly falling in love, what will the two do with their lingering feelings, now that the Dineas from Sehmar City is gone forever? Time is running out for all of them, but especially Zivah whose plague symptoms surface once again. Now, she must decide how she'll define the life she has left.
Together, healer and warrior must find the courage to save their people, expose the truth, and face the devastating consequences headed their way.
Author Question: What is your favorite thing about UMBERTOUCHED?
My favorite thing about Umbertouched touched was being able to challenge the characters beyond the events of book 1, and to see them triumph over their ghosts. Throughout book one, Ziva struggles with mortality and her duties to her goddess. And in book 2, this struggle intensifies. In a transformative series of scenes, Ziva quite literally wanders through the wilderness, forced to reach inside for strength, making many mistakes, and healing and hurting both herself and others. In the end, although she gets no easy answers, she emerges transformed.
Likewise, in Umbertouched, Dineas's struggle with torn loyalties manifests itself quit plainly. In order to find peace, he has to navigate those difficult relationships while keeping himself in his loved ones alive.
Purchase Umbertouched at Amazon
Purchase Umbertouched at IndieBound
View Umbertouched on Goodreads
MORE YOUNG ADULT NOVELS NEW IN STORES NEXT WEEK
* * * *
Archenemies
by Marissa Meyer
Hardcover
Feiwel & Friends
Released 11/6/2018
Time is running out.
Together, they can save the world.
But they're each other's worst nightmare.
In Renegades, Nova and Adrian (aka Insomnia and Sketch) fought the battle of their lives against the Anarchist known as the Detonator. It was a short-lived victory.
The Anarchists still have a secret weapon, one that Nova believes will protect her. The Renegades also have a strategy for overpowering the Anarchists, but both Nova and Adrian understand that it could mean the end of Gatlon City – and the world – as they know it.
Purchase Archenemies at Amazon
Purchase Archenemies at IndieBound
View Archenemies on Goodreads
* * * *
Frozen Reign
by Kathryn Purdie
Hardcover
Katherine Tegen Books
Released 11/6/2018
Civil war is on the horizon, and Sonya is helpless to stop it. With her empathic powers gone, she can no longer protect her beloved Anton from his vindictive brother Valko, who will stop at nothing to get his revenge and reclaim his throne. Even if that means using an Auraseer to hunt—and kill—both Sonya and Anton.
Then Sonya hears about an empath in a far-off kingdom who may be able to heal her—but without her powers, finding the legendary Auraseer will be dangerous. And if she doesn't succeed, the peace Sonya sacrificed so much to achieve will be shattered forever.
Purchase Frozen Reign at Amazon
Purchase Frozen Reign at IndieBound
View Frozen Reign on Goodreads
* * * *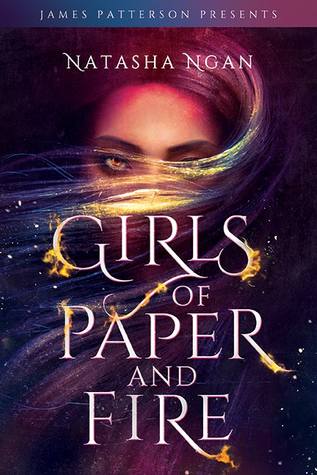 Girls of Paper and Fire
by Natasha Ngan
Hardcover
jimmy patterson
Released 11/6/2018
Each year, eight beautiful girls are chosen as Paper Girls to serve the king. It's the highest honor they could hope for...and the most demeaning. This year, there's a ninth. And instead of paper, she's made of fire.
In this richly developed fantasy, Lei is a member of the Paper caste, the lowest and most persecuted class of people in Ikhara. She lives in a remote village with her father, where the decade-old trauma of watching her mother snatched by royal guards for an unknown fate still haunts her. Now, the guards are back and this time it's Lei they're after -- the girl with the golden eyes whose rumored beauty has piqued the king's interest.
Over weeks of training in the opulent but oppressive palace, Lei and eight other girls learns the skills and charm that befit a king's consort. There, she does the unthinkable -- she falls in love. Her forbidden romance becomes enmeshed with an explosive plot that threatens her world's entire way of life. Lei, still the wide-eyed country girl at heart, must decide how far she's willing to go for justice and revenge.
Purchase Girls of Paper and Fire at Amazon
Purchase Girls of Paper and Fire at IndieBound
View Girls of Paper and Fire on Goodreads
* * * *
Hide with Me
by Sorboni Banerjee
Hardcover
Razorbill
Released 11/6/2018
In the dying cornfields of his family's farm, seventeen-year-old Cade finds a girl broken and bleeding. She has one request: hide me.
Tucked away in an abandoned barn on the edge of the farm, the mysterious Jane Doe starts to heal and details of her past begin to surface. A foster kid looking for a way out, Jane got caught up in the wrong crowd and barely escaped with her life.
Cade has a difficult past of his own. He's been trapped in the border town of Tanner, Texas, his whole life. His dad is a drunk. His mom is gone. Money is running out. Cade is focused on one thing, a football scholarship--his only chance.
Cade and Jane spend their nights in the barn planning their escapes, and their days with Cade's friends: sweet, artistic Mateo and his determined sister Jojo who vows to be president one day.
But it's not that easy to disappear.
Just across the border in a city in Mexico lies the life Jane desperately wants to leave behind--a past filled with drugs and danger, information she never wanted, and a cartel boss who is watching her every move.
Jane Doe's past is far from over, and the secret she holds could kill them all.
Purchase Hide with Me at Amazon
Purchase Hide with Me at IndieBound
View Hide with Me on Goodreads
* * * *
Illusions
by Madeline J. Reynolds
Paperback
Entangled: Teen
Released 11/6/2018
Thomas Pendelton was born into wealth and prestige. He has a sensitive heart and wants nothing more than to write poetry. Instead, he is apprenticing for Neville Wighton the Great, an aging magician who has become somewhat crazed over the years in his pursuit of fame. With Thomas' help, Wighton is about to premiere the greatest illusion seen by man, for Thomas possesses something no other illusionist has: real magic.
Many in the theatrical world are desperate to learn Wighton's big secret. One such magician is Paolo il Magnifico. His apprentice, Saverio Moretti, is also seeking the answer. He has a scheme to get close to Wighton by seducing Thomas but seduction turns to real feelings. Now the young men must struggle to keep the secret of their romance, as well as the secret of Thomas' magic, as both of these things could cost Thomas his life.
Through journal entries, posters, letters, and other documents, ILLUSIONS is a story of love, betrayal, and of course, magic.
Purchase Illusions at Amazon
Purchase Illusions at IndieBound
View Illusions on Goodreads
* * * *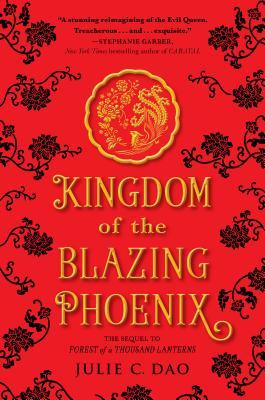 Kingdom of The Blazing Phoenix
by Julie C. Dao
Hardcover
Philomel Books
Released 11/6/2018
This fairy tale retelling lives in a mystical world inspired by the Far East, where the Dragon Lord and the Serpent God battle for control of the earthly realm; it is here that the flawed heroine of Forest of a Thousand Lanterns finally meets her match. An epic fantasy finale to that breathtaking and dazzling story.
Princess Jade has grown up in exile, hidden away in a monastery while her stepmother, the ruthless Xifeng, rules as Empress of Feng Lu. But the empire is in distress and its people are sinking into poverty and despair. Even though Jade doesn't want the crown, she knows she is the only one who can dethrone the Empress and set the world right. Ready to reclaim her place as rightful heir, Jade embarks on a quest to raise the Dragon Lords and defeat Xifeng and the Serpent God once and for all. But will the same darkness that took Xifeng take Jade, too? Or will she find the strength within to save herself, her friends, and her empire?
Set in an East Asian-inspired fantasy world filled with breathtaking pain and beauty, Kingdom of the Blazing Phoenix is filled with dazzling magic, powerful prose, and characters readers won't soon forget.
Purchase Kingdom of The Blazing Phoenix at Amazon
Purchase Kingdom of The Blazing Phoenix at IndieBound
View Kingdom of The Blazing Phoenix on Goodreads
* * * *
Last Seen
by Sara Shepard
Hardcover
Freeform
Released 11/6/2018
The stakes are higher than ever in this third installment of The Amatuers, as Aerin finds herself kidnapped by the killer she knows all too well, and her friends must work to solve a puzzle laid out by the villain in order to save her.
At first, the mystery they're tasked with seems to have nothing to do with Aerin or her kidnapper. But as Seneca, Maddox, and Madison hit the Jersey Shore to gather clues, they begin to uncover the true background of the killer and the horrors that shaped him into who he is. The scavenger hunt leads them to the family of a recently kidnapped boy, a serial child-snatcher, and dark secrets they could never have seen coming. As Aerin struggles to play nice with the person who killed her sister in order to buy herself time, her friends work feverishly against the ticking clock that could mean her life, and every clue they uncover leads Seneca to suspect she's more connected to the killer's history than she ever realized.
With nail-biting suspense, twisted secrets, and non-stop action, this final installment in #1
New York Times
best-selling author Sara Shepard's The Amateurs series will shock even the savviest of readers with its big reveal.
Purchase Last Seen at Amazon
Purchase Last Seen at IndieBound
View Last Seen on Goodreads
* * * *
Skyward
by Brandon Sanderson
Hardcover
Delacorte Press
Released 11/6/2018
Spensa's world has been under attack for decades. Now pilots are the heroes of what's left of the human race, and becoming one has always been Spensa's dream. Since she was a little girl, she has imagined soaring skyward and proving her bravery. But her fate is intertwined with her father's--a pilot himself who was killed years ago when he abruptly deserted his team, leaving Spensa's chances of attending flight school at slim to none.
No one will let Spensa forget what her father did, yet fate works in mysterious ways. Flight school might be a long shot, but she is determined to fly. And an accidental discovery in a long-forgotten cavern might just provide her with a way to claim the stars.
Purchase Skyward at Amazon
Purchase Skyward at IndieBound
View Skyward on Goodreads
* * * *
Slow Burn
by Tommy Wallach
Hardcover
Simon & Schuster Books for You
Released 11/6/2018
After their devastating journey from the Anchor to Sophia, Clive and Clover Hamill, Gemma Poplin, and Paz Dedios have all been separated—not only in space, but in their convictions.
In the Anchor, Clive would like nothing better than to never speak with Paz again, but when he is tapped to help with her interrogation, the two of them begin to reconcile their differences, which don't run nearly as deep as they expected.
In Sophia, as Clover learns more and more about the city and its enigmatic director, Zeno, his faith in his mission begins to waver.
And Gemma embarks on a journey of self-discovery and spiritual expansion that will open her eyes…if it doesn't kill her first.
In Slow Burn, the second book in the Anchor & Sophia trilogy, these four young people will be compelled to question everything they thought they believed—and the conclusions they reach could determine the fate of an entire civilization.
Purchase Slow Burn at Amazon
Purchase Slow Burn at IndieBound
View Slow Burn on Goodreads
* * * *
The Wren Hunt
by Mary Watson
Hardcover
Bloomsbury YA
Released 11/6/2018
Every Christmas, Wren is chased through the woods near her isolated Irish village by her family's enemies--the Judges--and there's nothing that she or her grandfather can do to stop it. Once Wren's people, the Augurs, controlled an ancient, powerful magic. But now that power lies with the Judges, who are set on destroying the Augurs for good.
In a desperate bid to save her family, Wren takes a dangerous undercover assignment as an intern amidst those who want her dead. But as the web of lies, deceit, and betrayal thickens around her, she finds herself hurtling towards a truth that threatens to consume her and reveal who she really is. Not only has she come to the attention of powerful Judge Cassa Harkness, but she is also falling dangerously in love with the one person she shouldn't. . .
Purchase The Wren Hunt at Amazon
Purchase The Wren Hunt at IndieBound
View The Wren Hunt on Goodreads
* * * *
The XY
by Virginia Bergin
Hardcover
Sourcebooks Fire
Released 11/6/2018
She's been taught to fear him.
He's been taught to fear her.
What if they're both wrong?
In River's world, XYs are a relic of the past, along with things like war and violence. Thanks to the Global Agreements, River's life is simple, safe, and peaceful...until she comes across a body in the road one day. A body that is definitely male, definitely still alive. River isn't prepared for this. There's nothing in the Agreements about how to deal with an XY. Yet one lies before her, sick, suffering, and at her mercy.
River can kill him, or she can save him. Either way, nothing will ever be the same.
Purchase The XY at Amazon
Purchase The XY at IndieBound
View The XY on Goodreads
* * * *
This Is What It Feels Like
by Rebecca Barrow
Hardcover
HarperTeen
Released 11/6/2018
Who cares that the prize for the Sun City Originals contest is fifteen grand? Not Dia, that's for sure. Because Dia knows that without a band, she hasn't got a shot at winning. Because ever since Hanna's drinking took over her life, Dia and Jules haven't been in it. And because ever since Hanna left—well, there hasn't been a band.
It used to be the three of them, Dia, Jules, and Hanna, messing around and making music and planning for the future. But that was then, and this is now—and now means a baby, a failed relationship, a stint in rehab, all kinds of off beats that have interrupted the rhythm of their friendship.
But like the lyrics of a song you used to play on repeat, there's no forgetting a best friend. And for Dia, Jules, and Hanna, this impossible challenge—to ignore the past, in order to jump start the future—will only become possible if they finally make peace with the girls they once were, and the girls they are finally letting themselves be.
Purchase This Is What It Feels Like at Amazon
Purchase This Is What It Feels Like at IndieBound
View This Is What It Feels Like on Goodreads