The Last Magician
series, and we're delighted to have Lisa Maxwell here to tell us more about it.
Lisa, what did this book teach you about writing or about yourself?
This book was really hard to write, for some reason. Maybe it's because sequels are always difficult, but it didn't help that I felt kind of lost creatively after the election results. It took a long time to pull myself out of that funk, but this book taught me that I can write through pretty much anything—and I can write a ridiculous amount in a really short timespan. It also taught me that I never want to work like that again. lol.
What do you hope readers will take away from THE DEVIL'S THIEF?
At its heart, the whole LAST MAGICIAN series is about figuring out what you're willing to do or to give up to become what you need to become. But more specifically, the books really focus on immigrants of the early 20th century, and the struggles that they had to arrive and assimilate. When I started writing the series, I never intended it to be so topically relevant to the current political climate, but I hope that if readers take away something it's that the struggles and questions we have today aren't anything new—they're all part of this longer history that we tend to forget during the times that things are peaceful or calm.

What advice would you most like to pass along to other writers?
This industry can grind you down to dust, but you have to ignore all of that. Your job is to write and create. All the other stuff—the networking and promo and becoming a brand stuff—it's not really what's important. Be kind to other writers, wherever they are in the process and don't spend your time trying to climb the social ladder of publishing. Do good work and keep doing good work, because that's all you can control.

What are you working on now?

The final book in the Last Magician trilogy.
ABOUT THE BOOK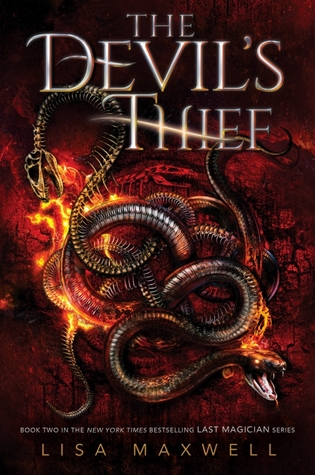 The Devil's Thief
by Lisa Maxwell
Hardcover
Simon Pulse
Released 10/9/2018
Hunt the Stones.
Beware the Thief.
Avenge the Past.
Esta's parents were murdered. Her life was stolen. And everything she knew about magic was a lie. She thought the Book of Mysteries held the key to freeing the Mageus from the Order's grasp, but the danger within its pages was greater than she ever imagined.
Now the Book's furious power lives inside Harte. If he can't control it, it will rip apart the world to get its revenge, and it will use Esta to do it.
To bind the power, Esta and Harte must track down four elemental stones scattered across the continent. But the world outside the city is like nothing they expected. There are Mageus beyond the Brink not willing to live in the shadows—and the Order isn't alone in its mission to crush them.
In St. Louis, the extravagant World's Fair hides the first stone, but an old enemy is out for revenge and a new enemy is emerging. And back in New York, Viola and Jianyu must defeat a traitor in a city on the verge of chaos.
As past and future collide, time is running out to rewrite history—even for a time-traveling thief.
Purchase The Devil's Thief at Amazon
Purchase The Devil's Thief at IndieBound
View The Devil's Thief on Goodreads
ABOUT THE AUTHOR
Lisa Maxwell is the New York Times Best-Selling author of
The Last Magicia
n. The book is being translated into ten languages and has been sold in eleven territories. Her other books for Young Adults include the award-winning
Unhooked
, as well as the critically acclaimed
Sweet Unrest
and
Gathering Deep
. She has a PhD in English and is a professor at a community college outside of D.C. She drinks way too much coffee and has a soft spot for loud music and fast cars. When she's not teaching or writing, you can probably find her catching a live band or going on adventures with her husband and two boys.
---
Have you had a chance to read THE DEVIL'S THIEF yet? Can you write a lot in a short timespan? Are you continuing to do good work? Share your thoughts about the interview in the comments!
Happy Reading,
Jocelyn, Halli, Martina, Erin, Susan, Shelly, Kelly, Laura, Emily, and Lori Ann