Happy Reading,
Shelly, Halli, Jocelyn, Martina, Erin, Susan, Kelly, Laura, Emily, Anisaa, and Lori Ann
YA BOOK GIVEAWAYS THIS WEEK
* * * *
500 Words or Less
by Juleah del Rosario
Signed Hardcover Giveaway

U.S. Only
Simon Pulse
Released 9/25/2018
Nic Chen refuses to spend her senior year branded as the girl who cheated on her charismatic and lovable boyfriend. To redefine her reputation among her Ivy League–obsessed classmates, Nic begins writing their college admissions essays.
But the more essays Nic writes for other people, the less sure she becomes of herself, the kind of person she is, and whether her moral compass even points north anymore.
Purchase 500 Words or Less at Amazon
Purchase 500 Words or Less at IndieBound
View 500 Words or Less on Goodreads
* * * *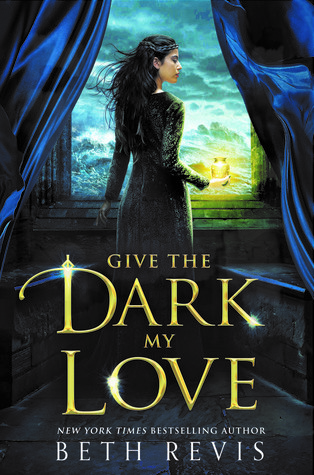 Give the Dark My Love
by Beth Revis
Hardcover Giveaway

U.S. Only
Razorbill
Released 9/25/2018
Seventeen-year-old Nedra Brysstain leaves her home in the rural, northern territories of Lunar Island to attend the prestigious Yugen Academy with only one goal in mind: master the trade of medicinal alchemy. A scholarship student matriculating with the children of Lunar Island's wealthiest and most powerful families, Nedra doesn't quite fit in with the other kids at Yugen.
Until she meets Greggori "Grey" Astor. Grey is immediately taken by the brilliant and stubborn Nedra, who he notices is especially invested in her studies. And that's for a good reason: a deadly plague has been sweeping through the north, and it's making its way toward the cities. With her family's life--and the lives of all of Lunar Island's citizens--on the line, Nedra is determined to find a cure for the plague.
Grey and Nedra grow close, but as the sickness spreads and the body count rises, Nedra becomes desperate to find a cure. Soon, she finds herself diving into alchemy's most dangerous corners--and when she turns to the most forbidden practice of all, necromancy, even Grey might not be able to pull her from the darkness.
Author Question: What is your favorite thing about Give the Dark My Love?
My favorite thing about this dark fantasy is the heroine (although many would argue she's actually the villain). Nedra Brysstain starts her life in a way very similar to my own--she's from a humble family in a rural, remote area, and has been raised to be resourceful and respectful. But she finds a strength within the desperate times she faces, and she becomes the type of person I've always admired--someone who takes what she needs and what she wants, without question or remorse. Someone who takes power and faces that world with her power, without hiding. She's the opposite of meek and simpering, and she has a resilience that I, frankly, envy.
Purchase Give the Dark My Love at Amazon
Purchase Give the Dark My Love at IndieBound
View Give the Dark My Love on Goodreads
* * * *
Unstoppable Moses: A Novel
by Tyler James Smith
Hardcover Giveaway

U.S. Only
Flatiron Books
Released 9/25/2018
Moses and his cousin Charlie were best friends, wisecracking pranksters, unstoppable forces of teenage energy―until the night they became accidental arsonists and set in motion a chain of events that left Moses alone, guilt-stricken, and most likely trapped in his dead-end town.
Then Moses gets a lucky break: the chance to volunteer as a camp counselor for week and prove that the incident at the bowling alley should be expunged from his record. And since a criminal record and enrollment at Duke are mutually exclusive, he's determined to get through his community service and get on with his life. But tragedy seems to follow him wherever he goes, and this time, it might just stop him in his tracks.
Author Question: What is your favorite thing about Unstoppable Moses: A Novel?
I absolutely love the cover, designed by Keith Hayes. Not only is the whole thing thematically on point and metaphorically resonant, BUT IT GLOWS IN THE DARK. I mean, I love the book, too—I got to spend time with these characters and get in their heads and give them jokes that made me laugh, but I'm glad I didn't have to design the cover because it would've been a morgue-fire compared to what Keith Hayes came up with.
Purchase Unstoppable Moses: A Novel at Amazon
Purchase Unstoppable Moses: A Novel at IndieBound
View Unstoppable Moses: A Novel on Goodreads
* * * *
Nightingale
by Amy Lukavics
Hardcover Giveaway

U.S. Only
Harlequin Teen; Original edition
Released 9/25/2018
At seventeen, June Hardie is everything a young woman in 1951 shouldn't be—independent, rebellious, a dreamer. June longs to travel, to attend college and to write the dark science fiction stories that consume her waking hours. But her parents only care about making June a better young woman. Her mother grooms her to be a perfect little homemaker while her father pushes her to marry his business partner's domineering son. When June resists, her whole world is shattered—suburbia isn't the only prison for different women…
June's parents commit her to Burrow Place Asylum, aka the Institution. With its sickening conditions, terrifying staff and brutal "medical treatments," the Institution preys on June's darkest secrets and deepest fears. And she's not alone. The Institution terrorizes June's fragile roommate, Eleanor, and the other women locked away within its crumbling walls. Those who dare speak up disappear…or worse. Trapped between a gruesome reality and increasingly sinister hallucinations, June isn't sure where her nightmares end and real life begins. But she does know one thing: in order to survive, she must destroy the Institution before it finally claims them all.
Purchase Nightingale at Amazon
Purchase Nightingale at IndieBound
View Nightingale on Goodreads
YA BOOK GIVEAWAYS LAST WEEK: WINNERS
The Deepest Roots by Miranda Asebedo:
Mary H.
The Iron Flower by Laurie Forest:
Kelly M.
What the Woods Keep by Katya de Becerra:
Stephanie T.
MORE YOUNG ADULT FICTION IN STORES NEXT WEEK WITH AUTHOR INTERVIEWS
* * * *
Black Wings Beating
by Alex London
Hardcover
Farrar, Straus and Giroux
Released 9/25/2018
The people of Uztar have long looked to the sky with hope and wonder. Nothing in their world is more revered than the birds of prey and no one more honored than the falconers who call them to their fists.
Brysen strives to be a great falconer―while his twin sister, Kylee, rejects her ancient gifts for the sport and wishes to be free of falconry. She's nearly made it out, too, but a war is rolling toward their home in the Six Villages, and no bird or falconer will be safe.
Together the twins must journey into the treacherous mountains to trap the Ghost Eagle, the greatest of the Uztari birds and a solitary killer. Brysen goes for the boy he loves and the glory he's long craved, and Kylee to atone for her past and to protect her brother's future. But both are hunted by those who seek one thing: power.
Author Question: What is your favorite thing about Black Wings Beating?
I really wrote the book of my heart. I love the world I created centered around killer birds and I love the two main characters, a brother and sister struggling to overcome trauma, each in their own unique way. The relationship is complex, loving, and painful, and the quest they go on stirs all of it up. I hope readers love it...but my favorite thing about BLACK WINGS BEATING is something I had no control over: I'm totally in love with the cover that Elizabeth Clark designed. I nearly swoon every time I see it! And the final version is printed with silver ink! How cool is that?
Purchase Black Wings Beating at Amazon
Purchase Black Wings Beating at IndieBound
View Black Wings Beating on Goodreads
* * * *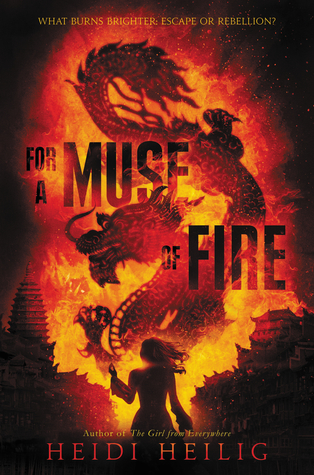 For a Muse of Fire
by Heidi Heilig
Hardcover
Greenwillow Books
Released 9/25/2018
Jetta's family is famed as the most talented troupe of shadow players in the land. With Jetta behind the scrim, their puppets seem to move without string or stick—a trade secret, they say. In truth, Jetta can see the souls of the recently departed and bind them to the puppets with her blood.
But ever since the colonizing army conquered their country, the old ways are forbidden, so Jetta must never show, never tell. Her skill and fame are her family's way to earn a spot aboard the royal ship to Aquitan, where shadow plays are the latest rage, and where rumor has it the Mad Emperor has a spring that cures his ills—and could cure Jetta's, too. Because seeing spirits is not the only thing that plagues her.
But as rebellion seethes and as Jetta meets a young smuggler, she will face truths and decisions that she never imagined—and safety will never seem so far away.
Author Question: What is your favorite thing about For a Muse of Fire?
How do I decide my favorite thing? Do I have to pick just one? Well. It took me a while to come up with the answer, because FOR A MUSE OF FIRE is such an eclectic mix of so many things I love. The magic of theatre, the mystery of the jungle, the dangerous thrill of necromancy, the saucy camaraderie of self-determined sex workers. But more than any of this, I think I'm proudest of the fact that I've written a character struggling to find a treatment for her mental illness. As a fan of high fantasy, I rarely saw these "real life" issues on the page when I was a very young reader, so it was both a challenge and a joy to weave them into a story set in a world of mad kings and beautiful princesses and strange gods.
Purchase For a Muse of Fire at Amazon
Purchase For a Muse of Fire at IndieBound
View For a Muse of Fire on Goodreads
* * * *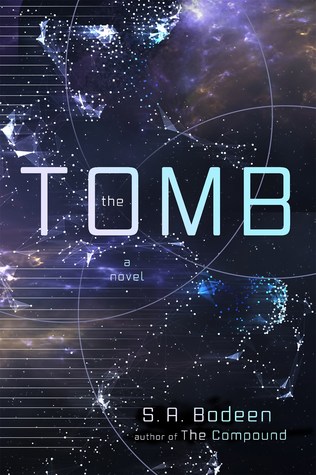 The Tomb: A Novel
by S. A. Bodeen
Hardcover
Feiwel & Friends
Released 9/25/2018
Nothing is as it seems.
These are the first words Kiva's best friend Seth says, after three years of silence.
Kiva thought she was growing up in ancient Alexandria. That's what she and all her classmates had been led to believe by their parents. It turns out she was living in virtual reality, in a sleep chamber in deep space, and three years ago, Seth woke up. Now it's her turn to join him.
Together, Kiva and Seth must take an escape shuttle to search for the engine part their home ship needs to keep running. But it's been a long time since the Krakatoa has communicated with any of the other three ships harboring human civilization. Kiva and Seth are not sure what they'll find if and when they finally make contact.
Danger, romance and twists you'll never see coming abound in this high-stakes science fiction adventure.
Author Question: What is your favorite thing about The Tomb: A Novel?
My favorite thing about this novel is that it is set in space. I'm a huge sci-fi geek, love stories set in space, and am so excited that I finally got to write one. I had fun exploring aspects of space travel and life, not to mention figuring out some harrowing things that the characters could encounter. I hope readers will enjoy reading what I came up with.
Purchase The Tomb: A Novel at Amazon
Purchase The Tomb: A Novel at IndieBound
View The Tomb: A Novel on Goodreads
MORE YOUNG ADULT NOVELS NEW IN STORES NEXT WEEK
* * * *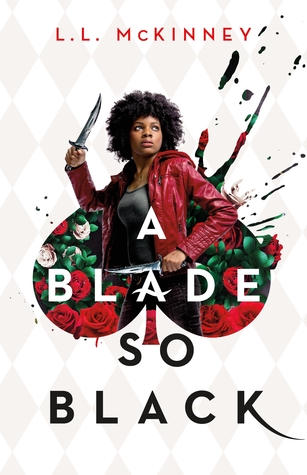 A Blade So Black
by L.L. McKinney
Hardcover
Imprint
Released 9/25/2018
The first time the Nightmares came, it nearly cost Alice her life. Now she's trained to battle monstrous creatures in the dark dream realm known as Wonderland with magic weapons and hardcore fighting skills. Yet even warriors have a curfew.
Life in real-world Atlanta isn't always so simple, as Alice juggles an overprotective mom, a high-maintenance best friend, and a slipping GPA. Keeping the Nightmares at bay is turning into a full-time job. But when Alice's handsome and mysterious mentor is poisoned, she has to find the antidote by venturing deeper into Wonderland than she's ever gone before. And she'll need to use everything she's learned in both worlds to keep from losing her head . . . literally.
Purchase A Blade So Black at Amazon
Purchase A Blade So Black at IndieBound
View A Blade So Black on Goodreads
* * * *
Love for Two Lifetimes
by Martina Boone
Hardcover
Mayfair Publishing
Released 9/25/2018
Two generations, two great loves, one impossible choice . . .
When Izzy unexpectedly loses her mother in a car accident, her world shatters. Their relationship has always been so close that Izzy can't imagine life without her. Nor can she begin to understand when she finds a secret box of love letters that her mother wrote but never sent. The idea of her mother hiding such intense feelings for more than twenty years without so much as a hint makes Izzy question everything she thought she knew--including the identity of her father.
Following a trail of clues overseas, Izzy steps into a world of glamour and English royalty, one which years ago forced her mother to choose between her obligation to her musical gift and her lover's obligations to his family, title, and estate. It's a world of secrets and masquerades, of heartache and betrayal. And in the midst of this world, Izzy finds a young man who feels as broken as she does herself. The two are drawn to each other--only to find that their parents' lies may present an insurmountable obstacle between them.
Thrown together on a coming of age journey of discovery that spans two lifetimes and takes them from a grand estate in the Cotswolds to a hospital bedside in India and ultimately to the Taj Mahal, Izzy and Malcolm try desperately not to fall in love. But some things are impossible...
And some loves are worth any sacrifice...
Uplifting, funny, tragic, and unforgettably romantic,
Love for Two Lifetimes
is a tale of two generations of romance, a lifetime of friendship, a history of good intentions, and one last, heartbreaking and hopeful choice revealed in prose, texts, and love letters. If you enjoy the fairy tale royal weddings or the intense emotion of any story by John Greene or Nicholas Sparks,
Love for Two Lifetimes
will have you turning pages late into the night.
"Heartwarming, lyrical, soulful, and with just the right amount of humor: this book sparkles with authentic, layered characters and beautiful, thoughtful prose." -- Jodi Meadows, NYT bestselling co-author of My Lady Jane and My Plain Jane
Purchase Love for Two Lifetimes at Amazon
Purchase Love for Two Lifetimes at IndieBound
View Love for Two Lifetimes on Goodreads
* * * *
Rabbit & Robot
by Andrew Smith
Hardcover
Simon & Schuster Books for Young Readers
Released 9/25/2018
Cager has been transported to the Tennessee, a giant lunar-cruise ship orbiting the moon that his dad owns, by Billy and Rowan to help him shake his Woz addiction. Meanwhile, Earth, in the midst of thirty simultaneous wars, burns to ash beneath them. And as the robots on board become increasingly insane and cannibalistic, and the Earth becomes a toxic wasteland, the boys have to wonder if they'll be stranded alone in space forever.
Purchase Rabbit & Robot at Amazon
Purchase Rabbit & Robot at IndieBound
View Rabbit & Robot on Goodreads
* * * *
Sex Plus: Learning, Loving, and Enjoying Your Body
by Laci Green
Hardcover
HarperCollins
Released 9/25/2018
This groundbreaking book from sex educator and YouTube phenomenon Laci Green has everything you've ever wanted to know about sex, sexuality, pleasure, and your body.
Let's be honest: most of us think about sex A LOT, and we have plenty of unanswered questions: What's the best way to talk to my partner about what I want? How do I figure out my sexuality? How do I have sex safely? What does an orgasm actually feel like?
Laci Green—a sex educator and YouTuber who's been hailed by Time magazine as the millennial Dr. Ruth—has built a platform of millions of followers by answering sex-related questions frankly, nonjudgmentally, and hilariously.
Now Laci brings her signature style and voice to a comprehensive book about the multitude of issues and concerns that go along with sexuality: anatomy, consent, LGBTQ issues, STI and pregnancy prevention, sexual empowerment, healthy relationships, myth-busting, and more.
Sex Plus is the first book of its kind: empowering, sex-positive, and cool. Comprehensive, honest, and vetted by a range of medical experts, this book will help you take control of your sex life.
After all, knowledge is pleasure.
Purchase Sex Plus: Learning, Loving, and Enjoying Your Body at Amazon
Purchase Sex Plus: Learning, Loving, and Enjoying Your Body at IndieBound
View Sex Plus: Learning, Loving, and Enjoying Your Body on Goodreads
* * * *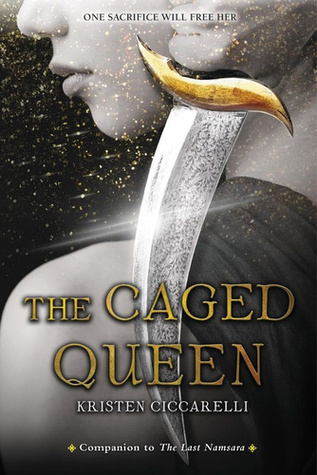 The Caged Queen
by Kristen Ciccarelli
Hardcover
HarperTeen
Released 9/25/2018
Once there were two sisters born with a bond so strong that it forged them together forever. Roa and Essie called it the hum. It was a magic they cherished—until the day a terrible accident took Essie's life and trapped her soul in this world.
Dax—the heir to Firgaard's throne—was responsible for the accident. Roa swore to hate him forever. But eight years later he returned, begging for her help. He was determined to dethrone his cruel father, under whose oppressive reign Roa's people had suffered.
Roa made him a deal: she'd give him the army he needed if he made her queen. Only as queen could she save her people from Firgaard's rule.
Then a chance arises to right every wrong—an opportunity for Roa to rid herself of this enemy king and rescue her beloved sister. During the Relinquishing, when the spirits of the dead are said to return, Roa discovers she can reclaim her sister for good.
All she has to do is kill the king.
Purchase The Caged Queen at Amazon
Purchase The Caged Queen at IndieBound
View The Caged Queen on Goodreads
* * * *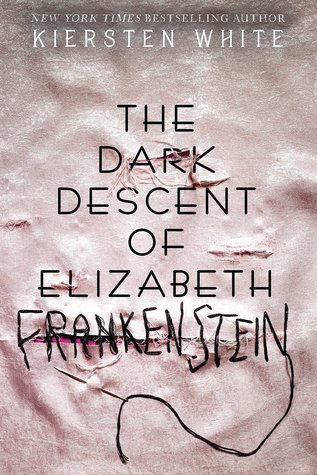 The Dark Descent of Elizabeth Frankenstein
by Kiersten White
Hardcover
Delacorte Press
Released 9/25/2018
Elizabeth Lavenza hasn't had a proper meal in weeks. Her thin arms are covered with bruises from her "caregiver," and she is on the verge of being thrown into the streets . . . until she is brought to the home of Victor Frankenstein, an unsmiling, solitary boy who has everything--except a friend.
Victor is her escape from misery. Elizabeth does everything she can to make herself indispensable--and it works. She is taken in by the Frankenstein family and rewarded with a warm bed, delicious food, and dresses of the finest silk. Soon she and Victor are inseparable.
But her new life comes at a price. As the years pass, Elizabeth's survival depends on managing Victor's dangerous temper and entertaining his every whim, no matter how depraved. Behind her blue eyes and sweet smile lies the calculating heart of a girl determined to stay alive no matter the cost . . . as the world she knows is consumed by darkness.
Purchase The Dark Descent of Elizabeth Frankenstein at Amazon
Purchase The Dark Descent of Elizabeth Frankenstein at IndieBound
View The Dark Descent of Elizabeth Frankenstein on Goodreads