Happy Reading,
Shelly, Halli, Jocelyn, Martina, Erin, Susan, Kelly, Laura, Emily, Anisaa, and Lori Ann
YA BOOK GIVEAWAYS THIS WEEK
* * * *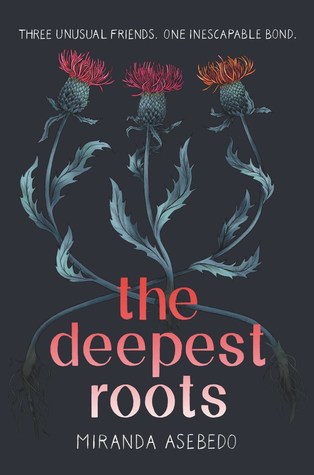 The Deepest Roots
by Miranda Asebedo
Hardcover Giveaway

International
HarperTeen
Released 9/18/2018
Cottonwood Hollow, Kansas, is a strange place. For the past century, every girl has been born with a special talent, like the ability to Fix any object, Heal any wound, or Find what is missing.
To best friends Rome, Lux, and Mercy, their abilities often feel more like a curse. Rome may be able to Fix anything she touches, but that won't help her mom pay rent. Lux's ability to attract any man with a smile has always meant danger. And although Mercy can make Enough of whatever is needed, even that won't help when her friendship with Rome and Lux is tested.
Follow three best friends in this enchanting debut novel as they discover that friendship is stronger than curses, that trust is worth the risk, and sometimes, what you've been looking for has been under your feet the whole time.
Author Question: What is your favorite thing about The Deepest Roots?
What I love best about THE DEEPEST ROOTS is its attention to female relationships, most especially female friendship. I feel like in the media, women, especially young women, are constantly being pitted against each other. On social media, we're constantly being bombarded on with female celebrity "feuds," of "who wore it better," and of course we're all very familiar with the trope of the "mean girl" that's always trying to bring other girls down. But I don't believe that's an accurate depiction of female relationships. Especially today, in the age of the #MeToo movement, we're seeing women band together to protect each other and raise each other up. In my own experience, it's been my relationships with other women that have helped me socially, academically, and professionally.

So to me, what makes THE DEEPEST ROOTS so special is that it's first and foremost a friendship story. There's a little romance in it, but as one reviewer put it, "the real love story is between the three friends." Rome, Lux, and Mercy will go to any lengths to protect each other. One of the big conflicts of the story is whether or not the main character, Rome, should reveal a dangerous secret because she knows that doing so will jeopardize her friendship with one of the other girls. I'd love to see more positive depictions of sisterhood in YA fiction, which is probably why it' s a major theme again in my next book coming in Fall 2019 from HarperTeen, A CONSTELLATION OF ROSES.
Purchase The Deepest Roots at Amazon
Purchase The Deepest Roots at IndieBound
View The Deepest Roots on Goodreads
* * * *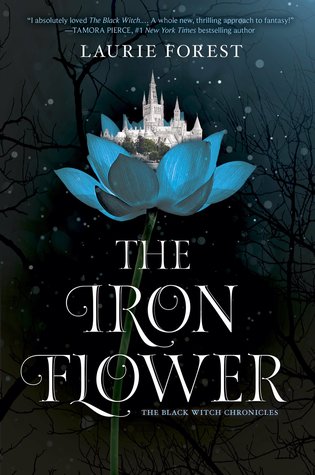 The Iron Flower
by Laurie Forest
Hardcover Giveaway

U.S. Only
Harlequin Teen
Released 9/18/2018
Elloren Gardner and her friends were only seeking to right a few wrongs when they rescued a Selkie and freed a military dragon. The last thing they expected was to be thrust into a realm-wide underground resistance against Gardnerian conquest.
While the Resistance struggles to fight back against the harsh rulings of the Mage Council, more and more Gardnerian soldiers descend upon the University…led by none other than Lukas Grey, now commander of the nearby military base. Though Elloren tries to keep him at arm's length, Lukas is determined to tie himself to her, still convinced that she is the heir to the power of the Black Witch, a legacy of magic that will decide the future of all Erthia. As his own magic calls out to her, seeking to awaken a dark force within, Elloren finds it more and more difficult to believe that she's truly powerless, as her uncle always claimed.
Caught between her growing feelings for the rebellious Yvan Guriel and the seductive power offered by Lukas, Elloren must find a way to stay true to what she knows is right and protect everyone she loves…even if that means protecting them from herself.
Author Question: What is your favorite thing about The Iron Flower?
The large amount of kissing (the love triangle heats up quite a bit in Iron Flower) :) And dragonflight! It was incredibly fun to write about characters flying into the air on dragons - and dragons incinerating things :) And I'm especially drawn to Ariel's storyline at the moment. Because she's the underdog and I love her. But my top favorite thing is that I was able to weave pro-immigrant themes into the storyline over the course of the last eight months of editing. I drew directly from what's troubling me in the world today and worked it right into the story, and I'm grateful I had the opportunity to do that.
Purchase The Iron Flower at Amazon
Purchase The Iron Flower at IndieBound
View The Iron Flower on Goodreads
* * * *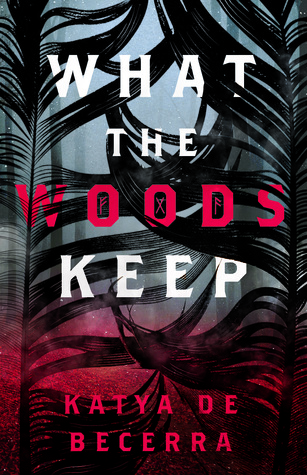 What the Woods Keep
by Katya de Becerra
Hardcover Giveaway

U.S. Only
Imprint
Released 9/18/2018
On her eighteenth birthday, Hayden inherits her childhood home―on the condition that she uncover its dark secrets.
Hayden tried to put the past behind her, and it worked. She's getting ready for college, living in a Brooklyn apartment, and hanging out with her best friend and roommate Del. But now it's all catching up with her: her mother's mysterious disappearance a decade before, her father's outlandish theories about a lost supernatural race, and Hayden's own dark dreams of strange symbols and rituals in the Colorado woods where she grew up.
As soon as Hayden arrives at her hometown, her friend Del in tow, it begins: Neighbors whisper secrets about Hayden's mother; the boy next door is now all grown-up in a very distracting way; and Hayden feels the trees calling to her. And among them, deep in the woods, Hayden will discover something incredible―something that threatens reality itself.
Author Question: What is your favorite thing about What the Woods Keep?
My favorite thing about WHAT THE WOODS KEEP is that writing it allowed me to geek out about the topics I love - science, mythology and pop culture - all at once! I also immensely enjoyed writing a book that is 'cross-genre'. I'm a huge fan of fantasies, thriller and mysteries, so it was really exciting to create something that combined the elements of all these genres I adore.
Purchase What the Woods Keep at Amazon
Purchase What the Woods Keep at IndieBound
View What the Woods Keep on Goodreads
YA BOOK GIVEAWAYS LAST WEEK: WINNERS
Attack of the 50 Foot Wallflower by Christian McKay Heidicker:
Aaron H.
Confessions of a Teenage Leper by Ashley Little:
Alena S.
Dream Country by Shannon Gibney:
Ariel G.
MORE YOUNG ADULT FICTION IN STORES NEXT WEEK WITH AUTHOR INTERVIEWS
* * * *
American Road Trip
by Patrick Flores-Scott
Hardcover
Henry Holt and Co.
Released 9/18/2018
With a strong family, the best friend a guy could ask for, and a budding romance with the girl of his dreams, life shows promise for Teodoro "T" Avila. But he takes some hard hits the summer before senior year when his nearly perfect brother, Manny, returns from a tour in Iraq with a devastating case of PTSD. In a desperate effort to save Manny from himself and pull their family back together, T's fiery sister, Xochitl, hoodwinks her brothers into a cathartic road trip.
Told through T's honest voice, this is a candid exploration of mental illness, socioeconomic pressures, and the many inescapable highs and lows that come with growing up―including falling in love.
Author Question: What is your favorite thing about American Road Trip?
I think it's the humor.

The book takes on some heavy topics; unemployment, foreclosure, mental illness—and the family strife caused by all those. AMERICAN ROAD TRIP is my take on how one family might battle with these issues and come out the other end whole. I didn't go searching for silliness in all that. But I think the humor is a natural outgrowth of how people negotiate the toughest times. There are tears, anger, and laughs. We need them all to get through. Readers need them all too and I'm proud that this book navigates a full and realistic emotional journey.
Purchase American Road Trip at Amazon
Purchase American Road Trip at IndieBound
View American Road Trip on Goodreads
MORE YOUNG ADULT NOVELS NEW IN STORES NEXT WEEK
* * * *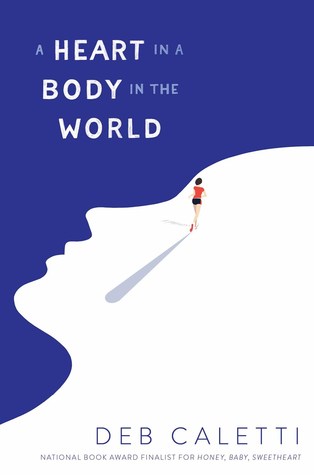 A Heart in a Body in the World
by Deb Caletti
Hardcover
Simon Pulse
Released 9/18/2018
When everything has been taken from you, what else is there to do but run?
So that's what Annabelle does—she runs from Seattle to Washington, DC, through mountain passes and suburban landscapes, from long lonely roads to college towns. She's not ready to think about the why yet, just the how—muscles burning, heart pumping, feet pounding the earth. But no matter how hard she tries, she can't outrun the tragedy from the past year, or the person—The Taker—that haunts her.
Followed by Grandpa Ed in his RV and backed by her brother and two friends (her self-appointed publicity team), Annabelle becomes a reluctant activist as people connect her journey to the trauma from her past. Her cross-country run gains media attention and she is cheered on as she crosses state borders, and is even thrown a block party and given gifts. The support would be nice, if Annabelle could escape the guilt and the shame from what happened back home. They say it isn't her fault, but she can't feel the truth of that.
Through welcome and unwelcome distractions, she just keeps running, to the destination that awaits her. There, she'll finally face what lies behind her—the miles and love and loss…and what is to come.
Purchase A Heart in a Body in the World at Amazon
Purchase A Heart in a Body in the World at IndieBound
View A Heart in a Body in the World on Goodreads
* * * *
Afterimage
by Naomi Hughes
Hardcover
Page Street Publishing
Released 9/18/2018
A horrific explosion levels part of the city and Camryn Kingfisher is the sole survivor.
Amidst controversy, conspiracy theories, and threats from government officials, Camryn longs for the truth. But the only person who she can turn to is a transparent boy in a lab coat named Quint. Unsure whether he's a hallucination or a ghost, Camryn has no choice but to trust him as they become embroiled in a plot that is bigger than either of them realize.
In a race where the fabric of time and space is at stake, they must figure out who caused the explosion before the culprit comes back to finish Camryn―and her city―off for good.
Purchase Afterimage at Amazon
Purchase Afterimage at IndieBound
View Afterimage on Goodreads
* * * *
Escaping From Houdini
by Kerri Maniscalco
Hardcover
jimmy patterson
Released 9/18/2018
Audrey Rose Wadsworth and her partner-in-crime-investigation, Thomas Cresswell, are en route to New York to help solve another blood-soaked mystery. Embarking on a week-long voyage across the Atlantic on the opulent RMS Etruria, they're delighted to discover a traveling troupe of circus performers, fortune tellers, and a certain charismatic young escape artist entertaining the first-class passengers nightly.
But then, privileged young women begin to go missing without explanation, and a series of brutal slayings shocks the entire ship. The disturbing influence of the Moonlight Carnival pervades the decks as the murders grow ever more freakish, with nowhere to escape except the unforgiving sea. It's up to Audrey Rose and Thomas to piece together the gruesome investigation as even more passengers die before reaching their destination. But with clues to the next victim pointing to someone she loves, can Audrey Rose unravel the mystery before the killer's horrifying finale?
Purchase Escaping From Houdini at Amazon
Purchase Escaping From Houdini at IndieBound
View Escaping From Houdini on Goodreads
* * * *
Just Mercy (Adapted for Young Adults): A True Story of the Fight for Justice
by Bryan A. Stevenson
Hardcover
Delacorte Press
Released 9/18/2018
In this young adult adaptation of the acclaimed bestselling Just Mercy, which the New York Times calls "as compelling as To Kill a Mockingbird, and in some ways more so," Bryan Stevenson dlves deep into the broken U.S. justice system, detailing from his personal experience his many challenges and efforts as a lawyer and social advocate, especially on behalf of America's most rejected and marginalized people.
In this very personal work--proceeds of which will go to charity--Bryan Stevenson recounts many and varied stories of his work as a lawyer in the U.S. criminal justice system on behalf of those in society who have experienced some type of discrimination and/or have been wrongly accused of a crime and who deserve a powerful advocate and due justice under the law.
Through the Equal Justice Initiative (EJI), an organization Stevenson founded as a young lawyer and for which he currently serves as Executive Director, this important work continues. EJI strives to end mass incarceration and excessive punishment in the United States, working to protect basic human rights for the most vulnerable people in American society.
Purchase Just Mercy (Adapted for Young Adults): A True Story of the Fight for Justice at Amazon
Purchase Just Mercy (Adapted for Young Adults): A True Story of the Fight for Justice at IndieBound
View Just Mercy (Adapted for Young Adults): A True Story of the Fight for Justice on Goodreads
* * * *
Kens
by Raziel Reid
Hardcover
Penguin Teen
Released 9/18/2018
Every high school has the archetypical Queen B and her minions. In Kens, the high school hierarchy has been reimagined. Willows High is led by Ken Hilton, and he makes Regina George from Mean Girls look like a saint. Ken Hilton rules Willows High with his carbon-copies, Ken Roberts and Ken Carson, standing next to his throne. It can be hard to tell the Kens apart. There are minor differences in each edition, but all Kens are created from the same mold, straight out of Satan's doll factory. Soul sold separately.
Tommy Rawlins can't help but compare himself to these shimmering images of perfection that glide through the halls. He's desperate to fit in, but in a school where the Kens are queens who are treated like Queens, Tommy is the uncool gay kid. A once-in-a-lifetime chance at becoming a Ken changes everything for Tommy, just as his eye is caught by the tall, dark, handsome new boy, Blaine. Has Blaine arrived in time to save him from the Kens? Tommy has high hopes for their future together, but when their shared desire to overthrow Ken Hilton takes a shocking turn, Tommy must decide how willing he is to reinvent himself -- inside and out. Is this new version of Tommy everything he's always wanted to be, or has he become an unknowing and submissive puppet in a sadistic plan?
Purchase Kens at Amazon
Purchase Kens at IndieBound
View Kens on Goodreads
* * * *
Pride
by Ibi Zoboi
Hardcover
Balzer + Bray
Released 9/18/2018
Zuri Benitez has pride. Brooklyn pride, family pride, and pride in her Afro-Latino roots. But pride might not be enough to save her rapidly gentrifying neighborhood from becoming unrecognizable.
When the wealthy Darcy family moves in across the street, Zuri wants nothing to do with their two teenage sons, even as her older sister, Janae, starts to fall for the charming Ainsley. She especially can't stand the judgmental and arrogant Darius. Yet as Zuri and Darius are forced to find common ground, their initial dislike shifts into an unexpected understanding.
But with four wild sisters pulling her in different directions, cute boy Warren vying for her attention, and college applications hovering on the horizon, Zuri fights to find her place in Bushwick's changing landscape, or lose it all.
Purchase Pride at Amazon
Purchase Pride at IndieBound
View Pride on Goodreads
* * * *
Ready for It
by Chusita Fashion Fever
Hardcover
Imprint
Released 9/18/2018
YouTube sensation Chusita Fashion Fever gives no nonsense advice on everything from relationships, sexual identity, your first time and the difference between on-screen sex versus #IRL. And this is about real life; Chusita addresses actual questions and concerns posed by her teenage fans.
The bold package features body-positive comic illustrations and "fun facts" health sections, while Chusita's signature voice is authentic and non-judgmental; straight and LGBTI readers are welcome. Myths are debunked and taboos explored―allowing readers to learn not only about the logistics of sex, but about consent, respect, self care, and the intuition needed to make mature sexual decisions with confidence.
Purchase Ready for It at Amazon
Purchase Ready for It at IndieBound
View Ready for It on Goodreads
* * * *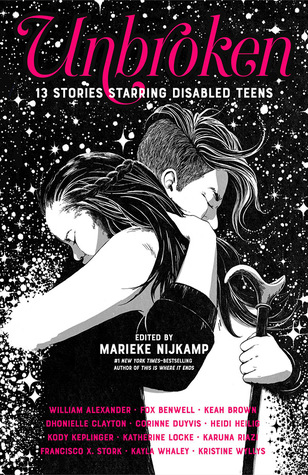 Unbroken: 13 Stories Starring Disabled Teens
by Marieke Nijkamp
Hardcover
Farrar, Straus and Giroux
Released 9/18/2018
This anthology explores disability in fictional tales told from the viewpoint of disabled characters, written by disabled creators. With stories in various genres about first loves, friendship, war, travel, and more, Unbroken will offer today's teen readers a glimpse into the lives of disabled people in the past, present, and future.
The contributing authors are awardwinners, bestsellers, and newcomers including Kody Keplinger, Kristine Wyllys, Francisco X. Stork, William Alexander, Corinne Duyvis, Marieke Nijkamp, Dhonielle Clayton, Heidi Heilig, Katherine Locke, Karuna Riazi, Kayla Whaley, Keah Brown, and Fox Benwell. Each author identifies as disabled along a physical, mental, or neurodiverse axis―and their characters reflect this diversity.
Purchase Unbroken: 13 Stories Starring Disabled Teens at Amazon
Purchase Unbroken: 13 Stories Starring Disabled Teens at IndieBound
View Unbroken: 13 Stories Starring Disabled Teens on Goodreads
* * * *
Unclaimed Baggage
by Jen Doll
Hardcover
Farrar, Straus and Giroux
Released 9/18/2018
Doris―a lone liberal in a conservative small town―has mostly kept to herself since the terrible waterslide incident a few years ago. Nell had to leave behind her best friends, perfect life, and too-good-to-be-true boyfriend in Chicago to move to Alabama. Grant was the star quarterback and epitome of "Mr. Popular" whose drinking problem has all but destroyed his life. What do these three have in common? A summer job working in a store called Unclaimed Baggage cataloging and selling other people's lost luggage. Together they find that through friendship, they can unpack some of their own emotional baggage and move on into the future.
Purchase Unclaimed Baggage at Amazon
Purchase Unclaimed Baggage at IndieBound
View Unclaimed Baggage on Goodreads
* * * *
Wildcard
by Marie Lu
Hardcover
G.P. Putnam's Sons Books for Young Readers
Released 9/18/2018
Emika Chen barely made it out of the Warcross Championships alive. Now that she knows the truth behind Hideo's new NeuroLink algorithm, she can no longer trust the one person she's always looked up to, who she once thought was on her side.
Determined to put a stop to Hideo's grim plans, Emika and the Phoenix Riders band together, only to find a new threat lurking on the neon-lit streets of Tokyo. Someone's put a bounty on Emika's head, and her sole chance for survival lies with Zero and the Blackcoats, his ruthless crew. But Emika soon learns that Zero isn't all that he seems--and his protection comes at a price.
Caught in a web of betrayal, with the future of free will at risk, just how far will Emika go to take down the man she loves?
Purchase Wildcard at Amazon
Purchase Wildcard at IndieBound
View Wildcard on Goodreads