Marci, is there a scene you particularly love?
Oh, I absolutely adored the pickpocketing scene! It was such a blast to write. Not just because it was funny, and not just because Luke is one of my favorite characters in this story, but also because pickpocketing is such a total departure from anything I'd ever do in real life.

How long did you work on THE LEADING EDGE OF NOW?
This story has personal significance to me, and I'm a slow writer to boot, so it took me forever to write it. (Okay, that's dramatic. Two years. It took two years to write it, but it felt like forever.) Still, the first draft was pretty clunky. It wasn't until I was revising with the brilliant Kate Egan (of
Hunger Games
fame) that the story really started to tighten up.
What do you hope readers will take away from THE LEADING EDGE OF NOW?
All of my books—when narrowed down to the basic nuts and bolts—are about accepting the difficulties that life has handed us with grace and dignity, and becoming somehow better because of it. So it's my greatest wish that readers come away with a sense of inner strength, perseverance, and self worth.

What are you working on now?
I can't say much about my newest project, except that it's completely different from anything I've ever written, and I'm super excited about it!
ABOUT THE BOOK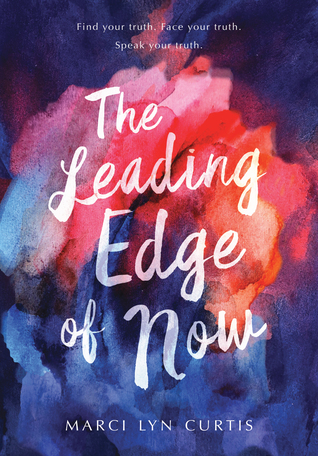 The Leading Edge of Now
by Marci Lyn Curtis
Hardcover
Kids Can Press
Released 9/4/2018
Just when Grace is beginning to get used to being an orphan, her estranged uncle suddenly comes forward to claim her.
That might have been okay if he d spoken to her even once since her father died.
Or if moving in with Uncle Rusty didn t mean returning to New Harbor.
Grace once spent the best summers of her life in New Harbor. Now the place just reminds her of all she s lost: her best friend, her boyfriend and any memory of the night that changed her forever.
People say the truth will set you free, but Grace isn t sure about that. Once she starts looking for it, the truth about that night is hard to find and what happens when her healing hurts the people she cares about the most?
Marci Lyn Curtis, the critically acclaimed author of The One Thing, has crafted an honest and emotional story that will resonate with the wide range of readers impacted by sexual assault.
Sexual assault does not define this story, however, just as it does not define Grace. Wry humor and true love emerge as Grace, like many in the #MeToo era, seeks to find her truth, face her truth, and speak her truth.
Purchase The Leading Edge of Now at Amazon
Purchase The Leading Edge of Now at IndieBound
View The Leading Edge of Now on Goodreads
ABOUT THE AUTHOR
Marci Lyn Curtis is a critically acclaimed author of young adult dramedies
The One Thing
and
The Leading Edge of Now
. She lives near Tampa, Florida with her husband. You can find out more about Marci on her website (
marcilyncurtis.com
), on Twitter (@Marci_Curtis), on Instagram (@marcilyncurtis), or on Facebook (marcilyncurtis).
---

Have you had a chance to read THE LEADING EDGE OF NOW yet? What kind of scenes are a blast for you to write? Do stories with personal significance take you longer to write? Share your thoughts about the interview in the comments!

Happy Reading,

Jocelyn, Halli, Martina, Erin, Susan, Shelly, Kelly, Laura, Emily, and Lori Ann