The Black Witch Chronicles
, and we're happy to have Laurie Forest swing by to share more about it.
Laurie, what was your inspiration for writing THE IRON FLOWER?
The fight for civil unions here in Vermont (which was the spearhead to the fight for marriage equality nationwide). I got involved in the pro civil-union/pro marriage equality side and hatred I never knew existed came out of the woodwork. It was frightening and got me thinking about prejudice of all types. Around that time I was getting into fantasy fiction, because my kids were urging me to read it. The idea for a story with anti-prejudice themes lit inside of me and refused to let go.
What did this book teach you about writing or about yourself?
To just let go and throw my heart and soul into it. To completely let go of my pride and be open to multiple sensitivity readers, no matter how harsh the criticism. To open myself up to learning from others how to be better and how to write better.
What do you hope readers will take away from THE IRON FLOWER?
That belief systems, whether political or religious, that target entire groups of people as "evil" or "other" are dangerous. And that diversity and tolerance are their own type of magic.
ABOUT THE BOOK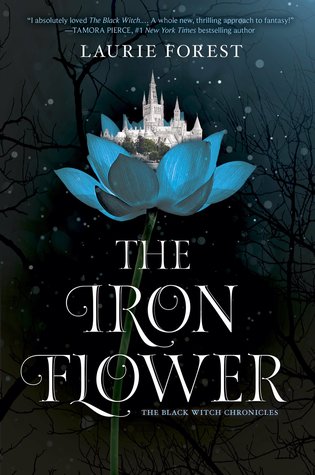 The Iron Flower
by Laurie Forest
Hardcover
Harlequin Teen
Released 9/18/2018
Elloren Gardner and her friends were only seeking to right a few wrongs when they rescued a Selkie and freed a military dragon. The last thing they expected was to be thrust into a realm-wide underground resistance against Gardnerian conquest.
While the Resistance struggles to fight back against the harsh rulings of the Mage Council, more and more Gardnerian soldiers descend upon the University…led by none other than Lukas Grey, now commander of the nearby military base. Though Elloren tries to keep him at arm's length, Lukas is determined to tie himself to her, still convinced that she is the heir to the power of the Black Witch, a legacy of magic that will decide the future of all Erthia. As his own magic calls out to her, seeking to awaken a dark force within, Elloren finds it more and more difficult to believe that she's truly powerless, as her uncle always claimed.
Caught between her growing feelings for the rebellious Yvan Guriel and the seductive power offered by Lukas, Elloren must find a way to stay true to what she knows is right and protect everyone she loves…even if that means protecting them from herself.
Purchase The Iron Flower at Amazon
Purchase The Iron Flower at IndieBound
View The Iron Flower on Goodreads
ABOUT THE AUTHOR
Laurie Forest lives deep in the backwoods of Vermont where she sits in front of a wood stove drinking strong tea and dreaming up tales full of dryads, dragons and wands.
The Black Witch
(Book 1.0, The Black Witch Chronicles – OUT NOW) &
Wandfasted
(Book 0.5, The Black Witch Chronicles Prequel) are her first published novels. Coming in 2018 are
Light Mage
(Book 1.5, The Black Witch Chronicles) &
The Iron Flower
(Book 2.0, The Black Witch Chronicles). She is currently ensconced in the woods, hard at work on
The Shadow Dryad
(Book 3.0, The Black Witch Chronicles).
---
Have you had a chance to read THE IRON FLOWER yet? Do you throw your heart and soul into your writing? Are you open to learning from others? Share your thoughts about the interview in the comments!

Happy Reading,

Jocelyn, Halli, Martina, Erin, Susan, Shelly, Kelly, Laura, Emily, and Lori Ann