Three Dark Crowns
series, and we're thrilled to have Kendare Blake here to tell us more about it.
Kendare, what was your inspiration for writing TWO DARK REIGNS?
Two Dark Reigns came about because I knew there were other stories about Fennbirn and it's history. I thought the third book would be about the reign of the legendary Blue Queen, with a fourth and final book bringing us back to Mirabella, Arsinoe and Katharine. But it didn't turn out that way. From those other stories came more questions, or rather, a hope that turned into a question: I hope they're ok. I wonder what happened?
What book or books would most resonate with readers who love your book--or visa versa?
Hmm...I would say if you enjoyed Game of Thrones (reading or watching), you might like Three Dark Crowns. Or if you enjoyed the sisterly intrigue of The Other Boleyn Girl, you might like Three Dark Crowns. Readers of dark, feminist takes on things, like The Mists of Avalon.
And if you already enjoyed Three Dark Crowns, you might enjoy the blood-bound sisterhood in April Genevieve Tucholke's THE BONELESS MERCIES. Or the driven women of Claire Legrand's FURYBORN.
How long did you work on TWO DARK REIGNS?
First draft from mid-February to June, subsequent drafts and edits from October to the following February/March. It went through two complete drafts and two fairly comprehensive rounds of edits.
What did this book teach you about writing or about yourself?
It taught me that some things I need to write, just so I know them. But the reader doesn't need to know them, or at least they don't need to see it in its entirety. I wrote almost an entire novel of scenes in the Blue Queen's time. Nearly her whole story. But almost none of it made it through to the final draft. Only the highlights. Yet I don't consider that writing to be a waste of time. I needed to know that stuff. All the small motivations. The intimate moments and movements around the crown. All of that backstory, it informs the parts that really need to be in the book.
How long or hard was your road to publication? How many books did you write before this one, and how many never got published?
I wrote many, many short stories before anything got published. I received many, many rejections, over many, many years. I think I've written a total of four complete novels that will never be published so far. I'm sure I'll write more.
Was there an AHA! moment along your road to publication where something suddenly sank in and you felt you had the key to writing a novel? What was it?
I never had an AHA moment, but this question is giving me a HAHA moment! Haha, as if I really know how to write them now. Every new book is like being kicked off a ledge. Maybe it's a really short ledge, into like, a pool of chocolate pudding. Maybe it's a freefall and instead of a parachute they've given you an iceberg salad.
What advice would you most like to pass along to other writers?
Remember why you wanted to start writing in the first place. It was because you loved books, right? Because you loved stories? Because you are a reader and the world of reading is a world you want to be a part of. Remember that, when it gets hard, because it will get hard. Your publishing road will be full of setbacks and triumphs and fear and jealousy and supportive, awesome friends and not so supportive, not so awesome friends. New adventures. Perceived failures and things that are out of your control. But remember why you started. Why you do it. And I promise, it will all be worth it in the end.
What are you working on now?
By the time this interview runs, I should be nearly finished with the first draft of the last Fennbirn book! Untitled Book Four! Or as I like to call it, SIXTY-SEVEN DARK MAIDS-A-MILKING.
ABOUT THE BOOK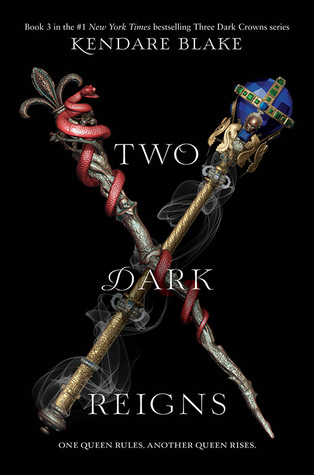 Two Dark Reigns
by Kendare Blake
Hardcover
HarperTeen
Released 9/4/2018
Queen Katharine has waited her entire life to wear the crown. But now that she finally has it, the murmurs of dissent grow louder by the day. There's also the alarming issue of whether or not her sisters are actually dead—or if they're waiting in the wings to usurp the throne.
Mirabella and Arsinoe are alive, but in hiding on the minland and dealing with a nightmare of their own: being visited repeatedly by a specter they think might be the fabled Blue Queen. Though she says nothing, her rotting, bony finger pointing out to sea is clear enough: return to Fennbirn.
Jules, too, is in a strange place—in disguise. And her only confidants, a war-gifted girl named Emilia and her oracle friend Mathilde, are urging her to take on a role she can't imagine filling: a legion-cursed queen who will lead a rebel army to Katharine's doorstep.
This is an uprising that the mysterious Blue Queen may have more to do with than anyone could have guessed—or expected.
Purchase Two Dark Reigns at Amazon
Purchase Two Dark Reigns at IndieBound
View Two Dark Reigns on Goodreads
ABOUT THE AUTHOR
Kendare Blake is the author of several novels and short stories, most of which you can find information about via the links above. Her work is sort of dark, always violent, and features passages describing food from when she writes while hungry. She was born in July (for those of you doing book reports) in Seoul, South Korea, but doesn't speak a lick of Korean, as she was packed off at a very early age to her adoptive parents in the United States. That might be just an excuse, though, as she is pretty bad at learning foreign languages. She enjoys the work of Milan Kundera, Caitlin R Kiernan, Bret Easton Ellis, Richard Linklater, and the late, great Michael Jackson, I mean, come on, he gave us Thriller.
She lives and writes in Kent, Washington, with her husband, their cat son Tyrion Cattister, red Doberman dog son Obi-Dog Kenobi, rottie mix dog daughter Agent Scully, and naked sphynx cat son Armpit McGee.
---
Have you had a chance to read TWO DARK REIGNS yet? Do you write scenes just you know the information even if it's not for the readers? Do you remember why you started writing in the first place? Share your thoughts about the interview in the comments!
Happy Reading,
Jocelyn, Halli, Martina, Erin, Susan, Shelly, Kelly, Laura, Emily, and Lori Ann