Katya, what was your inspiration for writing WHAT THE WOODS KEEP?
I wanted to write a book a teen-me would be super excited to read - a book that would have a powerful female friendship at its core and feature stubborn, willful girls entangled in a dangerous mystery. I also always wanted to pay a proper tribute to one of my childhood's major obsessions, the Nibelingenlied, which kept on haunting me throughout the years until it eventually became the main inspiration for my debut.
What book or books would most resonate with readers who love your book--or visa versa?
In YA, I'd say PASSENGER by Alexandra Bracken and THE HAZEL WOOD by Melissa Albert would be the closest in style and atmosphere to WHAT THE WOODS KEEP. Outside of YA, I've heard my debut being compared to NIGHT FILM by Marisha Pessl and THE HISTORIAN by Elizabeth Kostova - and I'm definitely very happy with these comparisons!
Was there an AHA! moment along your road to publication where something suddenly sank in and you felt you had the key to writing a novel? What was it?
I had two major AHA! moments with WHAT THE WOODS KEEP. The first one came in midst of agent querying when I realized my book had to significantly stand out from many others in the same genre in order to entice anyone to offer representation. To address this, I decided to add multimedia components to complement the first person narration in order to expand the narrative and ensure there's more depth to the story. My second AHA! moment occurred when I was fleshing out my main protagonist, Hayden. It made a lot of sense for her to draw on science (e.g. scientific theories) when trying to solve the mystery at the heart of the book. Making Hayden refer back to the concepts and ideas from the history of science in her narration was a major breakthrough for me when writing this book.

What's your writing ritual like? Do you listen to music? Work at home or at a coffee shop or the library, etc?
I need ABSOLUTE SILENCE when I write. Since that's impossible to achieve in real life, I have to compromise: I can usually be found writing with white noise machine blasting in full force in my headphones.
What advice would you most like to pass along to other writers?
Write for yourself. Don't chase trends. Read a lot of books - in and out of your genre. Be professional.
What are you working on now?
I'm currently revising my second book - OASIS - which is due for publication in Fall 2019, while also working on my next book - an alternative history YA Cold War thriller inspired by the works of Brothers Strugatsky.
ABOUT THE BOOK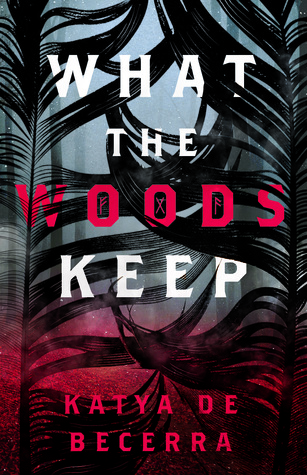 What the Woods Keep
by Katya de Becerra
Hardcover
Imprint
Released 9/18/2018
On her eighteenth birthday, Hayden inherits her childhood home―on the condition that she uncover its dark secrets.
Hayden tried to put the past behind her, and it worked. She's getting ready for college, living in a Brooklyn apartment, and hanging out with her best friend and roommate Del. But now it's all catching up with her: her mother's mysterious disappearance a decade before, her father's outlandish theories about a lost supernatural race, and Hayden's own dark dreams of strange symbols and rituals in the Colorado woods where she grew up.
As soon as Hayden arrives at her hometown, her friend Del in tow, it begins: Neighbors whisper secrets about Hayden's mother; the boy next door is now all grown-up in a very distracting way; and Hayden feels the trees calling to her. And among them, deep in the woods, Hayden will discover something incredible―something that threatens reality itself.
Purchase What the Woods Keep at Amazon
Purchase What the Woods Keep at IndieBound
View What the Woods Keep on Goodreads
ABOUT THE AUTHOR
Katya de Becerra was born in Russia, studied in California, lived in Peru, and then stayed in Australia long enough to become a local. She was going to be an Egyptologist when she grew up, but instead she earned a PhD in Anthropology. Katya is a short version of her real name, which is very long and gets mispronounced a lot.
What The Woods Keep
is her first novel (out in September 2018). Katya's second book,
Oasis
, is forthcoming in 2019. She loves connecting with readers and fellow authors, so please get in touch @KatyaDeBecerra or at
her blog.
---
Have you had a chance to read WHAT THE WOODS KEEP yet? Have you tried adding multimedia components to complement your writing? Are you reading a lot of books both in and out of your genre? Share your thoughts about the interview in the comments!
Happy Reading,
Jocelyn, Halli, Martina, Erin, Susan, Shelly, Kelly, Laura, Emily, and Lori Ann