Beth, what was your inspiration for writing GIVE THE DARK MY LOVE?
I wrote about my inspiration in more depth here (
https://www.wattpad.com/612052066-wattpad-block-party-summer-edition-iv-bethrevis
), but in short, three different forms of stories inspired my own. It started with the anime
Fullmetal Alchemist
--the description of alchemy and the costs and consequences of it took root in my brain more than a decade ago. Much, much later, when I saw
Snow White and the Huntsman
, the character of the evil queen as portrayed by the brilliant Charlize Theron really inspired me. I had a magic system I wanted, and a heroine to use it...but the story itself didn't really "click" until the
Hamilton
soundtrack wormed its way into my head, and suddenly the world and the character had a plot.
(This, of course, is not to say that I copied these works, just that they inspired my own.)
What book or books would most resonate with readers who love your book--or visa versa?
The books I turn to when I want a deliciously dark tale are the same ones I think other readers who like
Give the Dark My Love
will appreciate.
Six of Crows
by Leigh Bardugo is one of the most brilliant books written, and I'm actively envious that I didn't write it first. Same with Kendare Blake's
Three Dark Crowns
. What a premise! I also think Julie Dao's
Forest of a Thousand Lanterns
and CJ Redwine's
The Shadow Queen
hit the perfect notes for those who, like me, are more interested in the villain's tale than the hero's. Kerri Maniscalco's
Stalking Jack the Ripper
and Carrie Ryan's
The Forest of Hands and Teeth
are full of the horror and macabre that come with the dark. And all fantasy fans should read Cinda Chima!
Was there an AHA! moment along your road to publication where something suddenly sank in and you felt you had the key to writing a novel? What was it?
This happened to me three times.
In the first draft, my hero is sent to kill the heroine. He believes he's killing someone who's monstrous and that it's for the good of everyone but... there's really no way to build romance with your would-be murderer, no matter how you try to spin it. So that plot line had to go, and with it, the whole draft I'd built around it.
The next thing I realized I had to change was a particular scene that currently happens in the middle of the book. I had previously had it happen in the past, and it was only mentioned briefly. But that scene is a primary motivation for my main character's actions. It basically defines who she becomes. In talking about it with fellow writer Carrie Ryan, I realized that I couldn't have this scene be a vague memory--I had to
show
it on the page for the readers to experiences, so that they could understand my character.
The last major moment came through a LOT of angst. I'd originally envisioned my story to be one that takes place a year after some major events happened. It was about the fall out of tragedy, not the tragedy itself. But because of that, I found that I kept having to rely on flashbacks and memories. If I wanted to tell the story of the fall out of tragedy, I had to actually
show
the tragedy. This meant moving my timeline significantly back--what was previously Chapter 1 became Chapter 65 (and the sixty-four chapters before that became all new material). On the bright side, I had a lot of stuff already written for the sequel...

What are you working on now?
In addition to the sequel to
Give the Dark My Love
, I've also been working on two new YA titles and one adult book. They're all twisty and dark and weird and I love them.
ABOUT THE BOOK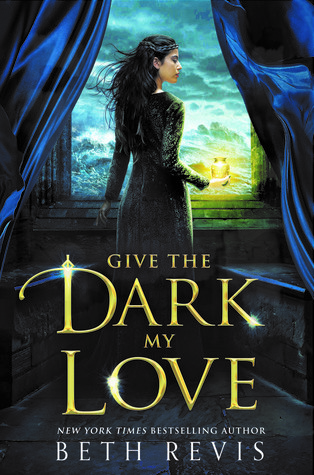 Give the Dark My Love
by Beth Revis
Hardcover
Razorbill
Released 9/25/2018
Seventeen-year-old Nedra Brysstain leaves her home in the rural, northern territories of Lunar Island to attend the prestigious Yugen Academy with only one goal in mind: master the trade of medicinal alchemy. A scholarship student matriculating with the children of Lunar Island's wealthiest and most powerful families, Nedra doesn't quite fit in with the other kids at Yugen.
Until she meets Greggori "Grey" Astor. Grey is immediately taken by the brilliant and stubborn Nedra, who he notices is especially invested in her studies. And that's for a good reason: a deadly plague has been sweeping through the north, and it's making its way toward the cities. With her family's life--and the lives of all of Lunar Island's citizens--on the line, Nedra is determined to find a cure for the plague.
Grey and Nedra grow close, but as the sickness spreads and the body count rises, Nedra becomes desperate to find a cure. Soon, she finds herself diving into alchemy's most dangerous corners--and when she turns to the most forbidden practice of all, necromancy, even Grey might not be able to pull her from the darkness.
Purchase Give the Dark My Love at Amazon
Purchase Give the Dark My Love at IndieBound
View Give the Dark My Love on Goodreads
ABOUT THE AUTHOR
Beth Revis is a
NY Times
bestselling author with books available in more than 20 languages. Her next title,
Give the Dark my Love
, is a dark fantasy about love and death. It will be available this fall. Beth's other books include the bestselling science fiction trilogy, Across the Universe, and a novel in the Star Wars universe entitled
Rebel Rising
. She's the author of two additional novels, numerous short stories, and the nonfiction Paper Hearts series, which aids aspiring writers. A native of North Carolina, Beth is currently working on a new novel for teens. She lives in rural NC with her boys: one husband, one son, and two massive dogs.
---
Have you had a chance to read GIVE THE DARK MY LOVE yet? Do other works inspire pieces of your novels? How do you handle the need for flashbacks and memories? Share your thoughts about the interview in the comments!
Happy Reading,
Jocelyn, Halli, Martina, Erin, Susan, Shelly, Kelly, Laura, Emily, and Lori Ann