Amber, what was your inspiration for writing DARE YOU TO LIE?
I was obsessed with the show Veronica Mars when it came out and was CRUSHED when it was cancelled after three seasons. I was in my late twenties at the time and hadn't even started my writing career. Fast-forward about a decade and I found myself watching the series again and thinking, "Rob Thomas, get out of my head!" I realized that my internal monologue sounds a LOT like VM. One night I came up with an idea for a spunky, sassy character, who had a bone to pick with her hometown (which I based on the small town I went to high school in). A couple hours later, I had the rough outline for Dare You to Lie and the overall arc for the series.
What scene was really hard for you to write and why, and is that the one of which you are most proud? Or is there another scene you particularly love?
I'm not sure there was a full scene that was really hard for me to write, but the end of one really tore me up inside. It's maybe a couple paragraphs in total but it illustrates the understanding that women (in particular, though not exclusively) have in regards to the #MeToo movement—that we comprehend on a visceral level what it's like to be so easily made victims of #MeToo crimes. I don't know a female who hasn't been victimized in one way or another, myself included, so when I wrote that scene between Kylene and her friend Tabby, where one was made aware of the painful history of the other, it stirred up emotions from my personal experiences. Having to admit to someone close to me what had happened. How it felt to be understood even without my explanation because women just know.
As for a scene I love, I'd say the homecoming dance always makes me smile. You'll have to read the book to find out why 😉

How long did you work on DARE YOU TO LIE?
I wrote it in four weeks total. I had to do a fairly substantial revision (about half the book) which took me another three and a half weeks. Copyedits took maybe another week or two. I'm guessing, all in, it took about three months to write and polish.
What did this book teach you about writing or about yourself?
I think this was my twentieth book that I'd written, so my process was solid at the time. That said, I learned that I can completely dissect and rewrite a book WAY faster than I ever would have imagined 😉

What do you hope readers will take away from DARE YOU TO LIE?
I hope they see that a young female lead (outside of fantasy) can be tough and vulnerable and flawed and amazing. That she doesn't have to fit a certain mold. That she can be a role model without being perfect. And that even though she may make you crazy at times you'll still want to root for her.

How long or hard was your road to publication? How many books did you write before this one, and how many never got published?
My road to publication has been a strange one. I successfully self-published my first ever book and had a two year career with that before signing a deal for an adult urban fantasy series with 47North. I then got my agent and decided to try for another book deal. It took two submissions of adult work before my current editor asked to see if I wrote an YA. I turned in the idea for Dare You to Lie, and she loved it. I wrote the book for her and she bought it (and I self-published the two that were not picked up without any issues, so it was a win all the way around).
What's your writing ritual like? Do you listen to music? Work at home or at a coffee shop or the library, etc?
Music, music, music. I do NOTHING without music, especially when it comes to writing. I can write anywhere as long as I have tunes with me. Sometimes I let my playlists run. Other times, I listen to the same song over and over again. Depends on the day, the scene, and the mood I need to be in to get the job done.


What advice would you most like to pass along to other writers?
Amass a team of people who want you to be the best you can be and listen to them—but never ignore your gut. Take criticism with as much grace as you can muster at the time (which is often precious little) but remember that some feedback is toxic and it's okay to ignore. Always, always, always write what you love and can be proud of. Tell the story you want to tell.
What are you working on now?
I just finished the next book in this series and am currently chipping away at novels in some of my adult paranormal/UF series.
ABOUT THE BOOK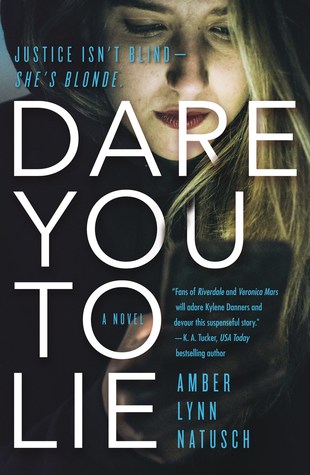 Dare You to Lie
by Amber Lynn Natusch
Hardcover
Tor Teen
Released 9/4/2018
When her FBI agent father is framed for murder, Kylene is forced to move back to the small town that turned its back on her, and the boy who betrayed her. All Ky cares about is clearing her father's name, but her reappearance comes with its own consequences. Someone won't let her forget the photo scandal that drove her away two years ago. With threats against her mounting, the FBI sends a rookie agent to tail her.
More determined than ever to expose the town's hidden skeletons, Ky unwittingly thrusts herself into a much bigger plot. Everyone thought she'd forgive and forget. They're about to learn they messed with the wrong girl.
Purchase Dare You to Lie at Amazon
Purchase Dare You to Lie at IndieBound
View Dare You to Lie on Goodreads
ABOUT THE AUTHOR
Amber Lynn Natusch is the author of the bestselling
Caged
series for adults. She was born and raised in Winnipeg, and is still deeply attached to her Canadian roots. She loves to dance and practice Muay Thai?but spends most of her time running a chiropractic practice with her husband, raising two young children, and attempting to write when she can lock herself in the bathroom for ten minutes of peace.
Dare You to Lie
is her debut YA novel with Tor Teen.
---
Have you had a chance to read DARE YOU TO LIE yet? Are you able to take criticism with grace? But are you able to listen to you gut? Share your thoughts about the interview in the comments!
Happy Reading,
Jocelyn, Halli, Martina, Erin, Susan, Shelly, Kelly, Laura, Emily, and Lori Ann