Happy Reading,
Shelly, Halli, Jocelyn, Martina, Erin, Susan, Kelly, Laura, Emily, Anisaa, and Lori Ann
YA BOOK GIVEAWAYS THIS WEEK
The Other Side of Lost
by Jessi Kirby
Signed Hardcover plus Swag Giveaway

International
HarperTeen
Released 8/7/2018
Mari Turner's life is perfect. That is, at least, to her thousands of followers who have helped her become an internet starlet.
But when she breaks down and posts a video confessing she's been living a lie—that she isn't the happy, in love, inspirational online personality she's been trying so hard to portray—it goes viral and she receives a major backlash.
To get away from it all, she makes an impulsive decision: to hike the entire John Muir Trail. Mari and her late cousin Bri were supposed to do it together, to celebrate their shared eighteenth birthday. But that was before Mari got so wrapped up in her online world that she shut anyone out who questioned its worth—like Bri.
With Bri's boots and trail diary, a heart full of regret, and a group of strangers that she meets along the way, Mari tries to navigate the difficult terrain of the hike. But the true challenge lies within, as she searches for the way back from to the girl she fears may be too lost to find: herself.
Author Question: What is your favorite thing about The Other Side of Lost?
My favorite thing about THE OTHER SIDE OF LOST is that it's such a personal story to me. It didn't begin this way, but I ended up writing it to honor a dear friend who I lost. She was brave, adventurous, and an all-round light in this world, and she ended up being the inspiration behind the character of Bri. I was also able to weave some of her words into the story through Bri's letters and posts that are referenced, so for me it was a way to work through the grief of losing her, to honor her memory, and to hopefully pass on the joy and light that she was.
Purchase The Other Side of Lost at Amazon
Purchase The Other Side of Lost at IndieBound
View The Other Side of Lost on Goodreads
* * * *
Girls Resist!: A Guide to Activism, Leadership, and Starting a Revolution
by KaeLyn Rich
Paperback Giveaway

U.S. Only
Quirk Books
Released 8/7/2018
An activism handbook for teen girls ready to fight for change, social justice, and equality.
Take on the world and make some serious change with this handbook to everything activism, social justice, and resistance. With in-depth guides to everything from picking a cause, planning a protest, and raising money to running dispute-free meetings, promoting awareness on social media, and being an effective ally, Girls Resist! will show you how to go from "mad as heck about the way the world is going" to "effective leader who gets stuff done." Veteran feminist organizer KaeLyn Rich shares tons of expertise that'll inspire you as much as it teaches you the ropes. Plus, quotes and tips from fellow teen girl activists show how they stood up for change in their communities. Grab this handbook to crush inequality, start a revolution, and resist!
Author Question: What is your favorite thing about Girls Resist!: A Guide to Activism, Leadership, and Starting a Revolution?
My favorite thing about this book is how it takes YA readers very seriously, while also being a whole lot of fun! Grown-ups are always telling kids how to act and what to think. As a parent myself, I spend a lot of time teaching my kid how to respect authority, follow rules, and listen to adults. However, my daughter also needs to know that she can fight back when authority figures are wrong, question rules that are unjust, and demand respect when no one is listening to her. This book is a how-to that gets into the nitty-gritty details of how to organize a campaign, while also explaining organizing concepts of power and oppression and intersectionality, all in a book that is explicitly for girls. It's not just empowering stories for inspiration. It's definitely not a manual written by older white guy for a general audience. It's a book that's for girls, that takes girl activism really seriously, and lays out the specific tools girls need to lead the resistance. Also, did I mention it's a lot of fun?
Purchase Girls Resist!: A Guide to Activism, Leadership, and Starting a Revolution at Amazon
Purchase Girls Resist!: A Guide to Activism, Leadership, and Starting a Revolution at IndieBound
View Girls Resist!: A Guide to Activism, Leadership, and Starting a Revolution on Goodreads
YA BOOK GIVEAWAYS LAST WEEK: WINNERS
* * * *
How We Learned to Lie by Meredith Miller:
Amanda M.
MORE YOUNG ADULT FICTION IN STORES NEXT WEEK WITH AUTHOR INTERVIEWS
* * * *
#MurderTrending
by Gretchen McNeil
Hardcover
Freeform
Released 8/7/2018
@doctorfusionbebop: Some 17 y. o. chick named Dee Guerrera was just sent to Alcatraz 2.0 for killing her stepsister. So, how long do you think she'll last?
@morrisdavis72195: I hope she meets justice! She'll get what's coming to her! BWAHAHA!
@EltonJohnForevzz: Me? I think Dee's innocent. And I hope she can survive.
WELCOME TO THE NEAR FUTURE, where good and honest citizens can enjoy watching the executions of society's most infamous convicted felons, streaming live on The Postman app from the suburbanized prison island Alcatraz 2.0.
When seventeen-year-old Dee Guerrera wakes up in a haze, lying on the ground of a dimly lit warehouse, she realizes she's about to be the next victim of the app. Knowing hardened criminals are getting a taste of their own medicine in this place is one thing, but Dee refuses to roll over and die for a heinous crime she didn't commit. Can Dee and her newly formed posse, the Death Row Breakfast Club, prove she's innocent before she ends up wrongfully murdered for the world to see? Or will The Postman's cast of executioners kill them off one by one?
Author Question: What is your favorite thing about #MurderTrending?
My favorite element of #MURDERTRENDING are the thematic serial killers of Alcatraz 2.0, known as the Painiacs. Siblings who recreate sister acts from classic literature; a failed film director who uses famous movie scenes to kill people; a drag fashion model; a cannibal chef; a clown with a fetish for man-eating animals... I cannot tell you how much fun I had with these killers and their exploits! It's campy and crazy and hilarious (I hope.) Which means it's 100% me.
Purchase #MurderTrending at Amazon
Purchase #MurderTrending at IndieBound
View #MurderTrending on Goodreads
* * * *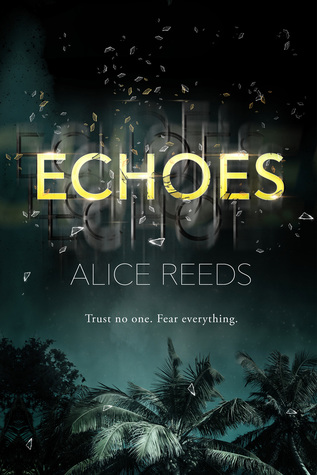 Echoes
by Alice Reeds
Paperback
Entangled: Teen
Released 8/7/2018
They wake on a deserted island. Fiona and Miles, high school enemies now stranded together. No memory of how they got there. No plan to follow, no hope to hold on to.
Each step forward reveals the mystery behind the forces that brought them here. And soon, the most chilling discovery: something else is on the island with them.
Something that won't let them leave alive.
Echoes is a thrilling adventure about confronting the impossible, discovering love in the most unexpected places, and, above all, finding hope in the face of the unknown.
Author Question: What is your favorite thing about Echoes?
So many YA stories are set in the US, or the UK, so placing part of ECHOES in Berlin, Germany, was a lot of fun and one of my absolute favorite things about it. Usually I've only seen Berlin as setting for historical fiction novels, so I thought it was time to make it the stage for a story set in the 21st century. I really enjoyed having the possibility to just go to all these places we encounter in the story, being able to really see what Fiona and Miles would see and keep the descriptions as true to the real thing as possible. I know most people wouldn't even know or care if it wasn't accurate, but I just really love this type of attention to detail. Besides Berlin is the perfect city for a mystery thriller like ECHOES. It's full of crazy things, diversity, creativity, mystery, history, and offers a million different places to discover.
Purchase Echoes at Amazon
Purchase Echoes at IndieBound
View Echoes on Goodreads
* * * *
Heretics Anonymous
by Katie Henry
Hardcover
Katherine Tegen Books
Released 8/7/2018
When Michael walks through the doors of Catholic school, things can't get much worse. His dad has just made the family move again, and Michael needs a friend. When a girl challenges their teacher in class, Michael thinks he might have found one, and a fellow atheist at that. Only this girl, Lucy, isn't just Catholic . . . she wants to be a priest.
Lucy introduces Michael to other St. Clare's outcasts, and he officially joins Heretics Anonymous, where he can be an atheist, Lucy can be an outspoken feminist, Avi can be Jewish and gay, Max can wear whatever he wants, and Eden can practice paganism.
Michael encourages the Heretics to go from secret society to rebels intent on exposing the school's hypocrisies one stunt at a time. But when Michael takes one mission too far—putting the other Heretics at risk—he must decide whether to fight for his own freedom or rely on faith, whatever that means, in God, his friends, or himself.
Author Question: What is your favorite thing about Heretics Anonymous?
My favorite thing about HERETICS ANONYMOUS is named Lucy Peña. She's a sixteen-year-old Catholic feminist, aspiring priest, and a rebel mastermind in a red hair ribbon. While Michael is the book's main character, Lucy is the first friend he makes at St. Clare's, and I sometimes think of her as the book's protagonist.

From a larger perspective, Lucy is my small contribution to a two millennia-old tradition of iron-willed, radical teenage girls who defied laws, pissed off countless smug dudes in authority positions, and risked a lot to practice their faith as they were called to it.
Purchase Heretics Anonymous at Amazon
Purchase Heretics Anonymous at IndieBound
View Heretics Anonymous on Goodreads
* * * *
Someone I Used to Know
by Patty Blount
Paperback
Sourcebooks Fire
Released 8/7/2018
It's been two years since the night that changed Ashley's life. Two years since she was raped by her brother's teammate. And a year since she sat in a court and watched as he was given a slap on the wrist sentence. But the years have done nothing to stop the pain.
It's been two years of hell for Derek. His family is totally messed up and he and his sister are barely speaking. He knows he handled it all wrong. Now at college, he has to come to terms with what happened, and the rape culture that he was inadvertently a part of that destroyed his sister's life.
When it all comes to head at Thanksgiving, Derek and Ashley have to decide if their relationship is able to be saved. And if their family can ever be whole again.
Author Question: What is your favorite thing about Someone I Used to Know?
I have a sister but always wanted to have a brother - a big brother to protect me and look up to. That's my favorite part about this novel. Derek is Ashley's hero. The story isn't about her assault as much it's about Derek's journey to finding a way to step up and be the hero his sister needs now. That's no small accomplishment. I spent many hours reading accounts written by secondary survivors, the moniker given to people whose family members have survived sexual assault. I also read dozens upon dozens of survivors' posts back when I was writing Some Boys. Both groups experienced the same emotions- a profound sense of powerlessness at being unable to prevent or stop the assault followed by an equally profound sense of impotence at being unable to heal following the assault.

This was my basis for writing many of Derek's scenes. He's a big tough football player, an athlete whose body is in prime physical shape. Yet he can do NOTHING to help his sister - or so he thinks. The truth is, there is a lot Derek can do and it takes him most of the novel to figure it out.
Purchase Someone I Used to Know at Amazon
Purchase Someone I Used to Know at IndieBound
View Someone I Used to Know on Goodreads
* * * *
Star-Touched Stories
by Roshani Chokshi
Paperback
Wednesday Books
Released 8/7/2018
Three lush and adventurous stories in the Star-Touched world.
Death and Night
He was Lord of Death, cursed never to love. She was Night incarnate, destined to stay alone. After a chance meeting, they wonder if, perhaps, they could be meant for more. But danger crouches in their paths, and the choices they make will set them on a journey that will span lifetimes.
Poison and Gold
Now that her wish for a choice has come true, Aasha struggles to control her powers. But when an opportunity to help Queen Gauri and King Vikram's new reign presents itself, she is thrown into the path of the fearsome yet enchanting Spy Mistress. To help her friends, Aasha will have to battle her insecurities and perhaps, along the way, find love.
Rose and Sword
There is a tale whispered in the dark of the Empire of Bharat-Jain. A tale of a bride who loses her bridegroom on the eve of her wedding. But is it a tale or a truth?
Author Question: What is your favorite thing about Star-Touched Stories?
I'm not sure that I have a favorite because everything is really bittersweet! I will miss these characters so much, but exploring where their journey ends was almost cathartic for me.
Purchase Star-Touched Stories at Amazon
Purchase Star-Touched Stories at IndieBound
View Star-Touched Stories on Goodreads
* * * *
The Last Best Story
by Maggie Lehrman
Hardcover
Balzer + Bray
Released 8/7/2018
It's the end of senior year, and Rose Regnero is over it.
She's over chasing stories for a school newspaper no one reads. Over missing out on "normal" high school life. And most of all, over Grant Leitch: editor-in-chief, former close friend, never-quite-boyfriend. Now all she wants is a typical prom, complete with handsome date, fancy corsage, and dancing to cheesy pop songs.
It's the end of senior year, and Grant Leitch is in denial.
He's in denial about handing over the reins of the paper to an unworthy underclassman. In denial that Rose suddenly, inexplicably quit the paper and now won't talk to him. But mostly he's in denial that she is at prom with another guy, and it's no one's fault but his own. Grant's only hope of luring Rose back to him (and the paper) is a juicy story she won't be able to resist.
In the end it takes a toga-wearing prom crasher, an emergency lockdown, a secret stalker, and a wild after-party to bring Grant and Rose together for one last story...and one final chance to admit that they're made for each other.
Author Question: What is your favorite thing about The Last Best Story?
My favorite thing in the world is romantic banter, smart people using their wits to flirt with one another. Honestly that might have been my motivation to write this book in the first place -- I wanted to write banter! Rose and Grant are the type of characters some might call too clever for their own good. They connect first and foremost over words, whether that's in conversation or in the articles they write for their school newspaper. The banter is the sparkly outer layer of a relationship that has deep roots. I hope readers fall in love with them as they realize they're in love with each other.
Purchase The Last Best Story at Amazon
Purchase The Last Best Story at IndieBound
View The Last Best Story on Goodreads
* * * *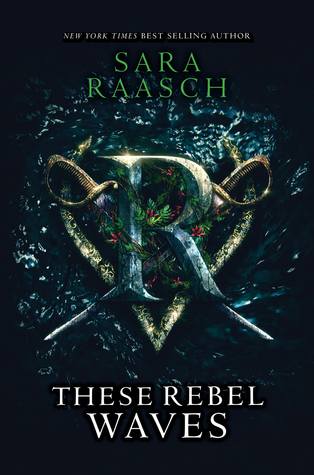 These Rebel Waves
by Sara Raasch
Hardcover
Balzer + Bray
Released 8/7/2018
Adeluna is a soldier. Five years ago, she helped the magic-rich island of Grace Loray overthrow its oppressor, Agrid, a country ruled by religion.
But adjusting to postwar life has not been easy. When an Argridian delegate vanishes during peace talks with Grace Loray's new Council, Argrid demands brutal justice—but Lu suspects something dangerous is at work.
Devereux is a pirate. As one of the stream raiders who run rampant on Grace Loray, he scavenges the island's magic plants and sells them on the black market. But after Argrid accuses raiders of the diplomat's abduction, Vex becomes a target. An expert navigator, he agrees to help Lu find the Argridian—but the truth they uncover could be deadlier than any war.
Benat is a heretic. The crown prince of Argrid, he harbors a secret obsession with Grace Loray's forbidden magic. When Ben's father, the king, gives him the shocking task of reversing Argrid's fear of magic, Ben has to decide if one prince can change a devout country—or if he's building his own pyre.
As conspiracies arise, Lu, Vex, and Ben will have to decide who they really are . . . and what they are willing to become for peace.
Author Question: What is your favorite thing about These Rebel Waves?
I love the themes THESE REBEL WAVES explores -- themes of belief, what it means to be loyal to a certain cause, and how that loyalty can change over time. So much of our current reality is steeped in "us versus them" -- but what happens when it turns out that your "us" is just as bad as the "them"?
Purchase These Rebel Waves at Amazon
Purchase These Rebel Waves at IndieBound
View These Rebel Waves on Goodreads
MORE YOUNG ADULT NOVELS NEW IN STORES NEXT WEEK
* * * *
Catwoman: Soulstealer
by Sarah J Maas
Hardcover
Penguin Books Ltd
Released 8/7/2018
The highly anticipated coming-of-age story of kick-ass super hero: CATWOMAN by international bestselling author Sarah J. Maas. When the Bat's away, the Cat will play. It's time to see how many lives this cat really has. . . . Two years after escaping Gotham City's slums, Selina Kyle returns as the mysterious and wealthy Holly Vanderhees. She quickly discovers that with Batman off on a vital mission, Batwing is left to hold back the tide of notorious criminals. Gotham City is ripe for the taking. Meanwhile, Luke Fox wants to prove he has what it takes to help people in his role as Batwing. He targets a new thief on the prowl who seems cleverer than most. She has teamed up with Poison Ivy and Harley Quinn, and together they are wreaking havoc. This Catwoman may be Batwing's undoing. In this third DC Icons book--following Leigh Bardugo's Wonder Woman: Warbringer and Marie Lu's Batman: Nightwalker--Selina is playing a desperate game of cat and mouse, forming unexpected friendships and entangling herself with Batwing by night and her devilishly handsome neighbor Luke Fox by day. But with a dangerous threat from the past on her tail, will she be able to pull off the heist that's closest to her heart?
Purchase Catwoman: Soulstealer at Amazon
Purchase Catwoman: Soulstealer at IndieBound
View Catwoman: Soulstealer on Goodreads
* * * *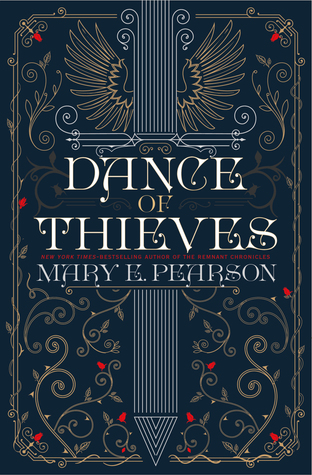 Dance of Thieves
by Mary E. Pearson
Hardcover
Henry Holt and Co.
Released 8/7/2018
A stunning new adventure set in the kingdoms of the Remnant.
A formidable outlaw family that claims to be the first among nations.
A son destined to lead, thrust suddenly into power.
Three fierce young women of the Rahtan, the queen's premier guard.
A legendary street thief leading a mission, determined to prove herself.
A dark secret that is a threat to the entire continent.
When outlaw leader meets reformed thief, a cat-and-mouse game of false moves ensues, bringing them intimately together in a battle that may cost them their lives―and their hearts.
Purchase Dance of Thieves at Amazon
Purchase Dance of Thieves at IndieBound
View Dance of Thieves on Goodreads
* * * *
Delilah Dirk and the Pillars of Hercules
by Tony Cliff
Paperback
First Second
Released 8/7/2018
Having survived a close shave in England, where she was falsely accused of spying for the French, Delilah has set out with her companion Selim for more agreeable adventures in central Asia. But when she stumbles on an artifact that may be a clue about the location of the legendary third pillar of Hercules, Delilah and Selim are drawn back to Europe on an Indiana-Jones-style archeological caper that pits her against a ruthless enemy . . . and forces her to team up with the most unlikely partner of all time: her sworn enemy, Jason Merrick, the man who framed her for espionage!
From vast forgotten underground cities to an elaborate and shocking double-cross, Delilah Dirk and the Pillars of Hercules brings all the drama and excitement that fans of the series crave.
Purchase Delilah Dirk and the Pillars of Hercules at Amazon
Purchase Delilah Dirk and the Pillars of Hercules at IndieBound
View Delilah Dirk and the Pillars of Hercules on Goodreads
* * * *
Finding Yvonne
by Brandy Colbert
Hardcover
Little, Brown Books for Young
Released 8/7/2018
Since she was seven years old, Yvonne has had her trusted violin to keep her company, especially in those lonely days after her mother walked out on their family. But with graduation just around the corner, she is forced to face the hard truth that she just might not be good enough to attend a conservatory after high school.
Full of doubt about her future, and increasingly frustrated by her strained relationship with her successful but emotionally closed-off father, Yvonne meets a street musician and fellow violinist who understands her struggle. He's mysterious, charming, and different from Warren, the familiar and reliable boy who has her heart. But when Yvonne becomes unexpectedly pregnant, she has to make the most difficult decision yet about her future.
Purchase Finding Yvonne at Amazon
Purchase Finding Yvonne at IndieBound
View Finding Yvonne on Goodreads
* * * *
Genius: The Revolution
by Leopoldo Gout
Hardcover
Feiwel & Friends
Released 8/7/2018
Three teen geniuses from diverse backgrounds must take down an online terrorist ring, rescue an imprisoned father, and prepare for their final showdown with a misguided mastermind in this third and final book in the Genius YA trilogy by Leopoldo Gout.
How do we stop him? We beat him at his own game.
Painted Wolf: Mysterious activist blogger and strategist from China. Faces off against dangerous online terrorists in an attempt to free her father from prison.
Tunde: Fourteen-year-old engineering genius. Liberated his Nigerian village from a vicious warlord only to discover a much more dangerous threat.
Rex: Sixteen-year-old Mexican-American programmer and hacker. Bands together with his friends and long lost brother to stop a mastermind from destroying the internet.
The Revolution: Outwit evil organizations. Expose the truth. Rescue their families. Save the world.
If we work together, we can change the world.
Purchase Genius: The Revolution at Amazon
Purchase Genius: The Revolution at IndieBound
View Genius: The Revolution on Goodreads
* * * *
Girl at the Grave
by Teri Bailey Black
Hardcover
Tor Teen
Released 8/7/2018
A mother hanged for murder.
A daughter left to pick up the pieces of their crumbling estate.
Can she clear her family's name if it means facing her own dark past?
Debut author Teri Bailey Black unearths the long-buried secrets of a small New England town in this richly atmospheric Gothic tale of murder, guilt, redemption, and finding love where least expected.
Purchase Girl at the Grave at Amazon
Purchase Girl at the Grave at IndieBound
View Girl at the Grave on Goodreads
* * * *
Mother Knows Best: A Tale of the Old Witch
by Serena Valentino
Hardcover
Disney Press
Released 8/7/2018
The tale of the legendary golden flower is widely known. The story has been told many times and in many ways. But always the flower is coveted by an old witch to keep herself young and beautiful. And always the flower is used to save a dying queen, who then gives birth to a princess with magical hair. Not willing to lose the flower, the old witch steals the princess and locks her away in a high tower, raising her as her own. But the princess always finds out who she truly is and manages to defeat the old witch.
And yet this is only half the story. So what of the old witch, Mother Gothel? Where does she come from? And how does she come across the magical golden flower? Here is one account that recounts a version of the story that has remained untold for centuries . . . until now. It is a tale of mothers and daughters, of youth and dark magic. It is a tale of the old witch.
Purchase Mother Knows Best: A Tale of the Old Witch at Amazon
Purchase Mother Knows Best: A Tale of the Old Witch at IndieBound
View Mother Knows Best: A Tale of the Old Witch on Goodreads
* * * *
Neverwake
by Amy Plum
Hardcover
HarperTeen
Released 8/7/2018
For most people, no matter how bad a nightmare is, it always comes to an end. But for Cata and the others, there may be no escape.
After an experimental treatment meant to cure their insomnia went horribly wrong, the teens were plunged into a shared dreamworld where their most terrifying fears became reality.
The six of them have no way of waking up. And they're now beginning to realize that if they die there, they might actually die in the real world. One of the dreamers is already gone, and anyone could be next. So they must work together to survive.
But as they learn the truth about one another, they soon discover they are trapped with someone far more dangerous than their nightmares….
Purchase Neverwake at Amazon
Purchase Neverwake at IndieBound
View Neverwake on Goodreads
* * * *
Nine
by Zach Hines
Hardcover
HarperTeen
Released 8/7/2018
In this twisted Lauren Oliver-meets-A.S. King debut, Julian has just eight more lives to burn in order to uncover a brutal secret.
In an alternate world startlingly close to our own, humans have nine lives—and they can't wait to use them up.
The government has death incentives aimed at controlling overpopulation. As you shed lives, you shed your awkward phases: one death is equal to one physical and mental upgrade.
Julian's friends are obsessed with the idea of burning, but Julian is determined to stay on his first life for as long as he can. His mother burned too fast and inflicted a debilitating rebirth sickness on herself.
Julian realizes that he's going to have to burn at some point—especially when he becomes a target for Nicholas, the manipulative leader of the Burners, the school's suicide club. And when Julian eventually succumbs, he uncovers suspicious gaps in the rebirth system that may explain exactly why his mother went so far down the rabbit hole years ago.
Along with a group of student dissenters, Julian sets out to find answers and is soon on the verge of exposing the greatest conspiracy ever unleashed on the world.
Purchase Nine at Amazon
Purchase Nine at IndieBound
View Nine on Goodreads
* * * *
Project Prometheus
by Aden Polydoros
Paperback
Entangled: Teen
Released 8/7/2018
The Academy stole everything from Hades, their perfect assassin. Angry and leaving bodies in his wake, he finds two other ex-assassins doing the exact same thing.
Tyler and Shannon once killed for The Academy. Now they're tracking and hunting down its scientists. So why is The Academy only after Hades?
Shannon will do whatever it takes to protect Tyler, even if it means teaming up with a former rival. While she seeks answers to her past, Tyler wants to learn the truth about the mysterious white room, which no one has ever seen except him.
As for Hades? He simply wants revenge.
They all need answers, even if it means returning to the organization where it all started.
Purchase Project Prometheus at Amazon
Purchase Project Prometheus at IndieBound
View Project Prometheus on Goodreads
* * * *
Spellbook of the Lost and Found
by Moïra Fowley-Doyle
Hardcover
Kathy Dawson Books
Released 8/7/2018
One stormy Irish summer night, Olive and her best friend, Rose, begin to lose things. It starts with simple items like hairclips and jewelry, but soon it's clear that Rose has lost something much bigger, something she won't talk about, and Olive thinks her best friend is slipping away.
Then seductive diary pages written by a girl named Laurel begin to appear all over town. And Olive meets three mysterious strangers: Ivy, Hazel, and her twin brother, Rowan, secretly squatting in an abandoned housing estate. The trio are wild and alluring, but they seem lost too—and like Rose, they're holding tight to painful secrets.
When they discover the spellbook, it changes everything. Damp, tattered and ancient, it's full of hand-inked charms to conjure back things that have been lost. And it just might be their chance to find what they each need to set everything back to rights.
Unless it's leading them toward things that were never meant to be found...
Purchase Spellbook of the Lost and Found at Amazon
Purchase Spellbook of the Lost and Found at IndieBound
View Spellbook of the Lost and Found on Goodreads
* * * *
The Dark Beneath the Ice
by Amelinda Bérubé
Hardcover
Sourcebooks Fire
Released 8/7/2018
Something is wrong with Marianne.
It's not just that her parents have finally split up. Or that life hasn't been the same since she quit dancing. Or even that her mother has checked herself into the hospital.
She's losing time. Doing things she would never do. And objects around her seem to break whenever she comes close. Something is after her. And the only one who seems to believe her is the daughter of a local psychic.
But their first attempt at an exorcism calls down the full force of the thing's rage. It demands Marianne give back what she stole. Whatever is haunting her, it wants everything she has―everything it's convinced she stole. Marianne must uncover the truth that lies beneath it all before the nightmare can take what it thinks it's owed, leaving Marianne trapped in the darkness of the other side.
Purchase The Dark Beneath the Ice at Amazon
Purchase The Dark Beneath the Ice at IndieBound
View The Dark Beneath the Ice on Goodreads
* * * *
This Story Is a Lie
by Tom Pollock
Hardcover
Soho Teen
Released 8/7/2018
Seventeen-year-old Peter Blankman is a math genius. He also suffers from devastating panic attacks. Pete gets through each day with the help of his mother—a famous scientist—and his beloved twin sister, Bel.
But when his mom is nearly assassinated in front of his eyes and Bel disappears, Pete finds himself on the run. Dragged into a world where state and family secrets intertwine, Pete must use his extraordinary analytical skills to find his missing sister and track down the people who attacked his mother. But his greatest battle will be with the enemy inside: the constant terror that threatens to overwhelm him.
Weaving between Pete's past and present, This Story Is a Lie is a testimony from a protagonist who is brilliant, broken and trying to be brave.
Purchase This Story Is a Lie at Amazon
Purchase This Story Is a Lie at IndieBound
View This Story Is a Lie on Goodreads