Happy Reading,
Shelly, Halli, Jocelyn, Martina, Erin, Susan, Kelly, Laura, Emily, Anisaa, and Lori Ann
YA BOOK GIVEAWAYS THIS WEEK
The Game of Hope
by Sandra Gulland
Hardcover Giveaway

U.S. Only
Viking Books for Young Readers
Released 6/26/2018
For Napoleon's stepdaughter, nothing is simple - especially love.
Paris, 1798. Hortense de Beauharnais is engrossed in her studies at a boarding school for aristocratic girls, most of whom have suffered tragic losses during the tumultuous days of the French Revolution. She loves to play and compose music, read and paint, and daydream about Christophe, her brother's dashing fellow officer. But Hortense is not an ordinary girl. Her beautiful, charming mother, Josephine, has married Napoleon Bonaparte, soon to become the most powerful man in France, but viewed by Hortense at the outset as a coarse, unworthy successor to her elegant father, who was guillotined during the Terror.
Where will Hortense's future lie? it may not be in her power to decide.
Inspired by Hortense's real-life autobiography with charming glimpses of life long ago, this is the story of a girl destined by fate to play a role she didn't choose.
Author Question: What is your favorite thing about The Game of Hope?
Other than the delightfully lively and precocious main character, Hortense, I loved best the Institute, the boarding school for girls that Hortense and her friends attend. It was highly unusual for that time — few girls went to school at all — and the Institute had a rigorous academic program as well as amazing music and art instructors, the best in France. Although most of the girls were of the nobility and accustomed to being catered to, they had to learn to sew and cook and were expected to clean their own rooms. Madame Campan (the much-beloved headmistress of the school), told parents that she was grooming the girls to be good wives — then considered the only purpose of a school for girls — but she had a secret agenda: to make sure that her students received a professional level of training so that they would be able to support their families if need be.
Purchase The Game of Hope at Amazon
Purchase The Game of Hope at IndieBound
View The Game of Hope on Goodreads
* * * *
The Museum of Us
by Tara Wilson Redd
Hardcover Giveaway

U.S. Only
Wendy Lamb Books
Released 6/26/2018
Secrets are con artists: they trick you into letting them out.
Sadie loves her rocker boyfriend Henry and her running partner and best friend Lucie, but no one can measure up to her truest love and hero, the dazzling and passionate George. George, her secret.
When something goes wrong and Sadie is taken to the hospital calling out for George, her hidden life may be exposed. Now she must confront the truth of the past, and protect a world she is terrified to lose.
Author Question: What is your favorite thing about The Museum of Us?
I have a lot of favorite things about THE MUSEUM OF US depending on the day, but what I actually love most is that for better or worse, my main character Sadie has a personality that people react to. A lot of people see themselves in Sadie, and others find her really annoying, but what surprised me as a writer is how so many people treat her as...well...real!

There's another world you step into as a writer where, in order to create authentic people, you find them real yourself. I honestly think you have to enter that other world to be effective. But when I step back out of that writing state, my characters are never real to me; it would be too hard to make difficult editing choices if they were! Now that the book is finished, seeing that the Sadie I met while writing--a very real, imperfect teenager in pain--is what readers also see...that's my favorite thing.
Purchase The Museum of Us at Amazon
Purchase The Museum of Us at IndieBound
View The Museum of Us on Goodreads
* * * *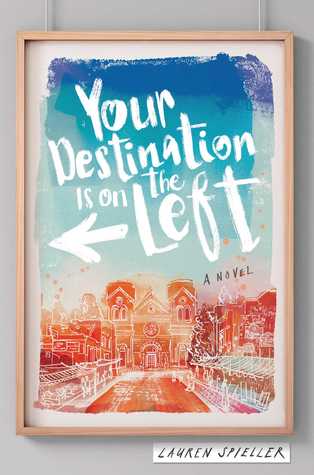 Your Destination Is on the Left
by Lauren Spieller
Hardcover Giveaway

U.S. Only
Simon & Schuster Books for Young Readers
Released 6/26/2018
Dessa Rhodes is a modern day nomad. Her family travels in an RV, their lives defined by state lines, exit signs, and the small communal caravan they call home. Among them is Cyrus, her best friend and long-time crush, whom she knows she can never be with. When your families are perpetually linked, it's too dangerous to take a risk on romance.
Instead, Dessa looks to the future. She wants to be a real artist and going to art school is her ticket to success and a new life. There's just one problem: she hasn't been accepted…anywhere. Suddenly her future is wide open, and it looks like she's going to be stuck traveling forever.
Then an unexpected opportunity presents itself: an internship working with a local artist in Santa Fe. Dessa struggles to prove to her boss—and herself—that she belongs there, but just as she finally hits her stride, her family suffers an unexpected blow. Faced with losing everything that she has worked for, Dessa has a difficult decision to make. Will she say goodbye to her nomadic lifestyle and the boy she loves? Or will she choose to never stop moving?
Author Question: What is your favorite thing about Your Destination Is on the Left?
I'm really proud of having written a book about feeling like you're not good enough, and continuing to try anyway. I think that's something teens and adults alike can relate to, and I hope readers come away from reading my debut feeling inspired to never give up on their dreams, no matter how hard the journey is along the way.
Purchase Your Destination Is on the Left at Amazon
Purchase Your Destination Is on the Left at IndieBound
View Your Destination Is on the Left on Goodreads
YA BOOK GIVEAWAYS LAST WEEK: WINNERS
Dive Smack:
Andrea C.
Phoebe Will Destroy You:
Caroline R.
MORE YOUNG ADULT FICTION IN STORES NEXT WEEK WITH AUTHOR INTERVIEWS
Learning to Breathe
by Janice Lynn Mather
Hardcover
Simon & Schuster Books for You
Released 6/26/2018
Sixteen-year-old Indy struggles to conceal her pregnancy while searching for a place to belong in this stunning debut novel that's perfect for fans of Amber Smith and Sara Zarr.
Indira Ferguson has done her best to live by her Grammy's rules—to study hard in school, be respectful, and to never let a boy take advantage of her. But it hasn't always been easy, especially while living in her mother's shadow.
When Indy is sent to live with distant relatives in Nassau, trouble follows her. Now she must hide an unwanted pregnancy from her aunt, who would rather throw Indy out onto the street than see the truth.
Completely broke with only a hand-me-down pregnancy book as a resource, Indy desperately looks for a safe space to call home. After stumbling upon a yoga retreat, she wonders if perhaps she's found the place. But Indy is about to discover that home is much bigger than just four walls and a roof—it's about the people she chooses to share it with.
Author Question: What is your favorite thing about Learning to Breathe?
My favourite thing about LEARNING TO BREATHE…probably that it's being published with a beautiful cover that has my name on it!

In terms of the story itself, I really love Indy's experiences at the yoga retreat. It's an unexpected world she stumbles into, and I really enjoyed spending time with her there. It's a place that allows her to see who she is, rather than who others say she is. For Indy, it's an outlet for her to realize her own resilience and strength, to see what's within. That's particularly special for me because I've had the opportunity to use yoga myself to get through a really difficult period in my life. Like Indy, I found real power in being able to feel calm by changing my breath, by using my body, by developing strength I didn't know I possessed. I love this part of the story because we all have a retreat of some sort—a place, a setting, a set of people, a set of experiences that show us something we're able to access within ourselves, and that, to some degree, save us.
Purchase Learning to Breathe at Amazon
Purchase Learning to Breathe at IndieBound
View Learning to Breathe on Goodreads
MORE YOUNG ADULT NOVELS NEW IN STORES NEXT WEEK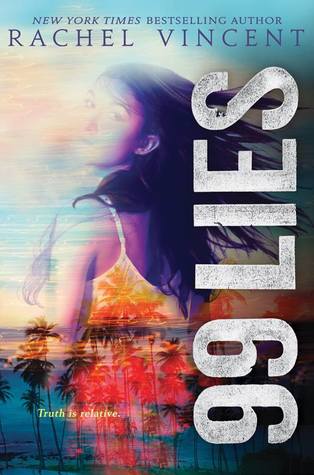 99 Lies
by Rachel Vincent
Hardcover
Katherine Tegen Books
Released 6/26/2018
Getting kidnapped over spring break was definitely memorable. But now that the surviving hostages are home, they want life to feel normal again: high school, dating, million-dollar galas.
But there's no escaping the spotlight—or the truth about the ways they betrayed each other in the jungle. And this time, the real threat isn't kidnappers—it's what the "friends" might do to each other.
Told from alternating perspectives, the high-stakes follow-up to 100 Hours delivers an explosive mix of nonstop action and romance as a group of Miami teens discovers that lies are nowhere near as dangerous as the truth.
Purchase 99 Lies at Amazon
Purchase 99 Lies at IndieBound
View 99 Lies on Goodreads
* * * *
A Thousand Beginnings and Endings
by Ellen Oh
Hardcover
Greenwillow Books
Released 6/26/2018
Fifteen bestselling and acclaimed authors reimagine the folklore and mythology of East and South Asia in short stories that are by turns enchanting, heartbreaking, romantic, and passionate.
Compiled by We Need Diverse Books's Ellen Oh and Elsie Chapman, the authors included in this exquisite collection are: Renée Ahdieh, Sona Charaipotra, Preeti Chhibber, Roshani Chokshi, Aliette de Bodard, Melissa de la Cruz, Julie Kagawa, Rahul Kanakia, Lori M. Lee, E. C. Myers, Cindy Pon, Aisha Saeed, Shveta Thakrar, and Alyssa Wong.
A mountain loses her heart. Two sisters transform into birds to escape captivity. A young man learns the true meaning of sacrifice. A young woman takes up her mother's mantle and leads the dead to their final resting place.
Purchase A Thousand Beginnings and Endings at Amazon
Purchase A Thousand Beginnings and Endings at IndieBound
View A Thousand Beginnings and Endings on Goodreads
* * * *
Court of Shadows
by Madeleine Roux
Hardcover
HarperTeen
Released 6/26/2018
After the frightful events of last autumn, seventeen-year-old Louisa Ditton has settled into her role as a maid at Coldthistle House, but she has not settled into what that means for her humanity.
As Louisa struggles to figure out whether she is worthy of redemption, the devilish Mr. Morningside plans a fete— one that will bring new guests to Coldthistle House. From wicked humans to Upworlders, angelic beings who look down upon Mr. Morningside's monstrous staff, all are armed with their own brand of self-righteous justice.
Even a man claiming to be Louisa's father has a role to play, though what his true motive is, Louisa cannot tell. The conflicts will eventually come to a head on the grounds of Coldthistle House—and the stakes include Louisa's very soul.
Purchase Court of Shadows at Amazon
Purchase Court of Shadows at IndieBound
View Court of Shadows on Goodreads
* * * *
Fugitive Six
by Pittacus Lore
Hardcover
HarperCollins
Released 6/26/2018
The Human Garde Academy was created in the aftermath of an alien invasion of Earth. It was meant to provide a safe haven for teens across the globe who were suddenly developing incredible powers known as Legacies.
Taylor Cook was one of the newest students and had no idea if she'd ever fit in. But when she was mysteriously abducted, her friends broke every rule in the book to save her. In the process, they uncovered a secret organization that was not only behind Taylor's kidnapping but also the disappearance of numerous teens with abilities. An organization that has dark roots in the Loric's past, untold resources, and potentially even a mole at their own school.
Now these friends, who have become known to other students as the "Fugitive Six," must work together to bring this mysterious group to an end before they can hurt anyone else.
Purchase Fugitive Six at Amazon
Purchase Fugitive Six at IndieBound
View Fugitive Six on Goodreads
* * * *
My Plain Jane
by Cynthia Hand
Hardcover
HarperTeen
Released 6/26/2018
You may think you know the story. Penniless orphan Jane Eyre begins a new life as a governess at Thornfield Hall, where she meets one dark, brooding Mr. Rochester—and, Reader, she marries him. Or does she?
Purchase My Plain Jane at Amazon
Purchase My Plain Jane at IndieBound
View My Plain Jane on Goodreads
* * * *
Now You See Her
by Lisa Leighton and Laura Stropki
Hardcover
Katherine Tegen Books
Released 6/26/2018
AMELIA has always felt like happiness is a serve she can't return, a ball just out of reach. And now, in her senior year, right before tennis season, her mom wants to move—again.
SOPHIE has a perfectly curated, Instagram-ready life. From her first singles win to her hot long-term boyfriend to the beautiful landscaped home where she lives with her parents, Sophie is everything Amelia wishes she could hate.
But one night changes everything. When a man tries to abduct Amelia after her car breaks down during a storm, Amelia attempts to escape—into incoming traffic. And in one inexplicable moment, they switch bodies.
Amelia wakes up in Sophie's body. Amelia's body is in a coma. Now Amelia needs to find a way back into her own life—but first, she must retrace her steps to unravel the mystery of the accident, her attempted abduction, and how it's all tied to her mother's secret past.
Purchase Now You See Her at Amazon
Purchase Now You See Her at IndieBound
View Now You See Her on Goodreads
* * * *
The Emerald Sea
by Richelle Mead
Hardcover
Razorbill
Released 6/26/2018
Tamsin Wright is unstoppable. She must become the Glittering Court's diamond: the girl with the highest test scores, the most glamorous wardrobe, and the greatest opportunities to match with an elite suitor in the New World. Training alongside other girls in the Glittering Court, Tamsin immerses herself completely in lessons about etiquette, history, and music--everything a high-society wife would need to know. Once she's married, she'll be able to afford a better life for her family, so the sacrifice is worth it if she can be the best.
When her friendship with Mira and Adelaide, her roommates at the Glittering Court, threatens her status as the top-ranked prospect, she does the only thing she knows will keep her on track: she cuts them out of her life. But when her voyage across the sea goes off course, Tamsin must use her unrelenting grit and determination to survive the harsh winter far north of her intended destination in hopes of making it back to the Glittering Court in time to secure a proposal--and a comfortable future for her family.
Experiencing new cultures and beliefs for the first time, Tamsin realizes that her careful studies haven't prepared her for everything, and with new alliances formed with roguish tradesman Jago Robinson and good-natured minister Gideon Stewart, Tamsin's heart begins to be pulled in different directions. But she can't let her brewing attraction get in the way of her ultimate goal: protecting the secret she holds closest to her heart, the one that would unravel everything she's worked for if it's uncovered.
Purchase The Emerald Sea at Amazon
Purchase The Emerald Sea at IndieBound
View The Emerald Sea on Goodreads
* * * *
The Evolution of Claire
by Tess Sharpe
Hardcover
Random House Books for Young R
Released 6/26/2018
Freshman year in college is full of obstacles--there are messy roommates, cranky professors, and disgusting dining halls. But for Claire Dearing, add "How to properly avoid being eaten by a dinosaur" to that list.
The year is 2004, and Claire has been given the chance of a lifetime: the opportunity to intern at the Jurassic World theme park less than a year before it opens to the public. She is laser-focused, with her sights set on bettering the lives of all animals worldwide. But life at the park isn't all test-driving gyrospheres and falling head over heels for a fellow student named Justin . . . though she does that too. Rumors and suspicions flood the island, and Claire is determined to unravel the truth.
As Claire searches for answers, she and Justin find themselves thrust into a sinister plot that will leave Claire forever changed, forcing her to question everything she thought she knew and bringing her one step closer to the Claire viewers met in Jurassic World and who they'll return to in Jurassic World: Fallen Kingdom.
Purchase The Evolution of Claire at Amazon
Purchase The Evolution of Claire at IndieBound
View The Evolution of Claire on Goodreads
* * * *
The Life and Death Parade
by Eliza Wass
Hardcover
Disney-Hyperion
Released 6/26/2018
One year ago, Kitty's boyfriend Nikki Bramley visited a psychic who told him he had no future. Now, he's dead.
With the Bramley family grieving in separate corners of their home, Kitty sets out to find the psychic who read Nikki his fate. Instead she finds Roan, an enigmatic boy posing as a medium who belongs to the Life and Death Parade--a group of supposed charlatans that explore, and exploit, the thin veil between this world and the next. A group whose members include the psychic... and Kitty's late mother.
Desperate to learn more about the group and their connection to Nikki, Kitty convinces Roan to return to the Bramley house with her and secures a position for him within the household. Roan quickly ingratiates himself with the Bramleys, and soon enough it seems like everyone is ready to move on. Kitty, however, increasingly suspects Roan knows more about Nikki than he's letting on. And when they finally locate the Life and Death Parade, and the psychic who made that fateful prophecy to Nikki, Kitty uncovers a secret about Roan that changes everything.
Purchase The Life and Death Parade at Amazon
Purchase The Life and Death Parade at IndieBound
View The Life and Death Parade on Goodreads
* * * *
Wild Blue Wonder
by Carlie Sorosiak
Hardcover
HarperTeen
Released 6/26/2018
Last June, the summer camp Quinn's family owns in Winship, Maine, was still a magical place. A place where wild blueberries grew no matter the season, a legendary sea monster lurked in the waters, and Quinn fell in love with her best friend, Dylan.
Then the accident happened.
Now it's winter, the magic has drained from Quinn's life, and she knows it's her fault. But the new boy in town, Alexander, doesn't see her as the monster she believes herself to be. As Quinn lets herself open up again, she begins to understand the truth about love, loss, and monsters—real and imagined.
Purchase Wild Blue Wonder at Amazon
Purchase Wild Blue Wonder at IndieBound
View Wild Blue Wonder on Goodreads
a Rafflecopter giveaway