Lauren, what was your inspiration for writing YOUR DESTINATION IS ON THE LEFT?
I had just driven across the country from California to New York, and was curious about what it would be like to live on the road permanently. I also love
The Odyssey
, and thought--what if I did a modern day retelling of Odysseus' journey, but instead of returning home, I explored what it would be like for a teen girl who's
always home
and yearns to leave? The book ended up not being a retelling so much as a story
inspired
by Homer's epic, but it was still a really fun piece of source material to play with!
What advice would you most like to pass along to other writers?
I'm going to cheat, and give two answers. The first is to never give up. The second is to read voraciously and omnivorously. It's important to be familiar with books written for your target audience--be it middle grade fantasy or adult romance--but it's also important to read outside of your comfort zone. Not only because you'll learn new and important skills, but because you never know where inspiration will come from!
What are you working on now?
I'm working on my second book! It's called
She's The Worst
, and it tells the story of two sisters who spend one last day together before the eldest leaves for college. But they're both keeping secrets, so they'll have to decide if the truth will tear them apart or bring them closer together. We pitched it as 10 Things I Hate About You meets Ferris Bueller's Day Off, and I am
really
excited to share it with the world in 2019!
ABOUT THE BOOK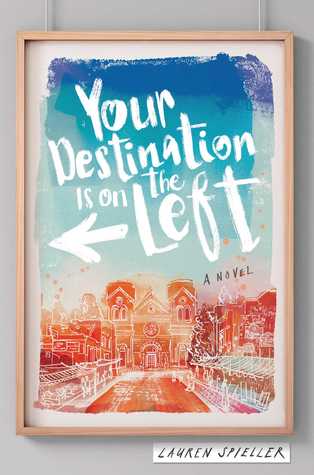 Your Destination Is on the Left
by Lauren Spieller
Hardcover
Simon & Schuster Books for Young Readers
Released 6/26/2018
Dessa Rhodes is a modern day nomad. Her family travels in an RV, their lives defined by state lines, exit signs, and the small communal caravan they call home. Among them is Cyrus, her best friend and long-time crush, whom she knows she can never be with. When your families are perpetually linked, it's too dangerous to take a risk on romance.
Instead, Dessa looks to the future. She wants to be a real artist and going to art school is her ticket to success and a new life. There's just one problem: she hasn't been accepted…anywhere. Suddenly her future is wide open, and it looks like she's going to be stuck traveling forever.
Then an unexpected opportunity presents itself: an internship working with a local artist in Santa Fe. Dessa struggles to prove to her boss—and herself—that she belongs there, but just as she finally hits her stride, her family suffers an unexpected blow. Faced with losing everything that she has worked for, Dessa has a difficult decision to make. Will she say goodbye to her nomadic lifestyle and the boy she loves? Or will she choose to never stop moving?
Purchase Your Destination Is on the Left at Amazon
Purchase Your Destination Is on the Left at IndieBound
View Your Destination Is on the Left on Goodreads
ABOUT THE AUTHOR
Lauren Spieller is an author and literary agent who lives in New York with her husband.
When she isn't writing, she can be found drinking lattes, pining for every dog she sees, or visiting her native California.
Your Destination is on the Left
is her debut novel. Follow her on Twitter
@laurenspieller
and Instagram
@laurenspieller
.
---


Have you had a chance to read YOUR DESTINATION IS ON THE LEFT yet? Are you committed to never giving up? Are you reading voraciously and omnivorously? Share your thoughts about the interview in the comments!
Happy Reading,
Jocelyn, Halli, Martina, Erin, Susan, Shelly, Kelly, Laura, Emily, and Lori Ann