We're excited to have Taran Matharu join us to chat about his latest novel, THE OUTCAST.
Taran, what was your inspiration for writing THE OUTCAST?
Arcturus is one of my favourite characters, and he has such a rich backstory as the first ever commoner with the ability to Summon. But you only ever hear about his story second-hand. Now, I finally have the opportunity to show you the world he grew up in, and the events that his discovery set in motion, changing the face of Hominum forever.
What scene was really hard for you to write and why, and is that the one of which you are most proud? Or is there another scene you particularly love?
I always find action scenes quite hard to write, and there are some big ones in The Outcast! But they are also the scenes that both my readers and I enjoy reading the most, so I am quite proud of them. In particular, there's a battle where an outnumbered group of soldiers must push back an army behind a thin shield-wall. It's quite a scene, and I loved writing it.
Was there an AHA! moment along your road to publication where something suddenly sank in and you felt you had the key to writing a novel? What was it?
I think that it's tricky to write a prequel and still leave the readers surprised by the plot - as any major events would have already happened and be common knowledge. By making the events in The Outcast ones that were only alluded to in the later books, and covered up by both the heroes and the villains for different reasons, I could still keep the readers who have already read the main trilogy on the edge of their seats!
What are you working on now?
I'm working on an entirely new series. The first book is called The Chosen, Book 1 in the Contender series. The blurb is below :-).
Throughout history people have vanished with no explanation.
Two teenagers are about to discover why.
Introducing an epic new adventure from Taran Matharu, author of the New York Times bestselling SUMMONER series.
Cade, a misunderstood juvenile delinquent, and Harriet, a Victorian-era cat-burglar live two different lives in two different eras – until they're both transported to another world.
Abandoned in a realm populated with lost remnants from the past, prehistoric animals and monstrous creatures, they are forced to become contenders in an endless, brutal tournament by the all-powerful Pantheon. But who are these mysterious overlords and what morbid games do they have in store for them? It's time to get ready for battle . . . because hiding is not an option.
Publication will begin in spring 2019.
ABOUT THE BOOK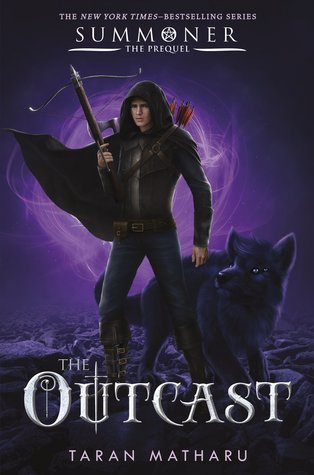 The Outcast
by Taran Matharu
Hardcover
Feiwel & Friends
Released 5/1/2018
When stable boy Arcturus accidentally summons a demon and becomes Hominum's first common summoner, he becomes the key to a secret that the powerful overlords would do anything to keep hidden.
Whisked away to Vocans Academy so he can be kept watch over, Arcturus finds himself surrounded by enemies. But he has little time to settle in before his life is turned upside down once again, for Hominum Empire is in turmoil.
Rebellious intent simmers among the masses, and it will not be long before it boils over. Arcturus must choose a side . . . or watch an Empire crumble.
Purchase The Outcast at Amazon
Purchase The Outcast at IndieBound
View The Outcast on Goodreads
ABOUT THE AUTHOR
Taran Matharu is a New York Times bestselling author. He was born in London in 1990 and found a passion for reading at a very early age. His love for stories developed into a desire to create his own during early adolescence, beginning his first book at 9 years old.
Straight after graduating with a First Class degree in Business Administration, Taran was keen to explore a new avenue and get inside the publishing world, landing an internship in Digital Sales at Penguin Random House, from June to September 2013.
Thereafter, while taking time off to travel, Taran began to write 'Summoner' in November 2013 at the age of 22, taking part in 'Nanowrimo 2013'.
Thanks to Wattpad.com and updating daily, its popularity dramatically increased, reaching over 3 million reads in less than six months.
After being featured by NBC News, Taran decided to launch his professional writing career and has never looked back.
His SUMMONER series is published by Hodder Children's (Hachette) in the UK, Australia and Commonwealth, Feiwel and Friends (Macmillan) in the US and Canada, Hachette Jeunesse in France, Heyne in Germany, Planeta in Spain, Crown in Taiwan, Record in Brazil, EKSMO in Russia, Jaguar in Poland, Ecliptic in Bulgaria, Alpress in the Czech Republic, Ithaki in Turkey and Unieboek in the Netherlands.
---
Have you had a chance to read THE OUTCAST yet? Have you written books to show the backstory of previous characters? How are you at writing action scenes? Share your thoughts about the interview in the comments!
Happy Reading,
Jocelyn, Halli, Martina, Charlotte, Anisaa, Erin, Susan, Shelly, Kelly, Laura, Emily, and Lori Ann