Happy Reading,
Shelly, Halli, Jocelyn, Martina, Erin, Susan, Kelly, Laura, Emily, Anisaa, and Lori Ann
YA BOOK GIVEAWAYS THIS WEEK
* * * *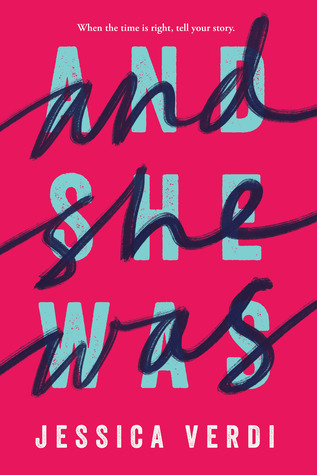 And She Was
by Jessica Verdi
Signed Hardcover Giveaway

U.S. Only
Scholastic Press
Released 3/27/2018
Dara's lived a sheltered life with her single mom, Mellie. Now, at eighteen, she's dreaming of more. When Dara digs up her never-before-seen birth certificate, her world implodes. Why are two strangers listed as her parents?
Dara confronts her mother, and is stunned by what she learns: Mellie is transgender. The unfamiliar name listed under "father"? That's Mellie. She transitioned when Dara was a baby, after Dara's birth mother died. She changed her name, started over.
But Dara still has more questions than answers. Reeling, she sets off on an impromptu road trip with her best guy friend, Sam, in tow. She is determined to find the extended family she's never even met. What she does discover -- and what her mother reveals, piece by piece, over emails -- will challenge and change Dara more than she can imagine.
Author Question: What is your favorite thing about And She Was?
Between research, drafting, and multiple rounds of revisions and sensitivity reads, this book has been nearly five years in the making. Over that stretch of time, I've become attached to so many elements, but if I had to pick one absolute favorite, it's the fact that the book is a dual narrative between mother and daughter. I haven't read many YA novels that feature the POV of an adult character, but, as this is a story about a transgender woman and her cisgender child, I knew that just telling the daughter's side of the story would not be enough. Ten or twenty years ago, stories about LGBTQ characters were told primarily through the point of view of their straight, cis family or friends, but, thankfully, we are beyond that point now. So, through emails to her daughter Dara, Mellie takes the opportunity to tell her story in her own words. The reader is brought along as Dara and Mellie embark on intertwined journeys of self-discovery, love, identity, and the true meaning of "family." I've heard from many readers that Mellie's emails are the true "heart" of the story, and I can't help but agree!
Purchase And She Was at Amazon
Purchase And She Was at IndieBound
View And She Was on Goodreads
* * * *
Nothing But Sky
by Amy Trueblood
Signed Paperback Giveaway

U.S. Only
Flux
Released 3/27/2018
"Amy Trueblood takes an overlooked page in history, folds it into an intense drama, and sends it soaring. Post World War I wing walker Grace Lafferty is the kind of spunky, stubborn heroine that will make readers feel like the sky's the limit."
—Stacey Lee, award winning author of OUTRUN THE MOON
A 2018 Junior Library Guild selection.
Grace Lafferty only feels alive when she's dangling 500 feet above ground. As a post-World War I wing walker, Grace is determined to get to the World Aviation Expo, proving her team's worth against flashier competitors and earning a coveted Hollywood contract.
No one's ever questioned Grace's ambition until Henry Patton, a mechanic with plenty of scars from the battlefield, joins her barnstorming team. With each new death-defying trick, Henry pushes Grace to consider her reasons for being a daredevil. Annoyed with Henry's constant interference, and her growing attraction to him, Grace continues to test the powers of the sky.
After one of her risky maneuvers saves a pilot's life, a Hollywood studio offers Grace a chance to perform at the Expo. She jumps at the opportunity to secure her future. But when a stunt goes wrong, Grace must decide whether Henry, and her life, are worth risking for one final trick.
Author Question: What is your favorite thing about Nothing But Sky?
I love the fact that while the 1920s is a frequently written about time I'm introducing readers to an aspect of the era that is often overlooked. Many people know about the speakeasies and flappers, but there was also a new sense of freedom that many women grasped at this time. They sought lives outside their small hometowns, and a few of these brave women became part of the barnstorming scene, not only as pilots but also as wing walkers. There isn't a lot in the history books about these women so I wanted to write a story that would bring their vibrant lives to light.
Purchase Nothing But Sky at Amazon
Purchase Nothing But Sky at IndieBound
View Nothing But Sky on Goodreads
* * * *
Emergency Contact
by Mary H. K. Choi
Hardcover Giveaway

U.S. Only
Simon & Schuster Books for You
Released 3/27/2018
For Penny Lee high school was a total nonevent. Her friends were okay, her grades were fine, and while she somehow managed to land a boyfriend, he doesn't actually know anything about her. When Penny heads to college in Austin, Texas, to learn how to become a writer, it's seventy-nine miles and a zillion light years away from everything she can't wait to leave behind.
Sam's stuck. Literally, figuratively, emotionally, financially. He works at a café and sleeps there too, on a mattress on the floor of an empty storage room upstairs. He knows that this is the god-awful chapter of his life that will serve as inspiration for when he's a famous movie director but right this second the seventeen bucks in his checking account and his dying laptop are really testing him.
When Sam and Penny cross paths it's less meet-cute and more a collision of unbearable awkwardness. Still, they swap numbers and stay in touch—via text—and soon become digitally inseparable, sharing their deepest anxieties and secret dreams without the humiliating weirdness of having to see each other.
Author Question: What is your favorite thing about Emergency Contact?
It's a sweet book. I'm not saying it's an Anne Geddes wall calendar of a novel or anything, just that the takeaway is very tender. It's very lolsob at times if that makes sense. This is my debut so I never fully had an appreciation for it but what they say about characters becoming sentient in your brain and taking up residence in your life is completely true. They absolutely go gamboling off to do whatever they please but I was most surprised by how moved I could be by them. I cry every time I read certain chapters, which after a while makes you feel a little nuts. It's like screaming like a banshee at the same surprise party that you know you're walking into. A surprise party you've completely organized by yourself. I didn't know that was a thing, that you could be the audience of your own work like that.
Purchase Emergency Contact at Amazon
Purchase Emergency Contact at IndieBound
View Emergency Contact on Goodreads
* * * *
Lost Crow Conspiracy
by Rosalyn Eves
Hardcover Giveaway

U.S. Only
Knopf Books for Young Readers
Released 3/27/2018
Sixteen-year old Anna Arden was once just the magically barren girl from an elite Luminate family. Now she has broken the Binding--and Praetheria, the creatures held captive by the spell, wreak havoc across Europe. Lower-class citizens have access to magic for the first time, while other Luminates lose theirs forever. Austria and Hungary are at odds once more.
Anna Arden did not know breaking the Binding would break the world.
Anna thought the Praetheria were on her side, content and grateful to be free from the Binding. She thought her cousin Matyas's blood sacrifice to the disarm the spell would bring peace, equality, justice. She thought her future looked like a society that would let her love a Romani boy, Gabor.
But with the Monarchy breathing down her neck and the Praetheria intimidating her at every turn, it seems the conspiracies have only just begun.
As threat of war sweeps the region, Anna quickly discovers she can't solve everything on her own. Now there's only one other person who might be able to save the country before war breaks out. The one person Anna was sure she'd never see again. A bandit. A fellow outlaw. A man known as the King of Crows. Matyas.
Author Question: What is your favorite thing about Lost Crow Conspiracy?
I'd heard that second books in a series were hard to write, but I wasn't too concerned--until I started writing. LOST CROW CONSPIRACY was not only the middle of a series, but it was my dreaded second published book, and the first book I'd ever had to write under contract. It was a lot harder than I'd expected, and I hit 70k and then went back and started over, because something about the story wasn't working. It wasn't until I finally had an epiphany (the middle of a series follows the arc of a tragedy more than a traditional story) that I was able to find the story. I'm proud of that story, and the way it challenges my heroine, Anna, at the core of who she thinks she is and what she thinks she's accomplished.

More than that, I think there are lots of fun elements to the story: highwaymen, balls, magic, treachery, political intrigue, and romance. Surprisingly enough, once I figured out the core story, I actually enjoyed writing it, writing under deadline notwithstanding.
Purchase Lost Crow Conspiracy at Amazon
Purchase Lost Crow Conspiracy at IndieBound
View Lost Crow Conspiracy on Goodreads
* * * *
The Beloved Wild
by Melissa Ostrom
Hardcover Giveaway

U.S. Only
Feiwel & Friends
Released 3/27/2018
She's not the girl everyone expects her to be.
Harriet Winter is the eldest daughter in a farming family in New Hampshire, 1807. She is expected to help with her younger sisters. To pitch in with the cooking and cleaning. And to marry her neighbor, the farmer Daniel Long. Harriet's mother sees Daniel as a good match, but Harriet doesn't want someone else to choose her path―in love or in life.
When Harriet's brother decides to strike out for the Genesee Valley in Western New York, Harriet decides to go with him―disguised as a boy. Their journey includes sickness, uninvited strangers, and difficult emotional terrain as Harriet sees more of the world, realizes what she wants, and accepts who she's loved all along.
Author Question: What is your favorite thing about The Beloved Wild?
The main character, for sure. Harriet Winter is funny, smart, passionate, and loyal, but also prickly, stubborn, and rash. When I was writing the novel, she felt real to me. I enjoyed spending time with her.
Purchase The Beloved Wild at Amazon
Purchase The Beloved Wild at IndieBound
View The Beloved Wild on Goodreads
YA BOOK GIVEAWAYS LAST WEEK: WINNERS
Finding Felicity by Stacey Kade:
Jan P.
MORE YOUNG ADULT FICTION IN STORES NEXT WEEK WITH AUTHOR INTERVIEWS
* * * *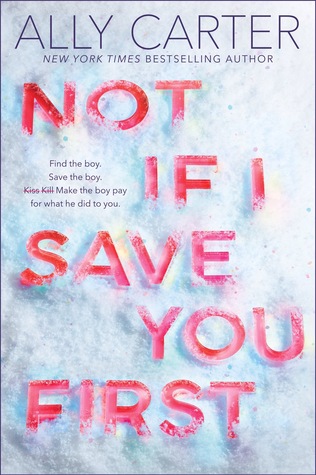 Not If I Save You First
by Ally Carter
Hardcover
Scholastic Press
Released 3/27/2018
Maddie thought she and Logan would be friends forever. But when your dad is a Secret Service agent and your best friend is the president's son, sometimes life has other plans. Before she knows it, Maddie's dad is dragging her to a cabin in the middle of the Alaskan wilderness.
No phone.
No Internet.
And not a single word from Logan.
Maddie tells herself it's okay. After all, she's the most popular girl for twenty miles in any direction. (She's also the only girl for twenty miles in any direction.) She has wood to cut and weapons to bedazzle. Her life is full.
Until Logan shows up six years later . . .
And Maddie wants to kill him.
But before that can happen, an assailant appears out of nowhere, knocking Maddie off a cliff and dragging Logan to some unknown fate. Maddie knows she could turn back- and get help. But the weather is turning and the terrain will only get more treacherous, the animals more deadly.
Maddie still really wants to kill Logan.
But she has to save him first.
Author Question: What is your favorite thing about Not If I Save You First?
It's almost impossible to pick my favorite thing about NOT IF I SAVE YOU FIRST--there are just so many things about this book that make me...happy. Yeah. Happy is the word.

It makes me happy that this book is essentially all the genres. Looking for a survival book? Yup. You'll love it. Are you in the mood for a romance. Or a thriller. Or a comedy. Then, yeah, you'll love it, too.

It makes me happy that it's set in one of the most vast, amazing, beautiful, and dangerous places I've ever seen--Alaska.

It makes me happy that it's about former best friends who are thrust back together under the most dangerous of circumstances.

And it makes me happy that it's about a girl who never leaves home without an assortment of knives, hatchets, and other weapons...but one of those hatchets is bedazzled, so as much as Alaska has made Maddie into the Toughest Girl Ever, she's still, at her core, a girl.

So I guess the thing I like most about Not If I Save You First is just how happy it makes me. And I hope it will make you happy, too!
Purchase Not If I Save You First at Amazon
Purchase Not If I Save You First at IndieBound
View Not If I Save You First on Goodreads
MORE YOUNG ADULT NOVELS NEW IN STORES NEXT WEEK
* * * *
Bash Bash Revolution
by Douglas Lain
Paperback
Night Shade Books
Released 3/27/2018
Seventeen-year-old Matthew Munson is ranked thirteenth in the state in Bash Bash Revolution, an outdated video game from 2002 that, in 2017, is still getting tournament play. He's a high school dropout who still lives at home with his mom, doing little but gaming and moping. That is, until Matthew's dad turns up again.
Jeffrey Munson is a computer geek who'd left home eight years earlier to work on a top secret military project. Jeff has been a sporadic presence in Matthew's life, and much to his son's displeasure insists on bonding over video games. The two start entering local tournaments together, where Jeff shows astonishing aptitude for Bash Bash Revolution in particular.
Then, as abruptly as he appeared, Matthew's father disappears again, just as he was beginning to let Jeff back into his life.
The betrayal is life-shattering, and Matthew decides to give chase, in the process discovering the true nature of the government-sponsored artificial intelligence program his father has been involved in. Told as a series of conversations between Matthew and his father's artificial intelligence program, Bash Bash Revolution is a wildly original novel of apocalypse and revolution, as well as a poignant story of broken family.
Purchase Bash Bash Revolution at Amazon
Purchase Bash Bash Revolution at IndieBound
View Bash Bash Revolution on Goodreads
* * * *
Damselfly
by Chandra Prasad
Hardcover
Scholastic Press
Released 3/27/2018
Their survival is in their own hands...
Samantha Mishra opens her eyes and discovers she's alone and injured in the thick of a jungle. She has no idea where she is, or what happened to the plane taking her and the rest of the Drake Rosemont fencing team across the Pacific for a tournament. Once Sam connects with her best friend, Mel, and they find the others, they set up shelter and hope for rescue. But as the days pass, the teens realize they're on their own, stranded on an island with a mysterious presence that taunts and threatens them. Soon Sam and her companions discover they need to survive more than the jungle... they need to survive each other.
Purchase Damselfly at Amazon
Purchase Damselfly at IndieBound
View Damselfly on Goodreads
* * * *
Frat Girl
by Kiley Roache
Hardcover
Harlequin Teen
Released 3/27/2018
For Cassandra Davis, the F-word is fraternity—specifically Delta Tau Chi, a house on probation and on the verge of being banned from campus. Accused of offensive, sexist behavior, they have one year to clean up their act. For them, the F-word is feminist—the type of girl who hates them to the core and is determined to make them lose their home.
With one shot at a scholarship to attend the university of her dreams, Cassie pitches a research project—to pledge Delta Tau Chi and provide proof of the misogynistic behavior for which they are on probation. After all, they're frat boys. She knows exactly what to expect once she gets there. Exposing them should be a piece of cake.
But the boys of Delta Tau Chi have their own agenda, and fellow pledge Jordan Louis is certainly more than the tank-top-wearing "bro" she expected to find. With her heart and her future tangled in a web of her own making, Cassie is forced to realize that the F-word might not be as simple as she thought after all.
Purchase Frat Girl at Amazon
Purchase Frat Girl at IndieBound
View Frat Girl on Goodreads
* * * *
I Have Lost My Way
by Gayle Forman
Hardcover
Viking Books for Young Readers
Released 3/27/2018
Around the time that Freya loses her voice while recording her debut album, Harun is making plans to run away from everyone he has ever loved, and Nathaniel is arriving in New York City with a backpack, a desperate plan, and nothing left to lose. When a fateful accident draws these three strangers together, their secrets start to unravel as they begin to understand that the way out of their own loss might just lie in help­ing the others out of theirs.
Purchase I Have Lost My Way at Amazon
Purchase I Have Lost My Way at IndieBound
View I Have Lost My Way on Goodreads
* * * *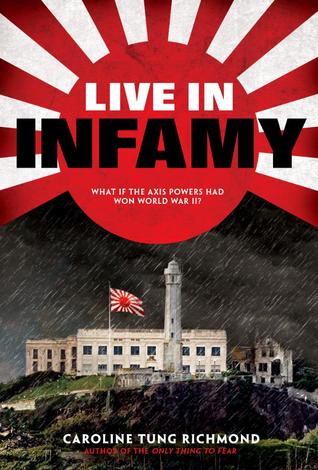 Live In Infamy
by Caroline Tung Richmond
Hardcover
Scholastic Press
Released 3/27/2018
In the eighty years since the Axis powers won World War II with their genetically engineered super soldiers, America has changed drastically in the hands of the unforgiving victors. But there are still those who aspire to what the country used to stand for: freedom for all.
In the Western American Territories, Chinese American Ren Cabot has lost nearly everything to Imperial Japan's rule. After the public execution of his mom for treason five years ago, Ren lives under constant scrutiny of the Empire, afraid that one wrong step will rip apart what remains of his family for good. However, when a chance encounter with a resistance group offers Ren an opportunity to save lives and quite possibly topple the government, he agrees to their deadly plot. But his role will lead him straight into the heart of the enemy, and if caught, death would be a much better fate than what the Empire will do to him . . .
Purchase Live In Infamy at Amazon
Purchase Live In Infamy at IndieBound
View Live In Infamy on Goodreads
* * * *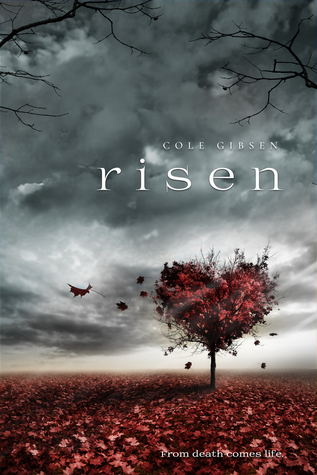 Risen
by Cole Gibsen
Paperback
Entangled: Teen
Released 3/27/2018
Fans of Vampire Diaries and Twilight will be thirsting for this latest vampire addiction…
My aunt has been kidnapped by vampires, and it's up to me to save her. Only…I had no idea vampires existed. None. Nada. I'm more of a reader than a fighter, and even though I'd been wishing to escape my boring existence in the middle of nowhere, I'd give anything to have it back now if it meant my aunt was safe.
Then there's the vampire Sebastian, who seems slightly nicer than most of the bloodsuckers I've run into so far. Yes, he's the hottest being I've ever come across, but there's no way I can trust him. He swears he's helping me get answers, but there's more to his story. Now I'm a key pawn in a raging vampire war, and I need to pick the right ally.
But my chances of surviving this war are slim at best, when the side I choose might be the one that wants me dead the most.
Purchase Risen at Amazon
Purchase Risen at IndieBound
View Risen on Goodreads
* * * *
The Way The Light Bends
by Cordelia Jensen
Hardcover
Philomel Books
Released 3/27/2018
Virtual twins Linc and Holly were once extremely close. But while artistic, creative Linc is her parents' daughter biologically, it's smart, popular Holly, adopted from Ghana as a baby, who exemplifies the family's high-achieving model of academic success.
Linc is desperate to pursue photography, to find a place of belonging, and for her family to accept her for who she is, despite her surgeon mother's constant disapproval and her growing distance from Holly. So when she comes up with a plan to use her photography interests and skills to do better in school--via a project based on Seneca Village, a long-gone village in the space that now holds Central Park, where all inhabitants, regardless of race, lived together harmoniously--Linc is excited and determined to prove that her differences are assets, that she has what it takes to make her mother proud. But when a long-buried family secret comes to light, Linc must decide whether her mother's love is worth obtaining.
A novel in verse that challenges the way we think about family and belonging.
Purchase The Way The Light Bends at Amazon
Purchase The Way The Light Bends at IndieBound
View The Way The Light Bends on Goodreads