We're thrilled to have Joy McCullough stop by to tell us more about her debut novel, BLOOD WATER PAINT.

Joy, what book or books would most resonate with readers who love your book--or visa versa?
For the poet:
the witch doesn't burn in this one
by Amanda Lovelace
For the feminist:
Moxie
by Jennifer Mathieu
For the historian:
Bygone Badass Broads
by Mackenzi Lee
How long did you work on BLOOD WATER PAINT?
Ha, well it depends on whether we're talking about only the book, or also the play I wrote first. One thing led to another, so I'll explain it that way. I began work on a play called
Blood Water Paint
in 2001. So I've been working on this story for longer than some of my readers have been alive! The play had a very long development process – it would have readings and workshops and then get put away for years, then revised again and more readings and workshops, etc. Until finally it had its premiere production in 2015. By that time I had started writing MG and YA fiction, and I started to see the possibilities to adapt the story as a YA novel. Actually writing the draft we put on submission took about three months, which is fast for me, but largely because I already had the plots and characters and world in place from having written the play. And then of course I worked through the editorial process once Dutton acquired the book.
How long or hard was your road to publication? How many books did you write before this one, and how many never got published?
My road to publication has been of the long and hard variety—
Blood Water Paint
is the tenth book I wrote, and the fifth book to go on submission to editors. Of those nine books that came before, there's one I might rework entirely. The others were what I needed to write to get where I am now. Which is not to say they were bad—I think several of them are publishable. But book deals require a bizarre alchemy of not only a good book, but a bunch of other factors as well. And now that I've written
Blood Water Paint
, I don't really want to linger on the work that came before. I'm eager to move on to whatever's next!
ABOUT THE BOOK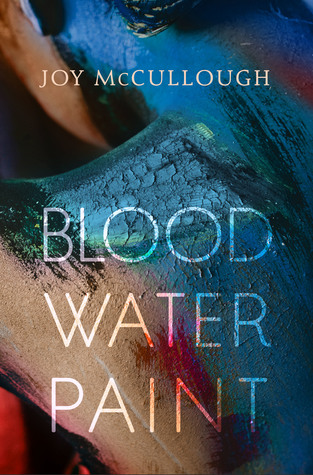 Blood Water Paint
by Joy McCullough
Hardcover
Dutton Books for Young Readers
Released 3/6/2018
Her mother died when she was twelve, and suddenly Artemisia Gentileschi had a stark choice: a life as a nun in a convent or a life grinding pigment for her father's paint.
She chose paint.
By the time she was seventeen, Artemisia did more than grind pigment. She was one of Rome's most talented painters, even if no one knew her name. But Rome in 1610 was a city where men took what they wanted from women, and in the aftermath of rape Artemisia faced another terrible choice: a life of silence or a life of truth, no matter the cost.
He will not consume
my every thought.
I am a painter.
I will paint.
Joy McCullough's bold novel in verse is a portrait of an artist as a young woman, filled with the soaring highs of creative inspiration and the devastating setbacks of a system built to break her. McCullough weaves Artemisia's heartbreaking story with the stories of the ancient heroines, Susanna and Judith, who become not only the subjects of two of Artemisia's most famous paintings but sources of strength as she battles to paint a woman's timeless truth in the face of unspeakable and all-too-familiar violence.
I will show you
what a woman can do.
Purchase Blood Water Paint at Amazon
Purchase Blood Water Paint at IndieBound
View Blood Water Paint on Goodreads
ABOUT THE AUTHOR
Joy McCullough writes books and plays from her home in the Seattle area, where she lives with her husband and two children. She studied theater at Northwestern University, fell in love with her husband atop a Guatemalan volcano, and now spends her days surrounded by books and kids and chocolate. Blood Water Paint is her debut novel.

---

Have you had a chance to read BLOOD WATER PAINT yet? Have you written a story that started as a play? Have you written books that were only to help you get where you are now with your writing? Share your thoughts about the interview in the comments!

Happy Reading,

Jocelyn, Halli, Martina, Anisaa, Charlotte, Erin, Susan, Shelly, Kelly, Laura, Emily, and Lori Ann