Steven, what was your inspiration for writing THE PRECIOUS DREADFUL: A NOVEL?
Well, after my debut, THE NAMESAKE (Merit Press, 2013) came out, I realized people were actually expecting another book. This freaked me out, and for a while, I found myself unable to write much of anything. Then, one sleepless night--July 7th, 2013, to be exact--I tossed and turned until 5:00 am, July 8th, when a name, "Teddi Alder," popped into my head. As I listened, this cool, sarcastic, and troubled young woman began to tell me her story. I knew I had to go beyond listening--and actually write it down. I'm glad I did. Elements of the story--mostly setting, and some small details--come from my own life, but some of the story elements are inspired by the harsher realities of our world. Stuff like racial inequality, dysfunctional family relationships, the lure of alcohol and drugs as escape mechanisms, and the salvation that comes through friendship and writing, these were all things that unfolded for me in a pretty organic way.
What scene was really hard for you to write and why, and is that the one of which you are most proud? Or is there another scene you particularly love?
There are multiple scenes that speak to me, that still have the power to make me feel. That's one way I judge their effectiveness. There's one in particular, late in THE PRECIOUS DREADFUL, in which Teddi makes a devastating discovery. It was both extremely hard to write and truly satisfying. As I worked on that scene, in which Teddi journals out this life-altering memory she'd suppressed, I found myself mirroring her physicality: pacing the room, stopping/starting the writing, crying. I actually needed to "put the pencil down" the way she does in the novel. It was a pretty unbearable truth for us to face, but I felt like we were in the moment together, which made it doable. There is also a far less intense scene, even later in the novel, involving a giraffe. That one remains very sweet to me. I hope readers will feel some major stuff when encountering these moments.
What book or books would most resonate with readers who love your book--or visa versa?
That's a cool question, and I have some evidence to back up my answer. I taught a 200-level lit course this semester, Studies in Young Adult Fiction, and my students read ten YA novels, including an ARC of THE PRECIOUS DREADFUL. There were comparisons made between my book and some of the others we read, most notably: THE ABSOLUTELY TRUE DIARY OF A PART-TIME INDIAN, by Sherman Alexie (for humor in the face of loss); CHINESE HANDCUFFS, by Chris Crutcher (for psychological realism); and CHARM AND STRANGE, by Stephanie Kuehn (for trauma, and paranormal content). This was really powerful for me, as these are three of my YA heroes--and amazing company to be in!
How long did you work on THE PRECIOUS DREADFUL: A NOVEL?
Writing THE PRECIOUS DREADFUL took about two years in the initial manuscript phase--with big chunks of off time during the school year. It was about another year in revision and edits before I submitted it. Once Merit Press acquired it, I did some tweaking, and then they were amazingly acquired by Simon and Schuster, making me a Simon Pulse author. HUZZAH! My editor at Simon, Jessi Smith, offered minor suggestions, and the copy edit process was fairly painless. All told, from first scribblings to book on shelf took about 4-1/2 years with long gaps of pushing it aside to keep up with life and teaching.
What did this book teach you about writing or about yourself?
As with anything I create, this book taught me (again) to persist. There were many times when I considered throwing in the towel. For example, my agent and I amicably parted during the writing, and that was pretty discouraging (Side note, she was wonderfully supportive and reviewed the contract for me as a courtesy once I sold it on my own). If I had given up, I'd be left with that sense that maybe a successful first book was just a fluke. I think I've kicked that self-doubt to the curb thanks to Teddi. Of course, there are other flavors of self-doubt always ready to step forward.
What do you hope readers will take away from THE PRECIOUS DREADFUL: A NOVEL?
A few things, actually. I hope that readers will be engrossed in the story and find Teddi's voice authentic. So far so good from advance readers. I also want them to recognize that friendship is one of the most powerful forces in the universe. There's a real "what doesn't kill you" element to the book, and I hope young readers, especially those enduring rough circumstances or struggling with less-than-perfect home lives, might feel empowered by Teddi's story.
How long or hard was your road to publication? How many books did you write before this one, and how many never got published?
My road to publication was both long and hard and exceptionally blessed. My first foray into attempting to write a novel ended up paying off in my debut, THE NAMESAKE. Between that book and THE PRECIOUS DREADFUL, there were a couple potential starts on other novels. One is slated to be my next book--when I can carve out time to write--and the other, I may go back to at some point, because the idea really intrigues me. I certainly had a fair share of rejection along the way, including signing with and splitting from two agents, but all in all, I am nothing but thankful to be twice-published.
Was there an AHA! moment along your road to publication where something suddenly sank in and you felt you had the key to writing a novel? What was it?
My life, especially as a writer, is a series of AHA! moments. I try to be open to learning something new every single day, mostly by paying attention to things around me. I have a fairly loud voice in my head that says things like, "Don't toot your own horn," and "Who do you think you are?" Another favorite expression from that voice, a holdover from growing up with parents who saw little value in creativity, is "That [creative aspiration] is just a pipe dream." So, if I've discovered a key to writing a novel, it is simply this: No one is likely to believe in your work if you don't believe first. That is the biggest advice I can give a writer: Believe.
What's your writing ritual like? Do you listen to music? Work at home or at a coffee shop or the library, etc?
It depends. I am equally comfortable writing in longhand or on a computer, though I am a scribbler, so when I use a pen, there are highly illustrative margins happening. I can write anywhere--as long as the work-in-progress is more interesting than the distractions. I've written big chunks of both books in coffee shops, libraries, even hunkered at the mall. With THE PRECIOUS DREADFUL, I went "on site" to write pondside because a pond has great importance in the story, and I wanted to capture an authentic sense of place. I definitely write with music when I can. In fact, each of my books has a sort of soundtrack that I rely on to set the mood for me.
What advice would you most like to pass along to other writers?
See above: BELIEVE! Also, I always tell my students that being a successful author requires three major things (in addition to good fortune, which we can't really control). Those are: observation, imagination, and persistence. We need to pay attention to the world, take liberties in creating our own worlds, and keep pushing forward even when it's painful or exhausting. Those are the real keys to success.
What are you working on now?
Right now? A promotion packet for school, in which I have to give evidence of all the things I've done in the last two-plus years to be a better teacher and to uphold the mission of the college. If I'm successful, I'll make the rank of full professor. It's pretty overwhelming, so wish me luck. Once I finish that, I can't wait to dive back into the first book of a planned trilogy about a teenager who discovers his great aunt's bed and breakfast actually is haunted. It's a bit of a departure for me, but a story that's been calling out to me for a while. Just like Teddi Alder, Dexter Peregrym, my next protagonist, is someone whose story I know I need to tell.
ABOUT THE BOOK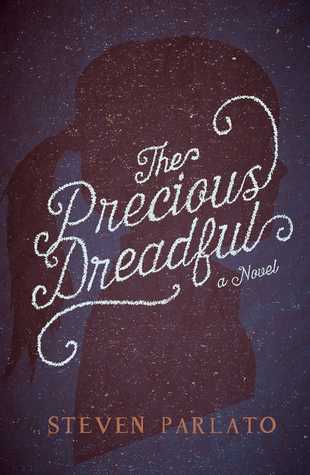 The Precious Dreadful: A Novel
by Steven Parlato
Hardcover
Simon Pulse
Released 2/13/2018
Combining romance and humor with elements of the paranormal, this is a profound novel about one teenage girl's decision to redefine her life in the wake of supernatural events.
Teddi Alder is just trying to figure out her life.
When she joins SUMMERTEENS, a library writing group, she's only looking to keep herself busy, not go digging around in her subconscious. But as she writes, disturbing memories of her lost childhood friend Corey bubble to the surface, and Teddi begins to question everything: her friendship with her BFF Willa, how much her mom really knows, and even her own memories. Teddi fears she's losing her grip on reality—as evidenced by that mysterious ghost-girl who emerges from the park pool one night, the one who won't leave Teddi alone. To top it all off, she finds herself juggling two guys with potential, a quirky new boy named Joy and her handsome barista crush Aidan, who has some issues of his own.
As the summer unfolds, Teddi is determined to get to the bottom of everything—her feelings, the mysterious ghost-girl, and the memories of Corey that refuse to be ignored.
Purchase The Precious Dreadful: A Novel at Amazon
Purchase The Precious Dreadful: A Novel at IndieBound
View The Precious Dreadful: A Novel on Goodreads
ABOUT THE AUTHOR
Steven Parlato, Assistant Professor of English, a writer and artist, lives in CT with his wife and two children. Holding a Masters from Wesleyan University, Steve has taught graphic design, writing, and a literature course of his own design, Studies in Young Adult Fiction. In 2012, Steve was recognized with a NISOD Excellence Award in Teaching.
A prize-winning poet, Parlato's work appears in Freshwater; MARGIE: The American Journal of Poetry; Borderlands: Texas Poetry Review; and Pirene's Fountain. Most recently, his poetry was published in Freshwater and in Peregrine. Steve has been a featured poet at a number of CT venues.
Parlato's young adult novel, THE NAMESAKE, one of five debut titles from Merit Press, a new Imprint of F+W/Adams Media, won a 2011 Tassy Walden Award for New Voices. Steve is represented for fiction by Victoria Marini of Gelfman Schneider Literary Agency.
Steve has also worked as an actor both professionally and non, playing roles ranging from MacBeth to the Scarecrow of OZ, He has also appeared as a hapless limousine rider, and as the "Munchie Mania?" patron in a Friendly's training film.
---
Have you had a chance to read THE PRECIOUS DREADFUL yet? Have you gone to write at a setting in your story? Do you have observation, imagination, and persistence? Share your thoughts about the interview in the comments!
Happy Reading,
Charlotte, Jocelyn, Halli, Martina, Anisaa, Erin, Susan, Shelly, Kelly, Laura, Emily, and Lori Ann