Happy Monday! This week is full of so many great releases and we have HOOPER, FLIGHT SEASON, and BLOOD OF A THOUSAND STARS up for grabs this week. Don't forget to check out the awesome books being released this week and enter to win below!
Happy Reading,
Shelly, Halli, Jocelyn, Martina, Erin, Susan, Kelly, Laura, Emily, Anisaa, and Lori Ann
YA BOOK GIVEAWAYS THIS WEEK
Flight Season: A Novel
by Marie Marquardt
Hardcover Giveaway

U.S. Only
Wednesday Books
Released 2/20/2018
Back when they were still strangers, TJ Carvalho witnessed the only moment in Vivi Flannigan's life when she lost control entirely. Now, TJ can't seem to erase that moment from his mind, no matter how hard he tries. Vivi doesn't remember any of it, but she's determined to leave it far behind. And she will.
But when Vivi returns home from her first year away at college, her big plans and TJ's ambition to become a nurse land them both on the heart ward of a university hospital, facing them with a long and painful summer together – three months of glorified babysitting for Ángel, the problem patient on the hall. Sure, Ángel may be suffering from a life-threatening heart infection, but that doesn't make him any less of a pain.
As it turns out, though, Ángel Solís has a thing or two to teach them about all those big plans, and the incredible moments when love gets in their way.
Written in alternating first person from the perspectives of all three characters, Flight Season is a story about discovering what's really worth holding onto, learning how to let go of the rest, and that one crazy summer that changes your life forever.
Author Question: What is your favorite thing about Flight Season: A Novel?
I adore Ángel, one of the point-of-view characters in the story. He's sick with a major heart condition, but he never lets himself be treated as a victim. He's also funny and self-deprecating, and he consistently sees the best in other people. If offered the chance, I'd probably give him my own heart.
Purchase Flight Season: A Novel at Amazon
Purchase Flight Season: A Novel at IndieBound
View Flight Season: A Novel on Goodreads
* * * *
Hooper
by Geoff Herbach
Hardcover Giveaway

U.S. Only
Katherine Tegen Books
Released 2/20/2018
For Adam Reed, basketball is a passport. Adam's basketball skills have taken him from an orphanage in Poland to a loving adoptive mother in Minnesota. When he's tapped to play on a select AAU team along with some of the best players in the state, it just confirms that basketball is his ticket to the good life: to new friendships, to the girl of his dreams, to a better future.
But life is more complicated off the court. When an incident with the police threatens to break apart the bonds Adam's finally formed after a lifetime of struggle, he must make an impossible choice between his new family and the sport that's given him everything.
Author Question: What is your favorite thing about Hooper?
A couple of things. First, I really love basketball, but am a short guy, much better suited to soccer or football. Writing HOOPER gave me the opportunity to imagine, for a full year, what it would be like to be legitimately tall and legitimately good at this game I've actually spent a substantial amount of time studying. It was fun to write the game play, to base it on things I'd seen watching the sport, but getting right in there with my eyes. Second, I got to couple basketball with imagining what it would be like to be my maternal grandfather and my dad. They both immigrated to the U.S as school-aged kids (Grandpa from Eastern Europe, around the age of 12 and my dad at 18 -- he'd actually escaped Nazi Europe as a small child and came to the U.S. from Brazil). My Grandpa, in particular, struggled with English and was frustrated by it in school. But, both of them were eventually embraced by America and they embraced it back. I got to imagine how it would be to show up at a very different time in our history. The whole thing was this tremendously enriching experience. Thanks for asking.
Purchase Hooper at Amazon
Purchase Hooper at IndieBound
View Hooper on Goodreads
* * * *
Blood of a Thousand Stars
by Rhoda Belleza
Hardcover Giveaway
Razorbill
Released 2/20/2018
War tears the galaxy apart, power tests the limits of family, and violence gives way to freedom in this exhilarating sequel to Empress of a Thousand Skies.
Empress
With a revolution brewing, Rhee is faced with a choice: make a deal with her enemy, Nero, or denounce him and risk losing her crown.
Fugitive
Framed assassin Alyosha has one goal in mind: kill Nero. But to get his revenge, Aly may have to travel back to the very place he thought he'd left forever—home.
Princess
Kara knows that a single piece of technology located on the uninhabitable planet Wraeta may be the key to remembering—and erasing—the princess she once was.
Madman
Villainous media star Nero is out for blood, and he'll go to any means necessary to control the galaxy.
Vicious politics and high-stakes action culminate in an epic showdown that will determine the fate of the universe.
Purchase Blood of a Thousand Stars at Amazon
Purchase Blood of a Thousand Stars at IndieBound
View Blood of a Thousand Stars on Goodreads
YA BOOK GIVEAWAYS LAST WEEK: WINNERS
Break Us by Jennifer Brown:
Michelle M.
Honor Among Thieves by Rachel Caine and Ann Aguirre:
Rosi H.
Nexus by Deborah Biancotti and Margo Lanagan and Scott Westerfeld:
Catherine C.
Prettyboy Must Die by Kimberly Reid:
Kate F.
The Precious Dreadful: A Novel by Steven Parlato:
Taffy L.
MORE YOUNG ADULT FICTION IN STORES NEXT WEEK WITH AUTHOR INTERVIEWS
Ink, Iron, and Glass
by Gwendolyn Clare
Hardcover
Imprint
Released 2/20/2018
Can she write a world gone wrong?
A certain pen, a certain book, and a certain person can craft entirely new worlds through a branch of science called scriptology. Elsa comes from one such world that was written into creation by her mother―a noted scriptologist.
But when her home is attacked and her mother kidnapped, Elsa is forced to cross into the real world and use her own scriptology gifts to find her. In an alternative Victorian Italy, Elsa finds a secret society of pazzerellones―young people with a gift for mechanics, alchemy, or scriptology―and meets Leo, a gorgeous mechanist with a smart mouth and tragic past. She recruits the help of these fellow geniuses just as an assassin arrives on their doorstep.
In this thrilling debut, worlds collide as Elsa unveils a deep political conspiracy seeking to unlock the most dangerous weapon ever created―and only she can stop it.
Author Question: What is your favorite thing about Ink, Iron, and Glass?
As much as I love all the action and steampunk tech... the protagonist, Elsa, is nearest and dearest to my heart. She's prickly and awkward and too smart for her own good -- and probably the most similar to teenage-Gwen of all the characters I've ever written.
Purchase Ink, Iron, and Glass at Amazon
Purchase Ink, Iron, and Glass at IndieBound
View Ink, Iron, and Glass on Goodreads
* * * *
What the Night Sings
by Vesper Stamper
Hardcover
Knopf Books for Young Readers
Released 2/20/2018
After losing her family and everything she knew in the Nazi concentration camps, Gerta is finally liberated, only to find herself completely alone. Without her Papa, her music, or even her true identity, she must move past the task of surviving and onto living her life. In the displaced persons camp where she is staying, Gerta meets Lev, a fellow teen survivor who she just might be falling for, despite her feelings for someone else. With a newfound Jewish identity she never knew she had, and a return to the life of music she thought she lost forever, Gerta must choose how to build a new future.
Author Question: What is your favorite thing about What the Night Sings?
My favorite thing about What the Night Sings has been my publisher's boldness in breaking unwritten rules with the book's format. My designers, Stephanie Moss and Alison Impey, did such a beautiful job on the package. You've got to hold it in your hands. It's so elegant.

Illustrators have long desired to find more long-format opportunities, in addition to picture books, to tell their visual narratives. Knopf believed in my vision of readdressing how we traditionally view Holocaust-related imagery. We were able to explore the history in new ways through the illustrations, while still paying homage to the treasure of archived visual evidence of the Holocaust.
Purchase What the Night Sings at Amazon
Purchase What the Night Sings at IndieBound
View What the Night Sings on Goodreads
MORE YOUNG ADULT NOVELS NEW IN STORES NEXT WEEK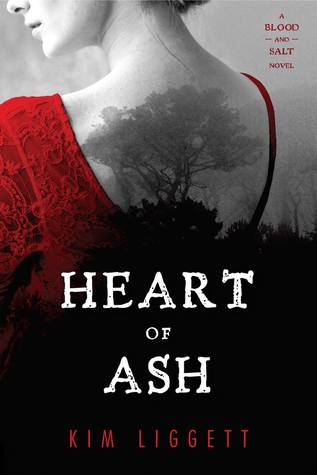 Heart of Ash
by Kim Liggett
Hardcover
G.P. Putnam's Sons Books for Young Readers
Released 2/20/2018
Ash may have escaped the immortal-worshipping cult that killed her mother, but the love of her life is still under its thrall. Dane has been possessed by his diabolical ancestor Coronado, a man who's fabulously wealthy, dripping with fame, and the leader of Europe's most dangerous immortal network. Dane begs Ash to join him at Coronado's castle in Spain, and swears that his blood bond with Ash is stronger than Coronado's hold over him. Ash is desperate to help Dane vanquish Coronado without having to sacrifice herself to the darkness. But when you're all in, blood and salt, the only way to hold on to the light might just be by setting everything on fire.
Purchase Heart of Ash at Amazon
Purchase Heart of Ash at IndieBound
View Heart of Ash on Goodreads
* * * *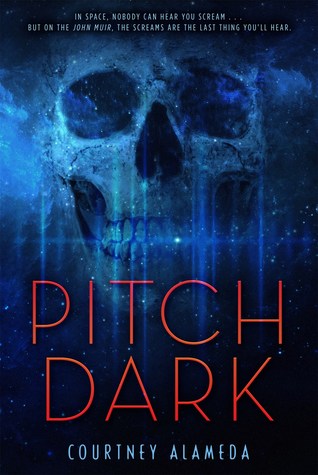 Pitch Dark
by Courtney Alameda
Hardcover
Feiwel & Friends
Released 2/20/2018
Lost to time, Tuck Morgan and his crew have slept in stasis aboard the USS John Muir for centuries. Their ship harbors a chunk of Earth, which unbeknownst to them, is the last hope for the failing human race.
Laura Cruz is a shipraider searching the galaxy for the history that was scattered to the stars. Once her family locates the John Muir and its precious cargo, they are certain human civilization is saved.
When Tuck's and Laura's worlds collide―literally―the two teens must outwit their enemies, evade brutal monsters that kill with sound, and work together to save the John Muir . . . and the whole human race.
Purchase Pitch Dark at Amazon
Purchase Pitch Dark at IndieBound
View Pitch Dark on Goodreads