Happy Reading,
Shelly, Halli, Jocelyn, Martina, Erin, Susan, Kelly, Laura, Emily, Anisaa, and Lori Ann
YA BOOK GIVEAWAYS THIS WEEK
* * * *
Honor Among Thieves
by Rachel Caine and Ann Aguirre
Signed Hardcover Giveaway

U.S. Only
Katherine Tegen Books
Released 2/13/2018
Petty criminal Zara Cole has a painful past that's made her stronger than most, which is why she chose life in New Detroit instead moving with her family to Mars. In her eyes, living inside a dome isn't much better than a prison cell.
Still, when Zara commits a crime that has her running scared, jail might be exactly where she's headed. Instead Zara is recruited into the Honors, an elite team of humans selected by the Leviathan—a race of sentient alien ships—to explore the outer reaches of the universe as their passengers.
Zara seizes the chance to flee Earth's dangers, but when she meets Nadim, the alien ship she's assigned, Zara starts to feel at home for the first time. But nothing could have prepared her for the dark, ominous truths that lurk behind the alluring glitter of starlight.
Author Question: What is your favorite thing about Honor Among Thieves?
RACHEL: My favorite thing about HONOR AMONG THIEVES is that it's just so a wildly unlikely project ... it started as a conversation on Twitter between Ann and me, and then spiraled very quickly into a serious proposal, and then into a real book. I mean, we pitched a book about a young woman in love with an intelligent spaceship! That's pretty unlikely, and yet, here we are.

Though I have to admit, my ALSO favorite thing is that we were able to talk about the transcendental nature of love while also shooting space guns and meeting tentacled aliens. That's a pretty sweet deal.

ANN: I love how different it is and how free we were to write whatever we wanted, the wildest story we could imagine, and we filled this book with all our favorite things. I'd like to get more specific but that would edge us toward spoiler territory.
Purchase Honor Among Thieves at Amazon
Purchase Honor Among Thieves at IndieBound
View Honor Among Thieves on Goodreads
* * * *
Break Us
by Jennifer Brown
Hardcover Giveaway

U.S. Only
Katherine Tegen Books
Released 2/13/2018
Nikki Kill doesn't see the world in black and white. Her synesthesia shades everything in view, transforming numbers, words, and emotions into colorful clues. Which means she's a dangerous commodity to anyone with something to hide.
Nikki has already taken on the Hollises—one of L.A.'s most powerful families—for murdering her half sister, Peyton. However, Nikki's next steps are clouded by the gray of uncertainty. Before she knows it, Nikki is on the trail of a cold case that couldn't be any more personal—the death of her mother.
But when the web of lies and secrets she uncovers leads back to the people who have tried to silence her, Nikki must pursue the sunbeam gold of justice, or everything—including her life—will be lost.
Author Question: What is your favorite thing about Break Us?
What I love most about BREAK US is Nikki's transformation. She's learned a lot about the world and about herself over the course of this crazy adventure. She's had to take a good, hard look at who she is, and what she wants out of life. I enjoyed watching her piece together a future that works for her. You can literally see her transformation in the progression of covers, too, which I think is pretty cool. On the cover of SHADE ME, she is a little disheveled and wild, eyes shut to her surroundings. On DARE YOU, she's got a much more introspective look—but it's a determined introspection. The cover of BREAK US reveals a new Nikki, eyes open and resolved almost as if she's challenging the world to just try and bring her down. And, in fact, she is.
Purchase Break Us at Amazon
Purchase Break Us at IndieBound
View Break Us on Goodreads
* * * *
Prettyboy Must Die
by Kimberly Reid
Hardcover Giveaway

U.S. Only
Tor Teen
Released 2/13/2018
A CIA prodigy's cover is blown when he accidentally becomes an internet sensation in #Prettyboy Must Die, Kimberly Reid's fun, fast thriller inspired by the #Alexfromtarget story.
When Peter Smith's classmate snaps a picture of him during a late night run at the track, Peter thinks he might be in trouble. When she posts that photo―along with the caption, "See the Pretty Boy Run,"―Peter knows he's in trouble. But when hostiles drop through the ceiling of his 6th period Chem Class, Peter's pretty sure his trouble just became a national emergency.
Because he's not really Peter Smith. He's Jake Morrow, former foster-kid turned CIA operative. After a massive screw-up on his first mission, he's on a pity assignment, a dozen hit lists and now, social media, apparently. As #Prettboy, of all freaking things.
His cover's blown, his school's under siege, and if he screws up now, #Prettyboy will become #Deadboy faster than you can say, 'fifteen minutes of fame.' Trapped in a high school with rabid killers and rabid fans, he'll need all his training and then some to save his job, his school and, oh yeah, his life.
Author Question: What is your favorite thing about Prettyboy Must Die?
It was a fun story to write because it helped me accomplish a few long-held writing goals. My past books were hybrid mystery-thrillers but I've always wanted to write a straight-up thriller and PRETTYBOY is like DIE HARD in a high school. I've always wanted to write a male protagonist where the boy is the star and not the love interest or antagonist to my main characters. Writing a male lead stretched me because I tried to think from a male point of view as far as how he'd approach a problem, how he handles emotion or experiences the world. The other writing goal I had was to finally use my educational background in a story, and a spy thriller was the perfect vehicle. No, I didn't go to spy school, but I did get a master's degree in national security policy. I'm too danger-averse to be a spy, but I wanted to be the one who analyzed the data that spies gather and then make policy decisions. Actually, I wanted to be Secretary of Defense, but that didn't work out. I'm pretty certain I landed the better job—writing about spies instead of being one—which is more fun and definitely less stressful.
Purchase Prettyboy Must Die at Amazon
Purchase Prettyboy Must Die at IndieBound
View Prettyboy Must Die on Goodreads
* * * *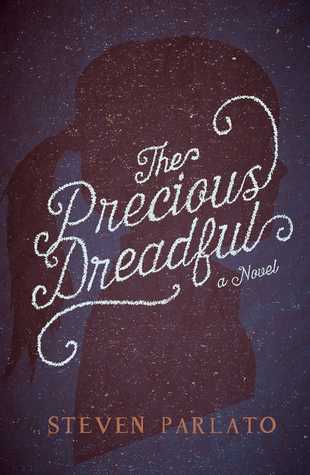 The Precious Dreadful: A Novel
by Steven Parlato
Hardcover Giveaway

U.S. Only
Simon Pulse
Released 2/13/2018
Combining romance and humor with elements of the paranormal, this is a profound novel about one teenage girl's decision to redefine her life in the wake of supernatural events.
Teddi Alder is just trying to figure out her life.
When she joins SUMMERTEENS, a library writing group, she's only looking to keep herself busy, not go digging around in her subconscious. But as she writes, disturbing memories of her lost childhood friend Corey bubble to the surface, and Teddi begins to question everything: her friendship with her BFF Willa, how much her mom really knows, and even her own memories. Teddi fears she's losing her grip on reality—as evidenced by that mysterious ghost-girl who emerges from the park pool one night, the one who won't leave Teddi alone. To top it all off, she finds herself juggling two guys with potential, a quirky new boy named Joy and her handsome barista crush Aidan, who has some issues of his own.
As the summer unfolds, Teddi is determined to get to the bottom of everything—her feelings, the mysterious ghost-girl, and the memories of Corey that refuse to be ignored.
Author Question: What is your favorite thing about The Precious Dreadful: A Novel?
Wow, I am generally terrible at favorites. For example, when pressed, I'm only able to narrow down my "favorite" foods to pizza, chicken korma, and anything chocolate. But I'll give it a shot, if you'll allow me a "these are a few of my favorite things" moment.

My protagonist, Teddi Alder, is a young woman with spirit and sarcasm to spare. I love these things about her. She is gutsy in ways I never could be. Another favorite thing about the book is the general awkwardness of Teddi's romantic entanglements. There's a sweetness there, a fumbling quality I think readers will relate with--regardless of age. Teddi also has an adorable (though sometimes cynical) sidekick, a long-suffering cockapoo named Binks. He's modeled on our family pet, Austin, who is an absolute fave. And I have great affection for most all of the supporting characters (Eli excepted), each of them layered with flaws. Oh, I also really like that THE PRECIOUS DREADFUL weaves in seemingly disparate elements: humor, tragedy, a ghostly presence, mystery, substance abuse, romance, and social justice. It's kind of like life in that way, not just one thing happening at a time. Oh, and there are giraffes. Gotta love giraffes.
Purchase The Precious Dreadful: A Novel at Amazon
Purchase The Precious Dreadful: A Novel at IndieBound
View The Precious Dreadful: A Novel on Goodreads
* * * *
Nexus
by Deborah Biancotti and Margo Lanagan and Scott Westerfeld
Hardcover Giveaway

U.S. Only
Simon Pulse
Released 2/13/2018
X-Men meets Heroes when New York Times bestselling author Scott Westerfeld teams up with award-winning authors Margo Lanagan and Deborah Biancotti in the final book of an explosive trilogy about a group of teens with amazing abilities.
After the shocking conclusion to Swarm, the zeroes are scattered, on the run, and desperate. They're up against challenges from within and from the world around them, and one thing is certain—an epic showdown is guaranteed.
Purchase Nexus at Amazon
Purchase Nexus at IndieBound
View Nexus on Goodreads
YA BOOK GIVEAWAYS LAST WEEK: WINNERS
American Panda by Gloria Chao:
Michelle T.
Assassin of Truths by Brenda Drake:
Megan K.
Fade to Us by Julia Day:
Megan C.
The Apocalypse of Elena Mendoza by Shaun David Hutchinson:
Kaitlyn W.
The Last to Let Go by Amber Smith:
Danielle H.
The Queen's Rising by Rebecca Ross:
Courtney W.
Your One & Only by Adrianne Finlay:
Alisha S.
MORE YOUNG ADULT FICTION IN STORES NEXT WEEK WITH AUTHOR INTERVIEWS
* * * *
Hunger: A Tale of Courage
by Donna Jo Napoli
Hardcover
Simon & Schuster/Paula Wiseman Books
Released 2/13/2018
Through the eyes of twelve-year-old Lorraine this haunting novel from the award-winning author of Hidden and Hush gives insight and understanding into a little known part of history—the Irish potato famine.
It is the autumn of 1846 in Ireland. Lorraine and her brother are waiting for the time to pick the potato crop on their family farm leased from an English landowner. But this year is different—the spuds are mushy and ruined. What will Lorraine and her family do?
Then Lorraine meets Miss Susannah, the daughter of the wealthy English landowner who owns Lorraine's family's farm, and the girls form an unlikely friendship that they must keep a secret from everyone. Two different cultures come together in a deserted Irish meadow. And Lorraine has one question: how can she help her family survive?
A little known part of history, the Irish potato famine altered history forever and caused a great immigration in the later part of the 1800s. Lorraine's story is a heartbreaking and ultimately redemptive story of one girl's strength and resolve to save herself and her family against all odds.
Author Question: What is your favorite thing about Hunger: A Tale of Courage?
I love the way the children are resourceful in trying to handle their problems. They don't just accept their situation, like waiting victims. They do what they can, even if what they can do is simply within their heads. Finding a way to address your troubles can allow you peace, regardless of whether it effects external change in your life.
Purchase Hunger: A Tale of Courage at Amazon
Purchase Hunger: A Tale of Courage at IndieBound
View Hunger: A Tale of Courage on Goodreads
* * * *
Sightwitch: A Tale of the Witchlands
by Susan Dennard
Hardcover
Tor Teen
Released 2/13/2018
Set a year before
Truthwitch
,
Sightwitch
follows Ryber Fortiza, the last Sightwitch Sister as she treks deep underground to rescue her missing best friend. While there, she encounters a young Nubrevnan named Kullen Ikray, who has no memory of who he is or how he wound up inside the mountain. As the two journey ever deeper in search of answers, and as they brave one close call after another, a tentative friendship forms between them—one that might one day grow into something more.
Sightwitch
is told through Ryber's journal entries and her sketches, as well as through supplementary materials (such as other journals, pieces of songs, clippings from history books, flashbacks, etc.). Though meant as a companion novella, this story serves as a set up to
Bloodwitch
as well as an expansion of the world.
Author Question: What is your favorite thing about Sightwitch: A Tale of the Witchlands?
My favorite thing about SIGHTWITCH is the format -- the story is told through different journals, world documents, sketches, maps, and beyond. It was such a surprise for me, when the story came out that way. I had first started trying to write SIGHTWITCH 4 years ago -- prior to the release of TRUTHWITCH, in fact. I wanted to self-publish it to help launch the Witchlands series, but alas, the story simply would not come. Months and months of failed attempts, of hitting walls, and of just not connecting to Ryber's voice. Eventually, I threw in the towel, and that was that.

Fast forward 3 years, and my publisher was like, "Remember that thing you tried to write? Any chance you'd be willing to try again? We'd love to publish it!" I'll admit, I was super wary at first (since I had struggled so much the first time around!), so I told them, "I will try, but no promises."

Well, this time, when I sat down, the story just erupted. Not in 3rd person, like the rest of the series' books, but in first person. In journal entries! And sketches! And all these other little snippets of documents that just wanted to be stuffed into help flesh out the world and the tale unwinding. Oh, it was SO fun! And SO unexpected! But no wonder I couldn't get this book to work when I first tried writing it -- not only did I need those 3 years for the idea to simmer and grow, but I'd been coming at it all wrong.

Now, I can't wait for readers to dive into Ryber's story and this new angle of the Witchlands! While the story is technically a companion, it still has big effects on the main series as a whole and sets up a lot of what's to come in the next book, BLOODWITCH. Plus, just for fans, there are so many easter eggs that I think they'll enjoy. I sure enjoyed writing them!
Purchase Sightwitch: A Tale of the Witchlands at Amazon
Purchase Sightwitch: A Tale of the Witchlands at IndieBound
View Sightwitch: A Tale of the Witchlands on Goodreads
MORE YOUNG ADULT NOVELS NEW IN STORES NEXT WEEK
* * * *
Active Memory
by Dan Wells
Hardcover
Balzer + Bray
Released 2/13/2018
For all the mysteries teen hacker Marisa Carneseca has solved, there has been one that has always eluded her: the truth behind the car accident in which she lost her arm and a mob boss' wife, Zenaida de Maldonado, lost her life. Even in a world where technology exists to connect everyone's mind to one another, it would seem that some secrets can still remain hidden. Those secrets rise violently to the surface, however, when Zenaida de Maldonado's freshly severed hand shows up at the scene of a gangland shooting. If Zenaida is—or was—still alive, it means there's even more about Marisa's past that she doesn't know. And when she and her friends start digging, they uncover a conspiracy that runs from the slums of Los Angeles to the very top of the world's most powerful genetic engineering firm. If Mari wants the truth, she's going to have to go through genetically enhanced agents, irritatingly attractive mob scions, and some bad relationships to get it. Dan Wells's widely acclaimed series continues with his most shocking, pulse-pounding, and visionary story yet.
Purchase Active Memory at Amazon
Purchase Active Memory at IndieBound
View Active Memory on Goodreads
* * * *
Between the Lines
by Nikki Grimes
Hardcover
Nancy Paulsen Books
Released 2/13/2018
Darrian dreams of writing for the New York Times. To hone his skills and learn more about the power of words, he enrolls in Mr. Ward's class, known for its open-mic poetry readings and boys vs. girls poetry slam. Everyone in class has something important to say, and in sharing their poetry, they learn that they all face challenges and have a story to tell--whether it's about health problems, aging out of foster care, being bullied for religious beliefs, or having to take on too much responsibility because of an addicted parent. As Darrian and his classmates get to know one another through poetry, they bond over the shared experiences and truth that emerge from their writing, despite their private struggles and outward differences.
Purchase Between the Lines at Amazon
Purchase Between the Lines at IndieBound
View Between the Lines on Goodreads
* * * *
Don't Forget Me: A Novel
by Victoria Stevens
Hardcover
Farrar, Straus and Giroux
Released 2/13/2018
Seventeen-year-old Hazel Clarke is no stranger to heartbreaks, and being sent to live with a father she's never met is the latest in a string of them. Even the beauty of eastern Australia isn't enough to take her mind off of her mother, who suffers from early-onset Alzheimer's and is living in a nursing home in England. But when Hazel meets the friendly, kindhearted Red and his elusive twin, Luca, she begins the slow process of piecing together a new life―and realizes she isn't the only one struggling with grief. As friendships deepen and love finds its way in, Hazel also learns that when you truly love someone, they are never really gone. Don't Forget Me is Victoria Stevens's sparkling debut, and a touching testament to coming of age, falling in love, and finding home in unlikely places.
Purchase Don't Forget Me: A Novel at Amazon
Purchase Don't Forget Me: A Novel at IndieBound
View Don't Forget Me: A Novel on Goodreads
* * * *
Shatter
by Aprilynne Pike
Hardcover
Random House Books for Young Readers
Released 2/13/2018
Breaking Bad meets Marie Antoinette in a near-future world where the residents of Versailles live like it's the 1700s--this sequel to Glitter by #1 New York Times bestselling author Aprilynne Pike will leave readers shocked!
Danica planned to use beauty, blackmail, and a glittering drug to control her own fate. Her escape from the twisted world of the Palace of Versailles was perfectly orchestrated and paid for. Or so she thought.
Betrayed by the man who had promised her freedom, Dani is now married to the murderous king. It's a terrifying position to be in . . . and yet it's oddly intoxicating. Power may be an even stronger drug than Glitter--a drug Dani can't resist, in the form of secrets, manipulation, and sabotage.
In her new position at the head of the court, Dani must ask herself who she really is. Can she use her newfound power to secure her real love, Saber's freedom, and a chance at a life together outside the palace? Or is being queen too addictive to give up?
Purchase Shatter at Amazon
Purchase Shatter at IndieBound
View Shatter on Goodreads
* * * *
The Defiant
by Lesley Livingston
Hardcover
Razorbill
Released 2/13/2018
The darling of the Roman Empire is in for the fight of her life in this lush sequel to the acclaimed historical fantasy The Valiant.
Be brave, gladiatrix... And be wary. Once you win Caesar's love, you'll earn his enemies' hate.
Fallon was warned.
Now she is about to pay the price for winning the love of the Roman people as Caesar's victorious gladiatrix.
In this highly anticipated sequel to THE VALIANT, Fallon and her warrior sisters find themselves thrust into a vicious conflict with a rival gladiator academy, one that will threaten not only Fallon's heart - and her love for Roman soldier Cai - but the very heart of the ancient Roman Empire.
When dark treachery and vicious power struggles threaten her hard-won freedom, the only thing that might help the girl known as Victrix save herself and her sisters is a tribe of long-forgotten mythic Amazon warriors.
The only trouble is, they might just kill her or themselves first.
Purchase The Defiant at Amazon
Purchase The Defiant at IndieBound
View The Defiant on Goodreads
* * * *
The Sweetest Kind of Fate
by Crystal Cestari
Hardcover
Disney-Hyperion
Released 2/13/2018
GREAT. I've somehow found myself tangled up with a siren, a mermaid, and a homicidal wicked witch who once tried to strangle me to death. Way to go, Amber!
Amber Sand, legendary matchmaker, couldn't be more surprised when her archnemesis, Ivy, asks for her help. Ivy's sister, Iris, is getting married, and Ivy wants to prove her sister is making a huge mistake. But as Amber looks into Iris's eyes, there doesn't seem to be a problem-Iris has clearly found her match.
It seems happily-ever-after is in the cards, but when Iris seeks out a dangerous, life-altering spell, it's up to Amber and Ivy to set aside their rivalry and save the day.
As Iris puts everything on the line for love, Amber continues to wrestle with her own romantic future. Her boyfriend, Charlie, is still destined for another, and no matter how hard she clings to him, fear over their inevitable breakup shakes her belief system to the core.
Because the Fates are never wrong-right?
Purchase The Sweetest Kind of Fate at Amazon
Purchase The Sweetest Kind of Fate at IndieBound
View The Sweetest Kind of Fate on Goodreads
* * * *
The Traitor Prince
by C.J. Redwine
Hardcover
Balzer + Bray
Released 2/13/2018
A dark epic fantasy inspired by The Prince and the Pauper and the fairy tale The False Prince, from bestselling author C.J. Redwine. A thrilling companion book in the Ravenspire series, The Traitor Prince is perfect for fans of A Court of Thorns and Roses series and The Wrath and the Dawn duology.
Javan Najafai, crown prince of Akram, has spent the last ten years at an elite boarding school, far away from his kingdom. But his eagerly awaited return home is cut short when a mysterious impostor takes his place—and no one believes Javan is the true prince.
After barely escaping the impostor's assassins, Javan is thrown into Maqbara, the kingdom's most dangerous prison. The only way to gain an audience with the king—and reveal Javan's identity—is to fight in Maqbara's yearly tournament. But winning is much harder than facing competitions at school, and soon Javan finds himself beset not just by the terrifying creatures in the arena but also by a band of prisoners allied against him, and even by the warden herself.
The only person who can help him is Sajda, who has been enslaved by Maqbara's warden since she was a child, and whose guarded demeanor and powerful right hook keep the prisoners in check. Working with Sajda might be the only way Javan can escape alive—but she has dangerous secrets.
Together, Javan and Sajda have to outwit the vicious warden, outfight deadly creatures, and outlast the murderous prisoners intent on killing Javan. If they fail, they'll be trapped in Maqbara for good—and the secret Sajda's been hiding will bury them both.
Purchase The Traitor Prince at Amazon
Purchase The Traitor Prince at IndieBound
View The Traitor Prince on Goodreads
* * * *
When Light Left Us
by Leah Thomas
Hardcover
Bloomsbury USA Childrens
Released 2/13/2018
When the Vasquez siblings' father left, it seemed nothing could remedy the absence in their lives . . . until a shimmering figure named Luz appeared in the canyon behind their house.
Luz filled the void. He shot hoops with seventeen-year-old Hank's hands. He showed fourteen-year-old Ana cinematic beauty behind her eyelids. He spoke kindly to eight-year-old Milo. But then Luz left, too, and he took something from each of them. As a new school year begins, Hank, Ana, and Milo must carry on as if an alien presence never altered them. But how can they ever feel close to other people again when Luz changed everything about how they see the world and themselves?
In an imaginative and heartfelt exploration of human--and non-human--nature, Leah Thomas champions the unyielding bonds between family and true friends.
Purchase When Light Left Us at Amazon
Purchase When Light Left Us at IndieBound
View When Light Left Us on Goodreads