Happy Reading,
Shelly, Halli, Jocelyn, Martina, Erin, Susan, Kelly, Laura, Emily, Anisaa, and Lori Ann
YA BOOK GIVEAWAYS THIS WEEK
* * * *
This Is Not a Love Letter
by Kim Purcell
Hardcover Giveaway

U.S. Only
Disney-Hyperion
Released 1/30/2018
One week. That's all Jessie said. A one-week break to get some perspective before graduation, before she and her boyfriend, Chris, would have to make all the big, scary decisions about their future--decisions they had been fighting about for weeks.
Then, Chris vanishes. The police think he's run away, but Jessie doesn't believe it. Chris is popular and good-looking, about to head off to college on a full-ride baseball scholarship. And he disappeared while going for a run along the river--the same place where some boys from the rival high school beat him up just three weeks ago. Chris is one of the only black kids in a depressed paper mill town, and Jessie is terrified of what might have happened.
As the police are spurred to reluctant action, Jessie speaks up about the harassment Chris kept quiet about and the danger he could be in. But there are people in Jessie's town who don't like the story she tells, who are infuriated by the idea that a boy like Chris would be a target of violence. They smear Chris's character and Jessie begins receiving frightening threats.
Every Friday since they started dating, Chris has written Jessie a love letter. Now Jessie is writing Chris a letter of her own to tell him everything that's happening while he's gone. As Jessie searches for answers, she must face her fears, her guilt, and a past more complicated than she would like to admit.
Author Question: What is your favorite thing about This Is Not a Love Letter?
When I write, I transform into the character and become a part of the story in a deep way, so that afterward I'm surprised by what I wrote, and I'm affected in the same way as if someone else had written it. With this book, you wouldn't think this would happen, since it's based on my real experience of my friend going missing. However, when I read it, I still laugh and cry. So, I think what I like best about how this book turned out is that it resonates on an emotional level, especially what first love feels like, and how terrible it is when everything falls apart.
Purchase This Is Not a Love Letter at Amazon
Purchase This Is Not a Love Letter at IndieBound
View This Is Not a Love Letter on Goodreads
YA BOOK GIVEAWAYS LAST WEEK: WINNERS
* * * *
A Land of Permanent Goodbyes by Atia Abawi:
Anne C.
Reign of the Fallen by Sarah Glenn Marsh:
Sharon C.
MORE YOUNG ADULT NOVELS NEW IN STORES NEXT WEEK
* * * *
American Heart
by Laura Moriarty
Hardcover
HarperTeen
Released 1/30/2018
Imagine a United States in which registries and detainment camps for Muslim-Americans are a reality.
Fifteen-year-old Sarah-Mary Williams of Hannibal, Missouri, lives in this world, and though she has strong opinions on almost everything, she isn't concerned with the internments because she doesn't know any Muslims. She assumes that everything she reads and sees in the news is true, and that these plans are better for everyone's safety.
But when she happens upon Sadaf, a Muslim fugitive determined to reach freedom in Canada, Sarah-Mary at first believes she must turn her in. But Sadaf challenges Sarah-Mary's perceptions of right and wrong, and instead Sarah-Mary decides, with growing conviction, to do all she can to help Sadaf escape.
The two set off on a desperate journey, hitchhiking through the heart of an America that is at times courageous and kind, but always full of tension and danger for anyone deemed suspicious.
Purchase American Heart at Amazon
Purchase American Heart at IndieBound
View American Heart on Goodreads
* * * *
It Should Have Been You
by Lynn Slaughter
Hardcover
Page Street Kids
Released 1/30/2018
A cyberstalked high-school advice columnist takes matters into her own hands to discover the secrets behind her twin sister's murder in this intense and compelling mystery thriller.
Seventeen-year-old Clara Seibert ghostwrites an advice column for her school's newspaper. She's funny, feisty, and cares deeply about making a difference in people's lives, but her own personal problems threaten to overwhelm her. Five months ago, her twin, Moura, was murdered.
Soon threatening emails start to arrive at her staff inbox. Convinced that her email stalker blames Clara for her sister's death and is out for revenge, she decides to undertake her own investigation. Can she solve the murder in time to save herself?
This suspenseful page-turner about a complicated sibling relationship is perfect for fans of We Were Liars, Fangirl, I'll Give You the Sun, and Vanishing Girls. Secrets, lies, brilliantly crafted twists and turns, and a dual mystery will keep readers in suspense until the very last page.
Although primarily a whodunit, this novel also focuses on important social themes high-school teens face. Lynn blends a page-turning mystery thriller with sweet romance and demonstrates the very real effects of grief, rivalry, sexuality, dating violence, and bullying on today's youth. Clara is believable, relatable, smart, snarky, brave, and conscientious. Her strong teen voice will resonate with a wide audience, and she is a perfect role model for teens who are dealing with similar social issues.
Purchase It Should Have Been You at Amazon
Purchase It Should Have Been You at IndieBound
View It Should Have Been You on Goodreads
* * * *
Purple Hearts
by Michael Grant
Hardcover
Katherine Tegen Books
Released 1/30/2018
The gritty and powerful conclusion to New York Times bestselling author Michael Grant's epic alternate history series follows the young women American soldiers as D-day approaches during the final days of World War II.
Courage, sacrifice, and fear have led Rio, Frangie, and Rainy through the front line battles in North Africa and Sicily, and their missions are not over. These soldiers and thousands of Allies must fight their deadliest battle yet—for their country and their lives—as they descend into the freezing water and onto the treacherous sands of Omaha Beach. It is June 6, 1944. D-day has arrived.
None of these women are the same naïve recruits they were when the war started. They are Silver Star recipients and battle-hardened now as they traverse the dangerous bocage country and find their way out of the forests of Hürtgen and the Eifel. Others look to them for guidance and confidence, but this is a war that will leave 60 million dead. Flesh will turn to charcoal. Piles will be made of torn limbs. The women must lead through the devastating concentration camps of Buchenwald and Dachau while attempting to hold on to their own last shreds of belief in humanity.
In this powerful conclusion to the Front Lines series, New York Times bestselling author Michael Grant vividly evokes the gritty, brutal truth of World War II: War is hell.
Purchase Purple Hearts at Amazon
Purchase Purple Hearts at IndieBound
View Purple Hearts on Goodreads
* * * *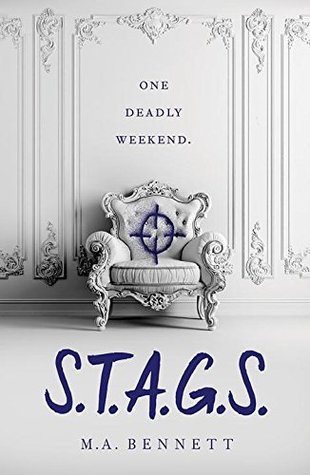 S.T.A.G.S.
by M. A. Bennett
Hardcover
Delacorte Press
Released 1/30/2018
Nine students. Three bloodsports. One deadly weekend.
It is the autumn term and Greer MacDonald is struggling to settle into the sixth form at the exclusive St. Aidan the Great boarding school, known to its privileged pupils as S.T.A.G.S. Just when she despairs of making friends Greer receives a mysterious invitation with three words embossed upon on it: huntin' shootin' fishin'. When Greer learns that the invitation is to spend the half term weekend at the country manor of Henry de Warlencourt, the most popular and wealthy boy at S.T.A.G.S., she is as surprised as she is flattered.
But when Greer joins the other chosen few at the ancient and sprawling Longcross Hall, she realises that Henry's parents are not at home; the only adults present are a cohort of eerily compliant servants. The students are at the mercy of their capricious host, and, over the next three days, as the three bloodsports - hunting, shooting and fishing - become increasingly dark and twisted, Greer comes to the horrifying realization that those being hunted are not wild game, but the very misfits Henry has brought with him from school...
Purchase S.T.A.G.S. at Amazon
Purchase S.T.A.G.S. at IndieBound
View S.T.A.G.S. on Goodreads
* * * *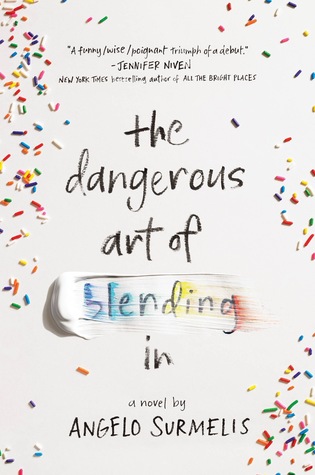 The Dangerous Art of Blending In
by Angelo Surmelis
Hardcover
Balzer + Bray
Released 1/30/2018
Seventeen-year-old Evan Panos doesn't know where he fits in. His strict Greek mother refuses to see him as anything but a disappointment. His quiet, workaholic father is a staunch believer in avoiding any kind of conflict. And his best friend Henry has somehow become distractingly attractive over the summer.
Tired, isolated, scared—Evan's only escape is drawing in an abandoned church that feels as lonely as he is. And, yes, he kissed one guy over the summer. But it's his best friend Henry who's now proving to be irresistible. It's Henry who suddenly seems interested in being more than friends. And it's Henry who makes him believe that he's more than his mother's harsh words and terrifying abuse. But as things with Henry heat up, and his mother's abuse escalates, Evan has to decide how to find his voice in a world where he has survived so long by avoiding attention at all costs.
Purchase The Dangerous Art of Blending In at Amazon
Purchase The Dangerous Art of Blending In at IndieBound
View The Dangerous Art of Blending In on Goodreads
* * * *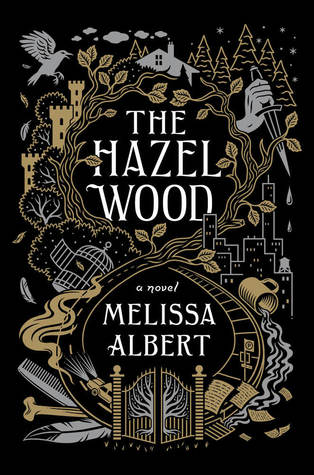 The Hazel Wood: A Novel
by Melissa Albert
Hardcover
Flatiron Books
Released 1/30/2018
Seventeen-year-old Alice and her mother have spent most of Alice's life on the road, always a step ahead of the uncanny bad luck biting at their heels. But when Alice's grandmother, the reclusive author of a cult-classic book of pitch-dark fairy tales, dies alone on her estate, the Hazel Wood, Alice learns how bad her luck can really get: Her mother is stolen away?by a figure who claims to come from the Hinterland, the cruel supernatural world where her grandmother's stories are set. Alice's only lead is the message her mother left behind: "Stay away from the Hazel Wood."
Alice has long steered clear of her grandmother's cultish fans. But now she has no choice but to ally with classmate Ellery Finch, a Hinterland superfan who may have his own reasons for wanting to help her. To retrieve her mother, Alice must venture first to the Hazel Wood, then into the world where her grandmother's tales began?and where she might find out how her own story went so wrong.
Purchase The Hazel Wood: A Novel at Amazon
Purchase The Hazel Wood: A Novel at IndieBound
View The Hazel Wood: A Novel on Goodreads
* * * *
Winner Take All
by Laurie Devore
Hardcover
Imprint
Released 1/30/2018
For Nell Becker, life is a competition she needs to win.
For Jackson Hart, everyone is a pawn in his own game.
They both have everything to lose.
Nell wants to succeed at everything—school, sports, life. And victory is sweeter when it means beating Jackson Hart, the rich, privileged, undisputed king of Cedar Woods Prep Academy. Yet no matter how hard she tries, Jackson is somehow one step ahead. They're a match made in hell, but opposites do attract.
Drawn to each other by their rivalry, Nell and Jackson fall into a whirlwind romance that consumes everything in their lives. But when a devastating secret exposes their relationship as just another game, how far will Nell go to win?
Visceral and whip-smart, Laurie Devore's Winner Take All paints an unflinching portrait of obsessive love, toxic competition, and the drive for perfection.
Purchase Winner Take All at Amazon
Purchase Winner Take All at IndieBound
View Winner Take All on Goodreads