Happy Monday! This is the last new releases post of the year, can you believe it? It's been another great year for new books and I can't wait to end the year by spotlighting another few releases. On behalf of everyone at Adventures in YA Publishing, I'd like to wish you all a wonderful holiday season and a great new year. But don't forget to check out the awesome books being released this week while you're here!
Happy Reading,
Shelly, Sam, Jocelyn, Martina, Erin, Susan, Kelly, Laura, Emily, Anisaa, and Lori Ann
YA BOOK GIVEAWAYS LAST WEEK: WINNER
Here, There, Everywhere by Julia Durango:
Camille S.
MORE YOUNG ADULT NOVELS NEW IN STORES NEXT WEEK
* * * *
Before Now
by Norah Olson
Hardcover
Katherine Tegen Books
Released 12/26/2017
A harrowing and heartbreaking teen romance expertly told with a reverse timeline,
Before Now
is another emotionally charged novel from suspense author Norah Olson about a young couple who runs headlong into tragedy while trying to escape their complicated pasts.
The odds were against them, but somehow aspiring astronomer Atty and her troubled boyfriend, Cole, managed to escape their old lives in the rough neighborhoods of Minneapolis and the judgmental eyes of their parents, who couldn't see that Atty and Cole were meant to be. But they don't get away clean. Eventually the mistakes and betrayals from their pasts catch up to them. Atty is lying about why Cole is being hounded by the cops and Cole won't go quietly to jail—or anywhere without Atty. Then the unthinkable becomes reality and the future is instantly unwritten.
Through Atty's journal, all the intimate details of her tragic romance with Cole unfold from finish to start, including the mystery of what brought them together—and tore them apart.
Purchase Before Now at Amazon
Purchase Before Now at IndieBound
View Before Now on Goodreads
* * * *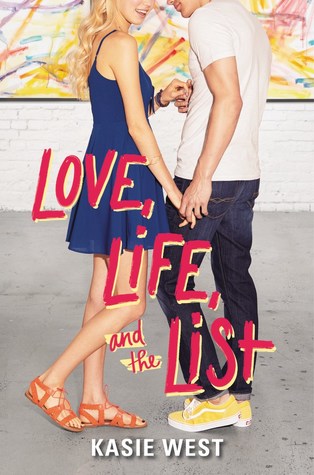 Love, Life and the List
by Kasie West
Hardcover
HarperTeen
Released 12/26/2017
Everyone knows Abby Turner is in love with her best friend, Cooper Wells. Including Cooper Wells. But despite what people tell her, it doesn't affect their friendship. And she's practically over it, anyway. What she really can't get over is when her boss at the local museum tells her that her paintings lack heart.
Art is Abby's passion and she hopes her future as well. She is determined to change his mind and earn her way into the upcoming exhibit at the gallery. So along with her family's help, she compiles "The Heart List," a series of soulstretching experiences that are sure to make her a deeper person and better artist in six weeks or less. When Cooper decides to complete the list along with her, she realizes this list is expanding her heart in more ways than one. Maybe she needs to start another project.
Love, Life, and the List is about a girl who, in an effort to bring more emotional depth to her art, compiles a list of soul-stretching experiences to complete with her best friend—a boy she also happens to be in love with.
This is the first in a set of three standalone books with crossover characters.
Purchase Love, Life and the List at Amazon
Purchase Love, Life and the List at IndieBound
View Love, Life and the List on Goodreads
* * * *
The Mind Virus
by Donna Freitas
Hardcover
HarperTeen
Released 12/26/2017
Skylar Cruz's heart is shattered. But even though everyone has betrayed her, Skylar was able to negotiate a way to open the door between the Real World and the App World. Now Skylar must help the people who left the virtual world behind as they become refugees in the Real World.
And for everyone who remained plugged in, a new danger has become evident. Their bodies are mysteriously dying, and it's because of events Skylar's sister, Jude, set in motion. A virus has been unleashed that could mean total extinction of the App World—and everyone in it.
Skylar and Jude must set aside their differences and work together if they are to defeat the mind virus before the App World fades away into oblivion.
Purchase The Mind Virus at Amazon
Purchase The Mind Virus at IndieBound
View The Mind Virus on Goodreads