Happy Monday! We hope our American readers had a lovely Thanksgiving weekend. We're grateful to have another round of giveaways up for grabs. Make sure to enter to win below, and check out the other awesome books being released this week!
Happy Reading,
Shelly, Sam, Jocelyn, Martina, Erin, Susan, Kelly, Laura, Emily, Anisaa, and Lori Ann
YA BOOK GIVEAWAYS THIS WEEK
R.I.P. Eliza Hart
by Alyssa B. Sheinmel
Hardcover Giveaway

U.S. Only
Scholastic Press
Released 11/28/2017
When Eliza Hart, the most popular girl at Ventana Ranch boarding school, is found dead on the cliffs outside her dormitory, Ellie Sokoloff is determined to figure out what happened to her. After all, Eliza was Ellie's childhood best friend.
Never mind that ever since Ellie arrived at school Eliza has spread terrible rumors about her, calling her a liar and a stalker, when all Ellie wanted to do was rekindle their old friendship. Or that Ellie's claustrophobia limits where she can go and what she can do. Or that Ellie's suitemate, Sam, is the only one who will help her . . . because to everyone else, Ellie looks like the top suspect.
Can Ellie clear her name and solve the mystery behind Eliza's death? Her hunt for the truth will uncover secrets she never imagined, sending her deep into her own memories of her childhood with Eliza Hart.
New York Times bestselling author Alyssa Sheinmel delivers a gripping mystery and a sensitive and moving examination of the secrets that can hold us back—and even destroy us.
Author Question: What is your favorite thing about R.I.P. Eliza Hart?
I have two favorite things—the two narrators, Eliza Hart and Ellie Sokoloff. I love each of these characters, and it was such an exciting challenge for me as a writer to try to create two distinct voices. My goal was that readers would be able to tell whether they were in an Ellie or an Eliza chapter even if they'd just opened to a random page in the middle of the book—I hope I achieved it!

Oh, and one more favorite thing—I love that the story takes place in Big Sur, CA. It's my very favorite place and setting the story in Big Sur was my way of getting to spend a little bit more time there. (But I promise, my reasons for placing the story there weren't only selfish—I also thought it was the perfect setting for the story!)
Purchase R.I.P. Eliza Hart at Amazon
Purchase R.I.P. Eliza Hart at IndieBound
View R.I.P. Eliza Hart on Goodreads
* * * *
Ready to Fall: A Novel
by Marcella Pixley
Hardcover Giveaway

U.S. Only
Farrar, Straus and Giroux
Released 11/28/2017
When Max Friedman's mother dies of cancer, instead of facing his loss, Max imagines that her tumor has taken up residence in his head. It's a terrible tenant--isolating him from family, distracting him in school, and taunting him mercilessly about his manhood. With the tumor in charge, Max implodes, slipping farther and farther away from reality. Max is sent to the artsy, off-beat Baldwin School to regain his footing. He joins a group of theater misfits in a steam-punk production of
Hamlet
and slowly becomes friends with Fish, a girl with pink hair and a troubled past, and The Monk, an edgy upperclassman who refuses to let go of the things he loves. For a while, Max almost feels happy. But his tumor is always lurking in the wings--until one night it knocks him down and Max is forced to face the truth, not just about the tumor, but about how important it is to let go of the past.
Author Question: What is your favorite thing about Ready to Fall: A Novel?
I think what I like best about READY TO FALL is the complexity of the friendships that Max makes when he moves from the public high school to the progressive and wonderfully artsy Baldwin School. Max's new friends are in the theater crowd so they are a pretty quirky, alternative and demonstrative, bunch of kids (the same sorts of people I loved to spend time with when I was in high school). When all these kids are together, the scenes are filled with a fast-paced, witty banter that was really fun to write and I hope is really fun to read as well. The central metaphor of the book is also the inspiration for both the title and the book cover. "Ready To Fall," refers to the line an actor might speak directly before a trust fall, and the driving force in the narrative is that after family tragedy, Max needs to turn to his friends to learn how to trust again. Unfortunately, in order to trust, he also needs to do is learn how to let go.
Purchase Ready to Fall: A Novel at Amazon
Purchase Ready to Fall: A Novel at IndieBound
View Ready to Fall: A Novel on Goodreads
* * * *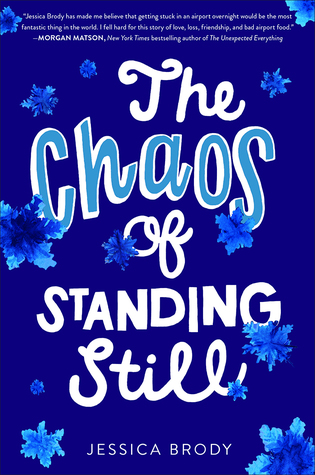 The Chaos of Standing Still
by Jessica Brody
Hardcover Giveaway

U.S. Only
Simon Pulse
Released 11/28/2017
Over the course of one chaotic night stranded at the Denver airport, Ryn confronts her shattered past thanks to the charm of romance, the uniqueness of strangers, and the magic of ordinary places in this stunning novel from the author of
Boys of Summer
.
Ryn has one unread text message on her phone. And it's been there for almost a year.
She hasn't tried to read it. She can't. She won't. Because that one message is the last thing her best friend ever said to her before she died.
But as Ryn finds herself trapped in the Denver International Airport on New Year's Eve thanks to a never-ending blizzard on the one-year anniversary of her best friend's death, fate literally runs into her.
And his name is Xander.
When the two accidentally swap phones, Ryn and Xander are thrust into the chaos of an unforgettable all-night adventure, filled with charming and mysterious strangers, a secret New Year's Eve bash, and a possible Illuminati conspiracy hidden within the Denver airport. But as the bizarre night continues, all Ryn can think about is that one unread text message. It follows her wherever she goes, because Ryn can't get her brilliantly wild and free-spirited best friend out of her head.
Ryn can't move on.
But tonight, for the first time ever, she's trying. And maybe that's a start.
As moving as it is funny,
The Chaos of Standing Still
is a heartwarming story about the earth-shattering challenges life throws at us—and the unexpected strangers who help us along the way.
Author Question: What is your favorite thing about The Chaos of Standing Still?
A dead girl named Lottie.

Perhaps, I should explain:

When I first started writing this book, I intended to write a fun rom-com about two teens who meet and fall in love while trapped in the Denver airport during a snow storm. I wanted to write a book that took place in a single location over the course of 24 hours. Could I actually make two people believably fall in love in only a day? This was my challenge to myself.

I outlined. I plotted. I planned. I started writing.

Then something interesting happened:

Suddenly, out of nowhere, this new character appeared. Her name was Lottie. She was unlike any character I'd ever written. She was vivacious. She was bubbly. She spoke her mind. She was funny. And she was very, very dead.

I had no idea what to do with that. Dead Lottie was definitely not in my original rom com outline. But once Lottie was unleashed into the story. Everything changed. It was no longer a cute, fun rom-com about a girl getting trapped in the Denver airport and falling in love (although all of that is still in there.) But it soon became so much more than that. It became a story about a girl who lost her best friend and has been unable to let her go. Literally. Lottie is trapped inside Ryn's head, still talking to her, still guiding her in death, just like she did in life.

So the story quickly morphed from a carefree, cute rom com to a rom com with this extra layer to it. A theme of unresolved grief. It's a topic I never planned to cover in this novel and never even thought I'd have the courage to explore.

But you know what they say: Writer plans. God laughs.
Purchase The Chaos of Standing Still at Amazon
Purchase The Chaos of Standing Still at IndieBound
View The Chaos of Standing Still on Goodreads
* * * *
Run Away With Me
by Mila Gray
Hardcover Giveaway
Simon Pulse
Released 11/28/2017
Emerson Lowe and popular ice-hockey player Jake McCallister have been best friends since third grade, but just as their friendship starts to morph into something more, a terrible event occurs that heralds the end of innocence for both of them. Within a week, Jake's living on the other side of the country and Emerson is left alone to pick up the pieces of her life in a small town determined to paint her as a liar.
Seven years on and Emerson is still living on the beautiful Pacific West island of Bainbridge, helping her family run their outdoor adventure company. The last thing she needs is Jake turning up, bringing with him old memories and opening up old wounds. But Jake—even better looking than Emerson remembered and on the cusp of a bright sporting future—seems determined to revive their friendship no matter how much Emerson tries to push him away and soon they're in the midst of a passionate summer romance that neither of them wants to end.
But if they're to have any kind of future, they're first going to need to confront the past, a past that most people want to stay buried.
Purchase Run Away With Me at Amazon
Purchase Run Away With Me at IndieBound
View Run Away With Me on Goodreads
YA BOOK GIVEAWAYS LAST WEEK: WINNERS
Siege of Shadows by Sarah Raughley:
Marisa F.
MORE YOUNG ADULT NOVELS NEW IN STORES NEXT WEEK
A War of Gifts: An Ender Battle School Story
by Orson Scott Card
Hardcover
Tor Teen
Released 11/28/2017
A standalone holiday story set during Ender's time at Battle School from the #1
New York Times
bestselling author, Orson Scott Card.
At the Battle School, there is only one course of study: the strategy and tactics of war. Humanity is fighting an alien race, and we fight as one. Students are drawn from all nations, all races, all religions, taken from their families as children. There is no room for cultural differences, no room for religious observances, and there is certainly no room for Santa Claus.
But the young warriors disagree. When Dink Meeker leaves a Sinterklaaus Day gift in another Dutch student's shoe, that quiet act of rebellion becomes the first shot in a war of wills that the staff of the Battle School never bargained for.
Orson Scott Card's novel
Ender's Game
is the basis of the hit movie of the same name.
Purchase A War of Gifts: An Ender Battle School Story at Amazon
Purchase A War of Gifts: An Ender Battle School Story at IndieBound
View A War of Gifts: An Ender Battle School Story on Goodreads
* * * *
Final Fall
by Heather W. Petty
Hardcover
Simon & Schuster Books for Young Readers
Released 11/28/2017
Mori is out for revenge. Imprisoned in the English countryside, with her brothers held as leverage, she's never felt angrier or more helpless. When an opportunity for escape arises, Mori takes it and flees back to the streets of London, where she is finally able to plot the demise of her recently freed father and his cohorts.
But after a bittersweet reunion with Lock, she discovers that he may not be the ally he once was. In the face of blackmail, threats, and Lock's noble attempts to thwart her crusade, Mori has an impossible decision to make.
Can Mori wash the blood from her hands and walk away? Or will her final fall from grace be the end of everyone she loves?
Purchase Final Fall at Amazon
Purchase Final Fall at IndieBound
View Final Fall on Goodreads