Happy Reading,
Shelly, Sam, Jocelyn, Martina, Erin, Susan, Kelly, Laura, Emily, Anisaa, and Lori Ann
YA BOOK GIVEAWAYS THIS WEEK
* * * *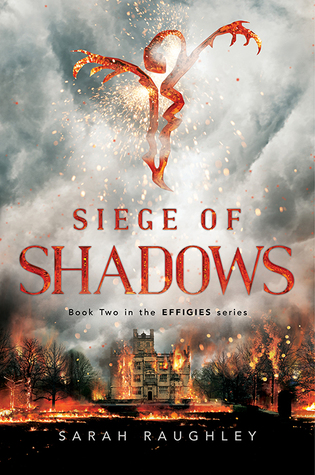 Siege of Shadows
by Sarah Raughley
Hardcover Giveaway

U.S. Only
Simon Pulse
Released 11/21/2017
There's nowhere to hide.
Not when you're an Effigy. No matter where they go, Maia and the other Effigies can't escape the eyes of the press—especially not after failing to capture Saul, whose power to control the monstrous Phantoms has left the world in a state of panic. It's been two months since Saul's disappearance, and there's still no sign of him, leaving the public to wonder whether the Sect—and the Effigies—are capable of protecting anyone.
When Saul suddenly surfaces in the middle of the Sahara desert, the Sect sends Maia and her friends out after him. But instead of Saul, they discover a dying soldier engineered with Effigy-like abilities. Even worse, there may be more soldiers like him out there, and it looks like the Effigies are their prime targets.
Yet the looming danger of Saul and this mysterious new army doesn't overshadow Maia's fear of the Sect, who ordered the death of the previous Fire Effigy, Natalya. With enemies on all sides and the world turning against them, the Effigies have to put their trust in each other—easier said than done when secrets threaten to tear them apart.
Purchase Siege of Shadows at Amazon
Purchase Siege of Shadows at IndieBound
View Siege of Shadows on Goodreads
YA BOOK GIVEAWAYS LAST WEEK: WINNERS
Good and Gone by Megan Frazer Blakemore:
Dawn M.
MORE YOUNG ADULT FICTION IN STORES NEXT WEEK WITH AUTHOR INTERVIEWS
* * * *
The Temptation of Adam
by Dave Connis
Hardcover
Sky Pony Press
Released 11/21/2017
Adam Hawthorne is fine.
Yeah, his mother left, his older sister went with her, and his dad would rather read Nicholas Sparks novels than talk to him. And yeah, he spends his nights watching self-curated porn video playlists.
But Adam is fine.
When a family friend discovers Adam's porn addiction, he's forced to join an addiction support group: the self-proclaimed Knights of Vice. He goes because he has to, but the honesty of the Knights starts to slip past his defenses. Combine that with his sister's out-of-the-blue return and the attention of a girl he meets in an AA meeting, and all the work Adam has put into being fine begins to unravel.
Now Adam has to face the causes and effects of his addiction, before he loses his new friends, his prodigal sister, and his almost semi-sort-of girlfriend.
Author Question: What is your favorite thing about The Temptation of Adam?
I'd say its depth. This probably sounds super egotistical, like, "Oh, Dave thinks he's SOOOOO deep", but there's so much humanity to find in TOA, I know because I wrote it at a time where I was carrying the weight of my own.
Purchase The Temptation of Adam at Amazon
Purchase The Temptation of Adam at IndieBound
View The Temptation of Adam on Goodreads
MORE YOUNG ADULT NOVELS NEW IN STORES NEXT WEEK
* * * *
Not Now, Not Ever: A Novel
by Lily Anderson
Hardcover
Wednesday Books
Released 11/21/2017
The sequel to
The Only Thing Worse than Me Is You
, inspired by
The Importance of Being Earnest.
Elliot Gabaroche is very clear on what she isn't going to do this summer.
1. She isn't going to stay home in Sacramento, where she'd have to sit through her stepmother's sixth community theater production of
The Importance of Being Earnest.
2. She isn't going to mock trial camp at UCLA.
3. And she certainly isn't going to the Air Force summer program on her mother's base in Colorado Springs. As cool as it would be to live-action-role-play Ender's Game, Ellie's seen three generations of her family go through USAF boot camp up close, and she knows that it's much less Luke/Yoda/"feel the force," and much more one hundred push-ups on three days of no sleep. And that just isn't appealing, no matter how many Xenomorphs from
Alien
she'd be able to defeat afterwards.
What she is going to do is pack up her attitude, her favorite Octavia Butler novels, and her Jordans, and go to summer camp. Specifically, a cutthroat academic-decathlon-like competition for a full scholarship to Rayevich College, the only college with a Science Fiction Literature program. And she's going to start over as Ever Lawrence, on her own terms, without the shadow of all her family's expectations. Because why do what's expected of you when you can fight other genius nerds to the death for a shot at the dream you're sure your family will consider a complete waste of time?
This summer's going to be great.
Purchase Not Now, Not Ever: A Novel at Amazon
Purchase Not Now, Not Ever: A Novel at IndieBound
View Not Now, Not Ever: A Novel on Goodreads