Happy Reading,
Shelly, Sam, Jocelyn, Martina, Erin, Susan, Kelly, Laura, Emily, Anisaa, and Lori Ann
YA BOOK GIVEAWAYS THIS WEEK
* * * *
Good and Gone
by Megan Frazer Blakemore
Hardcover Giveaway

U.S. Only
HarperTeen
Released 11/14/2017
When Lexi Green's older brother, Charlie, starts plotting a road trip to find Adrian Wildes, a famous musician who's been reported missing, she's beyond confused. Her brother hasn't said a nice word to her or left the couch since his girlfriend dumped him months ago—but he'll hop in a car to find some hipster? Concerned at how quickly he seems to be rebounding, Lexi decides to go along for the ride.
Besides, Lexi could use the distraction. The anger and bewilderment coursing through her after getting dumped by her pretentious boyfriend, Seth, has left her on edge. As Lexi, Charlie, and their neighbor Zack hit the road, Lexi recalls bits and pieces of her short-lived romance and sees, for the first time, what it truly was: a one-sided, coldhearted manipulation game. Not only did Seth completely isolate her, but he took something from her that she didn't give him permission to.
The farther from home they get, the three uncover much more than empty clues about a reclusive rocker's whereabouts. Instead, what starts off as a car ride turns into an exploration of self as each of them faces questions they have been avoiding for too long. Like the real reason Charlie has been so withdrawn lately. What Seth stole from Lexi in the pool house. And if shattered girls can ever put themselves back together.
Author Question: What is your favorite thing about Good and Gone?
My favorite thing about GOOD AND GONE is the structure. It is written as a back and forth between the present and the past. The present proceeds in chronological order, but the past scenes do not. Part of the reader's job is to put the pieces together to create the full story. The main character, Lexi, is coming to terms with her past, and the way events are revealed is tied to how much of her past she is ready to confront. I wrote the book all out of order, something unusual for me, and then I had to put the scenes together like a puzzle. It was a very difficult process, but worthwhile in the end.
Purchase Good and Gone at Amazon
Purchase Good and Gone at IndieBound
View Good and Gone on Goodreads
YA BOOK GIVEAWAYS LAST WEEK: WINNERS
Hide from Me by Mary Lindsey:
Ellie M.
The November Girl by Lydia Kang:
D S.
The Speaker by Traci Chee:
Angie Y.
This Mortal Coil by Emily Suvada:
Susan L.
MORE YOUNG ADULT FICTION IN STORES NEXT WEEK WITH AUTHOR INTERVIEWS
* * * *
Seriously Hexed
by Tina Connolly
Hardcover
Tor Teen
Released 11/14/2017
Tina Connolly continues the hilarious adventures of teen witch Camellia and her mother, wicked witch Sarmine, in this latest installment to the Andre Norton Award-nominated "Seriously Wicked" series.
Teen witch Cam has resigned herself to being a witch. Sort of. She's willing to do small things, like magically help her boyfriend Devon get over his ongoing stage fright. But tangling with other witches is not on her wishlist. Joining her mother's wicked witch coven is right out.
New acquaintance Poppy Jones is a Type A, A+ Student of True Witchery. She's got all the answers, and she's delighted to tangle with a bunch of wicked witches. She doesn't need any reluctant witch getting in her way, especially one who knows less than a dozen spells, and has zero plans for witch college.
Then a coven meeting goes drastically awry. A hex is taking down all thirteen members of the coven, one by one putting both girls' mothers in jeopardy. Now the two teens are going to have to learn to work together, while simultaneously juggling werewolf puppies, celebrity demons, thirteen nasty hexes, and even nastier witches. They may have to go through hell and high water to save their mothers but they also might find a new friendship along the way.
Author Question: What is your favorite thing about Seriously Hexed?
Cam has always been a reluctant teen witch. She tries to use her powers for good, but she's not really sure if she wants to use them at all. But when her mother disappears in the middle of a coven meeting full of wicked witches, everything falls onto Cam's shoulders, and she's going to have to come to terms with herself in order to set things right. The ethical dilemmas around the proper use of magic have been a struggle for Cam throughout this trilogy, and that struggle is something I really enjoy exploring.

Additionally, we've seen over the course of the three books that, since Cam feels uncomfortable about her witchy home life, she is slow to trust people and make friends. She really only has one close friend, Jenah. But in this book, she meets a fellow teen witch who is also trying to help save the day. I really loved watching Cam wrestle with trying to trust a new person and let them into her life. And of course, at the same time dealing with magic phones, demonic teleportation, and a bunch of rambunctious werewolf puppies!
Purchase Seriously Hexed at Amazon
Purchase Seriously Hexed at IndieBound
View Seriously Hexed on Goodreads
MORE YOUNG ADULT NOVELS NEW IN STORES NEXT WEEK
* * * *
Flashtide
by Jenny Moyer
Hardcover
Henry Holt and Co
Released 11/14/2017
Orion has survived the tunnels of Outpost Five, filled with mutant creatures and dangers around every bend. She has traversed the cordons, exposed to the radiation of the flash curtain and hunted by forces that want her stopped, dead or alive. Now, with Dram by her side, she has made it to the safety of the mountain provinces, where free Conjurors live and practice their craft of manipulating matter.
But Orion's story is far from over.
With the effects of the flashfall spreading and the might of the protected city of Alara looming, Orion must travel into the hands of her enemies once again. Heart-pounding action and adventure await in this sequel to Flashfall.
Purchase Flashtide at Amazon
Purchase Flashtide at IndieBound
View Flashtide on Goodreads
* * * *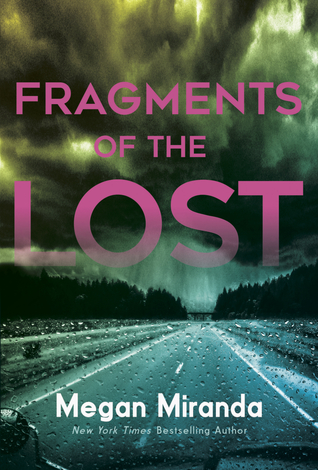 Fragments of the Lost
by Megan Miranda
Hardcover
Crown Books for Young Readers
Released 11/14/2017
Jessa Whitworth knew she didn't belong in her ex-boyfriend Caleb's room. But she couldn't deny that she was everywhere—in his photos, his neatly folded T-shirts, even the butterfly necklace in his jeans pocket…the one she gave him for safe keeping on that day.
His mother asked her to pack up his things—even though she blames Jessa for his accident. How could she say no? And maybe, just maybe, it will help her work through the guilt she feels about their final moments together.
But as Jessa begins to box up the pieces of Caleb's life, they trigger memories that make Jessa realize their past relationship may not be exactly as she remembered. And she starts to question whether she really knew Caleb at all.
Each fragment of his life reveals a new clue that propels Jessa to search for the truth about Caleb's accident. What really happened on the storm-swept bridge?
Purchase Fragments of the Lost at Amazon
Purchase Fragments of the Lost at IndieBound
View Fragments of the Lost on Goodreads
* * * *
Kids Like Us
by Hilary Reyl
Hardcover
Farrar, Straus and Giroux
Released 11/14/2017
Martin is an American teen on the autism spectrum living in France with his mom and sister for the summer. He falls for a French girl who he thinks is a real-life incarnation of a character in his favorite book. Over time Martin comes to realize she is a real person and not a character in a novel while at the same time learning that love is not out of his reach just because he is autistic.
Purchase Kids Like Us at Amazon
Purchase Kids Like Us at IndieBound
View Kids Like Us on Goodreads