Jessica, what scene was really hard for you to write and why, and is that the one of which you are most proud? Or is there another scene you particularly love?
The scene I'm most proud of (which I had to write about ten times) is a bit of a spoiler. I'll just tell you that it's the most important scene of the novel and it takes place in the airport chapel (did you even know that airports
had
chapels?! Well, they do!)
But how about instead, I tell you about the scene I had the most
fun
writing and that was the scene where Xander serenades Ryn in the airport food court. It was a scene I never planned to write. It just came out. One minute Xander and Ryn were playing the "Categories" game (where someone names a letter and a category and the other person has to think up as many items as they can in that category that start with that letter), the next minute Xander was singing "Eternal Flame" by the Bangles at the top of his lungs in the middle of the food court. (The category was bands and the letter was B).
At first, after I wrote the scene, I worried I would have to cut it. Legally, you can't print song lyrics in a book without licensing the rights from the songwriter. But I loved it so much, I hired a lawyer to reach out to the company that represents the songwriter and licensed the lyrics so I could print them in the book. I just couldn't bear for the scene not to be included.
What did this book teach you about writing or about yourself?
That I apparently have a lot of unresolved grief of my own that I didn't know about (just like my main character, Ryn.) This is the first book I've ever written that literally made me bawl like a baby.
Never write a character who is dealing with unresolved grief unless you want to face up to your own.
What do you hope readers will take away from THE CHAOS OF STANDING STILL?
I hope you feel something. I don't care if it's love, hate, happiness, sadness, swooniness, the uncontrollable desire to throw this book out the window, I just want the book to give you feels. Any kind of feels. If that happens, then I've done my job.
What are you working on now?
Oh, wow. So much fun stuff coming up! I have three books coming out in 2018! My next young adult contemporary will be out a year from now. We haven't yet released the title/synopsis yet, but stay tuned for that soon. I'm just finishing the revision now. I have a new middle grade coming out next fall called BETTER YOU THAN ME (it's a Freaky Friday-esque Body Swap story between a famous twelve-year-old TV star and her biggest fan.) I just finished the final edits on that. I also have a how-to plotting guide for novelists coming out called SAVE THE CAT! WRITES A NOVEL, all about plot and plot structure! I'm about to start revisions on that this month!
And then in 2019, I'm returning to sci-fi with a new series! The first book is called A SKY WITHOUT STARS and it's a sci-fi retelling of Les Misérables by Victor Hugo, set on another planet in a distant solar system. I'm co-writing that with my good friend, Joanne Rendell. We're almost done with the first draft!
So exciting!
ABOUT THE BOOK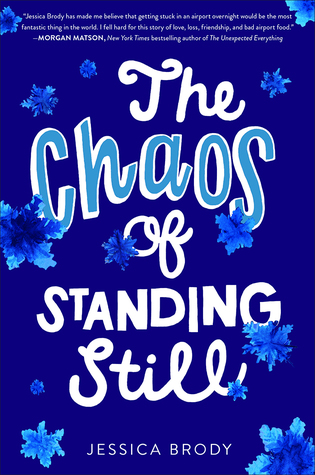 The Chaos of Standing Still
by Jessica Brody
Hardcover
Simon Pulse
Released 11/28/2017
Over the course of one chaotic night stranded at the Denver airport, Ryn confronts her shattered past thanks to the charm of romance, the uniqueness of strangers, and the magic of ordinary places in this stunning novel from the author of
Boys of Summer
.
Ryn has one unread text message on her phone. And it's been there for almost a year.
She hasn't tried to read it. She can't. She won't. Because that one message is the last thing her best friend ever said to her before she died.
But as Ryn finds herself trapped in the Denver International Airport on New Year's Eve thanks to a never-ending blizzard on the one-year anniversary of her best friend's death, fate literally runs into her.
And his name is Xander.
When the two accidentally swap phones, Ryn and Xander are thrust into the chaos of an unforgettable all-night adventure, filled with charming and mysterious strangers, a secret New Year's Eve bash, and a possible Illuminati conspiracy hidden within the Denver airport. But as the bizarre night continues, all Ryn can think about is that one unread text message. It follows her wherever she goes, because Ryn can't get her brilliantly wild and free-spirited best friend out of her head.
Ryn can't move on.
But tonight, for the first time ever, she's trying. And maybe that's a start.
As moving as it is funny,
The Chaos of Standing Still
is a heartwarming story about the earth-shattering challenges life throws at us—and the unexpected strangers who help us along the way.
Purchase The Chaos of Standing Still at Amazon
Purchase The Chaos of Standing Still at IndieBound
View The Chaos of Standing Still on Goodreads
ABOUT THE AUTHOR
Jessica Brody knew from a young age that she wanted to be a writer. She started self "publishing" her own books when she was seven years old, binding the pages together with cardboard, wallpaper samples, and electrical tape.
After graduating from Smith College in 2001 where she double majored in Economics and French and minored in Japanese, Jessica later went on to work for MGM Studios as a Manager of Acquisitions and Business Development. In May of 2005, Jessica quit her job to follow her dream of becoming a published author.
Since then, Jessica has sold over twelve novels for teens, tweens, and adults including 52 Reasons to Hate My Father, The Karma Club, My Life Undecided, and the three books in the Unremembered trilogy, the first of which is currently in development as a major motion picture by the producers of The Vampire Academy, Zero Dark Thirty, Life of Pi, and Slumdog Millionaire. In 2016, she released two new contemporary novels, A Week of Mondays (which is an official selection of the 2017 Texas Lone Star reading list) and Boys of Summer. In February 2017, her debut middle grade novel entitled, Addie Bell's Shortcut to Growing Up, hit the bookstore shelves, as well as two YA novels: In Some Other Life (August), and The Chaos of Standing Still (November).
Jessica also writes books for the Descendants: "School of Secrets" series, based on the hit Disney Channel Original movie, Descendants!
Jessica's books are published and translated in over twenty foreign countries. She currently splits her time between California and Colorado.
---
Have you had a chance to read THE CHAOS OF STANDING STILL yet?
Getting your feelings onto the page is so hard -- have you ever cried while writing a tough scene?
What's the most fun you've had while writing a scene?
Share your thoughts about the interview in the comments!

Happy Reading,

Charlotte, Jocelyn, Anisaa, Erin, Martina, Erin, Susan, Shelly, Kelly, Laura, Emily, and Lori Ann