Happy Monday! We only have one giveaway this week but it's for WILD BEAUTY, one of my favourite releases of the year. Make sure to enter to win below, and check out all the other awesome books being released this week!
Happy Reading,
Shelly, Sam, Jocelyn, Martina, Erin, Susan, Kelly, Laura, Emily, Anisaa, and Lori Ann
YA BOOK GIVEAWAYS THIS WEEK
* * * *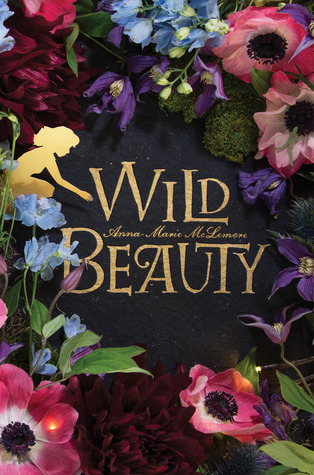 Wild Beauty
by Anna-Marie McLemore
Hardcover Giveaway

U.S. Only
Feiwel & Friends
Released 10/3/2017
Love grows such strange things.
For nearly a century, the Nomeolvides women have tended the grounds of La Pradera, the lush estate gardens that enchant guests from around the world. They've also hidden a tragic legacy: if they fall in love too deeply, their lovers vanish. But then, after generations of vanishings, a strange boy appears in the gardens.
The boy is a mystery to Estrella, the Nomeolvides girl who finds him, and to her family, but he's even more a mystery to himself; he knows nothing more about who he is or where he came from than his first name. As Estrella tries to help Fel piece together his unknown past, La Pradera leads them to secrets as dangerous as they are magical in this stunning exploration of love, loss, and family.
Author Question: What is your favorite thing about Wild Beauty?
I loved writing how the Nomeolvides girls interact with La Pradera, the enchanted, dangerous gardens their family both grows and fears. I loved writing the flowers, the landscape, and the beautiful but frightening magic of this world.
Purchase Wild Beauty at Amazon
Purchase Wild Beauty at IndieBound
View Wild Beauty on Goodreads
YA BOOK GIVEAWAYS LAST WEEK: WINNERS
Freefall by Joshua David Bellin:
Julie T, John H.
The Language of Thorns: Midnight Tales and Dangerous Magic by Leigh Bardugo:
Sally Z.
Starfish by Akemi Dawn Bowman:
Kaitlyn A.
MORE YOUNG ADULT FICTION IN STORES NEXT WEEK WITH AUTHOR INTERVIEWS
* * * *
Among the Red Stars
by Gwen C. Katz
Hardcover
HarperTeen
Released 10/3/2017
World War Two has shattered Valka's homeland of Russia, and Valka is determined to help the effort. She knows her skills as a pilot rival the best of the men, so when an all-female aviation group forms, Valka is the first to sign up.
Flying has always meant freedom and exhilaration for Valka, but dropping bombs on German soldiers from a fragile canvas biplane is no joyride. The war is taking its toll on everyone, including the boy Valka grew up with, who is fighting for his life on the front lines.
As the war intensifies and those around her fall, Valka must decide how much she is willing to risk to defend the skies she once called home.
Inspired by the true story of the airwomen the Nazis called Night Witches, Gwen C. Katz weaves a tale of strength and sacrifice, learning to fight for yourself, and the perils of a world at war.
Author Question: What is your favorite thing about Among the Red Stars?
I think my absolute favorite thing is how much real history I got to write about. So many of the characters are real people and the cool things they do in the story actually happened. I love providing role models who prove that not only can girls do these things—they already did!
Purchase Among the Red Stars at Amazon
Purchase Among the Red Stars at IndieBound
View Among the Red Stars on Goodreads
* * * *
Brooding YA Hero: Becoming a Main Character (Almost) as Awesome as Me
by Carrie DiRisio
Hardcover
Sky Pony Press
Released 10/3/2017
Have you ever wished you could receive a little guidance from your favorite book boyfriend? Ever dreamed of being the Chosen One in a YA novel? Want to know all the secrets of surviving the dreaded plot twist?
Or maybe you're just really confused about what "opal-tinted, luminous cerulean orbs" actually are?
Well, popular Twitter personality @broodingYAhero is here to help as he tackles the final frontier in his media dominance: writing a book. Join Broody McHottiepants as he attempts to pen Brooding YA Hero: Becoming a Main Character (Almost) as Awesome as Me, a "self-help" guide (with activities--you always need activities) that lovingly pokes fun at the YA tropes that we roll our eyes at, but secretly love.
As his nefarious ex, Blondie DeMeani, attempts to thwart him at every turn, Broody overcomes to detail, among other topics, how to choose your genre, how to keep your love interest engaged (while maintaining lead character status), his secret formula for guaranteed love triangle success, and how to make sure you secure that sequel, all while keeping his hair perfectly coiffed and never breaking a sweat.
Author Question: What is your favorite thing about Brooding YA Hero: Becoming a Main Character (Almost) as Awesome as Me?
My favorite thing about the book is also probably the oddest: the format. When I first started to think about adapting Broody to book format, I was totally unsure of how that would work. Broody isn't your typical character--he's a compilation of many characters. Sometimes he's a rockstar, and other times he's a vampire. In certain stories, he might even be both. So, how could one character who was in so many stories, star in his own?

The answer came to me after many cups of coffee and a lot of nutella. Broody would simply... tell his own story. As readers will discover, the book has two separate, alternating parts. In one storyline, Blondie, Broody's evil ex, eggs him on to write a book explaining how to be a main character. We, as readers, get to read those chapters Broody is "writing" as well. It's a unique, fun way of telling a story, and I so enjoyed doing it!
Purchase Brooding YA Hero: Becoming a Main Character (Almost) as Awesome as Me at Amazon
Purchase Brooding YA Hero: Becoming a Main Character (Almost) as Awesome as Me at IndieBound
View Brooding YA Hero: Becoming a Main Character (Almost) as Awesome as Me on Goodreads
* * * *
Protected
by Claire Zorn
Hardcover
Sourcebooks Fire
Released 10/3/2017
I have three months left to call Katie my older sister. Then the gap will close and I will pass her. I will get older. But Katie will always be fifteen, eleven months and twenty-one days old.
Hannah's world is in pieces and she doesn't need the school counsellor to tell her she has deep-seated psychological issues. With a seriously depressed mum, an injured dad and a dead sister, who wouldn't have problems?
Hannah should feel terrible but for the first time in ages, she feels a glimmer of hope and isn't afraid anymore. Is it because the elusive Josh is taking an interest in her? Or does it run deeper than that?
In a family torn apart by grief and guilt, one girl's struggle to come to terms with years of torment shows just how long old wounds can take to heal.
Author Question: What is your favorite thing about Protected?
My favorite thing about PROTECTED is definitely the friendship between Hannah and Josh. The banter he and Hannah share was so much fun to write and it still makes me laugh when I read it. Josh is my favorite of all the characters I've ever written. I think he breaks the trend of male characters a bit: he's a skateboarding truant with excellent manners and a love of crosswords. He helps Hannah find the lighter side of herself while seeing what she perceives to be her weaknesses as her strengths. She thinks she is too serious and too sensitive, but these are the things he values in her. He likes that she takes him seriously. I still miss writing his character.
Purchase Protected at Amazon
Purchase Protected at IndieBound
View Protected on Goodreads
* * * *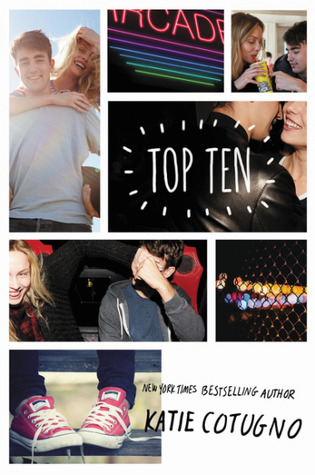 Top Ten
by Katie Cotugno
Hardcover
Balzer + Bray
Released 10/3/2017
Ryan McCullough and Gabby Hart are the unlikeliest of friends. Introverted, anxious Gabby would rather do literally anything than go to a party. Ryan is a star hockey player who can get any girl he wants—and does, frequently. But against all odds, they became not only friends, but each other's favorite person. Now, as they face high school graduation, they can't help but take a moment to reminisce and, in their signature tradition, make a top ten list—counting down the top ten moments of their friendship:
10. Where to begin? Maybe the night we met.
9. Then there was our awkward phase.
8. When you were in love with me but never told me…
7. Those five months we stopped talking were the hardest of my life.
6. Through terrible fights…
5. And emotional makeups.
4. You were there for me when I got my heart broken.
3. …but at times, you were also the one breaking it.
2. Above all, you helped me make sense of the world.
1. Now, as we head off to college—how am I possibly going to live without you?
Author Question: What is your favorite thing about Top Ten?
My favorite thing about TOP TEN was the chance to write from two (very!) different perspectives. The novel is about two unlikely best friends--Gabby, who's a prickly, anxious introvert, and Ryan, AKA Mr. Popular, a hockey star who seems to have it all figured out. We meet them on the night of high school graduation when, after years of dancing around it, they finally hook up--and it's a disaster. From there, we rewind way back to their freshman year and count down the (wait for it) top ten moments of their friendship while they try to figure out where they possibly go from here.

I loved getting the chance to bounce back and forth between Gabby and Ryan's POVs--to explore how they each experienced particular situations, to delve into all their different fears and misunderstandings and the secrets they keep from one another. Also, I'd never written a boy's POV before, so that was a great way to kind of flex my muscles and try something new.
Purchase Top Ten at Amazon
Purchase Top Ten at IndieBound
View Top Ten on Goodreads
MORE YOUNG ADULT NOVELS NEW IN STORES NEXT WEEK
* * * *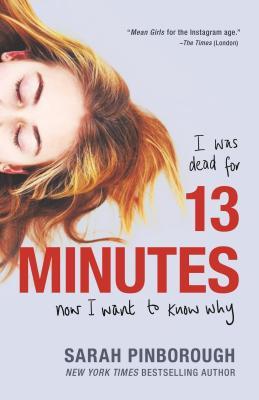 13 Minutes
by Sarah Pinborough
Hardcover
Flatiron Books
Released 10/3/2017
They say you should keep your friends close and your enemies closer, but when you're a teenage girl, it's hard to tell them apart.
Natasha doesn't remember how she ended up in the icy water that night, but she does know this--it wasn't an accident, and she wasn't suicidal. Her two closest friends are acting strangely, and Natasha turns to Becca, the best friend she dumped years before when she got popular, to help her figure out what happened.
Natasha's sure that her friends love her. But does that mean they didn't try to kill her?
13 Minutes is a psychological thriller with a killer twist from the #1 internationally bestselling author Sarah Pinborough.
Purchase 13 Minutes at Amazon
Purchase 13 Minutes at IndieBound
View 13 Minutes on Goodreads
* * * *
27 Hours
by Tristina Wright
Hardcover
Entangled: Teen
Released 10/3/2017
Rumor Mora fears two things: hellhounds too strong for him to kill, and failure. Jude Welton has two dreams: for humans to stop killing monsters, and for his strange abilities to vanish.
But in no reality should a boy raised to love monsters fall for a boy raised to kill them.
Nyx Llorca keeps two secrets: the moon speaks to her, and she's in love with Dahlia, her best friend. Braeden Tennant wants two things: to get out from his mother's shadow, and to unlearn Epsilon's darkest secret.
They'll both have to commit treason to find the truth.
During one twenty-seven-hour night, if they can't stop the war between the colonies and the monsters from becoming a war of extinction, the things they wish for will never come true, and the things they fear will be all that's left.
Purchase 27 Hours at Amazon
Purchase 27 Hours at IndieBound
View 27 Hours on Goodreads
* * * *
Akata Warrior
by Nnedi Okorafor
Hardcover
Viking Books for Young Readers
Released 10/3/2017
A year ago, Sunny Nwazue, an American-born girl Nigerian girl, was inducted into the secret Leopard Society. As she began to develop her magical powers, Sunny learned that she had been chosen to lead a dangerous mission to avert an apocalypse, brought about by the terrifying masquerade, Ekwensu. Now, stronger, feistier, and a bit older, Sunny is studying with her mentor Sugar Cream and struggling to unlock the secrets in her strange Nsibidi book.
Eventually, Sunny knows she must confront her destiny. With the support of her Leopard Society friends, Orlu, Chichi, and Sasha, and of her spirit face, Anyanwu, she will travel through worlds both visible and invisible to the mysteries town of Osisi, where she will fight a climactic battle to save humanity.
Much-honored Nnedi Okorafor, winner of the Hugo, Nebula, and World Fantasy awards, merges today's Nigeria with a unique world she creates. Akata Warrior blends mythology, fantasy, history and magic into a compelling tale that will keep readers spellbound.
Purchase Akata Warrior at Amazon
Purchase Akata Warrior at IndieBound
View Akata Warrior on Goodreads
* * * *
Ally
by Anna Banks
Hardcover
Feiwel & Friends
Released 10/3/2017
Princess Sepora of Serubel and King Tarik of Theoria have formed an uneasy truce between their kingdoms since the deadly plague began to rip through Theoria. Since their feelings for each other are entangled in politics and power, they must use their own trusted resources to find common ground.
But when traitors with powerful allies arise from unexpected places, Tarik and Sepora face challenges that will change both of their kingdoms forever. Will they learn whom to trust—including each other—in time to save their kingdoms, their relationship and even their lives?
Purchase Ally at Amazon
Purchase Ally at IndieBound
View Ally on Goodreads
* * * *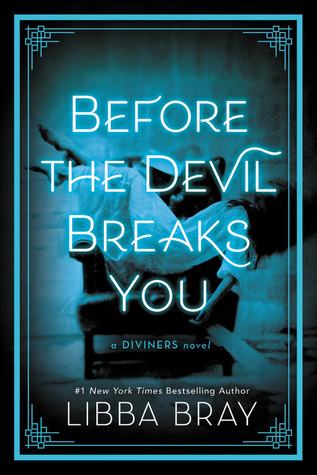 Before the Devil Breaks You
by Libba Bray
Hardcover
Little, Brown Books for Young Readers
Released 10/3/2017
After battling a sleeping sickness, The Diviners are up against a group of new and malevolent foes--ghosts! Out in Ward's Island sits a mental hospital full of lost souls from people long forgotten. Ghosts who have unusual and dangerous ties to the Man in the Stovepipe Hat also known as the King of Crows.
With terrible accounts of murder and possession flooding in from all over New York City, the Diviners must band together and brave the ghosts haunting the asylum to bring down the King of Crows.
Purchase Before the Devil Breaks You at Amazon
Purchase Before the Devil Breaks You at IndieBound
View Before the Devil Breaks You on Goodreads
* * * *
Devils & Thieves
by Jennifer Rush
Hardcover
Little, Brown Books for Young Readers
Released 10/3/2017
A thrilling new urban fantasy filled with magic and motorcycle gangs from Jennifer Rush, author of the Altered saga--perfect for fans of Beautiful Creatures.
Eighteen-year-old Jemmie Carmichael has grown up surrounded by magic in the quiet town of Hawthorne, New York. In her world, magic users are called "kindled," and Jemmie would count herself among them if only she could cast a simple spell without completely falling apart. It doesn't help that she was also recently snubbed by Crowe, the dangerous and enigmatic leader of the Black Devils kindled motorcycle gang and the unofficial head of their turf.
When the entire kindled community rolls into Hawthorne for an annual festival, a rumor begins spreading that someone is practicing forbidden magic. Then people start to go missing. With threats closing in from every side, no one can be trusted. Jemmie and Crowe will have to put aside their tumultuous history to find their loved ones, and the only thing that might save them is the very flaw that keeps Jemmie from fully harnessing her magic. For all her years of feeling useless, Jemmie may just be the most powerful kindled of all.
Purchase Devils & Thieves at Amazon
Purchase Devils & Thieves at IndieBound
View Devils & Thieves on Goodreads
* * * *
Everything Must Go
by Jenny Fran Davis
Hardcover
Wednesday Books
Released 10/3/2017
Flora Goldwasser has fallen in love. She won't admit it to anyone, but something about Elijah Huck has pulled her under. When he tells her about the hippie Quaker school he attended in the Hudson Valley called Quare Academy, where he'll be teaching next year, Flora gives up her tony upper east side prep school for a life on a farm, hoping to woo him. A fish out of water, Flora stands out like a sore thumb in her vintage suits among the tattered tunics and ripped jeans of the rest of the student body. When Elijah doesn't show up, Flora must make the most of the situation and will ultimately learn more about herself than she ever thought possible.
Told in a series of letters, emails, journal entries and various ephemera, Flora's dramatic first year is laid out for all to see, embarrassing moments and all.
Purchase Everything Must Go at Amazon
Purchase Everything Must Go at IndieBound
View Everything Must Go on Goodreads
* * * *
Far from the Tree
by Robin Benway
Hardcover
HarperTeen
Released 10/3/2017
A contemporary novel about three adopted siblings who find each other at just the right moment.
Being the middle child has its ups and downs.
But for Grace, an only child who was adopted at birth, discovering that she is a middle child is a different ride altogether. After putting her own baby up for adoption, she goes looking for her biological family, including—
Maya, her loudmouthed younger bio sister, who has a lot to say about their newfound family ties. Having grown up the snarky brunette in a house full of chipper redheads, she's quick to search for traces of herself among these not-quite-strangers. And when her adopted family's long-buried problems begin to explode to the surface, Maya can't help but wonder where exactly it is that she belongs.
And Joaquin, their stoic older bio brother, who has no interest in bonding over their shared biological mother. After seventeen years in the foster care system, he's learned that there are no heroes, and secrets and fears are best kept close to the vest, where they can't hurt anyone but him.
Purchase Far from the Tree at Amazon
Purchase Far from the Tree at IndieBound
View Far from the Tree on Goodreads
* * * *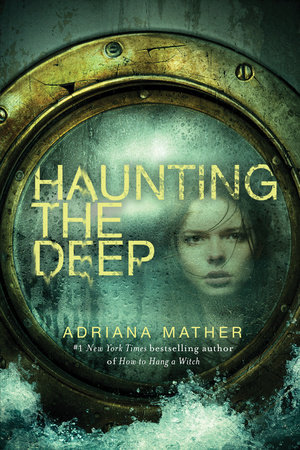 Haunting the Deep
by Adriana Mather
Hardcover
Knopf Books for Young Readers
Released 10/3/2017
The Titanic meets the delicious horror of Ransom Riggs and the sass of Mean Girls in this follow-up to the #1 New York Times bestseller How to Hang a Witch, in which a contemporary teen finds herself a passenger on the famous "ship of dreams"—a story made all the more fascinating because the author's own relatives survived the doomed voyage.
Samantha Mather knew her family's connection to the infamous Salem Witch Trials might pose obstacles to an active social life. But having survived one curse, she never thought she'd find herself at the center of a new one.
This time, Sam is having recurring dreams about the Titanic . . . where she's been walking the deck with first-class passengers, like her aunt and uncle. Meanwhile, in Sam's waking life, strange missives from the Titanic have been finding their way to her, along with haunting visions of people who went down with the ship.
Ultimately, Sam and the Descendants, along with some help from heartthrob Elijah, must unravel who is behind the spell that is drawing her ever further into the dream ship . . . and closer to sharing the same grim fate as its ghostly passengers.
Purchase Haunting the Deep at Amazon
Purchase Haunting the Deep at IndieBound
View Haunting the Deep on Goodreads
* * * *
Kiss Me in New York
by Catherine Rider
Hardcover
Kids Can Press
Released 10/3/2017
It's Christmas Eve at JFK in NYC.
Charlotte is a British student, waiting for a flight home after the worst semester of her life. Anthony is a native New Yorker, surprising his girlfriend at the airport after three months apart. Charlotte has just been dumped, and Anthony is about to be dumped, right in the middle of the holiday crowd.
Charlotte's flight is canceled when a blizzard blows in, and Anthony can't bear to go home. So, they set out into the city together, clutching a book Charlotte picks up in the airport gift shop: Ten Easy Steps for Getting Over Your Ex. For this one night, they'll focus on healing their broken hearts ... together.
Step-by-step, the two struggle to put the past behind them. But the snow is so enchanting, and the holiday lights are so beguiling, that soon their shared misery gives way to something else. Soon, they're not only over their exes --- they're falling for each other.
Then a subway ride splits them up by mistake. Will they reunite before Charlotte's flight leaves New York forever?
Purchase Kiss Me in New York at Amazon
Purchase Kiss Me in New York at IndieBound
View Kiss Me in New York on Goodreads
* * * *
Never Apart
by Romily Bernard
Hardcover
Entangled: Teen
Released 10/3/2017
How many times would you die for love?
What if you had to relive the same five days over and over? And what if at the end of it, your boyfriend is killed … And you have to watch. Every time.
You don't know why you're stuck in this nightmare. But you do know that these are the rules you now live by:
Wake up.
Run.
Die.
Repeat.
Now, the only way to escape this loop is to attempt something crazy. Something dangerous. Something completely unexpected. This time…you're not going to run.
Combining heart-pounding romance and a thrilling mystery, Never Apart is a stunning story you won't soon forget.
Purchase Never Apart at Amazon
Purchase Never Apart at IndieBound
View Never Apart on Goodreads
* * * *
Ringer
by Lauren Oliver
Hardcover
HarperCollins
Released 10/3/2017
Like its ambitious companion novel, Replica, this far-reaching novel by powerhouse bestselling author Lauren Oliver digs deep into questions of how to be a human being in a world where humanity cannot be taken for granted.
In the world outside the Haven Institute, Lyra and Caelum are finding it hard to be human—and neither of them knows where they belong or who they can trust. When Caelum leaves without warning to pursue the dream of a place he belongs, Lyra follows him, convinced that together they will hunt down a cure for the illness that's slowly consuming her mind. But what they uncover is a shocking connection to their past—even as their future seems in danger of collapsing.
After discovering the uncomfortable truth about her connection to the Haven Institute, Gemma struggles to return to her normal life. But when she learns that her controlling and powerful father has new plans for Lyra and Caelum, Gemma and her boyfriend, Pete, leave in the middle of the night to warn them of the danger they face. When an untimely accident derails them, they are mistaken for the escaped replicas and seized by strangers hired to capture them. The Haven Institute wasn't destroyed after all, and now Gemma is the one behind the walls.
Lyra's and Gemma's stories can be read separately—with either story first—or in alternating chapters, but no matter which way you turn the book, the two distinct stories combine into one breathtaking experience for both heroines and readers alike.
Purchase Ringer at Amazon
Purchase Ringer at IndieBound
View Ringer on Goodreads
* * * *
Seize Today
by Pintip Dunn
hardcover
Entangled: Teen
Released 10/3/2017
The third book in the New York Times bestselling and RITA award winning Forget Tomorrow series is a thrilling conclusion to an epic trilogy.
Seventeen-year-old precognitive Olivia Dresden is an optimist. Since different versions of people's futures flicker before her eyes, she doesn't have to believe in human decency. She can literally see the path to goodness in each person—if only he or she would make the right decision. No one is more conflicted than her mother, Chairwoman Dresden, and Olivia is fiercely loyal to the woman her mother could be.
But when the Chairwoman captures Ryder Russell, a boy from the rebel Underground, Olivia is forced to reevaluate her notions of love and faith. With Ryder's help, Olivia must come to terms with who her mother is in the present—and stop her before she destroys the world.
Purchase Seize Today at Amazon
Purchase Seize Today at IndieBound
View Seize Today on Goodreads
* * * *
Strange Fire
by Tommy Wallach
Hardcover
Simon & Schuster Books for Young Readers
Released 10/3/2017
For teens who grew up reading and adoring The Giver and The City of Ember.
They said that the first generation of man was brought low by its appetites: for knowledge, for wealth, for power. They said mankind's voracity was so great, the Lord sent his own Daughter to bring fire and devastation to the sinners of the world.
The survivors were few, but over the course of centuries, they banded together to form a new civilization—the Descendancy—founded on the belief that the mistakes of the past must never be repeated.
Brothers Clive and Clover Hamill, the sons of a well-respected Descendant minister, have spent their lives spreading that gospel. But when their traveling ministry discovers a community intent on rediscovering the blasphemous technologies of the past, a chain of events will be set in motion that will pit city against city...and brother against brother.
Along with Gemma Poplin, Clive's childhood sweetheart, and Paz Dedios, a revolutionary who dreams of overthrowing the Descendancy, Clive and Clover will each play a pivotal role in determining the outcome of this holy war, and the fate of humanity itself.
Purchase Strange Fire at Amazon
Purchase Strange Fire at IndieBound
View Strange Fire on Goodreads
* * * *
That Inevitable Victorian Thing
by E.K. Johnston
Hardcover
Dutton Books for Young Readers
Released 10/3/2017
Set in a near-future world where the British Empire never fell and the United States never rose, That Inevitable Victorian Thing is a novel of love, duty, and the small moments that can change people and the world.
Victoria-Margaret is the crown princess of the empire, a direct descendent of Victoria I, the queen who changed the course of history two centuries earlier. The imperial practice of genetically arranged matchmaking will soon guide Margaret into a politically advantageous marriage like her mother before her, but before she does her duty, she'll have one summer incognito in a far corner of empire. In Toronto, she meets Helena Marcus, daughter of one of the empire's greatest placement geneticists, and August Callaghan, the heir apparent to a powerful shipping firm currently besieged by American pirates. In a summer of high-society debutante balls, politically charged tea parties, and romantic country dances, Margaret, Helena, and August discover they share an unusual bond and maybe a one in a million chance to have what they want and to change the world in the process —just like the first Queen Victoria.
Purchase That Inevitable Victorian Thing at Amazon
Purchase That Inevitable Victorian Thing at IndieBound
View That Inevitable Victorian Thing on Goodreads
* * * *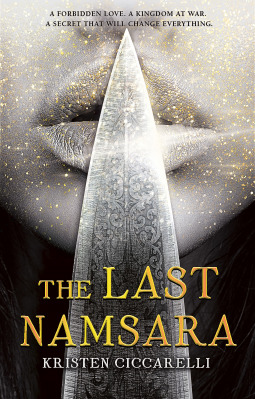 The Last Namsara
by Kristen Ciccarelli
Hardcover
HarperTeen
Released 10/3/2017
In the beginning, there was the Namsara: the child of sky and spirit, who carried love and laughter wherever he went. But where there is light, there must be dark—and so there was also the Iskari. The child of blood and moonlight. The destroyer. The death bringer.
These are the legends that Asha, daughter of the king of Firgaard, has grown up hearing in hushed whispers, drawn to the forbidden figures of the past. But it isn't until she becomes the fiercest, most feared dragon slayer in the land that she takes on the role of the next Iskari—a lonely destiny that leaves her feeling more like a weapon than a girl.
Asha conquers each dragon and brings its head to the king, but no kill can free her from the shackles that await at home: her betrothal to the cruel commandant, a man who holds the truth about her nature in his palm. When she's offered the chance to gain her freedom in exchange for the life of the most powerful dragon in Firgaard, she finds that there may be more truth to the ancient stories than she ever could have expected. With the help of a secret friend—a slave boy from her betrothed's household—Asha must shed the layers of her Iskari bondage and open her heart to love, light, and a truth that has been kept from her.
Purchase The Last Namsara at Amazon
Purchase The Last Namsara at IndieBound
View The Last Namsara on Goodreads
* * * *
Things I'm Seeing Without You
by Peter Bognanni
Hardcover
Dial Books
Released 10/3/2017
Seventeen-year-old Tess Fowler has just dropped out of high school. She can barely function after learning of Jonah's death. Jonah, the boy she'd traded banter with over texts and heartfelt e-mails.
Jonah, the first boy she'd told she loved and the first boy to say it back.
Jonah, the boy whose suicide she never saw coming.
Tess continues to write to Jonah, as a way of processing her grief and confusion. But for now she finds solace in perhaps the unlikeliest of ways: by helping her father with his new alternative funeral business, where his biggest client is . . . a prized racehorse?
As Tess's involvement in her father's business grows, both find comfort in the clients they serve and in each other. But love, loss, and life are so much more complicated than Tess ever thought. Especially after she receives a message that turns her life upside down.
Purchase Things I'm Seeing Without You at Amazon
Purchase Things I'm Seeing Without You at IndieBound
View Things I'm Seeing Without You on Goodreads
* * * *
We All Fall Down
by Natalie Richards
Paperback
Sourcebooks Fire
Released 10/3/2017
Theo's always been impulsive. But telling Paige how he feels? He's obsessed over that decision. And it's time. Tonight. At the party on the riverbank, under the old walking bridge, site of so many tales of love and death.
Paige has had a crush on Theo since they first met, but she knows her feelings are one-sided. She's trying to move on, to flirt. A party at the river is just what she needs. Except a fight breaks out, and when Paige tries to intervene--Theo's fist lands in her face.
All Theo and Paige want to do is forget that fateful night. But strange events keep drawing them back to the bridge. Someone, something is determined to make them remember...and pay for what they each did.
Purchase We All Fall Down at Amazon
Purchase We All Fall Down at IndieBound
View We All Fall Down on Goodreads