Hillary, what was your inspiration for writing THE HOLLOW GIRL?
I talk about this in the forward of the book, but about ten years ago I was sitting in my grandmother's apartment talking to her. She was a writer herself—wrote with Charles Shulz of Peanuts fame for a while, started the Maxine card line for Hallmark as their primary writer. She was noodling writing a book about two Welsh Romani girls, sisters, one girl who stays with the caravan to study under her sorceress grandmother, one who falls in love with a gadjo (a non-Rom) and leaves the caravan to join the outside world. It sounded excellent, she was really excited about it, but unfortunately she passed away before she could pen it herself.
When I followed in my grandmother's footsteps as a pro writer, I wanted to write something to honor her, and I knew this was ripe fodder, but there were concerns. For one, despite my lineage, I never experienced any of the heartache of diaspora. I never had to live with societal pressure to assimilate or wither. That is a story I think that's far better told by a Rom who's lived those things—my conjecture would be inferior to their perspective. The second sister, though, the sorceress, I could do. In theory. The problem was the "gypsy" (don't say that word—it's a racial slur) fortune teller trope. I was aware of the gadjo stereotype, but that said, some Romani people did believe in magic (my grandmother's family) and dukkering was a time honored way to make money. My challenge, then, was to pen the book as a dark fantasy, showcasing Romani custom, entwining magical elements, all the while taking the thing that's been used against the Rom for eons and making it a point of empowerment.
Hopefully I succeeded.
What scene was really hard for you to write and why, and is that the one of which you are most proud? Or is there another scene you particularly love?
The scenes before and after Bethan's sexual assault were murderous for me. I'm an SA survivor, and while I didn't put the act of rape on the page, the lead ups, the feelings of hopelessness and emptiness afterward were call backs I'd have rather never articulated, but the book is better for them. It's important for readers to see the fallout. Too often SA is a thing we put in fiction to show how bad a bad guy is, but the victim is rarely properly represented—the way that this act can and does change a person. I wanted that there, even if it hurt to write. It's raw and awful but also necessary to talk about if we want to change a culture that sees a quarter of our cis female population victimized with numbers that slant much higher for trans and nonbinary folks.
What do you hope readers will take away from THE HOLLOW GIRL?
I'm hoping they realize that dark days happen but hope really does spring eternal. I'm hoping they know a little more about Romani culture. I'm hoping they stop using "the g word" so loosely. I'm hoping they understand the impact of SA on victims and prioritize those feelings over the futures of the attackers. I'm hoping they look to the strong elderly influences in their lives—particularly the females that are oft reduced to hug-bots in fiction—and understand the wisdom they have to offer often comes from lived experience. Brittle bones does not brittle constitution make.
I hope for a lot of things, honestly.
ABOUT THE BOOK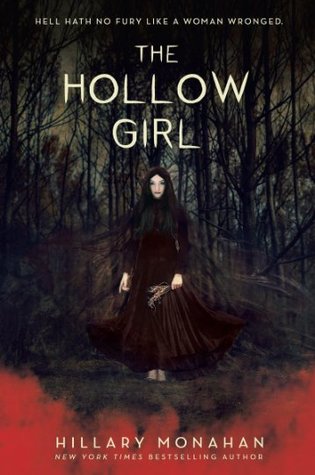 The Hollow Girl
by Hillary Monahan
Hardcover
Delacorte Press
Released 10/10/2017
Five boys attacked her.
Now they must repay her with their blood and flesh.
Bethan is the apprentice to a green healer named Drina in a clan of Welsh Romanies. Her life is happy and ordered and modest, as required by Roma custom, except for one thing: Silas, the son of the chieftain, has been secretly harassing her.
One night, Silas and his friends brutally assault Bethan and a half-Roma friend, Martyn. As empty and hopeless as she feels from the attack, she asks Drina to bring Martyn back from death's door. "There is always a price for this kind of magic," Drina warns. The way to save him is gruesome. Bethan must collect grisly pieces to fuel the spell: an ear, some hair, an eye, a nose, and fingers.
She gives the boys who assaulted her a chance to come forward and apologize. And when they don't, she knows exactly where to collect her ingredients to save Martyn.
Purchase The Hollow Girl at Amazon
Purchase The Hollow Girl at IndieBound
View The Hollow Girl on Goodreads
ABOUT THE AUTHOR
Hillary Monahan's YA debut MARY: The Summoning, a YA Horror retelling of the Bloody Mary myth, sold at auction to Hyperion and hit number two on the New York Times e-book bestseller list. MARY: Unleashed is out as of fall 2015. She's also published THE AWESOME with Ravenstone under the name Eva Darrows, which received starred reviews in both Kirkus and PW.
Her next three publications are an adult horror novel in the GODS & MONSTERS series for Solaris, due out in December of 2016. Spring of 2017 will see the YA contemporary DEAD LITTLE MEAN GIRL under the name Eva Darrows published through Harlequin Teen. Fall of 2017 sees the YA horror THE WAGON WITCH'S APPRENTICE under Hillary Monahan through Delacorte/Random House.
---
Have you had a chance to read THE HOLLOW GIRL, yet?
Listening to friends or family member's stories can springboard an idea or a character for your own writing. How do you like to take that idea and make it yours?
What's your secret for penning those gut wrenching emotional scenes?


Share your thoughts about the interview in the comments!

Happy Reading,

Charlotte, Jocelyn, Anisaa, Erin, Martina, Erin, Susan, Shelly, Kelly, Laura, Emily, and Lori Ann