Caitlin, what's your writing ritual like? Do you listen to music? Work at home or at a coffee shop or the library, etc?
My writing ritual is mostly composed of snagging moments between children asking me to tie their shoes...at least it is right now while school is out. That's not actually all the way true. I usually do my drafting at the library. No music, no internet, and no loud people to distract me.
What advice would you most like to pass along to other writers?
A few things:
One: write as much as you can. Write when you don't feel like writing. If you're serious about getting published, treat it like a business. Have business hours, goals, a schedule. Discipline
Two: Have people look at your work. Not just family members and friends, but other authors. But have rules about what kind of feedback you want. I don't mean no BAD feedback, but as a rule I don't take prescriptive feedback. You are in charge of what your story is about, where it is going, and what your character is like. The moment someone else tells you how you should write (or rather, how THEY would write) your story is the moment their feedback stops being helpful. I actually have a podcast with my writing group where we give model good writing group behavior and critique aspiring authors' first ten pages called Literary Work In Progress. Come find us!
Three: keep your chin up. Just because one person says they don't like what you wrote doesn't mean it's bad. Even if someone is lukewarm about it or you get one of those "this just isn't for me" e-mails from an agent which seems manufactured solely to drive you crazy... it's okay if not everyone loves everything you write. Art is subjective. If you keep working, you'll find an agent or an editor who falls in love with your work and they'll help you find your audience. If you're going the self-publishing route, people will find your work and love it. What you are doing is worthwhile. Keep doing it.
Four: Find other writers. And not just online, if you can manage it. Go to writing events like book signings, or conferences if you can. You'll find other people in your community who speak the same writing language you do. You'll find opportunities, network, make connections, learn. Be a part of the community, not someone looking in.
What are you working on now?
I'm revising a YA space opera-y sort of book and drafting an Asian-inspired fantasy (Tang-era China, if you want to know) heist novel. Both are so, so, SO much fun to work on, and I hope I get to share them with everyone. Thanks for asking!
ABOUT THE BOOK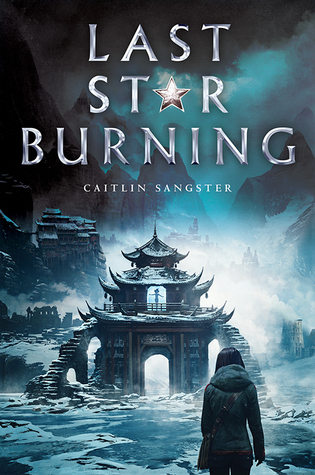 Last Star Burning
by Caitlin Sangster
Hardcover
Simon Pulse
Released 10/10/2017
Sev is branded with the mark of a criminal—a star burned into her hand. That's the penalty for being the daughter of the woman who betrayed their entire nation.
Now her mother's body is displayed above Traitor's Arch, kept in a paralyzed half sleep by the same plague that destroyed the rest of the world. And as further punishment, Sev is forced to do hard labor to prove that she's more valuable alive than dead.
When the government blames Sev for a horrific bombing, she must escape the city or face the chopping block. Unimaginable dangers lurk outside the city walls, and Sev's only hope of survival lies with the most unlikely person—Howl, the chairman's son. Though he promises to lead her to safety, Howl has secrets, and Sev can't help but wonder if he knows more about her past—and her mother's crimes—than he lets on.
But in a hostile world, trust is a luxury. Even when Sev's life and the lives of everyone she loves may hang in the balance.
Purchase Last Star Burning at Amazon
Purchase Last Star Burning at IndieBound
View Last Star Burning on Goodreads
ABOUT THE AUTHOR
Caitlin Sangster grew up in the back woods of California and would rather go hiking, running, swimming, or general outdoorsing than just about anything else. If there aren't any mountains, it doesn't count as a real place. At eighteen, she moved to XinJiang, and at twenty-one it was Taiwan. She did eventually buckle down and graduate from Brigham Young University with a BA in Asian Studies and is now that person you avoid at parties because she'll probably start talking about Shang dynasty oracle bones.
Caitlin has been writing since middle school. She always thought of it as a silly sort of compulsive habit until she realized that people like reading stories and she liked writing them and there wasn't much silly about that.
She currently lives in Utah with her husband and four children.
---

Have you had a chance to read LAST STAR BURNING yet?

Caitlin shared lots of great writing advice! Which items are you already doing?

Have you jumped into the writing community yet? If not, why?

Share your thoughts about the interview in the comments!

Happy Reading,

Charlotte, Jocelyn, Anisaa, Erin, Martina, Erin, Susan, Shelly, Kelly, Laura, Emily, and Lori Ann