Fonda, what was your inspiration for writing EXO?
I've read and watched a lot of movies and books with aliens and they often fall into two camps: friendly aliens and evil aliens. I have a tendency to always see gray instead of black and white, so I felt compelled to write a story in which the aliens are neither good nor evil, and it's the conflict between the humans that drives the story.
How long did you work on EXO?
I like to call
Exo
my failed NaNoWriMo project because I started working on it as a National Novel Writing Month project in November of 2013. I had a rough idea of what the story would be, so I dived in and wrote 35,000 words—before I realized they weren't working. So I scrapped the whole manuscript and started again on page one. It took me about six months to finish the first draft, and then another couple of months to revise it.
What did this book teach you about writing or about yourself?
Exo
is my second published novel and writing it was a very different process than my debut.
Zeroboxer
practically fell into my head.
Exo
took shape over several stages and taught me the power of revision and the perseverance required to see them through.
Zeroboxer
taught me I can write.
Exo
taught me that I can be a professional author.
What do you hope readers will take away from EXO?
That there are two sides to every conflict, that there are good people and understandable arguments on both sides of every war, that big problems defy simple answers, that that having alien armor would be really, really cool.
What are you working on now?
I'm in the revision stages of (as yet untitled) Exo 2, which will be out in Summer 2018.
ABOUT THE BOOK
Exo
by Fonda Lee
Hardcover
Scholastic Press
Released 1/31/2017
It's been a century of peace since Earth became a colony of an alien race with far reaches into the galaxy. Some die-hard extremists still oppose alien rule on Earth, but Donovan Reyes isn't one of them. His dad holds the prestigious position of Prime Liaison in the collaborationist government, and Donovan's high social standing along with his exocel (a remarkable alien technology fused to his body) guarantee him a bright future in the security forces. That is, until a routine patrol goes awry and Donovan's abducted by the human revolutionary group Sapience, determined to end alien control.
When Sapience realizes whose son Donovan is, they think they've found the ultimate bargaining chip . But the Prime Liaison doesn't negotiate with terrorists, not even for his own son. Left in the hands of terrorists who have more uses for him dead than alive, the fate of Earth rests on Donovan's survival. Because if Sapience kills him, it could spark another intergalactic war. And Earth didn't win the last one . . .
Purchase Exo at Amazon
Purchase Exo at IndieBound
View Exo on Goodreads
ABOUT THE AUTHOR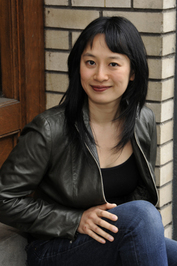 Fonda Lee writes science fiction and fantasy for teens and adults. Her debut novel ZEROBOXER was an Andre Norton Award nominee, Junior Library Guild Selection,, and an ALA Top 10 Quick Pick for Reluctant Readers. Her upcoming novel, EXO, will be released in January of 2017. Fonda is a former corporate strategist, avid martial artist, and an enthusiast of food, film, and books. She lives in Portland, Oregon.
--
Have you had a chance to read EXO yet? Have you scrapped a novel and started over on page one? Do you have the perseverance required to see revisions through? Share your thoughts about the interview in the comments!
Happy reading,
Jocelyn, Shelly, Martina, Anisaa, Sam, Erin, Susan, Kelly, Laura, and Ashley