Heirs of Watson Island
series, and it is now available in paperback. We're excited for AYAP blog founder Martina Boone, so we asked her to join us for a chat.
Martina, what was your inspiration for writing PERSUASION?
A deadline. : ) It's amazing how that can light a fire under your butt. Seriously, since this is the second book in the series, I had so much material to work with, and I kept finding more and more as I discovered new areas of research and new questions and conflicts between the characters that I wanted to explore. Putting Barrie and Cassie into a scenario where they had to learn to understand each other, however uncomfortably, and having Barrie and Eight delve deeper into their relationship, having them face the hard things that come after the first flush of attraction, and having Barrie and her aunt settle into an understanding of the magic of Watson's Landing, all of that drew me in. The book took on a life of its own, and that provided the inspiration.
What scene was really hard for you to write and why, and is that the one of which you are most proud? Or is there another scene you particularly love?

There's a scene at the center of the book that deals with some really hard issues. REALLY hard. And I wasn't sure I had the right to write it, but I also knew that it needed to be written because it was part of the story arc and the character arcs. As for scenes I love? There's one in which Eight builds Barrie a tire swing in the middle of the night because she wants to do things she's never done before. They dance together in the rain beneath a red umbrella, and I fell in love with the both all over again in that scene, as individuals and as a couple.

What book or books would most resonate with readers who love your book--or visa versa?

The series has been called BEAUTIFUL CREATURES meets THE RAVEN BOYS, and ROMEO AND JULIET meets GONE WITH THE WIND. To me, it's a little like a dark version of THE GILMORE GIRLS meets HART OF DIXIE meets SUPERNATURAL.

How long did you work on PERSUASION?

A year. That's what you have between books in a series. Ready or not, so you have to be ready.


What did this book teach you about writing or about yourself?

Since I was writing a lot of it as people were already reading and reacting COMPULSION, I had to learn to really stay true to the story and the characters without letting what other people wanted influence the story. I had to learn to put writing before social media, and I had to learn to divide time between writing and promotion. I had to learn to be an actual author, which is like the adulting version of being a writer—and I don't always do adulting well. At the same time, it was a really challenging story to write, and although I thought I was supposed to have the writing thing figured out after having sold three books, I wasn't sure that I was going to have the writing chops to pull this one off. Part of that is that stories never come out on paper as well as they play out in my head, but part was simple terror of failing. Bottom line, I learned that it's okay to be afraid of failing when you write. That's when you're writing the stories that matter. If you're not terrified, you're playing it safe.

What do you hope readers will take away from PERSUASION?

Ideally? I'd like them to think about the many different ways that we compel people to do things against their will. The ethics of it. The degrees of it. Everything from the small lies we tell for convenience down to physical force. Or magic. : ) We take a lot for granted.
What advice would you most like to pass along to other writers?
As a writer, you never really get to sit back as a writer and think you've mastered anything. Every new book is it's own journey, as if you throw out everything you learned about writing process and mechanics. Each one is a new opportunity to discover things about the world, about the characters, about yourself. That's what makes writing both hard and wonderful. In the process, you have to take time out to be kind to yourself. To forgive yourself for not being as good as you want to be. You have to be patient enough to make yourself better. And you have to have the desire to keep going no matter what life and the publishing industry throws your way. If you believe in a book, you have to keep writing until you get the first draft done. Then you keep editing until it isn't awful anymore. Until you can sit back and remember why you loved the idea and you think you've gotten that love across to your readers.

What are you working on now?

Two things. One with a friend that's a thriller about a high society thief chasing a Knight's Templar treasure, and another that's a high fantasy retelling of the Odyssey that's a bit like Star Wars meets Game of Thrones in a world ruled by Empaths.
ABOUT THE BOOK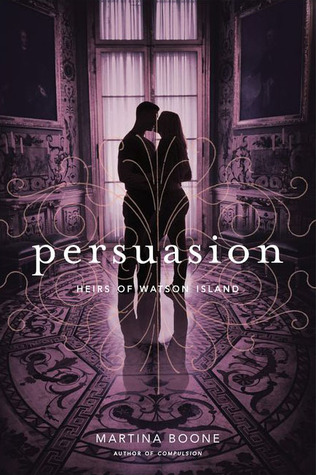 Persuasion
by Martina Boone
Hardcover
Simon Pulse
Released 10/27/2015
Romeo and Juliet meets Midnight in the Garden of Good and Evil in the spellbinding second novel in the Heirs of Watson Island trilogy that "skillfully blends rich magic and folklore with adventure, sweeping romance, and hidden treasure" (Publishers Weekly, on Compulsion).
Grieving the death of her godfather and haunted by her cousin Cassie's betrayal, Barrie returns from a trip to San Francisco to find the Watson plantation under siege. Ghost-hunters hope to glimpse the ancient spirit who sets the river on fire each night, and reporters chase rumors of a stolen shipment of Civil War gold that may be hidden at Colesworth Place. The chaos turns dangerous as Cassie hires a team of archeologists to excavate beneath the mansion ruins. Because more is buried there than treasure.
A stranger filled with magic arrives at Watson's Landing claiming that the key to the Watson and Beaufort gifts—and the Colesworth curse—also lies beneath the mansion. With a mix of threats and promises, the man convinces Barrie and Cassie to cast a spell there at midnight. But what he conjures may have deadly consequences.
While Barrie struggles to make sense of the escalating peril and her growing and forbidden feelings for Eight Beaufort, it's impossible to know whom to trust and what to fight for—Eight or herself. Millions of dollars and the fate of the founding families is at stake. Now Barrie must choose between what she feels deep in her heart and what will keep Watson's Landing safe in this stunning addition to a series filled with "decadent settings, mysterious magic, and family histories rife with debauchery" (Kirkus Reviews, on Compulsion)
Purchase Persuasion at Amazon
Purchase Persuasion at IndieBound
View Persuasion on Goodreads
ABOUT THE AUTHOR
Martina spoke several languages before she learned English after moving to the U.S. She has never fallen out of love with words, fairy tale settings, or characters who have to find themselves. She is the author of Compulsion, the acclaimed first book in the Heirs of Watson Island trilogy, and the recently released sequel, Persuasion. She is also the founder of three-time Writer's 101 Best Websites for Writers blog AdventuresInYAPublishing.com, the CompulsionForReading.com book drive campaign for underfunded schools and libraries, and YASeriesInsiders.com, a site devoted to the discovery and celebration of young adult literature and encouraging literacy through YA series. Locally in her home state, she is on the board of the Literacy Council of Northern Virginia, helping to promote literacy and adult education initiatives.
--
Have you had a chance to read PERSUASION yet? Are you afraid of failing when you write? When you start a new book, do you feel as if you're throwing out everything you've learned about writing? Share your thoughts about the interview in the comments!
Happy reading,
Jocelyn, Shelly, Martina, Anisaa, Sam, Erin, Susan, Michelle, Laura, and Kristin