Sarvenaz, what was your inspiration for writing THE GEEK'S GUIDE TO UNREQUITED LOVE?
A few days after I found out my previous book, THREE DAY SUMMER, had sold, I was ruminating on what I could work on next. That book takes place over the course of a few days at the Woodstock Music Festival in 1969. And while casually discussing Comic Con with my husband, I was hit with an a-ha moment. Comic Con takes place over a few days too. And before I knew it, Graham's voice was in my ear, telling me he's in love with his best friend and that he wants to tell her at the biggest event of their social calendar: NYCC. Of course I knew right away that nothing was going to go according to his plan.
What scene was really hard for you to write and why, and is that the one of which you are most proud? Or is there another scene you particularly love?
There's a speed-dating scene that I absolutely had the most fun writing. It makes me laugh to this day. As for the hardest scene: it was actually the final scene/chapter. I originally had a totally different ending for the book and I wrote my first draft that way. And then one of my very trusted beta readers pointed out to me that it was the wrong ending. So I wrote a different ending, and I spent a lot of time debating which one to go with. It was the first time I'd ever struggled so much with an ending (usually, I'm pretty good at beginnings and endings and get stuck somewhere in the middle). But, finally, I realized she was absolutely right and ending #2 won out.

What book or books would most resonate with readers who love your book--or visa versa?
There are a lot of amazing-sounding fandom books coming out this year, which I haven't had a chance to read yet (
All the Feels
,
Scarlett Epstein Hates It Here
,
Gena/Finn
). Of ones I have read, I would say
Ready Player One
was such an intricately plotted, brilliant action/adventure book with so many pop culture references. And as far as fantastic contemporary YA romances go, I have to go with
The Art of Lainey
by Paula Stokes. That book is vastly underrated, in my opinion. You go in for a fluffy romance, and get sucker-punched by these complex, multi-dimensional characters that—I promise—won't leave your head and heart ever.
How long did you work on THE GEEK'S GUIDE TO UNREQUITED LOVE?
I wrote the first draft over the course of about six months. I was pregnant (and very ill) for most of it, so I only had about 20 minutes in the mornings to work on it before the nausea made it impossible to focus. It was an interesting experience, and hard, but I was extremely proud of what I accomplished by the end. Even though I've always had a full-time job and written in my spare time, this taught me even more about stealing whatever moments you can to write—a lesson that's proving extra valuable now that I have a baby.
What do you hope readers will take away from THE GEEK'S GUIDE TO UNREQUITED LOVE?
I hope it makes them laugh and I hope that the love story—whether it's love of another person or love of a piece of art—resonates with them in some way.
ABOUT THE BOOK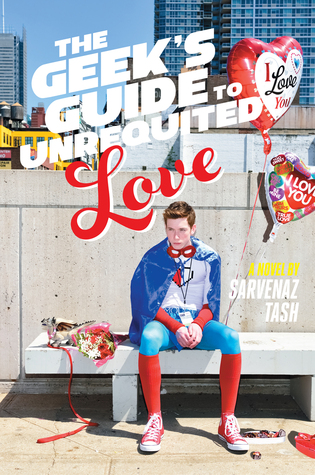 The Geek's Guide to Unrequited Love
by Sarvenaz Tash
Hardcover
Simon & Schuster Books for You
Released 6/14/2016
John Hughes meets Comic Con in this hilarious, unabashedly romantic, coming-of-age novel about a teenager who is trying to get his best friend to fall in love with him from the author of Three Day Summer.
Peter Parker and Gwen Stacy...
Archie and Veronica...
Althena and Noth...
...Graham and Roxy?
Graham met his best friend, Roxana, when he moved into her neighborhood eight years ago, and she asked him which Hogwarts house he'd be sorted into. Graham has been in love with her ever since.
But now they're sixteen, still neighbors, still best friends. And Graham and Roxy share more than ever—moving on from their Harry Potter obsession to a serious love of comic books.
When Graham learns that the creator of their favorite comic, The Chronicles of Althena, is making a rare appearance at this year's New York Comic Con, he knows he must score tickets. And the event inspires Graham to come up with the perfect plan to tell Roxy how he really feels about her. He's got three days to woo his best friend at the coolest, kookiest con full of superheroes and supervillains. But no one at a comic book convention is who they appear to be...even Roxy. And Graham is starting to realize fictional love stories are way less complicated than real-life ones.
Purchase The Geek's Guide to Unrequited Love at Amazon
Purchase The Geek's Guide to Unrequited Love at IndieBound
View The Geek's Guide to Unrequited Love on Goodreads
ABOUT THE AUTHOR
Sarvenaz Tash was born in Tehran, Iran and grew up on Long Island, NY. She received her BFA in Film and Television from New York University's Tisch School of the Arts. This means she got to spend most of college running around and making movies (it was a lot of fun). She has dabbled in all sorts of writing including screenwriting, copywriting, and professional tweeting. She currently lives in Brooklyn, NY.
--
Have you had a chance to read THE GEEK'S GUIDE TO UNREQUITED LOVE yet? Have you ever been torn between two endings for your novel? Do you steal whatever moments you can to write? Share your thoughts about the interview in the comments!
Happy reading,
Jocelyn, Shelly, Martina, Anisaa, Sam, Erin, Susan, Michelle, Laura, and Kristin