Louise, what was your inspiration for writing THE LANGUAGE OF STARS?
Stars
was born in 2008, when I took time out from writing to read the newspaper. (You know how that works, right?) Trying to avoid dealing with a really tough revision, I read an article about a group of teens who'd broken into and vandalized the historically preserved summer home of the poet Robert Frost, in Ripton, VT. These kids held a party in the house, a bash that caused a fire and did thousands of dollars damage. None of the party-goers were over eighteen, though, so no one did jail time. Instead, a resourceful judge sentenced them all to take a course in Frost's poetry.
Could anyone resist a story setup like this? My author's "what-if" machinery kicked right in, and I asked myself, "What if the poet was just as famous as Frost, but lived, not in New England, but where I do, in the South? And what if, instead of being dead for decades, he was still alive when his house was destroyed? And what if he decided to teach the poetry course the vandals were sentenced to, himself? And what if one of the students in the course was a teenage girl who had a flair for words and wanted to be an actress? And what if…." Well, you get the idea. Once I started, I couldn't stop!
What's your writing ritual like? Do you listen to music? Work at home or at a coffee shop or the library, etc?
I'm afraid my answer will disappoint folks who hope that wearing certain clothes, or sitting in a special chair, or even offering a prayer to Thoth, the Egyptian God of Scribes, will help smooth their writing angst. Not where I live! First of all, I'm not the sort of person who can walk and chew bubble gum at the same time, so no music for me. Second, although I've built myself a lovely, light-filled workspace at home, I teach and speak and am on the road a lot. So I need to be able to meet deadlines anywhere, not just when I'm curled up and cozy. My ritual? Start writing when my feet hit the floor in the morning. If I don't, if I check my email, explore the internet, answer the phone, or read the paper (see above😀 ), I'm doomed—I follow one distraction after another, and before you know it, I've written nothing. In sum, I'm hard core when it comes to writing: I sit down and do it.
What advice would you most like to pass along to other writers?
The best advice I can give any writer, especially new ones, comes into play before you ever set pen to paper, or fingers to keyboard. It's simple, but fundamental: in order write well, read widely. Fill your crafty artillery belt with all kinds of language, all sorts of approaches and voices and rhythms. Don't focus only on the kind of writing you want to do; let yourself explore a juicy worldful of expressive and bold prose, poetry and plays. The more books you read, the more hearts you can open. Promise!
What are you working on now?
I'm finishing a novel about Salomé, the dancer who won the head of John the Baptist. This historical has required a lot of research and a lot of re-thinking: rather than a dusky seductress, who perfumed the "dance of the seven veils," it turns out to be much more likely that Salomé, who was only about 13 when John was beheaded, was a polished young acrobat of royal blood. So if my teenage protagonist didn't kill John the Baptist, who did? Stay tuned!
ABOUT THE BOOK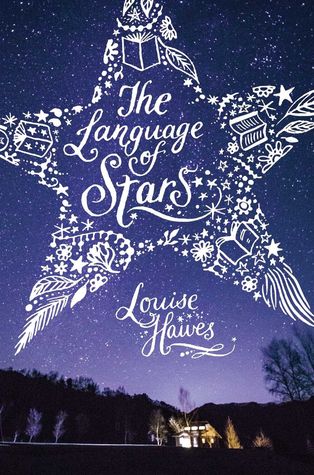 The Language of Stars
by Louise Hawes
Hardcover
Margaret K. McElderry Books
Released 5/31/2016
Sarah is forced to take a summer poetry class as penance for trashing the home of a famous poet in this fresh novel about finding your own voice.
Sarah's had her happy ending: she's at the party of the year with the most popular boy in school. But when that boy turns out to be a troublemaker who decided to throw a party at a cottage museum dedicated to renowned poet, Rufus Baylor, everything changes. By the end of the party, the whole cottage is trashed—curtains up in flames, walls damaged, mementos smashed—and when the partygoers are caught, they're all sentenced to take a summer class studying Rufus Baylor's poetry…with Baylor as their teacher.
For Sarah, Baylor is a revelation. Unlike her mother, who is obsessed with keeping up appearances, and her estranged father, for whom she can't do anything right, Rufus Baylor listens to what she has to say, and appreciates her ear for language. Through his classes, Sarah starts to see her relationships and the world in a new light—and finds that maybe her happy ending is really only part of a much more interesting beginning.
The Language of Stars is a gorgeous celebration of poetry, language, and love from celebrated author Louise Hawes.
Purchase The Language of Stars at Amazon
Purchase The Language of Stars at IndieBound
View The Language of Stars on Goodreads
ABOUT THE AUTHOR
Louise Hawes has written books for readers of all ages, including Rosey in the Present Tense, Waiting for Christopher, The Vanishing Point, and Black Pearls. Her work has won awards from Bank Street College, the NJ Council on the Arts, the New York City Public Library, the Children's Book Council, the Independent Booksellers Association, the International Reading Association, and the Young Adult Library Services Association (YALSA). Louise has written poems from the time she could form letters, but poetry has always been something she kept to herself—a sort of emotional timeline and diary. The Language of Stars marks the first time she's "gone public" with her poems. A tribute to Frost, one of her favorite poets, it is a sort of "debut novel" for an author who's written several well-loved books but never one so close to her heart.
--
Have you had a chance to read THE LANGUAGE OF STARS yet? Have you been inspired to write a story after reading a newspaper article? Are you able to start writing before you do anything else? Share your thoughts about the interview in the comments!
Happy reading,
Jocelyn, Shelly, Martina, Anisaa, Sam, Erin, Susan, Michelle, Laura, and Kristin