Julie, what was your inspiration for writing IVORY AND BONE?
The idea for IVORY AND BONE first came to me at the Museum of London, on a visit to the UK years before I began to write the book. I watched a display that showed an animated view of the city of London looking down from above. The display changed as it scrolled back through time, and the streets and cars were replaced by dirt roads and wagons. The images kept changing as time went farther and farther back, until we were looking down on the River Thames running through an unbroken forest. This was ten thousand years ago, and herds ran between the trees. The land seemed empty, but then smoke began to rise through the trees--the smoke of hearth fires. I'll never forget how awestruck I felt as I watched that landscape, wondering about the people living there. That was the very beginning of the idea that would become IVORY AND BONE.
What book or books would most resonate with readers who love your book--or visa versa?
I think IVORY AND BONE would appeal to readers who enjoyed PRIDE AND PREJUDICE, because although it's not a retelling, there are subtle allusions to P&P that people who know and love that book would notice. Fans of P&P have enjoyed finding the parallels. I also think fans of UNDER THE NEVER SKY would enjoy IVORY AND BONE because of the similar primitive elements, and the challenges to survival.

What did this book teach you about writing or about yourself?
This book taught me that it's okay to break some rules and do things differently from what's expected. I made a few risky choices--from having a male MC to telling the story in a mix of first and second person--but I don't regret those decisions. I think the key thing I realized was that some things are a little less comfortable than the norm, but that's okay. Sometimes you have to stretch boundaries. You make the choice you believe best serves the story.

What advice would you most like to pass along to other writers?
Celebrate every step of the journey to publication. Don't work toward the day that you'll finally be a writer, because you are a writer now. Be a writer every day. And for every step along the way, be proud of what you're doing. If you make your word count or get praise from your CP, make sure you acknowledge that accomplishment. You'll always have another goal to reach for, so don't wait until you are number one on the bestseller list to feel proud. Every step is it's own challenge and deserves its own reward.
ABOUT THE BOOK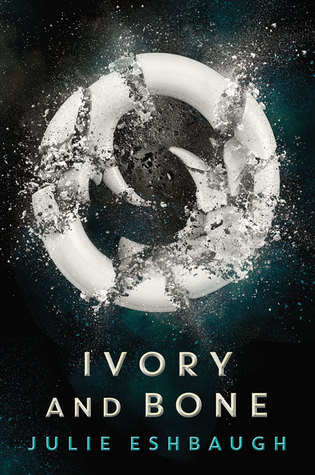 Ivory and Bone
by Julie Eshbaugh
Hardcover
HarperTeen
Released 6/7/2016
A prehistoric fantasy—with allusions to Pride and Prejudice.
Hunting, gathering, and keeping his family safe—that's the life seventeen-year-old Kol knows. Then bold, enigmatic Mya arrives from the south with her family, and Kol is captivated. He wants her to like and trust him, but any hopes of impressing her are ruined when he makes a careless—and nearly grave—mistake. However, there's something more to Mya's cool disdain…a history wrought with loss that comes to light when another clan arrives. With them is Lo, an enemy from Mya's past who Mya swears has ulterior motives.
As Kol gets to know Lo, tensions between Mya and Lo escalate until violence erupts. Faced with shattering losses, Kol is forced to question every person he's trusted. One thing is for sure: this was a war that Mya or Lo—Kol doesn't know which—had been planning all along.
Purchase Ivory and Bone at Amazon
Purchase Ivory and Bone at IndieBound
View Ivory and Bone on Goodreads
ABOUT THE AUTHOR
Julie Eshbaugh is the author of the upcoming Ivory and Bone (HarperCollins, 2016). She used to have trouble staying in one spot, having lived in places as varied as Utah, France, and New York City. Julie eventually returned home to the Philadelphia area, where she now lives with her husband, son, cat and dog. Her favorite moments are when the unexpected happens and she cheers loudest when the pitcher gets a hit.
---
Have you had a chance to read IVORY AND BONE yet? Do you stretch boundaries in your writing? Are you proud of what you are doing at every step? Share your thoughts about the interview in the comments!
Happy reading,
Jocelyn, Shelly, Martina, Anisaa, Sam, Erin, Susan, Michelle, Laura, and Kristin