Eileen, what was your inspiration for writing WITH MALICE?
There were a few things that came together to form the idea of this book. I'm fascinated with long-term friendships and how they survive and evolve, or don't. I knew I wanted to write about two friends who had been in a relationship for so long that at times it was hard to tell where the good parts and the bad intersected. I'd also worked for over twenty years in the field of vocational rehabilitation assisting with people with injuries and illnesses as an expert for the BC Supreme Court. I had done a lot of work with individuals with brain injury and taking the opportunity to explore identity and relationships when you can't trust your own memory was exciting.
Once I wrote a full draft of the manuscript I knew it was missing something and two other pieces of inspiration fell into place. The first was that I was planning a trip to Italy and it occurred to me to set the book there. I did a semester abroad while in college. It was an amazing experience, but there is something very disorienting about being so far away from home and your own culture. I felt it would give Jill an extra push to explore her friendship if they were out of their current element. As I prepared for the trip I started to read more about the Amanda Knox trial and that motivated me to add the pressure coming from the media- where everyone else is deciding your guilt or innocence based on very little information.
The final bit of inspiration came from the first season of the Serial podcast by NPR. (If you haven't listened- download it- you'll thank me.) It's a true crime story about a murder trial that happened in the 1990s. With each person that told their story I would shift my feelings.
"He's totally innocent! He's guilty! Wait-he's innocent!"
I wanted to see if I could recreate that feeling for readers by providing them with new perspectives that might change how they felt about the storyline.
How long did you work on WITH MALICE?
It depends on when you want to start the clock. Because I've worked with people who have head injuries for a long time I've been kicking the idea around of having a character who can't remember the past for awhile. I'd take the idea out every so often, but wasn't really sure what to do with it so I would tuck it away again. Once I decided it was finally time to write the book it took me about a year and a half. This included three different versions including one re-write where I pretty much threw away 99% of what I'd written and started over. There were a few times when I wasn't sure this book would ever be finished.
What do you hope readers will take away from WITH MALICE?
Hopefully readers will walk away with the sense that life can be pretty complicated and that things aren't always as straightforward as they seem. I love the idea of two friends both reading the book and then sitting down to debate what they think happened.

Was there an AHA! moment along your road to publication where something suddenly sank in and you felt you had the key to writing a novel? What was it?
I was taking a writing class and in a discussion with the teacher I shared that I was terrified of rejection. She told me: "I hate to tell you this, but you're already not published. The worst thing that will happen to you is that you still won't be published." That was my lightbulb moment. I realized that I had no control over if my work would ever be published- but I did have control over how hard I tried. When I talk to writers now who are in this stage I tell them I have no idea if they are "good enough" to be published, but i do know if they stop trying it will never happen.

What's your writing ritual like? Do you listen to music? Work at home or at a coffee shop or the library, etc?
I usually get up early and walk the dogs or go to the gym before settling in with a cup of tea and getting to work. I'm not creative before 8am or after 10pm. I usually have three or four hours of writing/creative time before my brain gives up. I often will have music on or the radio in the background so it's not too quiet- but I don't tend to make playlists that match what I'm writing. I write almost exclusively at home, but when I find myself stuck I do tend to leave my laptop behind and go out to a coffee shop or the beach with a notebook and handwrite notes and scenes until something new shakes free. Once I'm done writing I spend the rest of my day doing more business things, marketing, teaching, research etc. Also looking at random things on the Internet, yelling at my dogs to stop digging in the yard, and drinking endless cups of tea.
What are you working on now?

I almost always have a project on the go. I'm the happiest when I have a book project underway. During the periods when I'm not writing I feel a bit adrift and purposeless. I love the day-to-day process of trying to get an idea from my head onto the page and seeing how it evolves and changes.

My current book involves a young woman who is a fake psychic. This has given me an excuse to do a whole bunch of random research including the fact that I am getting to be pretty good at reading Tarot cards. I can't tell you too much about the book at this point, but it involves a missing girl and a bunch of lies that cause more trouble than the main character ever imagined possible.
ABOUT THE BOOK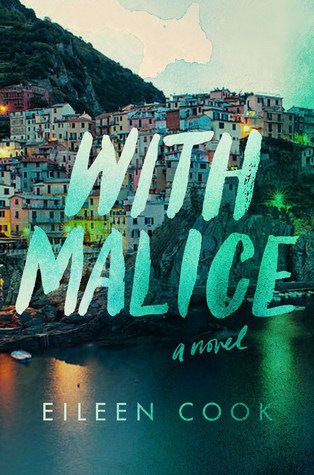 With Malice
by Eileen Cook
Hardcover
HMH Books for Young Readers
Released 6/7/2016
Eighteen-year-old Jill Charron wakes up in a hospital room, leg in a cast, stitches in her face and a big blank canvas where the last 6 weeks should be. She comes to discover she was involved in a fatal accident while on a school trip in Italy three days previous but was jetted home by her affluent father in order to receive quality care. Care that includes a lawyer. And a press team. Because maybe the accident...wasn't an accident.
Wondering not just what happened but what she did, Jill tries to piece together the events of the past six weeks before she loses her thin hold on her once-perfect life.
Purchase With Malice at Amazon
Purchase With Malice at IndieBound
View With Malice on Goodreads
ABOUT THE AUTHOR
Eileen Cook is a multi-published author with her novels appearing in eight different languages. Her books have been optioned for film and TV. She spent most of her teen years wishing she were someone else or somewhere else, which is great training for a writer. Her newest book, WITH MALICE, will be out in June 2016. She's an instructor/mentor with the Simon Fraser University Writer's Studio Program.
You can read more about Eileen, her books, and the things that strike her as funny at www.eileencook.com. Eileen lives in Vancouver with her husband and two very naughty dogs and no longer wishes to be anyone or anywhere else.
--
Have you had a chance to read WITH MALICE yet? Do you have inspiration from multiple sources come together to form an idea for a book? Do you love the day-to-day process of trying to get an idea from you head on to the page? Share your thoughts about the interview in the comments!
Happy reading,
Jocelyn, Shelly, Martina, Anisaa, Sam, Erin, Susan, Michelle, Laura, and Kristin