Happy Reading,
Shelly, Lindsey, Martina, Jocelyn, Erin, Susan, Sam, Sarah, Sandra, Kristin, and Anisaa
YA BOOK GIVEAWAYS THIS WEEK
* * * *
Exile for Dreamers
by Kathleen Baldwin
Full Series Giveaway

U.S. Only
Tor Teen
Released 5/24/2016
A School for Unusual Girls is the first captivating installment in the Stranje House series for young adults by award-winning author Kathleen Baldwin. #1 New York Times bestselling author Meg Cabot calls this romantic Regency adventure "completely original and totally engrossing."
Tess can't run far enough or fast enough to escape the prophetic dreams that haunt her. Dreams bring nothing but death and grief, and Tess refuses to accept that she may be destined for the same madness that destroyed her mother. Until her disturbing dreams become the only means of saving Lord Ravencross, the man she loves, and her friends at Stranje House from Lady Daneska and her lover, the Ghost-agent of Napoleon, who has escaped from Elba. Can the young ladies of Stranje House prevail once more? Or is England destined to fall into the hands of the power-mad dictator?
Author Question: What is your favorite thing about Exile for Dreamers?
I love that Tess is so incredibly athletic in a world where women were usually tame, mild-mannered, girly-girls. Her dreams are so stressful that she has to run in order to maintain her emotional balance.
Purchase Exile for Dreamers at Amazon
Purchase Exile for Dreamers at IndieBound
View Exile for Dreamers on Goodreads
* * * *
The Safest Lies
by Megan Miranda
Signed Hardcover Giveaway

U.S. Only
Crown Books for Young Readers
Released 5/24/2016
Can fear be inherited?
Kelsey was raised to see danger everywhere. Her mother hasn't set foot outside their front door in seventeen years, since she escaped from her kidnappers with Kelsey growing inside her.
Kelsey knows she's supposed to keep a low profile for their own protection, but that plan is shattered when she drives off a cliff and is rescued by volunteer firefighter and classmate Ryan Baker.
A few days later, she arrives home to face her greatest fear: her mother is missing. She and her mother have drilled for all contingencies—except this one. Luckily, Ryan is as skilled at emergency rescues as Kelsey is at escape and evasion.
To have a chance at a future, Kelsey will have to face all her darkest fears. Because someone is coming for her.
And the truth about the past may end up being the most dangerous thing of all.
Author Question: What is your favorite thing about The Safest Lies?
THE SAFEST LIES is about a girl named Kelsey who has been raised to see the danger everywhere, by a mother who hasn't left the house since Kelsey was born. So my favorite thing about the book was creating a house with this vision in mind—and then using it as the main setting for a thriller. At the beginning, Kelsey's home is seen as a layer of protection, with gates, alarms, cameras, and a safe room; and then, as the story progresses, Kelsey has to find a way to use only those elements to either protect herself, fight back, or escape. I loved seeing Kelsey grow from a girl ruled by fear, to a girl who channels those fears into strengths.
Purchase The Safest Lies at Amazon
Purchase The Safest Lies at IndieBound
View The Safest Lies on Goodreads
* * * *
26 Kisses
by Anna Michels
Hardcover Giveaway

U.S. Only
Simon Pulse
Released 5/24/2016
Kasie West meets Morgan Matson in this hilarious and heartwarming debut about a girl's summer mission to get over her ex-boyfriend by kissing her way through the alphabet.
Getting dumped by her boyfriend is not how Veda planned on starting her summer. When Mark makes it clear that it's over between them, Veda is heartbroken and humiliated—but, more importantly, she's inspired. So she sets out on the love quest of a lifetime: use the summer to forget about Mark, to move on, and move up. All she has to do is kiss twenty-six boys with twenty-six different names—one for each letter of the alphabet.
From the top of the Ferris wheel at her hometown carnival to the sandy dunes of Lake Michigan, Veda takes every opportunity she can to add kisses (and boys) to her list, and soon the break-up doesn't sting quite as much. But just when Veda thinks she has the whole kissing thing figured out, she meets someone who turns her world upside down.
Purchase 26 Kisses at Amazon
Purchase 26 Kisses at IndieBound
View 26 Kisses on Goodreads
YA BOOK GIVEAWAYS LAST WEEK: WINNERS
* * * *
100 Days of Cake by Shari Goldhagen:
Nicole S. & Kira B.
Circle of Jinn by Lori Goldstein:
Emma M.
Places No One Knows by Brenna Yovanoff:
Kami C.
MORE YOUNG ADULT FICTION IN STORES NEXT WEEK WITH AUTHOR INTERVIEWS
* * * *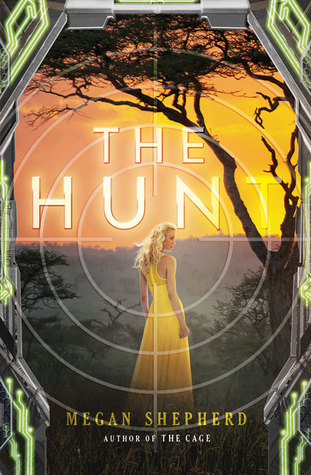 The Hunt
by Megan Shepherd
Paperback
Balzer + Bray
Released 5/24/2016
They've left the cage—but they're not free yet.
After their failed escape attempt, Cora, Lucky, and Mali have been demoted to the lowest level of human captives and placed in a safari-themed environment called the Hunt, along with wild animals and other human outcasts. They must serve new Kindred masters—Cora as a lounge singer, Lucky as an animal wrangler, and Mali as a safari guide—and follow new rules or face dangerous consequences. Meanwhile, Nok and Rolf have been moved into an enormous dollhouse, observed around the clock by Kindred scientists interested in Nok's pregnancy. And Leon, the only one who successfully escaped, has teamed up with villainous Mosca black-market traders.
The former inhabitants of the Cage are threatened on all fronts—and maybe worst of all, one of the Hunt's Kindred safari guests begins to play a twisted game of cat and mouse with Cora. Separated and constantly under watch, she and the others must struggle to stay alive, never mind find a way back to each other. When Cassian secretly offers to train Cora to develop her psychic abilities—to prove the worthiness of humanity in a series of tests called the Gauntlet—she'll have to decide fast if she dares to trust the Kindred who betrayed her, or if she can forge her own way to freedom.
Author Question: What is your favorite thing about The Hunt?
Each book in the CAGE series puts a twist on the different types of relationships that exist between animals and humans--only in the world of THE CAGE, the humans are the ones behind bars, and the all-powerful alien Kindred are the ones pulling the strings. In the first book, THE CAGE, the kids found themselves in a "human zoo" where they were kept in a zoo-like habitat, forced to perform tricks, and were experimented on. In THE HUNT, the kids have left the cage but now find themselves the quarry in a deadly game of cat-and-mouse in a safari-type enclosure. This time, they're paired with actual wild animals taken from Earth just like them. I loved playing around with the concepts of hunted vs hunter.
Purchase The Hunt at Amazon
Purchase The Hunt at IndieBound
View The Hunt on Goodreads
* * * *
The World Beneath
by Janice Warman
Hardcover
Candlewick
Released 5/24/2016
At the rise of South Africa's anti-apartheid struggle, a boy must face life decisions that test what he believes—and call for no turning back.
South Africa, 1976. Joshua lives with his mother in the maid's room, in the backyard of their wealthy white employers' house in the city by the sea. He doesn't quite understand the events going on around him. But when he rescues a stranger and riots begin to sweep the country, Joshua has to face the world beneath—the world deep inside him—to make heartbreaking choices that will change his life forever. Genuine and quietly unflinching, this beautifully nuanced novel from a veteran journalist captures a child's-eye view of the struggle that shaped a nation and riveted the world.
Author Question: What is your favorite thing about The World Beneath?
My favorite thing about The World Beneath is that it has given me the chance to tell the story of apartheid through a child's eyes, at a pivotal moment in the country's history - the Soweto uprising in 1976. Joshua is an extremely brave boy who risks his life to save the wounded freedom fighter he shelters in the garden. I grew up in South Africa as a privileged white child, surrounded by poverty and deprivation that I didn't see, and it took me until my teenage years to realize the extent of the horror that was the system of apartheid. With this story, I hope to bring to children around the world the reality of life there in a way that a history book could not.
Purchase The World Beneath at Amazon
Purchase The World Beneath at IndieBound
View The World Beneath on Goodreads
MORE YOUNG ADULT NOVELS NEW IN STORES NEXT WEEK
* * * *
Incriminated
by M.G. Reyes
Hardcover
Katherine Tegen Books
Released 5/24/2016
There's trouble in paradise. Six teens legally liberated from parental control—the bad boy, the good girl, the diva, the hustler, the rocker, and the nerd—all share a house in Venice Beach and they all have one thing in common: murder.
After a streak of hookups, heartbreaks, and bad decisions, the housemates' once perfect life is falling apart. One is caught in a forbidden romance with a Hollywood hearttrob while another puts her dreams on the line for one little kiss. One harbors a dark truth that could save a life while another's risky business puts all their lives on the line. And before they know it, the friends are fighting like family.
But when an uninvited houseguest and a deadly accident entangle them in a conspiracy none of them saw coming, pulling together is the only way out. Alone, none of them can cover up the lies. Together, none of them can be trusted.
Packed with conspiracies, intrigue, and scandalous romance, this gripping sequel told from multiple perspectives will have readers suspecting them all.
Purchase Incriminated at Amazon
Purchase Incriminated at IndieBound
View Incriminated on Goodreads
* * * *
Outrun the Moon
by Stacey Lee
Hardcover
G.P. Putnam's Sons Books for Y
Released 5/24/2016
San Francisco, 1906: Fifteen-year-old Mercy Wong is determined to break from the poverty in Chinatown, and an education at St. Clare's School for Girls is her best hope. Although St. Clare's is off-limits to all but the wealthiest white girls, Mercy gains admittance through a mix of cunning and a little bribery, only to discover that getting in was the easiest part. Not to be undone by a bunch of spoiled heiresses, Mercy stands strong—until disaster strikes.
On April 18, an historic earthquake rocks San Francisco, destroying Mercy's home and school. With martial law in effect, she is forced to wait with her classmates for their families in a temporary park encampment. Mercy can't sit by while they wait for the Army to bring help. Fires might rage, and the city may be in shambles, yet Mercy still has the 'bossy' cheeks that mark her as someone who gets things done. But what can one teenaged girl do to heal so many suffering in her broken city?
Purchase Outrun the Moon at Amazon
Purchase Outrun the Moon at IndieBound
View Outrun the Moon on Goodreads
* * * *
The Last Star
by Rick Yancey
Hardcover
G.P. Putnam's Sons Books for Young Readers
Released 5/24/2016
We're here, then we're gone, and that was true before they came. That's always been true. The Others didn't invent death; they just perfected it. Gave death a face to put back in our face, because they knew that was the only way to crush us. It won't end on any continent or ocean, no mountain or plain, jungle or desert. It will end where it began, where it had been from the beginning, on the battlefield of the last beating human heart.
Master storyteller Rick Yancey invokes triumph, loss, and unrelenting action as the fate of the planet is decided in the conclusion to this epic series.
Purchase The Last Star at Amazon
Purchase The Last Star at IndieBound
View The Last Star on Goodreads