Happy Reading,
Shelly, Lindsey, Martina, Jocelyn, Erin, Susan, Sam, Sarah, Sandra, Kristin, and Anisaa
YA BOOK GIVEAWAYS THIS WEEK
A Totally Awkward Love Story
by Tom Ellen and Lucy Ivison
Hardcover Giveaway

U.S. Only
Delacorte Press
Released 5/3/2016
The summer before college, Hannah swears she's finally going to find The One. And for five perfect minutes, Hannah does find him. He's cute and makes her laugh like crazy. She just wishes she'd caught his name, because Toilet Boy Cinderella really lacks sex appeal.
For Sam, the summer is off to a bad start for a million reasons. But for five minutes his luck changes: in a fancy restroom painted purple like it belongs in a Bond villain hideaway, Sam falls head over heels for some strange and hilarious girl. Of course, he doesn't know her name. With his luck, he'll never see her again, and he'll remain a girlfriendless, moony-eyed virgin. Forever.
But another chance meeting brings them together, only to have a chance misunderstanding drive them apart . . . and then the cycle starts all over again. Madcap mishaps, raunchy hilarity, and deep romance follow these two wherever they go. For two people so clearly destined for each other, they sure have a hell of a lot of trouble even getting together.
Author Question: What is your favorite thing about A TOTALLY AWKWARD LOVE STORY?

Probably the friendships in the book... We worked really hard on making them feel as realistic as possible, and we've had lots of lovely feedback from people about them. For the male friendship between Sam and Robin, we feel we got the right balance between that 'banter' that all boys have, and also some genuine emotional depth, while the female friendship between Hannah and Stella always has made lots of readers contact us saying, 'My best friend is EXACTLY like Stella!' So that's nice...!
Purchase A Totally Awkward Love Story at Amazon
Purchase A Totally Awkward Love Story at IndieBound
View A Totally Awkward Love Story on Goodreads
* * * *
True Born
by L.E. Sterling
Signed Hardcover Giveaway

U.S. Only
Entangled: Teen
Released 5/3/2016
Welcome to Dominion City.
After the great Plague descended, the world population was decimated...and their genetics damaged beyond repair.
The Lasters wait hopelessly for their genes to self-destruct. The Splicers pay for expensive treatments that might prolong their life. The plague-resistant True Borns are as mysterious as they are feared…
And then there's Lucy Fox and her identical twin sister, Margot. After endless tests, no one wants to reveal what they are.
When Margot disappears, a desperate Lucy has no choice but to put her faith in the True Borns, led by the charismatic Nolan Storm and the beautiful but deadly Jared Price. As Lucy and the True Borns set out to rescue her sister, they stumble upon a vast conspiracy stretching from Dominion's street preachers to shady Russian tycoons. But why target the Fox sisters?
As they say in Dominion, it's in the blood.
Author Question: What is your favorite thing about True Born?
Wow, it's so hard to pick just one thing! I love my heroine Lucy's bond with her twin, Margot. There's something so fascinating about these two - not just that they are identical and were born conjoined, but all the spooky twin stuff that goes with them (admittedly, most of the special gifts are Lucy's). I love that Lucy can "feel" what her twin experiences, for instance. These two have also developed a secret "twin" language, sometimes as subtle as the drawing of a fingernail across a leg, that allows the sisters to communicate in a hostile world. But who they are is wrapped up in the mystery of what they are – and I love unraveling this along the way.

I also truly love the world of Dominion - my heroines come from stultified wealth but live in and among a world falling apart at the seams. It's a dark world, but there are so many secret layers to it, and when Lucy falls into company with the True Borns, it's as though some of the more mysterious layers start to peel back and reveal themselves. I can't get enough!
Purchase True Born at Amazon
Purchase True Born at IndieBound
View True Born on Goodreads
* * * *
Love & Gelato
by Jenna Evans Welch
Hardcover Giveaway

U.S. Only
Simon Pulse
Released 5/3/2016
A summer in Italy turns into a road trip across Tuscany in this sweeping debut novel filled with romance, mystery, and adventure.
Lina is spending the summer in Tuscany, but she isn't in the mood for Italy's famous sunshine and fairy-tale landscape. She's only there because it was her mother's dying wish that she get to know her father. But what kind of father isn't around for sixteen years? All Lina wants to do is get back home.
But then Lina is given a journal that her mom had kept when she lived in Italy. Suddenly Lina's uncovering a magical world of secret romances, art, and hidden bakeries. A world that inspires Lina, along with the ever-so-charming Ren, to follow in her mother's footsteps and unearth a secret that has been kept from Lina for far too long. It's a secret that will change everything she knew about her mother, her father—and ever herself.
People come to Italy for love and gelato, someone tells her, but sometimes they discover much more.
Author Question: What is your favorite thing about Love & Gelato?
It's a tie between the setting and the two main characters. I was lucky enough to attend high school in a villa-turned-schoolhouse in the heart of Tuscany (hello, dream setting!), and the experiences I had there have followed me throughout my adult life and into my writing career. I'm certainly not the first person to write about the magic of Italy, but I have loved writing about it through a teen's eyes!

I also really love my characters Lina and Ren. Ren arrived loud and pretty much fully-formed in my mind one day (much like he does in the book), but Lina I had to work very hard to create. When I finished the book I honestly felt sad knowing that my time with them was over!
Purchase Love & Gelato at Amazon
Purchase Love & Gelato at IndieBound
View Love & Gelato on Goodreads
* * * *
The Girl I Used to Be
by April Henry
Hardcover Giveaway

U.S. Only
Henry Holt and Co.
Released 5/3/2016
When Olivia's mother was killed, everyone suspected her father of murder. But his whereabouts remained a mystery. Fast forward fourteen years. New evidence now proves Olivia's father was actually murdered on the same fateful day her mother died. That means there's a killer still at large. It's up to Olivia to uncover who that may be. But can she do that before the killer tracks her down first?
Author Question: What is your favorite thing about The Girl I Used to Be?
My favorite thing is the book is very much about the girl I used to be. I set it in Medford, the small Oregon town where I grew up. It's a beautiful place, a valley tucked between forested hills, that I have grown to appreciate more and more as I've gotten older. And I gave the main character Olivia a neighbor named Nora who is basically my mom. She acts, thinks, talks and dresses like my mom. I wrote the book while she was dying, and even got to read her the first section after I moved home to take care of her while she was on hospice.
Purchase The Girl I Used to Be at Amazon
Purchase The Girl I Used to Be at IndieBound
View The Girl I Used to Be on Goodreads
* * * *
The May Queen Murders
by Sarah Jude
Hardcover Giveaway (2 Copies)

U.S. Only
HMH Books for Young Readers
Released 5/3/2016
Stay on the roads. Don't enter the woods. Never go out at night.
Those are the rules in Rowan's Glen, a remote farming community in the Missouri Ozarks where Ivy Templeton's family has lived for centuries. It's an old-fashioned way of life, full of superstition and traditions, and sixteen-year-old Ivy loves it. The other kids at school may think the Glen kids are weird, but Ivy doesn't care—she has her cousin Heather as her best friend. The two girls share everything with each other—or so Ivy thinks. When Heather goes missing after a May Day celebration, Ivy discovers that both her best friend and her beloved hometown are as full of secrets as the woods that surround them.
Author Question: What is your favorite thing about The May Queen Murders?
For me, it's a story of personal growth and the complexities of female friendships. We've all felt betrayed by someone, but maybe we don't know everything that's really going on. Friendships are so much more than one argument or one day of laughter. Individual moments make up the whole.
Purchase The May Queen Murders at Amazon
Purchase The May Queen Murders at IndieBound
View The May Queen Murders on Goodreads
YA BOOK GIVEAWAYS LAST WEEK: WINNERS
Down with the Shine by Kate Karyus Quinn:
Carol R
Great Falls by Steve Watkins:
Stacy P
Let the Wind Rise by Shannon Messenger:
Mara H
MILA 2.0: Redemption by Debra Driza:
Kara S
The General by Robert Muchamore:
Traci T
The Incident on the Bridge by Laura McNeal:
Aylea S
The Star-Touched Queen by Roshani Chokshi:
Brandi H
Congratulations to everyone who won! If you didn't win, don't forget to check out the giveaway this week and enter below!
MORE YOUNG ADULT FICTION IN STORES NEXT WEEK WITH AUTHOR INTERVIEWS
If I Was Your Girl
by Meredith Russo
Hardcover
Flatiron Books
Released 5/3/2016
Amanda Hardy is the new girl in school. Like anyone else, all she wants is to make friends and fit in. But Amanda is keeping a secret, and she's determined not to get too close to anyone.
But when she meets sweet, easygoing Grant, Amanda can't help but start to let him into her life. As they spend more time together, she realizes just how much she is losing by guarding her heart. She finds herself yearning to share with Grant everything about herself, including her past. But Amanda's terrified that once she tells him the truth, he won't be able to see past it.
Because the secret that Amanda's been keeping? It's that at her old school, she used to be Andrew. Will the truth cost Amanda her new life, and her new love?
Meredith Russo's If I Was Your Girl is a universal story about feeling different—and a love story that everyone will root for.
Author Question: What is your favorite thing about If I Was Your Girl?
My favorite thing about the book, besides that I got to write it at all, is the exploration of secrets and fear and what they mean for our identities and our ability to be close to others. When you're LGBT and in the closet it's easy to think of your secret as especially apocalyptic, but at the same time it can really help to understand almost everyone has things they desperately don't want some people to know, that you're not alone in that.
Purchase If I Was Your Girl at Amazon
Purchase If I Was Your Girl at IndieBound
View If I Was Your Girl on Goodreads
* * * *
Lost in Love
by Susane Colasanti
Hardcover
Katherine Tegen Books
Released 5/3/2016
In this second book of the City Love trilogy by bestselling author Susane Colasanti, three girls share a Manhattan apartment the summer before college begins. Lost in Love captures the essence of summer love, self-discovery, and sisterhood, a perfect fit for fans of Sarah Dessen, Jenny Han, and Jennifer E. Smith.
Sadie was convinced that Austin was her soul mate, but after discovering his secret she wonders if she even knows him at all. Darcy was all about fun boy adventures with no strings attached . . . until her ex moves to New York City to win her back. Things are getting serious with Rosanna and her boyfriend, but will she be able to break free of her past and let him in? With no parents, no rules, and an entire city to explore, this is the summer that will change their lives forever.
Told from alternating points of view, Lost in Love weaves a story of first love, first heartbreak, and everything in between.
Author Question: What is your favorite thing about Lost in Love?
What I love most about LOST IN LOVE is being able to follow my City Love trilogy girls into another book. Sadie, Darcy, and Rosanna are different in major ways, but they all share a strong desire to build new lives for themselves. Each girl is running from secrets of her past toward what she hopes will be a brighter future. LOST IN LOVE brings some serious boy drama, but it also brings the girls a lot closer to one another. I love exploring their sisterhood bond during this summer that will change their loves forever. And of course I love being able to share my passion for New York City with my readers! This year I celebrated my 20th New Yorkiversary, and I am continuously amazed at how this city makes me feel so alive every single day. Hopefully my readers will feel that fabulous inspiring energy in LOST IN LOVE.
Purchase Lost in Love at Amazon
Purchase Lost in Love at IndieBound
View Lost in Love on Goodreads
MORE YOUNG ADULT NOVELS NEW IN STORES NEXT WEEK
A Court of Mist and Fury
by Sarah J Maas
Hardcover
Bloomsbury USA Childrens
Released 5/3/2016
Feyre survived Amarantha's clutches to return to the Spring Court--but at a steep cost. Though she now has the powers of the High Fae, her heart remains human, and it can't forget the terrible deeds she performed to save Tamlin's people.
Nor has Feyre forgotten her bargain with Rhysand, High Lord of the feared Night Court. As Feyre navigates its dark web of politics, passion, and dazzling power, a greater evil looms--and she might be key to stopping it. But only if she can harness her harrowing gifts, heal her fractured soul, and decide how she wishes to shape her future--and the future of a world cleaved in two.
With more than a million copies sold of her beloved Throne of Glass series, Sarah J. Maas's masterful storytelling brings this second book in her seductive and action-packed series to new heights.
Purchase A Court of Mist and Fury at Amazon
Purchase A Court of Mist and Fury at IndieBound
View A Court of Mist and Fury on Goodreads
* * * *
A Walk in the Sun
by Michelle Zink
Hardcover
HarperTeen
Released 5/3/2016
In this Bridges of Madison County for teens, Michelle Zink weaves a magnetic tale about summer love that stays with you long after the seasons change.
Rose Darrow never wanted to spend her life working on her family's farm. But when her family is rocked by an unexpected tragedy she has no choice but to put her plans for the future—and dreams of escaping her small town—on hold.
Bodhi Lowell left home as a kid and hasn't looked back. Years of working farm jobs has given him the one thing he wants most: freedom to travel without answering to anyone. He's already looking past his job at Darrow Farm and plans on leaving in September—until he meets Rose.
Neither Rose nor Bodhi can deny the sparks flying between them, but with the end of summer looming, they must decide if it is better to have loved and lost than never to have loved at all....
Purchase A Walk in the Sun at Amazon
Purchase A Walk in the Sun at IndieBound
View A Walk in the Sun on Goodreads
* * * *
Ask Me How I Got Here
by Christine Heppermann
Hardcover
Greenwillow Books
Released 5/3/2016
Addie has always known what she was running toward. In cross-country, in life, in love. Until she and her boyfriend—her sensitive, good-guy boyfriend—are careless one night and she ends up pregnant. Addie makes the difficult choice to have an abortion. And after that—even though she knows it was the right decision for her—nothing is the same anymore. She doesn't want anyone besides her parents and her boyfriend to know what happened; she doesn't want to run cross-country; she can't bring herself to be excited about anything. Until she reconnects with Juliana, a former teammate who's going through her own dark places. Once again, Christine Heppermann writes with an unflinching honesty and a deep sensitivity about the complexities of being a teenager, being a woman. Her free-verse poems are moving, provocative, and often full of wry humor and a sharp wit. Like Laurie Halse Anderson and Ellen Hopkins, Christine Heppermann is a voice to turn to for the truth of difficult subjects. Ask Me How I Got Here is a literary exploration of sexuality, religion, and self-discovery.
Purchase Ask Me How I Got Here at Amazon
Purchase Ask Me How I Got Here at IndieBound
View Ask Me How I Got Here on Goodreads
* * * *
Dream On
by Kerstin Gier
Hardcover
Henry Holt and Co.
Released 5/3/2016
Things seem to be going well for Liv Silver: she's adjusting to her new home (and her new family) in London; she has a burgeoning romance with Henry Harper, one of the cutest boys in school; and the girl who's been turning her dreams into nightmares, Anabel, is now locked up. But serenity doesn't last for long.
It seems that Liv's troubles are far from over--in fact, suddenly they're piling up. School gossip blogger Secrecy knows all of Liv's most intimate secrets, Henry might be hiding something from her, and at night Liv senses a dark presence following her through the corridors of the dream world. Does someone have a score to settle with Liv?
Romance, adventure, and danger abound in Dream On, the second book in the Silver trilogy.
Purchase Dream On at Amazon
Purchase Dream On at IndieBound
View Dream On on Goodreads
* * * *
Genius: The Game
by Leopoldo Gout
Hardcover
Feiwel & Friends
Released 5/3/2016
Trust no one. Every camera is an eye. Every microphone an ear. Find me and we can stop him together.
The Game: Get ready for Zero Hour as 200 geniuses from around the world go head to head in a competition hand-devised by India's youngest CEO and visionary.
The Players:
Rex: One of the best programmers/hackers in the world, this 16-year-old Mexican-American is determined to find his missing brother.
Tuned: This 14-year-old self-taught engineering genius has drawn the attention of a ruthless military warlord by single-handedly bringing electricity and internet to his small Nigerian village.
Painted Wolf: One of China's most respected activist bloggers, this mysterious 16-year-old is being pulled into the spotlight by her father's new deal with a corrupt Chinese official.
The Stakes: Higher than you can imagine. Like life and death.
Welcome to the revolution. And get ready to run.
Purchase Genius: The Game at Amazon
Purchase Genius: The Game at IndieBound
View Genius: The Game on Goodreads
* * * *
Holding Smoke
by Elle Cosimano
Hardcover
Disney-Hyperion
Released 5/3/2016
John "Smoke" Conlan is serving time for two murders but he wasn't the one who murdered his English teacher, and he never intended to kill the only other witness to the crime. A dangerous juvenile rehabilitation center in Denver, Colorado, known as the Y, is Smoke's new home and the only one he believes he deserves.
But, unlike his fellow inmates, Smoke is not in constant imprisonment. After a near death experience leaves him with the ability to shed his physical body at will, Smoke is able to travel freely outside the concrete walls of the Y, gathering information for himself and his fellow inmates while they're asleep in their beds. Convinced his future is only as bright as the fluorescent lights in his cell, Smoke doesn't care that the "threads" that bind his soul to his body are wearing thin-that one day he may not make it back in time. That is, until he meets Pink, a tough, resourceful girl who is sees him for who he truly is and wants to help him clear his name.
Now Smoke is on a journey to redemption he never thought possible. With Pink's help, Smoke may be able to reveal the true killer, but the closer they get to the truth, the more deadly their search becomes. The web of lies, deceit, and corruption that put Smoke behind bars is more tangled than they could have ever imagined. With both of their lives on the line, Smoke will have to decide how much he's willing to risk, and if he can envision a future worth fighting for.
Purchase Holding Smoke at Amazon
Purchase Holding Smoke at IndieBound
View Holding Smoke on Goodreads
* * * *
Night Speed
by Chris Howard
Hardcover
Katherine Tegen Books
Released 5/3/2016
Only those young enough can survive the pulse-pounding rush of tetra, a dangerous and addictive new drug that fuels a nine-minute burst of superhuman strength and speed. Alana West has been trained to use the drug so she can pursue the young criminals who abuse its power—criminals like the breakneck who nearly killed her kid brother.
On tetra, Alana is unstoppable. The rush makes her an explosive blur as she surges through New York City, battling to bring down breaknecks before they leave more people dead or injured in their wake. But with the clock ticking down to her eighteenth birthday, Alana will soon be too old for the rush...when just one more dose will prove deadly.
Supported only by her strong and steady handler, Tucker, Alana goes undercover, infiltrating an elite gang of breaknecks to stop the supply of their drug. But when Alana gets trapped on the wrong side of the law, she learns the breaknecks are not quite what they seem—especially Ethan, the artistic boy whose bottomless brown eyes seem to see the truth inside her. With her own dependency on tetra increasing, Alana must decide where her loyalties lie before the rush ends. Forever.
Purchase Night Speed at Amazon
Purchase Night Speed at IndieBound
View Night Speed on Goodreads
* * * *
Queen of Hearts
by Colleen Oakes
Hardcover
HarperTeen
Released 5/3/2016
As Princess of Wonderland Palace and the future Queen of Hearts, Dinah's days are an endless monotony of tea, tarts, and a stream of vicious humiliations at the hands of her father, the King of Hearts. The only highlight of her days is visiting Wardley, her childhood best friend, the future Knave of Hearts — and the love of her life.
When an enchanting stranger arrives at the Palace, Dinah watches as everything she's ever wanted threatens to crumble. As her coronation date approaches, a series of suspicious and bloody events suggests that something sinister stirs in the whimsical halls of Wonderland. It's up to Dinah to unravel the mysteries that lurk both inside and under the Palace before she loses her own head to a clever and faceless foe.
Part epic fantasy, part twisted fairy tale, this dazzling saga will have readers shivering as Dinahs furious nature sweeps Wonderland up in the maelstrom of her wrath.
Familiar characters such as Cheshire, the White Rabbit, and the Mad Hatter make their appearance, enchanting readers with this new, dark take on Alice's Adventures in Wonderland.
Purchase Queen of Hearts at Amazon
Purchase Queen of Hearts at IndieBound
View Queen of Hearts on Goodreads
* * * *
Ruined
by Amy Tintera
Hardcover
HarperTeen
Released 5/3/2016
Emelina Flores has nothing. Her home in Ruina has been ravaged by war. She lacks the powers of her fellow Ruined. Worst of all, she witnessed her parents' brutal murders and watched helplessly as her sister, Olivia, was kidnapped.
But because Em has nothing, she has nothing to lose. Driven by a blind desire for revenge, Em sets off on a dangerous journey to the enemy kingdom of Lera. Somewhere within Lera's borders, Em hopes to find Olivia. But in order to find her, Em must infiltrate the royal family.
In a brilliant, elaborate plan of deception and murder, Em marries Prince Casimir, next in line to take Lera's throne. If anyone in Lera discovers Em is not Casimir's true betrothed, Em will be executed on the spot. But it's the only way to salvage Em's kingdom and what is left of her family.
Em is determined to succeed, but the closer she gets to the prince, the more she questions her mission. Em's rage-filled heart begins to soften. But with her life—and her family—on the line, love could be Em's deadliest mistake.
Purchase Ruined at Amazon
Purchase Ruined at IndieBound
View Ruined on Goodreads
* * * *
Shuffle, Repeat
by Jen Klein
Hardcover
Random House Books for Young Readers
Released 5/3/2016
June wants high school to end and real life to begin. Oliver is soaking up senior year's glory days. They could have coasted through high school, knowing about—but not really knowing—each other.
Except that their moms have arranged for Oliver to drive June to school. Every. Single. Day.
Suddenly these two opposites are fighting about music, life . . . pretty much everything. But love is unpredictable. When promises—and hearts—get broken, Oliver and June must figure out what really matters. And then fight for it.
Purchase Shuffle, Repeat at Amazon
Purchase Shuffle, Repeat at IndieBound
View Shuffle, Repeat on Goodreads
* * * *
Suffer Love
by Ashley Herring Blake
Hardcover
HMH Books for Young Readers
Released 5/3/2016
Sam Bennett falls for Hadley St. Clair before he knows her last name. When Sam finds out she is that St. Clair, daughter of the man who destroyed Sam's family, he has a choice: follow his heart or tell the truth about the scandal that links their families. Funny and passionate, Suffer Love is a story about first love, family dysfunction, and the fickle hand of fate.
Purchase Suffer Love at Amazon
Purchase Suffer Love at IndieBound
View Suffer Love on Goodreads
* * * *
Summer of Sloane
by Erin L. Schneider
Hardcover
Disney-Hyperion
Released 5/3/2016
Warm Hawaiian sun. Lazy beach days. Flirty texts with her boyfriend back in Seattle.
These are the things seventeen-year-old Sloane McIntyre pictured when she imagined the summer she'd be spending at her mom's home in Hawaii with her twin brother, Penn. Instead, after learning an unthinkable secret about her boyfriend, Tyler, and best friend, Mick, all she has is a fractured hand and a completely shattered heart.
Once she arrives in Honolulu, though, Sloane hopes that Hawaii might just be the escape she needs. With beach bonfires, old friends, exotic food, and the wonders of a waterproof cast, there's no reason Sloane shouldn't enjoy her summer. And when she meets Finn McAllister, the handsome son of a hotel magnate who doesn't always play by the rules, she knows he's the perfect distraction from everything that's so wrong back home.
But it turns out a measly ocean isn't nearly enough to stop all the emails, texts, and voicemails from her ex-boyfriend and ex-best friend, desperate to explain away their betrayal. And as her casual connection with Finn grows deeper, Sloane's carefree summer might not be as easy to find as she'd hoped. Weighing years of history with Mick and Tyler against their deception, and the delicate possibility of new love, Sloane must decide when to forgive, and when to live for herself.
Purchase Summer of Sloane at Amazon
Purchase Summer of Sloane at IndieBound
View Summer of Sloane on Goodreads
* * * *
The Blood Between Us
by Zac Brewer
Hardcover
HarperTeen
Released 5/3/2016
Growing up, Adrien and his sister, Grace, competed viciously for everything. It wasn't easy being the adopted sibling, but Adrien tried to get along; it was Grace who didn't want anything to do with him. When their scientist parents died in a terrible lab fire, there was nothing left to hold them together.
Now, after years apart, Adrien and Grace are forced to reunite at the elite boarding school where their parents were teachers. Being back around everyone he used to know makes Adrien question the person he's become, while being back around Grace makes him feel like someone he doesn't want to be.
For as much as Adrien wants to move on, someone seems determined to reopen old wounds. And when Adrien starts to suspect that Grace knows more about their parents' deaths than she let on, he realizes there are some wounds no amount of time can heal. If Adrien isn't careful, they may even kill him.
Purchase The Blood Between Us at Amazon
Purchase The Blood Between Us at IndieBound
View The Blood Between Us on Goodreads
* * * *
The Crown
by Kiera Cass
Hardcover
HarperTeen
Released 5/3/2016
Kiera Cass's bestselling Selection series has enchanted readers from the very first page. Now the end of the journey is here, in a wonderfully romantic series finale that will sweep you off your feet.
Twenty years have passed since the events of The One, and America and Maxon's daughter is the first princess to hold a Selection of her own. Princess Eadlyn didn't think she would find a real partner among the Selection's thirty-five suitors, let alone true love. But sometimes the heart has a way of surprising you...and now Eadlyn must make a choice that feels more difficult—and more important—than she ever expected.
The Selection series has sold more than 3 million copies and captured the hearts of fans around the world. This swoonworthy final installment is the happily ever after they've all been waiting for.
Purchase The Crown at Amazon
Purchase The Crown at IndieBound
View The Crown on Goodreads
* * * *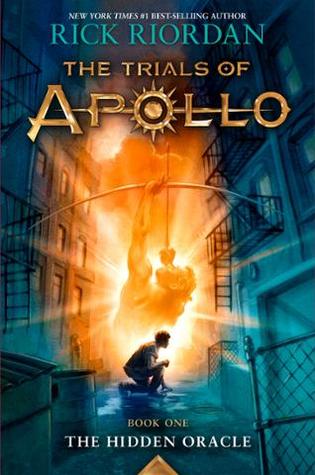 The Hidden Oracle
by Rick Riordan
Hardcover
Disney-Hyperion
Released 5/3/2016
How do you punish an immortal?
By making him human.
After angering his father Zeus, the god Apollo is cast down from Olympus. Weak and disorientated, he lands in New York City as a regular teenage boy. Now, without his godly powers, the four-thousand-year-old deity must learn to survive in the modern world until he can somehow find a way to regain Zeus's favour.
But Apollo has many enemies - gods, monsters and mortals who would love to see the former Olympian permanently destroyed. Apollo needs help, and he can think of only one place to go . . . an enclave of modern demigods known as Camp Half-Blood.
Purchase The Hidden Oracle at Amazon
Purchase The Hidden Oracle at IndieBound
View The Hidden Oracle on Goodreads
* * * *
The Outliers
by Kimberly McCreight
Hardcover
HarperCollins
Released 5/3/2016
From the New York Times bestselling author of Reconstructing Amelia comes a fast-paced teen series where one girl learns that in a world of intrigue, betrayal, and deeply buried secrets, it is vital to trust your instincts.
It all starts with a text: Please, Wylie, I need your help. Wylie hasn't heard from Cassie in over a week, not since their last fight. But that doesn't matter. Cassie's in trouble, so Wylie decides to do what she has done so many times before: save her best friend from herself.
This time it's different, though. Instead of telling Wylie where she is, Cassie sends cryptic clues. And instead of having Wylie come by herself, Jasper shows up saying Cassie sent him to help. Trusting the guy who sent Cassie off the rails doesn't feel right, but Wylie has no choice but to ignore her gut instinct and go with him.
But figuring out where Cassie is goes from difficult to dangerous, fast. As Wylie and Jasper head farther and farther north into the dense woods of Maine, Wylie struggles to control her growing sense that something is really wrong. What isn't Cassie telling them? And could finding her be only the beginning?
In this breakneck tale, New York Times bestselling author Kimberly McCreight brilliantly chronicles a fateful journey that begins with a single decision—and ends up changing everything.
Purchase The Outliers at Amazon
Purchase The Outliers at IndieBound
View The Outliers on Goodreads
* * * *
The Society
by Jodie Andrefski
Paperback
Entangled: Teen
Released 5/3/2016
What starts as a simple revenge plot turns deadly inside Trinity Academy's gold-plated secret society, and seventeen-year-old Sam Evans must decide if vengeance is worth the price.
Trinity Academy's gold-plated secret society is about to be turned upside down. Seventeen-year-old Sam Evans plots revenge on her ex-bestie, Jessica, who happens to perch at the top of the Society's social ladder--and helped put Sam's dad in jail. Sam may no longer be cool enough to be invited to rush the Society, but she's tech-savvy enough to know how to use it in her plan.
Sam fake taps three "initiates" to do her dirty work, each none the wiser that they're merely puppets in a quest to dethrone Jessica. Convinced Sam is losing it, her best friend Jeremy distances himself, which just fuels Sam's manic personality. But after Sam meets a hot stranger in a coffee shop, she's sure the gods might finally be taking pity on her. Everything seems to be coming together--revenge, romance, respect--until she's confused by her growing attraction to Jeremy and her plotting starts to derail.
Get-backs can be a bitch, and things nosedive when Sam realizes her plan isn't as flawless as she thinks--and if she's not careful she could be joining her dad behind bars. With one girl hospitalized and another student in a coma, Sam is forced to re-examine her motives and decide who and what she's willing to sacrifice in the name of vengeance.
Purchase The Society at Amazon
Purchase The Society at IndieBound
View The Society on Goodreads
* * * *
The Square Root of Summer
by Harriet Reuter Hapgood
Hardcover
Roaring Brook Press
Released 5/3/2016
This is what it means to love someone. This is what it means to grieve someone. It's a little bit like a black hole. It's a little bit like infinity.
Gottie H. Oppenheimer is losing time. Literally. When the fabric of the universe around her seaside town begins to fray, she's hurtled through wormholes to her past:
To last summer, when her grandfather Grey died. To the afternoon she fell in love with Jason, who wouldn't even hold her hand at the funeral. To the day her best friend Thomas moved away and left her behind with a scar on her hand and a black hole in her memory.
Although Grey is still gone, Jason and Thomas are back, and Gottie's past, present, and future are about to collide—and someone's heart is about to be broken.
With time travel, quantum physics, and sweeping romance, The Square Root of Summer is an exponentially enthralling story about love, loss, and trying to figure it all out, from stunning debut YA voice, Harriet Reuter Hapgood.
Purchase The Square Root of Summer at Amazon
Purchase The Square Root of Summer at IndieBound
View The Square Root of Summer on Goodreads
* * * *
The Unexpected Everything
by Morgan Matson
Hardcover
Simon & Schuster Books for Young Readers
Released 5/3/2016
Andie had it all planned out.
When you are a politician's daughter who's pretty much raised yourself, you learn everything can be planned or spun, or both. Especially your future.
Important internship? Check.
Amazing friends? Check.
Guys? Check (as long as we're talking no more than three weeks).
But that was before the scandal. Before having to be in the same house with her dad. Before walking an insane number of dogs. That was before Clark and those few months that might change her whole life.
Because here's the thing - if everything's planned out, you can never find the unexpected.
And where's the fun in that?
Purchase The Unexpected Everything at Amazon
Purchase The Unexpected Everything at IndieBound
View The Unexpected Everything on Goodreads
* * * *
The Way Back to You
by Michelle Andreani and Mindi Scott
Hardcover
Katherine Tegen Books
Released 5/3/2016
Six months ago, Ashlyn Montiel died in a bike accident.
Her best friend Cloudy is keeping it together, at least on the outside. Cloudy's insides are a different story: tangled, confused, heartbroken.
Kyle is falling apart, and everyone can tell. Ashlyn was his girlfriend, and when she died, a part of him went with her. Maybe the only part he cares about anymore.
As the two people who loved Ashlyn best, Cloudy and Kyle should be able to lean on each other. But after a terrible mistake last year, they're barely speaking. So when Cloudy discovers that Ashlyn's organs were donated after her death and the Montiel family has been in touch with three of the recipients, she does something a little bit crazy and a lot of out character: she steals the letters and convinces Kyle to go on a winter break road trip with her, from Oregon to California to Arizona to Nevada. Maybe if they see the recipients—the people whose lives were saved by Ashlyn's death—the world will open up again. Or maybe it will be a huge mistake.
With hundreds of miles in front of them, a stowaway kitten, and a list of people who are alive because of Ashlyn, Cloudy and Kyle just may find their way to back to her...and to each other.
Purchase The Way Back to You at Amazon
Purchase The Way Back to You at IndieBound
View The Way Back to You on Goodreads
* * * *
Traitor Angels
by Anne Blankman
Hardcover
Balzer + Bray
Released 5/3/2016
Six years have passed since England's King Charles II returned from exile to reclaim the throne, ushering in a new era of stability for his subjects.
Except for Elizabeth Milton. The daughter of notorious poet John Milton, Elizabeth has never known her place in this shifting world—except by her father's side. By day she helps transcribe his latest masterpiece, the epic poem Paradise Lost, and by night she learns languages and sword fighting. Although she does not dare object, she suspects that he's training her for a mission whose purpose she cannot fathom.
Until one night the reason becomes clear: the king's man arrive at her family's country home to arrest her father. Determined to save him, Elizabeth follows his one cryptic clue and journeys to Oxford, accompanied by her father's mysterious young houseguest, Antonio Vivani, a darkly handsome Italian scientist who surprises her at every turn. Funny, brilliant, and passionate, Antonio seems just as determined to protect her father as she is—but can she trust him with her heart?
When the two discover that Milton has planted an explosive secret in the half-finished Paradise Lost—a secret the king and his aristocratic supporters are desperate to conceal—Elizabeth is faced with a devastating choice: cling to the shelter of her old life or risk cracking the code, unleashing a secret that could save her father…and tear apart the very fabric of society.
Purchase Traitor Angels at Amazon
Purchase Traitor Angels at IndieBound
View Traitor Angels on Goodreads
* * * *
Whisper to Me
by Nick Lake
Hardcover
Bloomsbury USA Childrens
Released 5/3/2016
Cassie is writing a letter to the boy whose heart she broke. She's trying to explain why. Why she pushed him away. Why her father got so angry when he saw them together. Why she disappears some nights. Why she won't let herself remember what happened that long-ago night on the boardwalk. Why she fell apart so completely.
Desperate for his forgiveness, she's telling the whole story of the summer she nearly lost herself. She's hoping he'll understand as well as she now does how love—love for your family, love for that person who makes your heart beat faster, and love for yourself—can save you after all.
Purchase Whisper to Me at Amazon
Purchase Whisper to Me at IndieBound
View Whisper to Me on Goodreads