Happy reading,
Lindsey, Martina, Sam, Jocelyn, Erin, Lisa, Shelly, Susan, Elizabeth, Kristin, Sandra and Anisaa
YA BOOK GIVEAWAYS THIS WEEK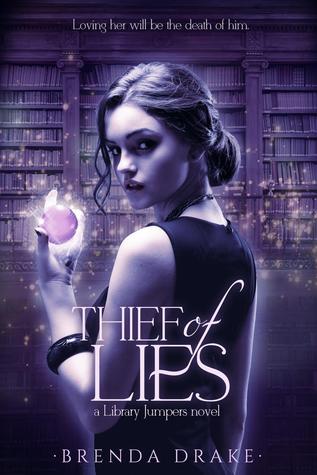 Thief of Lies
by Brenda Drake
Signed Hardcover Giveaway

U.S. Only
Entangled: Teen
Released 1/5/2016
Gia Kearns would rather fight with boys than kiss them. That is, until Arik, a leather clad hottie in the Boston Athenaeum, suddenly disappears. While examining the book of world libraries he abandoned, Gia unwittingly speaks the key that sucks her and her friends into a photograph and transports them into a Paris library, where Arik and his Sentinels-magical knights charged with protecting humans from the creatures traveling across the gateway books-rescue them from a demonic hound.
Jumping into some of the world's most beautiful libraries would be a dream come true for Gia, if she weren't busy resisting her heart or dodging an exiled wizard seeking revenge on both the Mystik and human worlds. Add a French flirt obsessed with Arik and a fling with a young wizard, and Gia must choose between her heart and her head, between Arik's world and her own, before both are destroyed.
Author Question: What is your favorite thing about Thief of Lies?
I didn't have to think much on this question. My most favorite thing about the story is the gateway books. I love how they magically connect the most beautiful libraries in the world. Gia and her friends transport by accident into a Paris library. Who wouldn't want to jump into a page and end up in a new place? There are so many wonderful libraries with amazing architecture. It was great fun incorporating them into the story. Add fight scenes, and what's not to love? I can't wait to share more libraries in the forthcoming books.

A close second to the gateway books would be the characters. They represent the many people in my life with their unique personalities and diverse backgrounds. I hope I showed their differences within the story. Gia, the main character, is sort of a mix of my two nieces with a dash of myself. She's stubborn, strong at times (afraid at times), determined, and loyal. Arik, a Sentinel, is strong, a leader, but has a soft side that shows up every so often. I've grown close to the cast of characters over the years and I'm excited to share their journeys in this book and the two following it. I hope you'll join me!
Purchase Thief of Lies at Amazon
Purchase Thief of Lies at IndieBound
View Thief of Lies on Goodreads
* * * *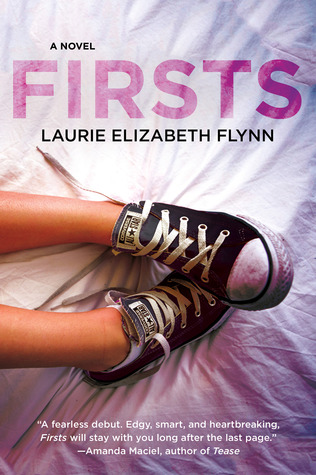 Firsts
by Laurie Elizabeth Flynn
Swag Giveaway

U.S. Only
St. Martin's Griffin
Released 1/5/2016
Seventeen-year-old Mercedes Ayres has an open-door policy when it comes to her bedroom, but only if the guy fulfills a specific criteria: he has to be a virgin. Mercedes lets the boys get their awkward, fumbling first times over with, and all she asks in return is that they give their girlfriends the perfect first time- the kind Mercedes never had herself.
Keeping what goes on in her bedroom a secret has been easy- so far. Her absentee mother isn't home nearly enough to know about Mercedes' extracurricular activities, and her uber-religious best friend, Angela, won't even say the word "sex" until she gets married. But Mercedes doesn't bank on Angela's boyfriend finding out about her services and wanting a turn--or on Zach, who likes her for who she is instead of what she can do in bed.
When Mercedes' perfect system falls apart, she has to find a way to salvage her reputation and figure out where her heart really belongs in the process. Funny, smart, and true-to-life, FIRSTS is a one-of-a-kind young adult novel about growing up.
Author Question: What is your favorite thing about Firsts?
My favorite thing about FIRSTS is that it's told from the perspective of someone most people would judge and shame for her actions. Through Mercedes, I wanted to create a character you don't see a lot in YA—a teenage girl who has sex with more than one boy, none of whom are her boyfriends. Mercedes has lots of reasons for trying to give each guy the perfect first-time experience, but the most underlying reasons may be ones even she doesn't know yet. Slut-shaming is so prevalent in today's society and through Mercedes, I wanted to take the double-standard and smash it to pieces.

I also love that FIRSTS is a sex-positive book. Mercedes has and enjoys sex and doesn't slut-shame herself for any of the things she does. She owns and explores her sexuality and doesn't feel the need to put a label on herself or her feelings.
Purchase Firsts at Amazon
Purchase Firsts at IndieBound
View Firsts on Goodreads
YA BOOK GIVEAWAYS LAST WEEK: WINNERS
Endure by Sara B. Larson
- Nicole W.
Thicker Than Water by Brigid Kemmerer
- Ashley R.
MORE YOUNG ADULT FICTION IN STORES NEXT WEEK WITH AUTHOR INTERVIEWS
Once Upon a Kiss
by Robin Palmer
Paperback
Speak
Released 1/5/2016
So much has happened since 1986, and Zoe Brenner is about to find out just how much.
From the author of the book that inspired the Disney original movie Geek Charming!
It's 1986 and sixteen-year-old Zoe Brenner's world revolves around Depeche Mode, Judd Nelson, exercise-obsessed parents, and her best friend Jonah. Then one day, in a freak Fun-Dip choking accident, Zoe falls unconscious, and awakes in the year 2016. So much has changed, and Zoe needs Jonah to help her make sense of it all. But in this life, Zoe is the most popular girl in school, and she soon realizes this Zoe doesn't associate with nerds like Jonah. As Zoe juggles new technology, attempts to hide her enthusiasm for poet blouses, and manages to keep her super jock boyfriend at bay, she tries to rekindle her friendship with Jonah and use her popularity for a good cause. Will she ever get back to 1986? And more importantly, does she want to?
Author Question: What is your favorite thing about Once Upon a Kiss?
My favorite thing about the book is how clueless Zoe is about 2016 technology. As I was writing it, I put myself in her shoes and thought about how utterly crazy all of this would seem to someone with no experience with email/texting/instagram, etc.
Purchase Once Upon a Kiss at Amazon
Purchase Once Upon a Kiss at IndieBound
View Once Upon a Kiss on Goodreads
* * * *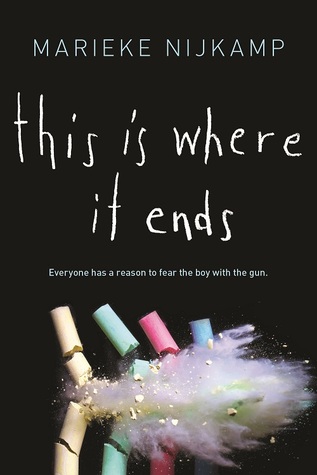 This Is Where It Ends
by Marieke Nijkamp
Hardcover
Sourcebooks Fire
Released 1/5/2016
10:00 a.m.
The principal of Opportunity, Alabama's high school finishes her speech, welcoming the entire student body to a new semester and encouraging them to excel and achieve.
10:02 a.m.
The students get up to leave the auditorium for their next class.
10:03
The auditorium doors won't open.
10:05
Someone starts shooting.
Told over the span of 54 harrowing minutes from four different perspectives, terror reigns as one student's calculated revenge turns into the ultimate game of survival.
Author Question: What is your favorite thing about This Is Where It Ends?
All things considered, I have two favorite things about THIS IS WHERE IT ENDS. One is the way the story worked, a framework of fifty-four minutes, and the hundreds of fragments. The other, the characters. And that may seem obvious – I'm not even sure I could write a story if I didn't love the characters – but for this particular story, in this particular context, it often felt like following the characters was even more special than most. Because Autumn, Claire, Sylv, and Tomás face a mass shooting – the worst situation imaginable. They face their worst nightmare, and they may not come out alive. But in light of that, they also face what matters most. Family, friendship, love, loyalty. Even in the most frightening times, there were moments of grace – moments when I fell head-over-heels in love with them, over and over again. And that may have been the best feeling.

And the most heart-wrenching one.
Purchase This Is Where It Ends at Amazon
Purchase This Is Where It Ends at IndieBound
View This Is Where It Ends on Goodreads
MORE YOUNG ADULT NOVELS NEW IN STORES NEXT WEEK
Nothing Bad Is Going to Happen
by Kathleen Hale
Hardcover
HarperTeen
Released 1/5/2016
Just when you thought it was safe to go back to Friendship, Wisconsin...
After catching her best friend's murderer a few months ago, Kippy thought the worst was over. Then she found her boyfriend at home, barely breathing and clinging to life. The sheriff insists it was a suicide attempt, but Kippy refuses to believe it. Given everything that's happened to her, she wonders if something more sinister is going on. Without any evidence, no one will listen to her—except maybe her former nemesis. But in a town where everyone has their secrets and a next-door neighbor could be a serial killer, you take all the help you can get.
Even more shocking and thrilling than its critically acclaimed predecessor, Nothing Bad Is Going to Happen is another clever, riotous dark comedy from Kathleen Hale that finds the perfect balance between the humor and horror.
Purchase Nothing Bad Is Going to Happen at Amazon
Purchase Nothing Bad Is Going to Happen at IndieBound
View Nothing Bad Is Going to Happen on Goodreads
* * * *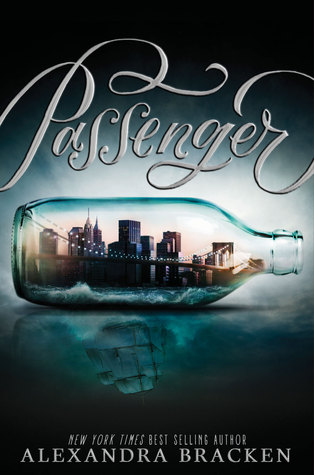 Passenger
by Alexandra Bracken
Hardcover
Disney-Hyperion
Released 1/5/2016
passage, n.
i. A brief section of music composed of a series of notes and flourishes.
ii. A journey by water; a voyage.
iii. The transition from one place to another, across space and time.
In one devastating night, violin prodigy Etta Spencer loses everything she knows and loves. Thrust into an unfamiliar world by a stranger with a dangerous agenda, Etta is certain of only one thing: she has traveled not just miles but years from home. And she's inherited a legacy she knows nothing about from a family whose existence she's never heard of. Until now.
Nicholas Carter is content with his life at sea, free from the Ironwoods—a powerful family in the colonies—and the servitude he's known at their hands. But with the arrival of an unusual passenger on his ship comes the insistent pull of the past that he can't escape and the family that won't let him go so easily. Now the Ironwoods are searching for a stolen object of untold value, one they believe only Etta, Nicholas' passenger, can find. In order to protect her, he must ensure she brings it back to them— whether she wants to or not.
Together, Etta and Nicholas embark on a perilous journey across centuries and continents, piecing together clues left behind by the traveler who will do anything to keep the object out of the Ironwoods' grasp. But as they get closer to the truth of their search, and the deadly game the Ironwoods are play­ing, treacherous forces threaten to sep­arate Etta not only from Nicholas but from her path home . . . forever.
Purchase Passenger at Amazon
Purchase Passenger at IndieBound
View Passenger on Goodreads
* * * *
The Impostor Queen
by Sarah Fine,
Hardcover
Margaret K. McElderry Books
Released 1/5/2016
Sixteen-year-old Elli was a small child when the Elders of Kupari chose her to succeed the Valtia, the queen who wields infinitely powerful ice and fire magic. Since then, Elli has lived in the temple, surrounded by luxury and tutored by magical priests, as she prepares for the day when the Valtia perishes and the magic finds a new home in her. Elli is destined to be the most powerful Valtia to ever rule.
But when the queen dies defending the kingdom from invading warriors, the magic doesn't enter Elli. It's nowhere to be found.
Disgraced, Elli flees to the outlands, the home of banished criminals—some who would love to see the temple burn with all its priests inside. As she finds her footing in this new world, Elli uncovers devastating new information about the Kupari magic, those who wield it, and the prophecy that foretold her destiny. Torn between the love she has for her people and her growing loyalty to the banished, Elli struggles to understand the true role she was meant to play. But as war looms, she must align with the right side—before the kingdom and its magic are completely destroyed.
Purchase The Impostor Queen at Amazon
Purchase The Impostor Queen at IndieBound
View The Impostor Queen on Goodreads
* * * *
Thicker Than Water
by Kelly Fiore
Paperback
HarperTeen
Released 1/5/2016
Cecelia Price killed her brother. At least, that's what the police and the district attorney are saying. And although Cecelia is now locked up and forced into treatment, she knows the real story is much more complicated.
Cyrus wasn't always the drug-addled monster he'd become. He was a successful athlete, but when an injury forced him off the soccer field and onto pain medication, his life became a blur of anger, addiction, and violence. All CeCe could do was stand by and watch, until she realized one effective way to take away her brother's drugs while earning the money she needed for college: selling the pills.
Soon, CeCe becomes part drug dealer, part honor student. But even when all she wants is to make things right, she learns that sometimes the best intentions lead to the worst possible outcome.
Thicker than Water is an unforgettable dark, harrowing look into the disturbing truth of drug addiction and the desperate love of a sister watching her brother deteriorate before her eyes.
Purchase Thicker Than Water at Amazon
Purchase Thicker Than Water at IndieBound
View Thicker Than Water on Goodreads
* * * *
This Song Is (Not) For You
by Laura Nowlin
Paperback
Sourcebooks Fire
Released 1/5/2016
Ramona and Sam are best friends. She fell for him the moment they met, but their friendship is just too important for her to mess up. Sam loves April, but he would never expect her to feel the same way-she's too quirky and cool for someone like him. Together, they have a band, and put all of their feelings for each other into music.
Then Ramona and Sam meet Tom. He's their band's missing piece, and before Ramona knows it, she's falling for him. But she hasn't fallen out of love with Sam either. How can she be true to her feelings without breaking up the band?
Purchase This Song Is (Not) For You at Amazon
Purchase This Song Is (Not) For You at IndieBound
View This Song Is (Not) For You on Goodreads
* * * *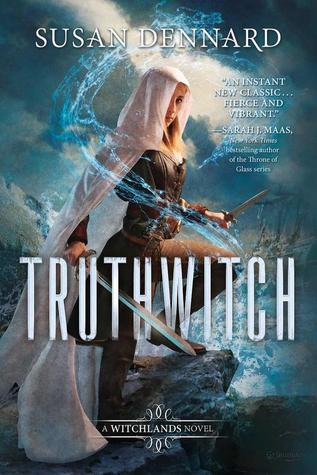 Truthwitch
by Susan Dennard
Hardcover
Tor Teen
Released 1/5/2016
On a continent ruled by three empires, some are born with a "witchery", a magical skill that sets them apart from others.
In the Witchlands, there are almost as many types of magic as there are ways to get in trouble—as two desperate young women know all too well.
Safiya is a Truthwitch, able to discern truth from lie. It's a powerful magic that many would kill to have on their side, especially amongst the nobility to which Safi was born. So Safi must keep her gift hidden, lest she be used as a pawn in the struggle between empires.
Iseult, a Threadwitch, can see the invisible ties that bind and entangle the lives around her—but she cannot see the bonds that touch her own heart. Her unlikely friendship with Safi has taken her from life as an outcast into one of reckless adventure, where she is a cool, wary balance to Safi's hotheaded impulsiveness.
Safi and Iseult just want to be free to live their own lives, but war is coming to the Witchlands. With the help of the cunning Prince Merik (a Windwitch and ship's captain) and the hindrance of a Bloodwitch bent on revenge, the friends must fight emperors, princes, and mercenaries alike, who will stop at nothing to get their hands on a Truthwitch.
Purchase Truthwitch at Amazon
Purchase Truthwitch at IndieBound
View Truthwitch on Goodreads
* * * *
Winter's Bullet
by William Osborne
Hardcover
Chicken House
Released 1/5/2016
Tygo, a locksmith's son, is forced by the Nazis to loot abandoned Dutch homes for valuables. Known as "The Ferret," everyone despises him, but helping the Germans is the only way he can stay alive. When he discovers a girl with a diamond in a chimney, he refuses to give her up. Instead, he turns spy and uses the jewel to find out information about Hitler's ultimate weapon. He has one shot to stop the war. Can a ferret become a hero?
Purchase Winter's Bullet at Amazon
Purchase Winter's Bullet at IndieBound
View Winter's Bullet on Goodreads
* * * *
Worlds of Ink and Shadow
by Lena Coakley
Hardcover
Amulet Books
Released 1/5/2016
Charlotte, Branwell, Emily, and Anne. The Brontë siblings have always been inseparable. After all, nothing can bond four siblings quite like life in an isolated parsonage out on the moors. Their vivid imaginations lend them escape from their strict upbringing, actually transporting them into their created worlds: the glittering Verdopolis and the romantic and melancholy Gondal. But at what price? As Branwell begins to slip into madness and the sisters feel their real lives slipping away, they must weigh the cost of their powerful imaginations, even as their characters—the brooding Rogue and dashing Duke of Zamorna—refuse to let them go.
Gorgeously written and based on the Brontës' juvenilia, Worlds of Ink & Shadow brings to life one of history's most celebrated literary families.
Purchase Worlds of Ink and Shadow at Amazon
Purchase Worlds of Ink and Shadow at IndieBound
View Worlds of Ink and Shadow on Goodreads
a Rafflecopter giveaway