Three Things I Wish I'd Known by Marieke Nijkamp
There are three things I wish I'd known, way back when I first started out as a baby writer. Three things that it took me almost two decades to figure out. (Beyond the usual like plot and character and what is tension even? Because I started out as this headstrong ten-year-old and none of those were really within my skill set yet. I just needed to tell stories. And I needed those million bad words to tell good stories.)
This is what I wish I'd known (and what I still tell myself with every single story). Third: it's okay for your writing/revision process to change from story to story. Second: to recover from a writing slump or writer's block, it helps to find what you love in a story. And most of all: everyone has a story to tell and only you can tell yours.
3. It's okay for your writing/revision process to change from story to story
There is no one way to write and there certainly isn't one way that fits every single story and every single writer. And yet. With every story I write, I'm utterly convinced I've found the way for me. I've found the perfect plotting method! Character sheets that I love! (Once a DM, always a DM.) The right craft book or the right questions. But somehow, they never quite fit the next story. And with every story I write, I have to go through the motions to discover, I'm such fool.
There are certainly elements I need in all writing: a carefully structured plot (which currently means, spreadsheets FTW!), a sense of the characters' hopes and dreams and motivations, and a good understanding of stakes. But how I get to those elements changes per story, and when I need them (very early on in the plotting process or as I'm drafting or sometimes only in revisions) is different every time too. And that's okay. In fact, realizing that every story has its own process has been freeing. Because with every story it's about what the story needs and how I, as author, can make that happen, and that initial journey of discovery—of falling in love with a story—is amazing. And it keeps me going too.
2. To recover from a writing slump or writer's block, it helps to find what you love in a story
There are days when I really do not like the story I'm telling. Or rather, I want to like it, but it keeps slipping through my fingers. I keep just missing it. And it leaves me frustrated and blocked.
For the longest time, I thought the best way to deal with that was to keep writing, until I connected with the story again. Even if it meant recycling all those words a few days later. Turned out… that wasn't the most productive method. Because usually when I'm blocked, it's not just that I don't connect to the story, it's that I don't quite understand it. To understand it, I need to go back to finding what I love. Which means stepping outside a story, fast forwarding to a scene I'm excited about, writing a letter from one character to the next, switching points of view. It means falling in love again.
And that, for me, is the hard of storytelling. Especially in the knowledge that:
1. Everyone has a story to tell and only you can tell yours
Now whether you subscribe to our storytelling is based on three basic plots or seven or eight or twenty or 36 or even just one, I think we can all agree that there are very few original stories left. And that may seem wholly intimidating. Except, the more I think about it, the more it isn't intimidating at all.
Because it's not a bad thing when stories share commonalities, tropes, plot devices. Especially not if they work and if they work in the context of that particular story. If, like me, you love forests, you're not going to go to one wood and say you've seen them all. And in the next forest, you still expect, you know, trees. We look for details we can relate to and engage with, and that is what helps us build a framework for the stories we love and the stories we seek out or write!
And besides, within that framework, you can still write the most original and truest story there is: yours. A story that explores the world, people, the universe as you see it or don't see it, know it or don't know it, experience it or don't experience it, feel it or don't feel it. A story that reflects what matters to you most. but above all, a story that is shaped by your wonder and the way you converse with and understand life. Only you can tell that story—those stories, because they are multitudes. And they matter, deeply.
About the Book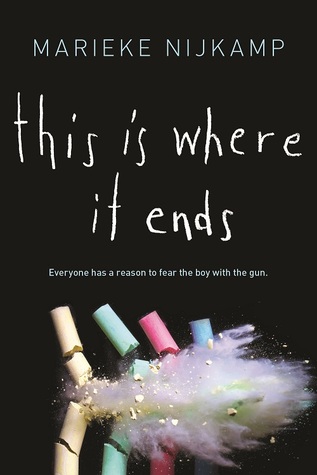 10:00 a.m.
The principal of Opportunity, Alabama's high school finishes her speech, welcoming the entire student body to a new semester and encouraging them to excel and achieve.
10:02 a.m.
The students get up to leave the auditorium for their next class.
10:03
The auditorium doors won't open.
10:05
Someone starts shooting.
Told over the span of 54 harrowing minutes from four different perspectives, terror reigns as one student's calculated revenge turns into the ultimate game of survival.
Goodreads | Indiebound | Amazon
About the Author
Marieke Nijkamp is a storyteller, dreamer, globe-trotter, geek. She holds degrees in philosophy, history, and medieval studies, and wants to grow up to be a time traveler. Her debut young adult novel This Is Where It Ends will be published by Sourcebooks Fire on January 5, 2016.